June 2nd, 2013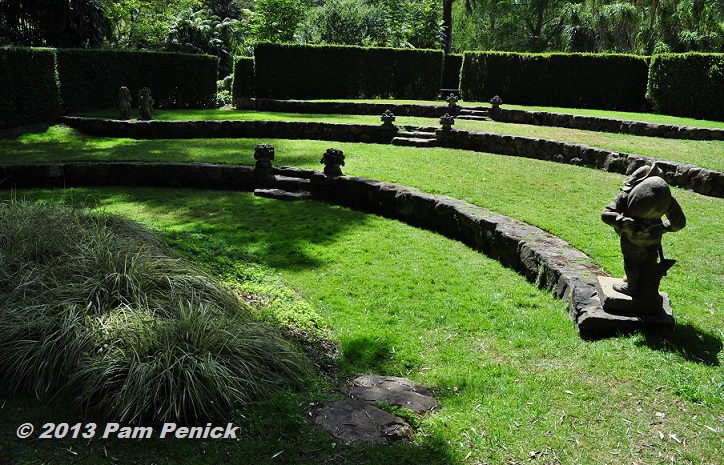 Grassy amphitheater in the Theatre Garden
Lotusland is theater. It's designed to thrill, seduce, and transport you. And, boy, was I thrilled, seduced, and transported during my visit over Memorial Day weekend.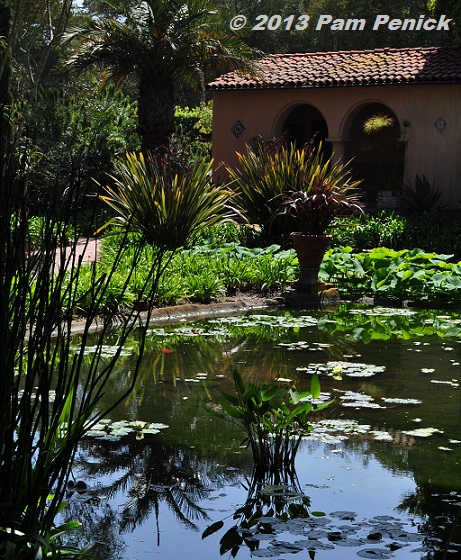 Lotus pond — no blooms yet. The lotus bloom later in the summer.
This Santa Barbara, California, garden, which had topped my gardens-to-see list for several years, is home to an extraordinary assemblage of exotic plants, seemingly the weirder the better. Imagine Sissinghurst's billowy flower borders and tasteful, classic ornamentation. Now try to imagine its exact opposite: Dr. Seussian plants with spiny, "melted," creeping, hairy, starry, or columnar forms and textures.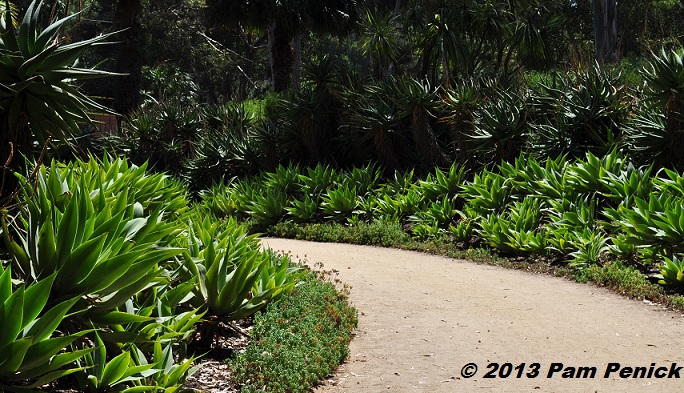 Massed Agave attenuata along the estate's former main drive
And now imagine masses of single species lining a drive or comprising a mini-forest.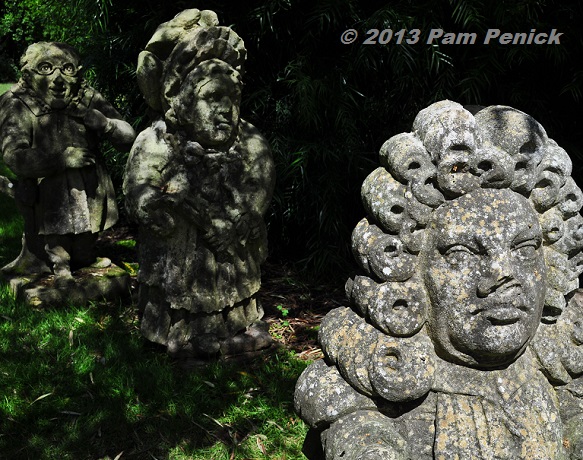 Imagine decorative accents like a giant clamshell fountain, softball-sized chunks of jewel-like slag glass, and stone "grotesques."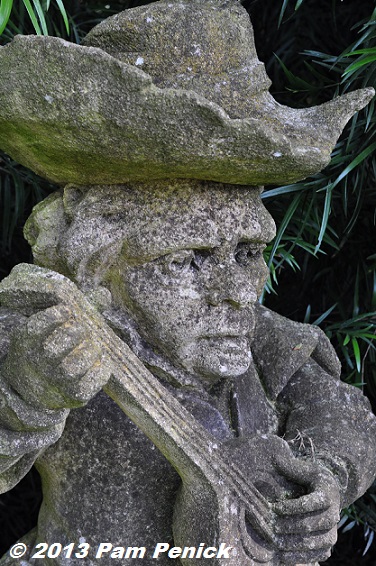 Stone figures — "grotesques" — add humor and whimsy to the Theatre Garden.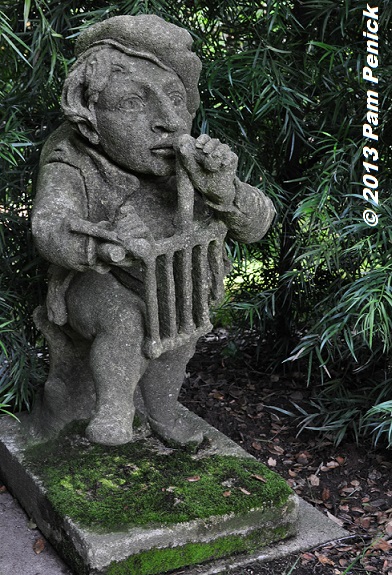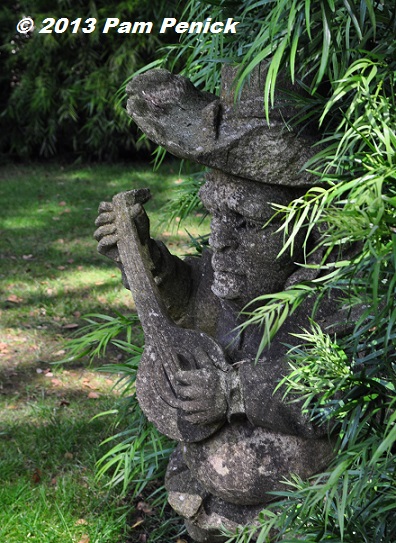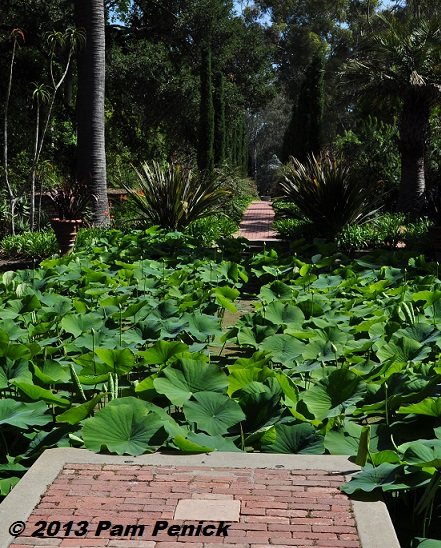 Lotus pond
The place is a magicland of one woman's imagination, built through her love of excess and her desire to have the best collection of the most unusual plants that money could buy.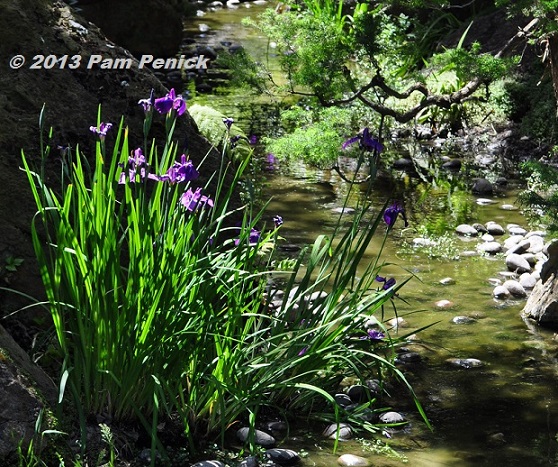 The late Madame Ganna Walska, Polish-born Hanna Puacz, reinvented herself numerous times during her 96 years, segueing from aspiring (but panned) opera singer to social climber (she married six times and amassed a fortune along the way) to well-known socialite to eccentric garden designer and avid plant collector. Lotusland, the 37-acre pleasure garden she created after giving up on husbands, is her inspired creation in the hills of Santa Barbara. Upon her death in 1984 she bequeathed her estate and garden to the Ganna Walska Lotusland Foundation, which maintains and continues to add to the garden, and which offers tours by appointment to the public.

Snarled in Memorial Day traffic, my husband and I arrived late for our self-guided tour (only available to members; non-members must tour with a docent, and everyone must have a reservation), but the welcoming staff was very accommodating and invited us to explore right up until gate-closing time. Still, I felt the pressure of not-enough-time-to-see-everything (the garden would be closed the rest of the weekend). With only an hour and a half at our disposal, at my urging we dashed past portions of the garden to view the charismatic spaces I'd longed to see after reading other bloggers' posts about Lotusland.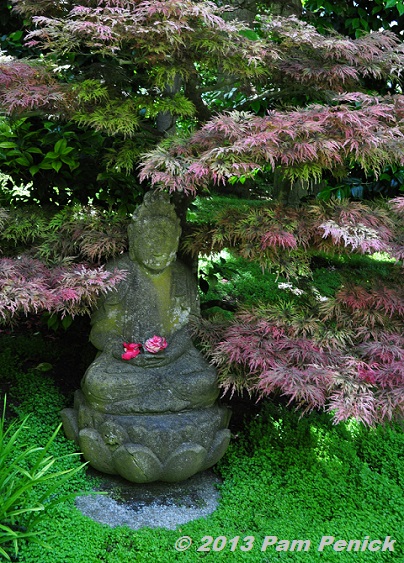 Buddha framed by a Japanese maple in the Japanese Garden. Although beautiful, I felt the Japanese Garden was out of place at Lotusland due to its admirable restraint. Restraint has no place in the rest of the garden.
The images in this introductory post comprise some of the eye-catching vignettes that made me pause in my mad dash toward particular gardens. Stay tuned for the bizarre, the wondrous, and the exoticism of Lotusland proper. Up next: The house garden with cactus and euphorbia.
All material © 2006-2013 by Pam Penick for Digging. Unauthorized reproduction prohibited.