May 20th, 2013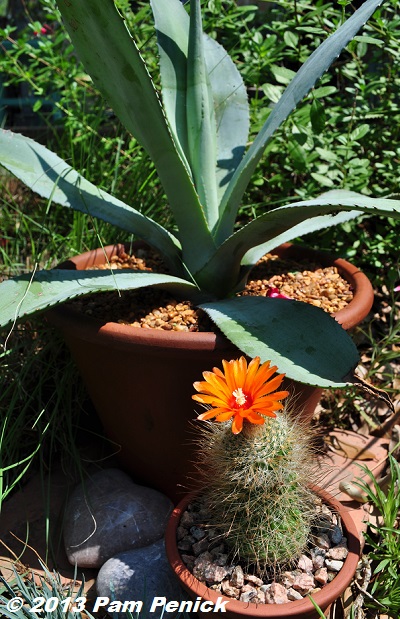 Austin's lovely, unexpectedly extended spring appears to have faded into summer's mid-90sF heat and humidity. While I may be complaining about the sauna-like conditions, my garden doesn't mind. Take this cute little cactus for example. Last year it resided on a sunny windowsill in the kitchen, but this spring I moved it into the garden. Now it's thanking me with a stunning orange flower.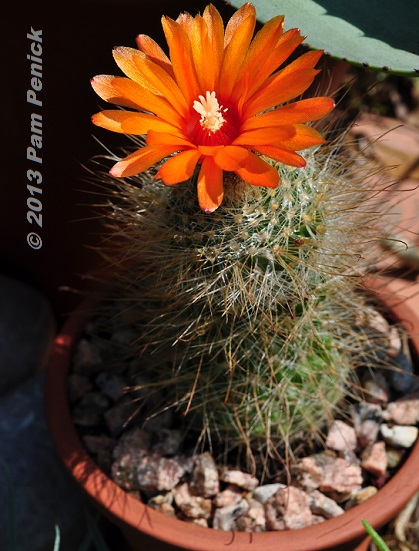 Why, you're quite welcome, little guy.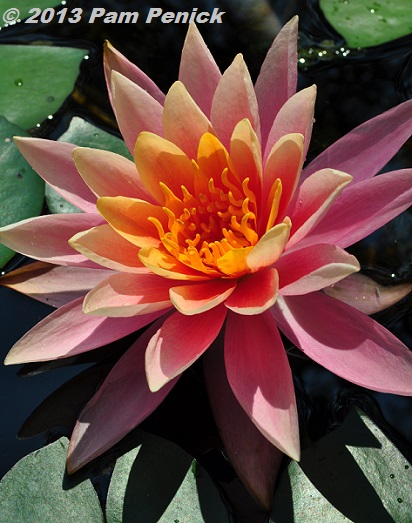 Water lilies love the heat, and in the stock-tank pond 'Colorado' is revving up with new, starry blossoms.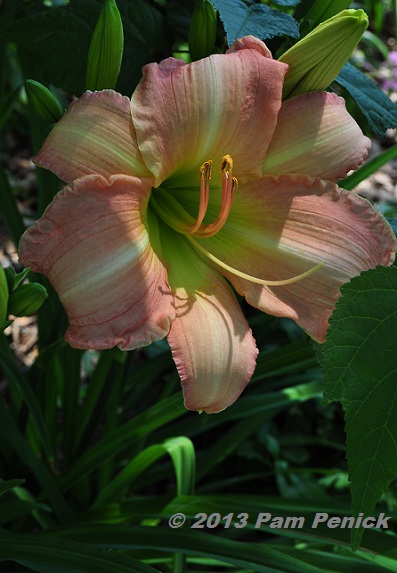 Continuing the peach theme — with a nod to my friend Susan Morrison's article "Peach Goes with Everything" in the current issue of Fine Gardening — I'm enjoying the peach-petaled, green-throated flowers of 'Best of Friends' daylily.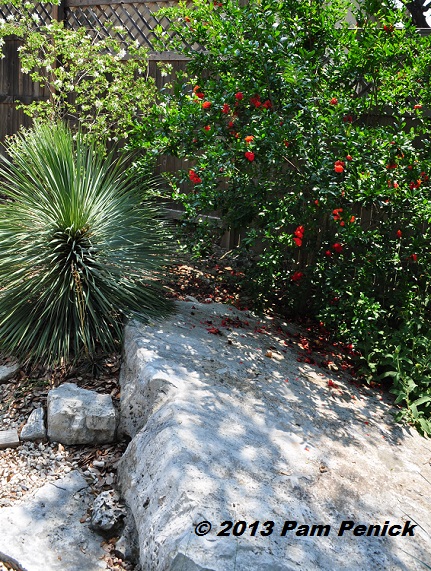 My 'Wonderful' pomegranate tree is decorated with dozens of frilly, orange blossoms.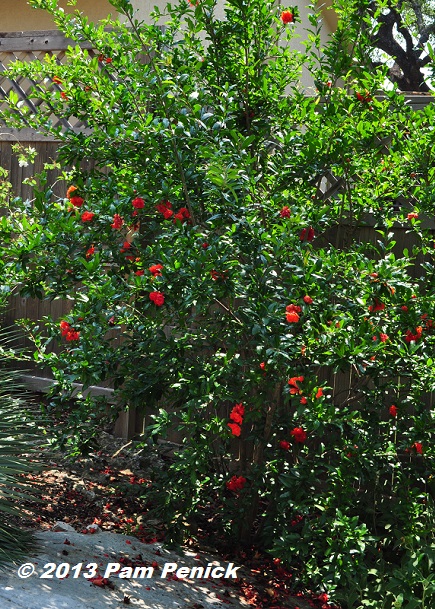 Last year this resulted in exactly one pomegranate fruit, which split before it ripened. While I planted it for ornamental reasons, I'm eager to see if I get more fruit this year. After all, the fruit is quite ornamental as well!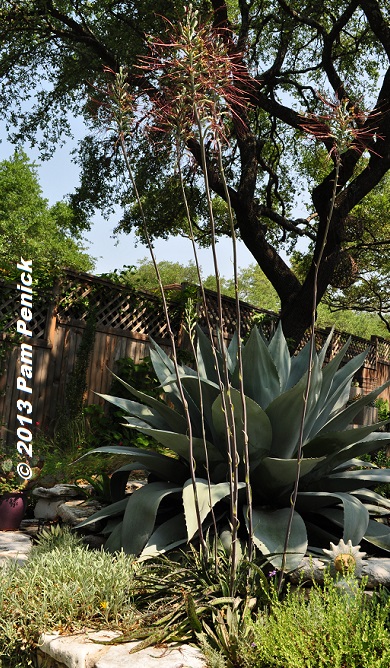 This is for you, Loree/Danger Garden. I'm bragging about the towering forest of blooms from my 'Chocolate Chips' manfreda. One, two, three…let's see, six bloom spikes on this plant.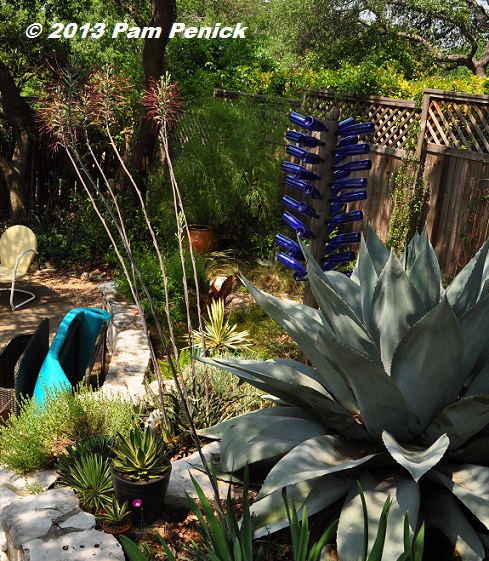 All kidding aside, I know you would enjoy them. I've had two groups tour my garden since last week, and I was delighted that the manfreda timed their annual Dr. Seussian appearance for my visitors.
FYI, I was also told by several blogging friends this weekend that my pictures do not accurately convey the size of Moby, my 'Whale's Tongue' agave. I need to start putting something in my photos for scale, perhaps. But just so you know, his girth is now about 6 feet, and his flukes stretch to a height of 4-1/2 to 5 feet. He's quite the whale!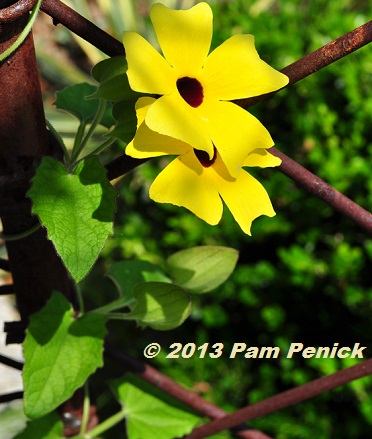 I'll end with a couple of cheery flowers on my Sunny Lemon Star clockvine…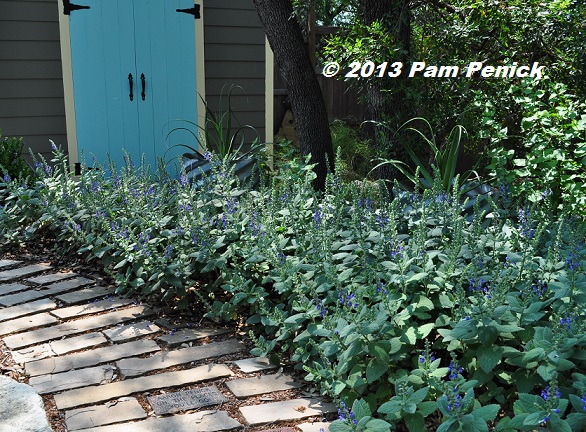 …and the cool, blue-green, native-Texas groundcover heartleaf skullcap (Scutellaria ovata), which was easily the most-asked-about plant among my garden-tour visitors.
Happy Monday!
All material © 2006-2013 by Pam Penick for Digging. Unauthorized reproduction prohibited.
posted in
2nd garden--2013
,
Agaves
,
Annuals
,
Cactus
,
Containers
,
Daylily
,
Groundcovers
,
Succulents
,
Texas natives
,
Trees
,
Vines
,
Water gardening
,
Yuccas