May 19th, 2013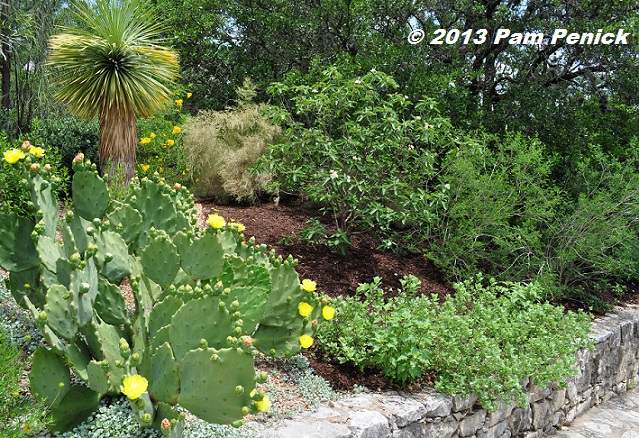 Our final stop last Saturday on the Wildflower Center-sponsored Gardens on Tour was the Curt Arnette-designed Bonnell Garden in west Austin. If it looks familiar, yes, I posted about it last fall after the Garden Conservancy's Open Days Tour; check out my earlier post for images of this garden in bloom with billowy fall grasses, daisies, Philippine violet.
On this spring visit, spineless prickly pear, dwarf pomegranate, and red yucca flowers added their extravagant color to the mostly evergreen garden. Imagine a bowl of lawn surrounded by a bermed perimeter of drought-tolerant, architectural plants that shield the home, lawn, and back-yard pool deck from view — this is the Bonnell Garden. Pictured here: spineless Opuntia in bloom, Yucca rostrata, and (in the center) Mexican olive.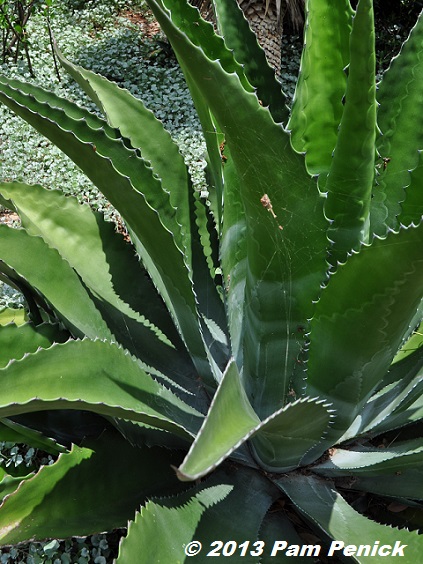 Beautiful, blue-dusted 'Green Goblet' agave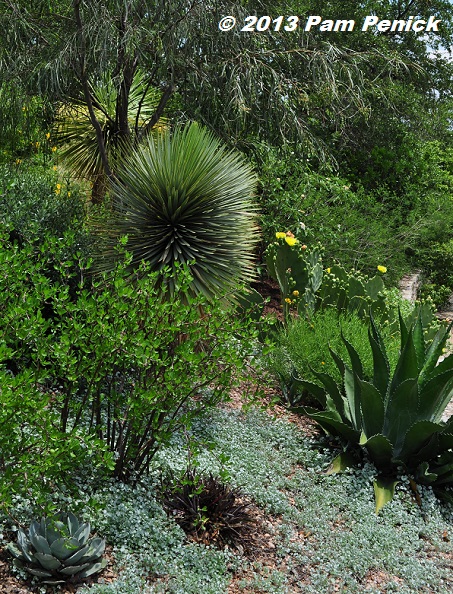 A wider view shows the 'Green Goblet' agave with leatherstem (Jatropha dioica) on the left and a silver carpet of ponyfoot (Dichondra argentea) at its feet.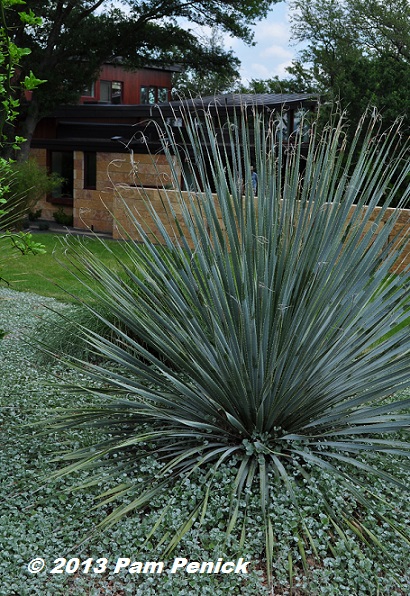 Now the house comes into view, and that large, bowled lawn, behind a spiky orb of Wheeler sotol. Silver ponyfoot adds a cooling color echo and happily colonizes the gravelly berm.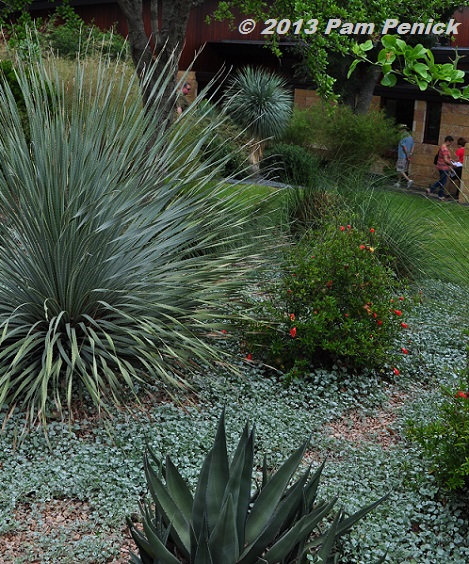 Shifting slightly we see a dwarf pomegranate in bloom, as well as a 'Sharkskin' agave in the foreground.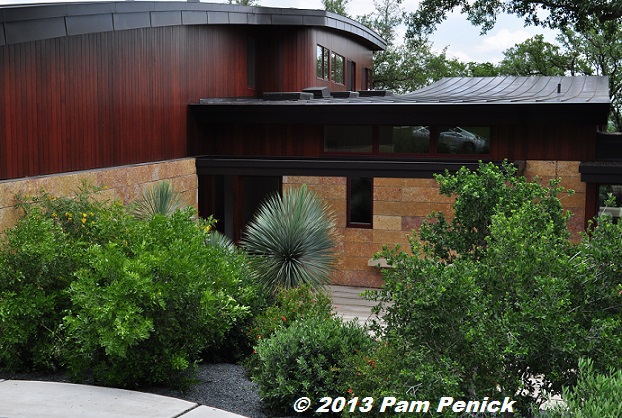 The contemporary home, a compelling mix of bronze steel, mahogany-colored wood, and rust-tinged limestone, sits below street level, protected, seemingly, by the xeric garden that surrounds it.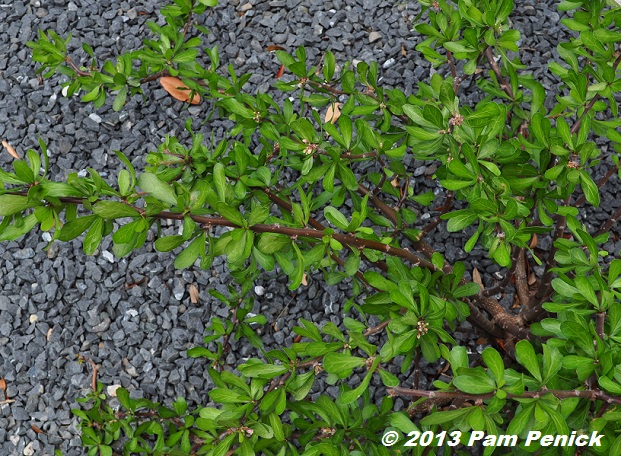 Another look at leatherstem (Jatropha dioica), a thicket-forming central and west Texas native. I like the handsome, coffee-colored branches.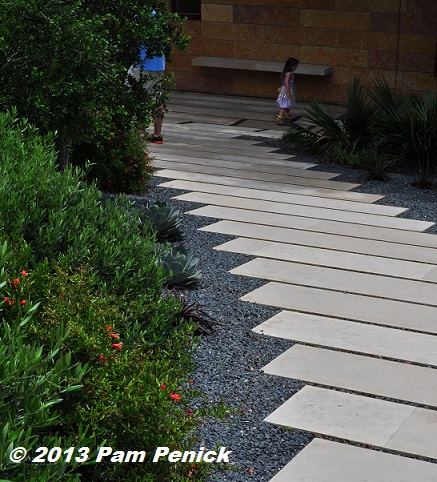 An awkwardly cropped view of the poured-concrete front walk. Still, it's worth showing again (see last fall's post for better images) because it's such a graphic element in the front garden.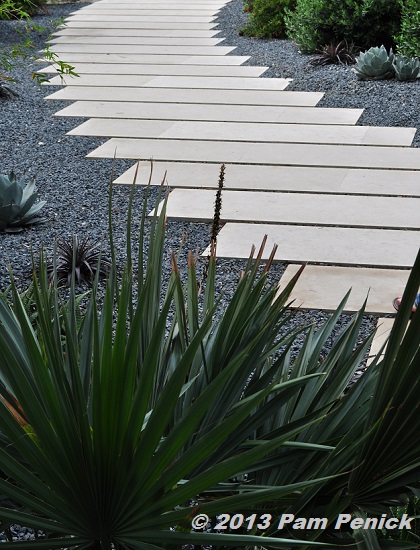 And at the bottom of the slope, by the entry, looking back up the walk.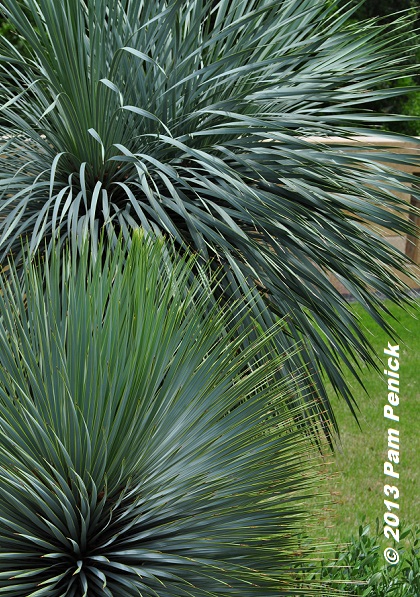 The Koosh-ball shape and spiny texture of Yucca rostrata makes it strangely touchable.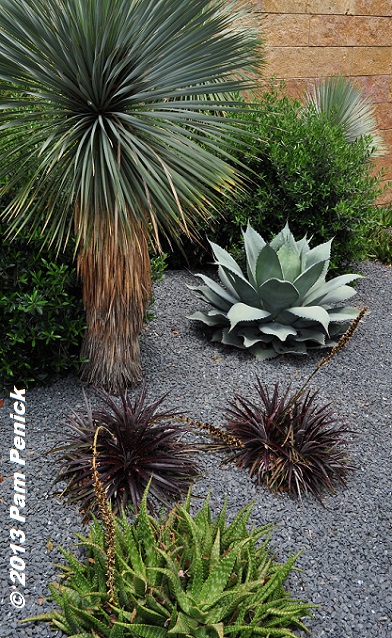 Closer to the entry, the garden becomes more spare, each plant standing alone in a gray-gravel bed like a kind of sculpture. Here we have aloe, dyckia, Yucca rostrata, and Agave ovatifolia.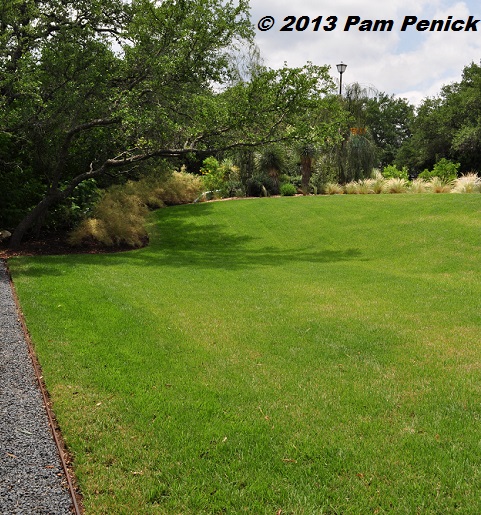 All of which contrasts dramatically with the expanse of soft green lawn inside the "bowl."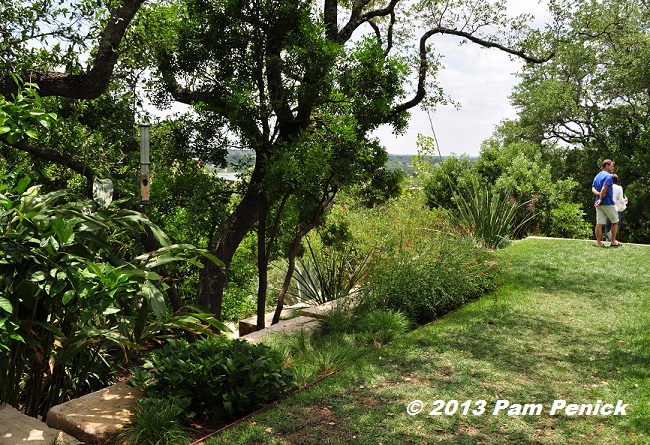 Entering the back yard, a more naturalistic garden greets you, framed by a small lawn and tumbling down a hillside.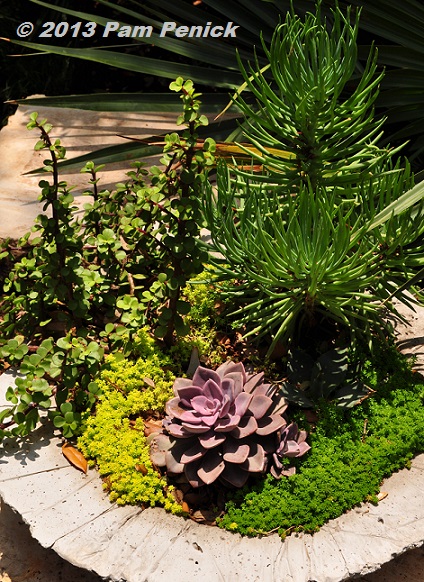 A pretty succulent dish makes a focal point atop a retaining wall.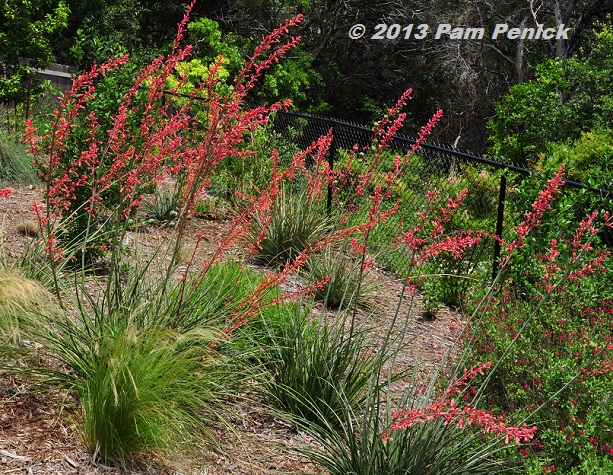 A series of limestone-and-gravel steps leads to the lower garden, where a mass of red yucca (Hesperaloe parviflora) waved their coral-red flags.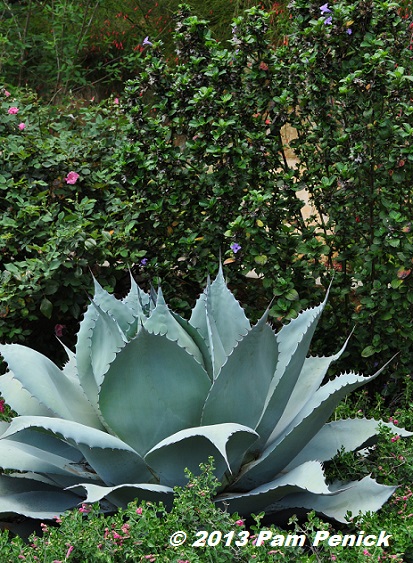 Powder-blue 'Whale's Tongue' agave (A. ovatifolia) backed by Philippine violet (Barleria cristata)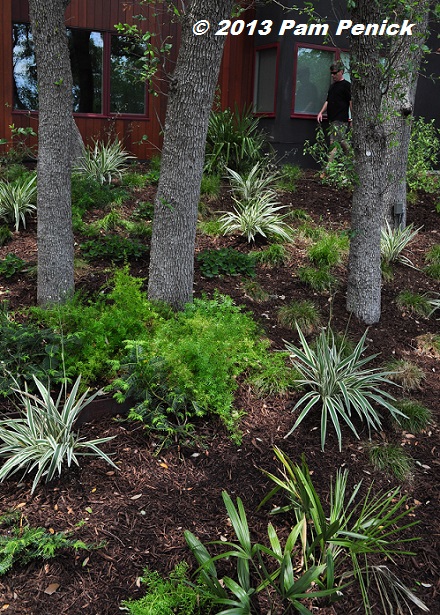 Here's a scene I was really taken with. In the shade of live oaks, a sort of matrix planting of variegated dianella, asparagus fern, sedge, and prostrate yew cascaded down a slope behind the house. The combination of light and dark-green foliage appeals to me, as does the seemingly random, "placed by nature" arrangement of the plants.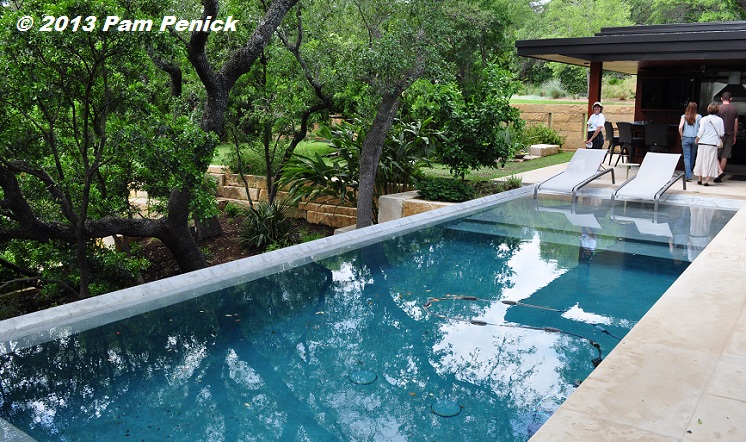 Climbing back up from the lower garden you reach the swimming pool, which is cantilevered out from the house above the slope. It's a dramatic finish to another fun garden tour.
This concludes my recap of Gardens on Tour 2013. For a look back at the delightful Highland Terrace West Garden, click here. You can find links to the other gardens at the end of each post.
All material © 2006-2013 by Pam Penick for Digging. Unauthorized reproduction prohibited.
posted in
Agaves
,
Aloes
,
Cactus
,
Containers
,
Garden tours 2013
,
Groundcovers
,
Hillside
,
Lawns
,
Paths
,
Succulents
,
Swimming pools
,
Texas natives
,
Xeric plants
,
Yuccas