May 14th, 2013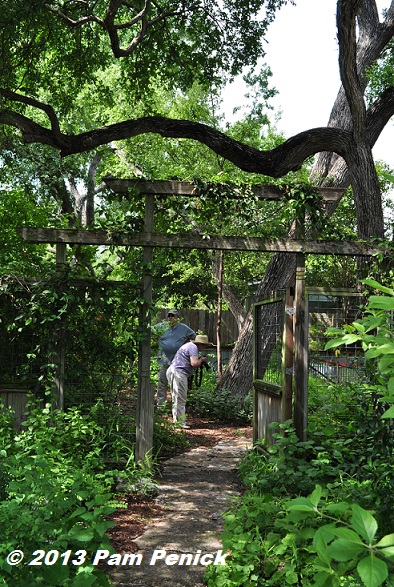 The homeowner-designed Placid Place Garden, located in north-central Austin's Highland Village neighborhood, was the third we visited on the Wildflower Center-sponsored Gardens on Tour last Saturday. While the overall design was too unstructured for my taste, I did admire several features, including this double-arbor entry gate into the back yard. The scale is perfect and lifts your eyes up to the wavy tree branch above it. I also admired the Dutch-door effect of the gate itself: the lower half is solid, while the top half is an airy wire screen. The overall effect, with a narrow flagstone path meandering through the shade garden toward the gate, is quite enticing.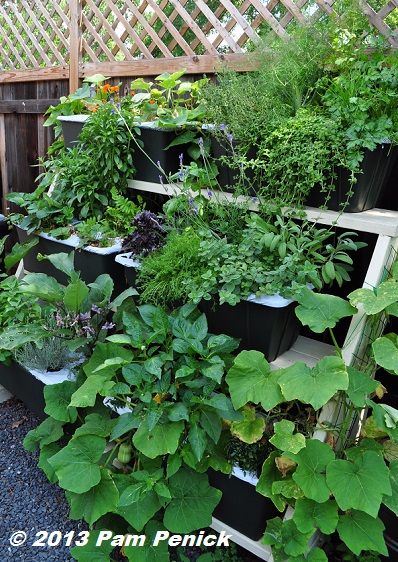 In a narrow, sunny space alongside the driveway, the owner creatively expanded her growing space for edibles by planting them on a tiered structure — a smart use of space.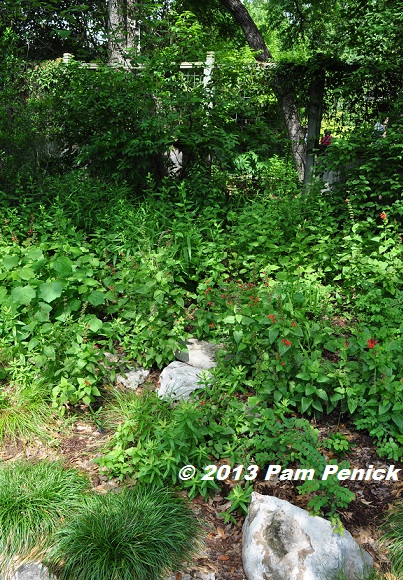 Out front, the view from the street suggests a woodland-edge, naturalistic garden. While this type of garden — dense with leafy foliage unbroken by open space or architectural plants — is hard to photograph (for me, anyway), it has value in attracting wildlife and adding seasonal interest to what was once likely a swath of boring St. Augustine. My eye was drawn to the tufts of sedge in the foreground — Texas native Webberville sedge (Carex perdentata).
Next up: My favorite garden on the tour, a homeowner-designed oasis at Highland Terrace West. For a look back at the contemporary Westridge Drive Garden, click here.
All material © 2006-2013 by Pam Penick for Digging. Unauthorized reproduction prohibited.