May 7th, 2013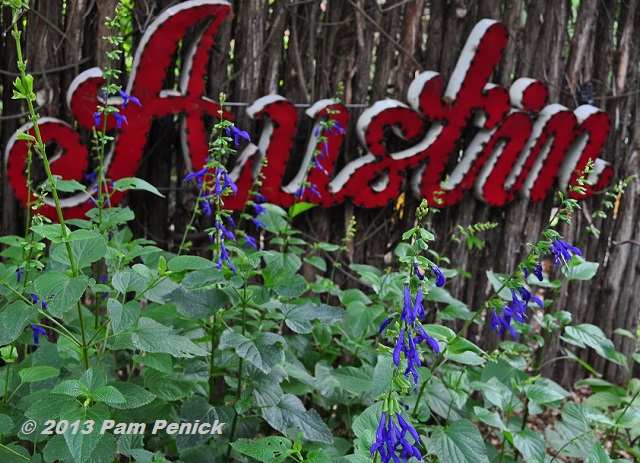 I'm singing the blues with majestic sage (Salvia guaranitica)…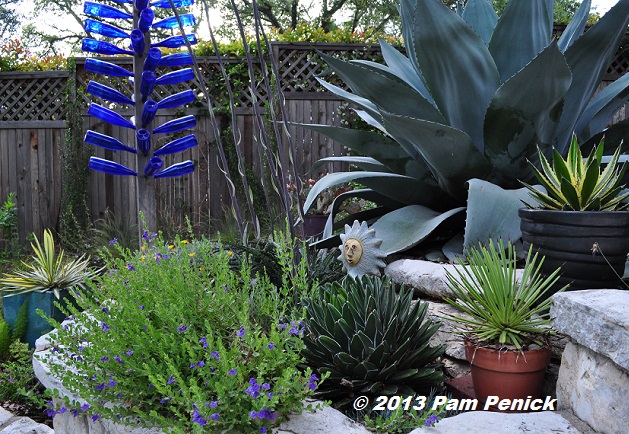 …with a blue bottle tree, purple skullcap (Scutellaria wrightii), and 'Whale's Tongue' agave (Agave ovatifolia)…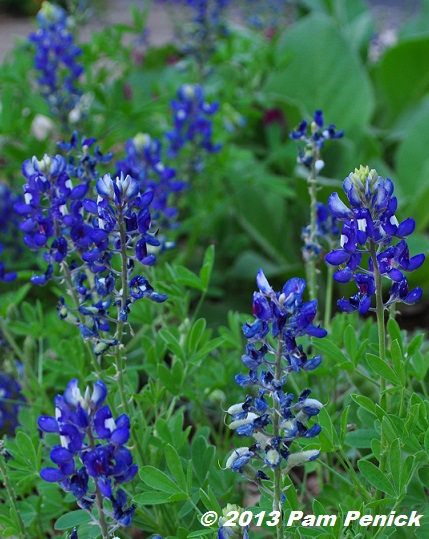 …with Texas bluebonnets (Lupinus texensis)…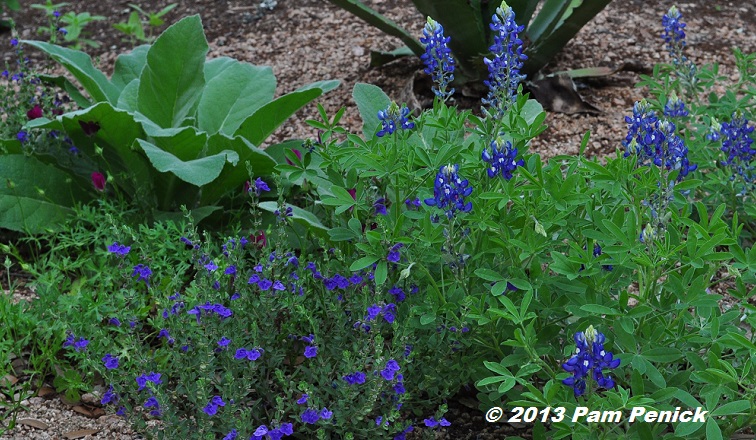 …and with more purple skullcap and bluebonnets, plus velvety mullein.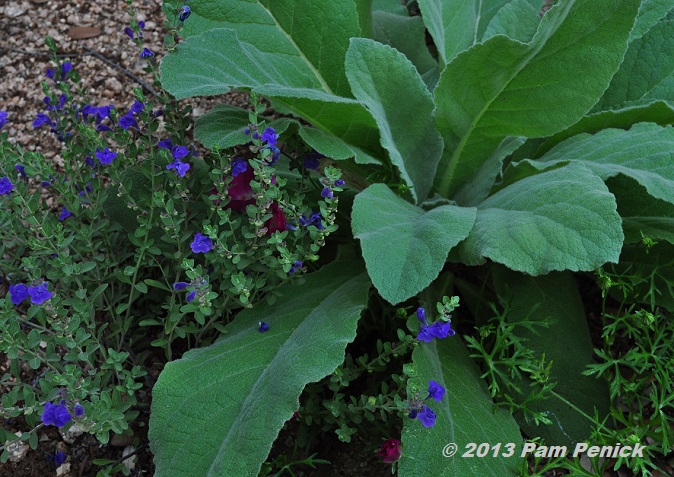 Another view of the purple skullcap and mullein, with winecups beginning to creep in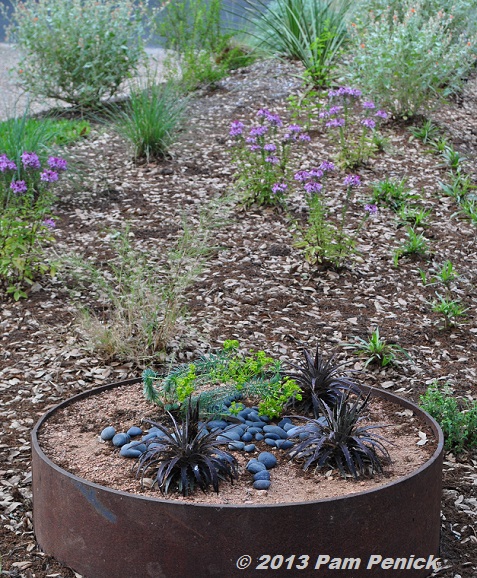 My new garden bed alongside the driveway even has a little blue in it thanks to Mexican beach pebbles that top the steel ring planter.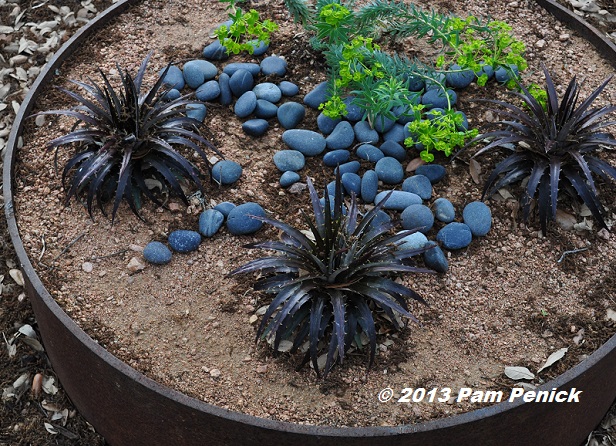 Well, it's a work in progress. Currently I have three 'Burgundy Ice' dyckia and a 'Blue Haze' euphorbia planted in it, with a handful of beach pebbles on top.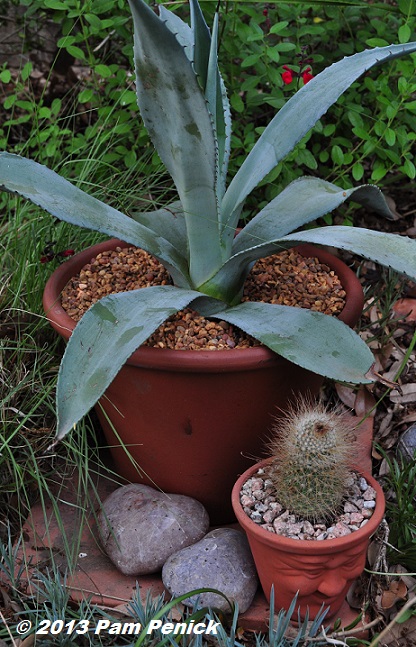 Diana of Sharing Nature's Garden passed along this beautiful, blue Agave franzosinii pup with me. I just gave it a fresh potting, with new aquarium pebbles as mulch for a neat finishing touch. I think I'm going to start refreshing my rock mulch on my xeric planters each spring. It makes such a difference to have all those leaves and pollen catkins removed, with clean gravel on top.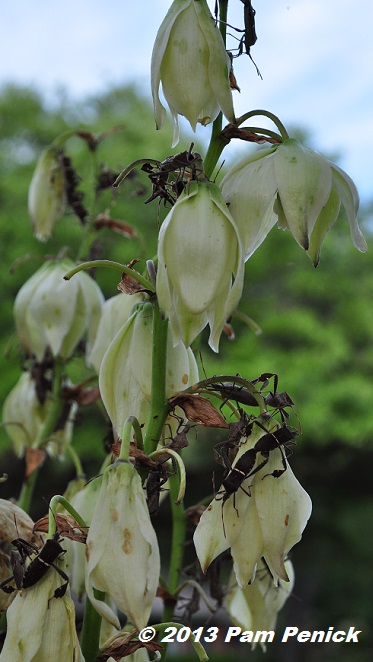 Leaving the happy blues…I'm actually feeling truly blue about this development: a plague of leaf-footed bugs on my softleaf yucca (Y. recurvifolia) bloom spike. All those creamy, white bell-shaped flowers are infested with nasty, copulating, plant-sucking bugs. I sprayed them with an organic pesticide spray (Captain Jack's), but it didn't do a thing. Any ideas? When I try to hand-pick them off, most of them fly away, only to return in a few minutes. Ugh.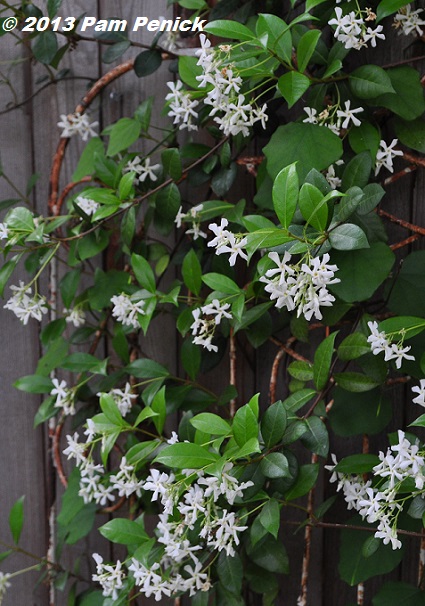 Well, let's avert our eyes and look at another white-flowering plant that's perfectly lovely and unaffected by pests: star jasmine (Trachelospermum jasminoides).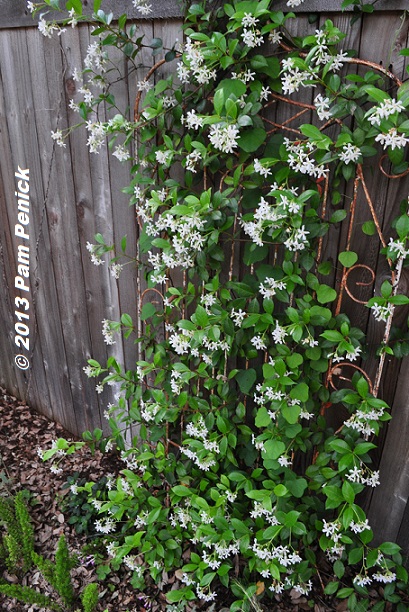 Its sweet fragrance wafts up to the upper patio, making that a perfect spot to sit and enjoy the bluesy garden right now.
All material © 2006-2013 by Pam Penick for Digging. Unauthorized reproduction prohibited.
posted in
2nd garden--2013
,
Agaves
,
Bottle tree
,
Bugs
,
Cactus
,
Containers
,
Pests
,
Texas natives
,
Wildflowers
,
Xeric plants
,
Yuccas