March 12th, 2009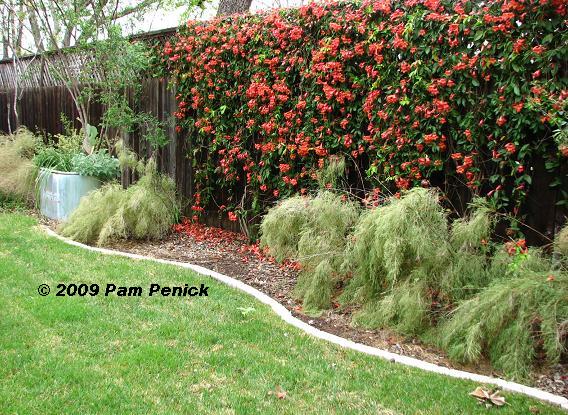 It's a spring fling. A brief yet passionate affair. I have a big, orange crush on crossvine 'Tangerine Beauty' (Bignonia capreolata ) that lasts for a blissful couple of weeks every spring.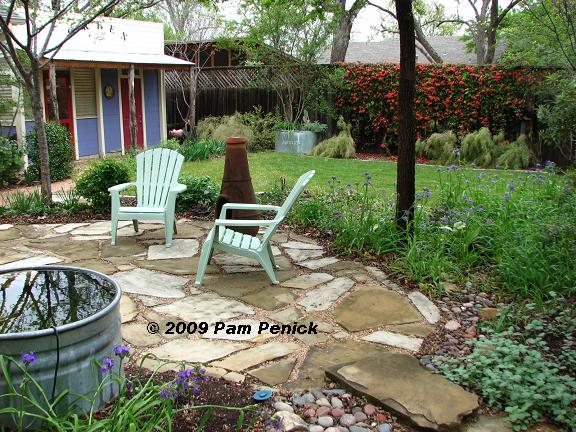 Actually, crossvine is pretty fine all year, with long, evergreen leaves perfect for cloaking a fence or a trellis, and it blooms in full sun or part shade (the more sun, the better the display though). These pictures were taken this afternoon in my old garden at the Unsold House. The crossvine is in peak bloom.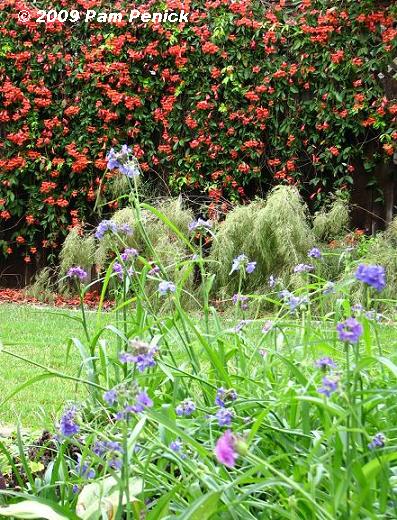 The spiderwort (Tradescantia occidentalis ), which I've been photographing in my new garden, is also putting on a pretty show under the cedar elm. Leaning down to admire the blossoms, which stayed open this afternoon under cloudy skies, I enjoyed the color contrast between the blue and purple flowers and the orange crossvine behind them.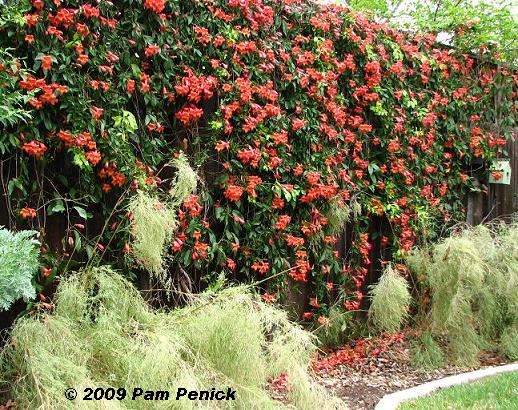 Evergreen bamboo muhly (Muhlenbergia dumosa ), one of my favorite clumping grasses, fills out the bed in front of the crossvine-covered fence. This orange crush will run its course in a week or two, but it sure is heart-stopping while it lasts.
Note: My Plant This posts are written primarily for gardeners in central Texas. The plants I recommend are ones I've grown myself and have direct experience with. I wish I could provide more information about how these plants might perform in other parts of the country, but gardening knowledge is local. Consider checking your local online gardening forums to see if a particular plant might work in your region.
All material © 2006-2009 by Pam Penick for Digging. Unauthorized reproduction prohibited.