March 5th, 2007
A couple of weeks ago, I posted about my winter-garden eyesore, the trampoline. Undisguised at this time of year by towering summer perennials like Tecoma stans (Yellow Bells), the safety-netted, blue-and-green plaything is the unfortunate view from my back porch. A trio of colorful birdhouses on 5-foot posts in the mid-garden weren't helping either, looking spindly without the perennials growing around them.
After considering my options, I decided to build a cedar-and-wire trellis to screen the trampoline and contain the view, copying one I'd long admired at Zilker Gardens. It took me a week to round up the materials I needed and another week to find the time to construct it. Here's the play-by-play.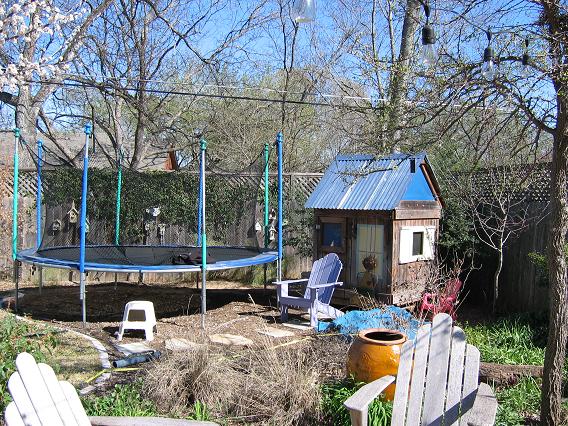 BEFORE. Hulking trampoline in the late-winter garden. I'd already cut down the birdhouse posts at this point, which used to be behind the muhly grasses and the yellow pot, in the mid-garden between the patio and the playspace.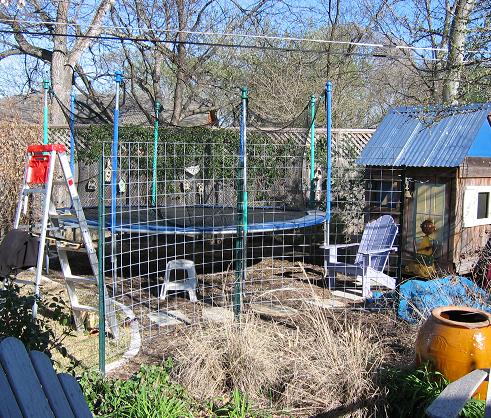 DURING. Three fencing T-posts stand at 5-foot intervals. My husband pounded them in about 2 feet deep using a T-post driver, a nifty tool I picked up at Lowe's. The driver is a heavy, metal cylinder with a handle on either side, which slips over the top of the T-post. You lift the driver and pound it down on the post, driving it into the ground. This worked great in our clay soil. In the rocky part of Austin, I suspect you'd have to use a jackhammer.
I made sure the posts were straight using a level, and when they were in, we attached a 10-foot-long x 5-foot-high section of cattle panel fencing, a heavy-duty, non-rollable wire. We bowed the panel slightly to give the screen a gentle curve. Then I threaded galvanized wire through the T-posts and around sections of the panel, pulling and twisting the wire together to lock it in place.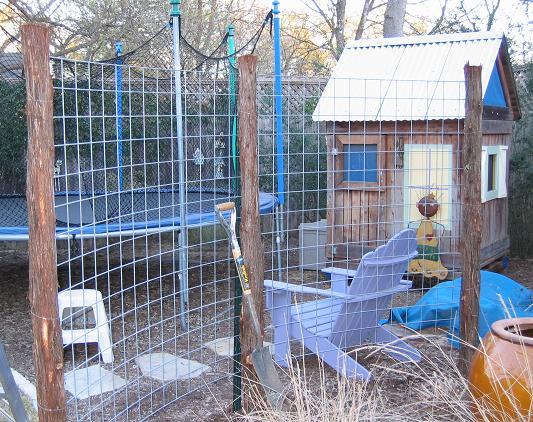 Next I sank three 7-foot cedar posts about 6 inches in the ground and wired them to the T-posts. From the front, the cedar posts appear to be supporting the fence panel, but the steel T-posts are doing all the work. A clever disguise.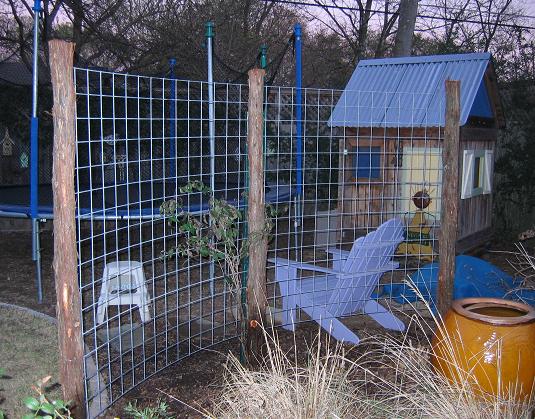 AFTER. The sun was going down by the time I finished this project. When the trellis screen was complete, I planted a crossvine against it. Crossvine is evergreen, and this one has yellow flowers with red throats in the spring. I'm hoping for a few blooms this spring, but who knows. Best of all, though, the screen and the vine are already collaborating to keep my eyes on the garden, hang a veil across the kids' playspace, and add a little height to the mid-garden.