April 24th, 2013
Lucinda Hutson
invited me over to her purple cottage on Sunday to see her angel's trumpets in bloom, plus all the rest of her exuberant, flowery garden.
Lighting up her quiet Rosedale neighborhood street like a fiesta in full swing, Lucinda's garden is an irresistible mix of color, romance, humor, and creativity. Colorful paint brightens every vertical surface: house (3 different body colors, depending on which side you're looking at), wooden fences, and a detached garage-turned-shed. Flowering roses, angel's trumpets, and sweet peas scent the air. Enticing gates and arbors beckon you onward, through a succession of intimate garden rooms. A "tequila cantina" anchors the rear garden with a party-ready set-up and a tequila-bottle bottle tree.
I long ago fell under the spell of Lucinda's El Jardin Encantador. Perhaps you will too. Come along with me for a tour.
First of all, you can see she owns the cutest house in the world. Painted purple with lavender trim and a rosy-mango door, its arched frame accented with tiles, the house announces that someone with a zest for life lives here.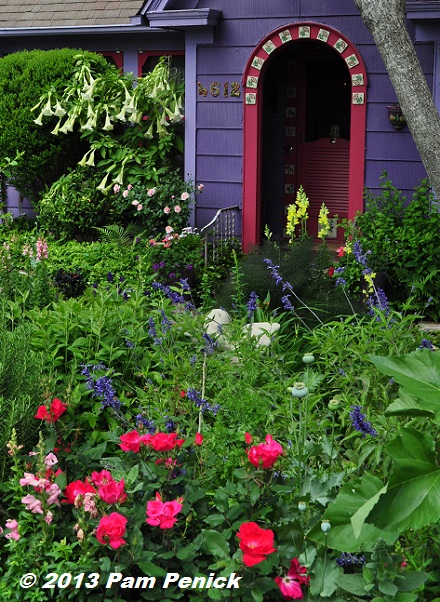 The front yard is given over to a flowery cottage garden filled with roses, annuals, and native perennials. There's no lawn except for a narrow, grassy path near the front door.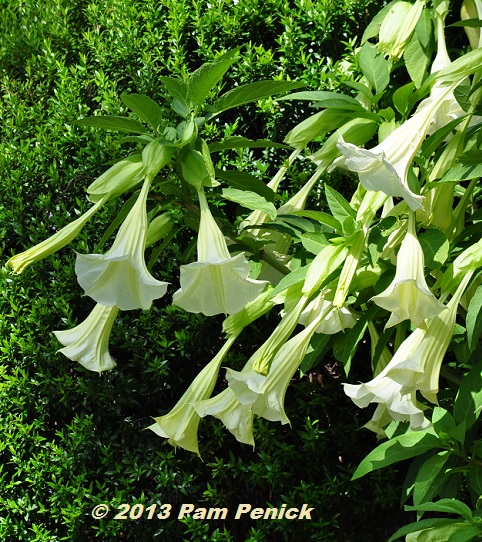 The promised angel's trumpets (Brugmansia) were indeed gorgeous. I inhaled their residual sweet scent left over from the evening.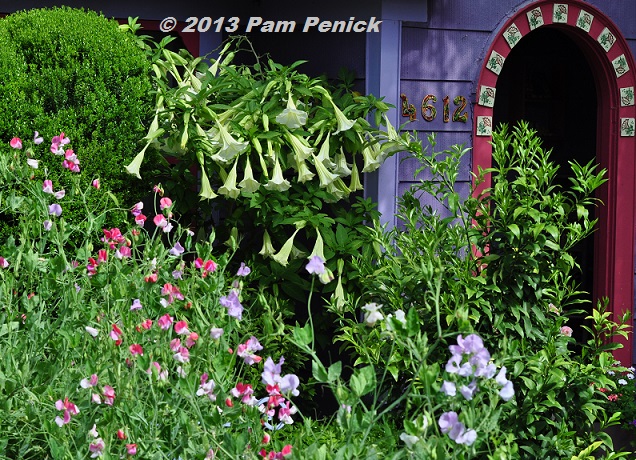 Lucinda is growing sweet peas this year, and they smelled heavenly too.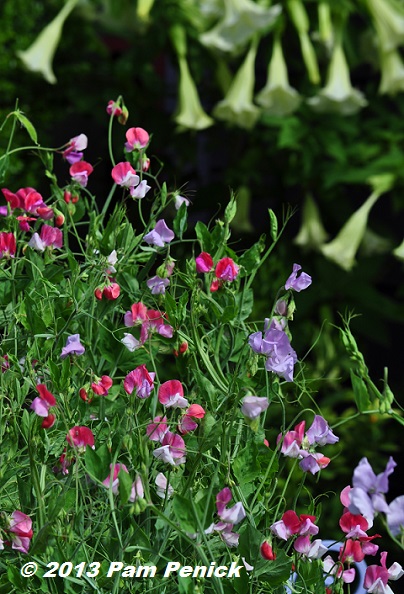 A closer look at the sweet peas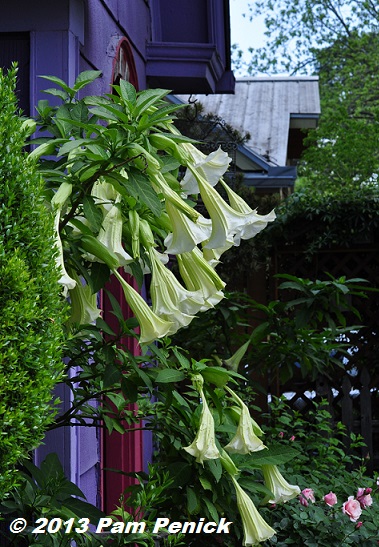 And another view of the angel's trumpets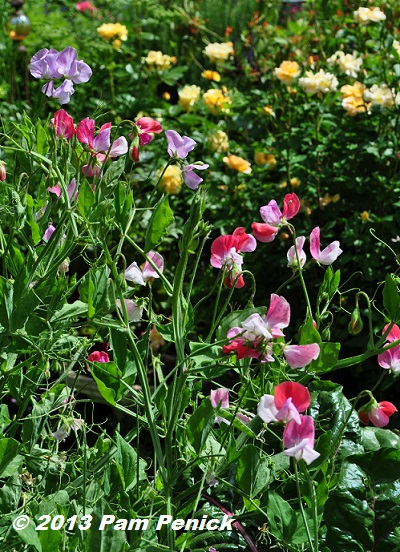 Buttery roses—'Julia Child' was one—make a sunny backdrop to the sweet peas.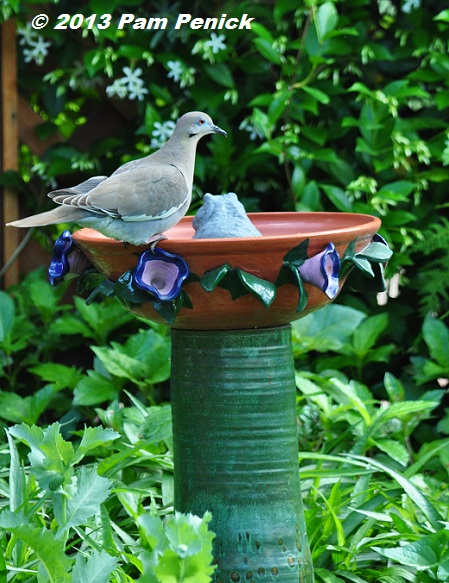 Star jasmine (Trachelospermum jasminoides) in bloom added another sweet scent to the garden. You can see it behind this white-winged dove, which alit on the birdbath and posed for a photo.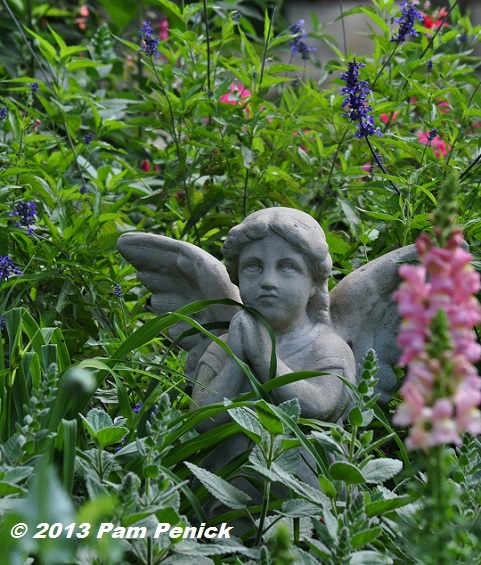 A small angel kneels among salvias and snapdragons.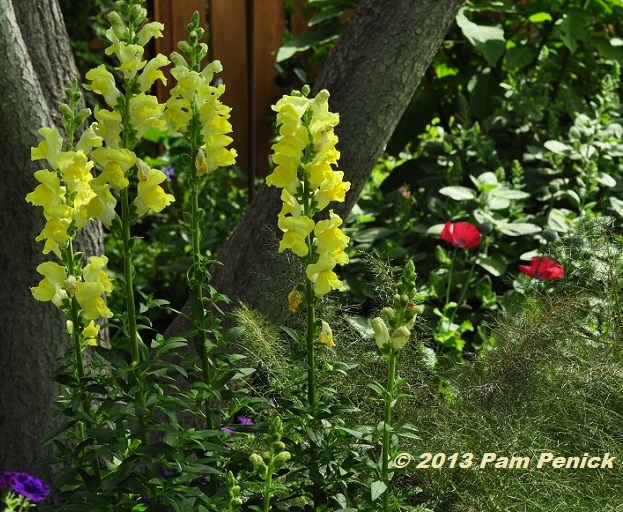 Yellow snapdragons lit up a partly shaded area under a ginkgo tree, one of a few I've encountered in Austin.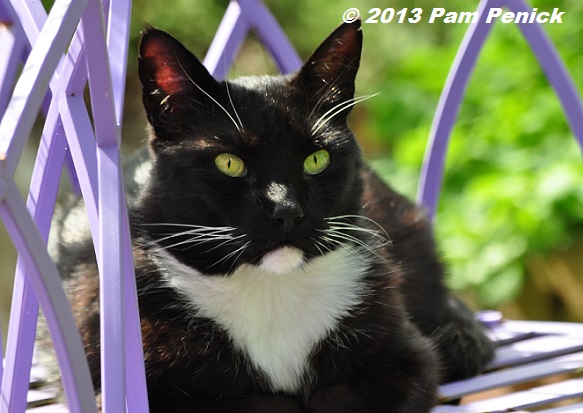 Sancho the cat lounged on a purple garden seat.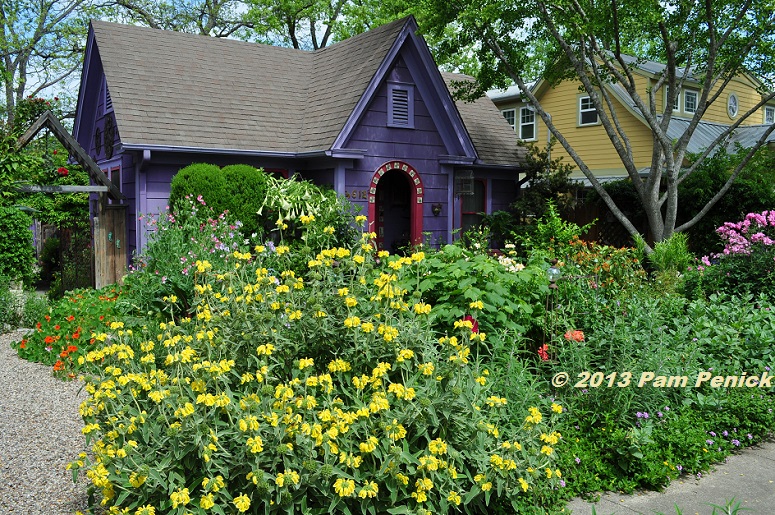 A wider view of the garden reveals an enormous Jerusalem sage (Phlomis fruticosa) in full bloom.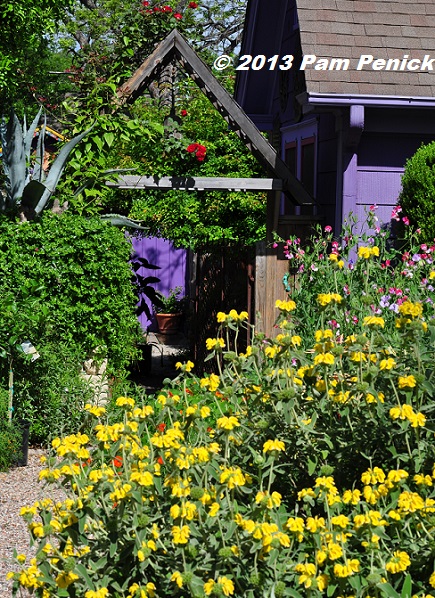 Along the left side of the lot is a gravel drive, which no longer leads to the detached garage in the back yard. It stops short, blocked by a stone wall over which heartleaf ice plant (Aptenia cordifolia) cascades and a peaked, wooden arbor supporting a 'Don Juan' rose.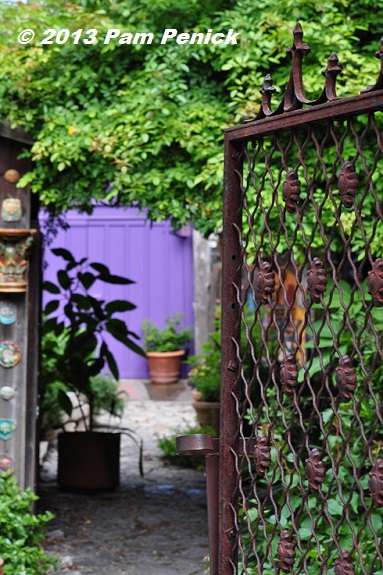 An intricate iron gate offers peek-a-boo glimpses of the garden beyond.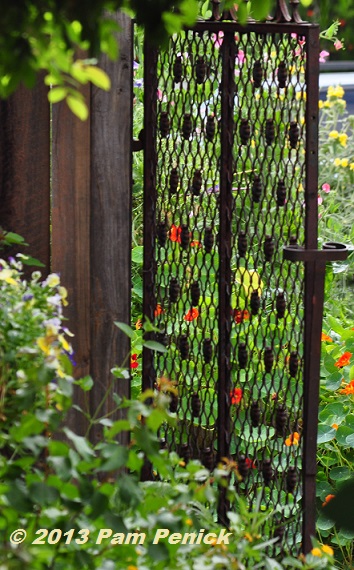 I adore this gate! Now we've walked through, and here's a look back, with the front garden abloom in the background.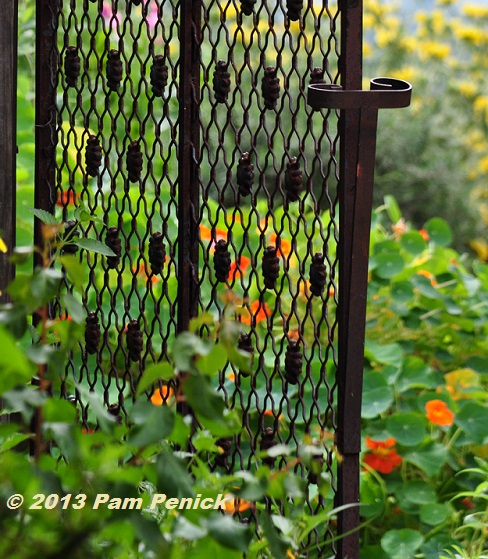 Another view, with nasturtiums tumbling along the ground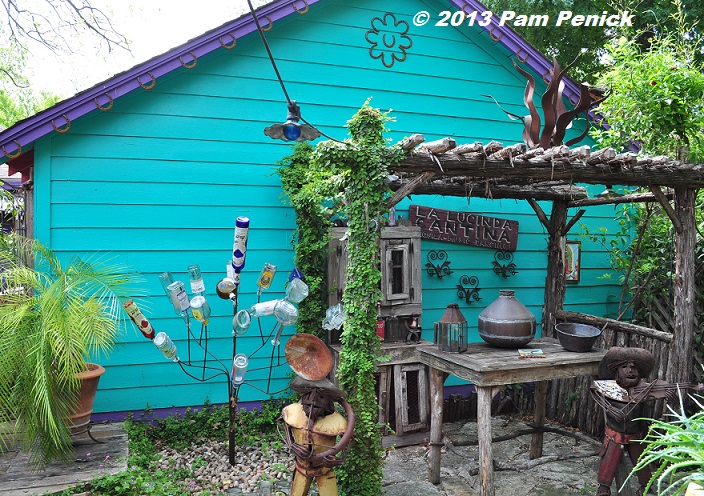 In the very back of her lot, behind her former garage, Lucinda created a festive cantina for her frequent parties. A rustic table serves as a bar, sheltered by an arbor constructed of unpeeled cedar posts topped with a metal agave. On the turquoise wall, a wooden sign proclaims this to be "La Lucinda Cantina." At left, a tequila bottle tree is mulched with corks, and metal mariachis play. Horseshoes line the eave for luck.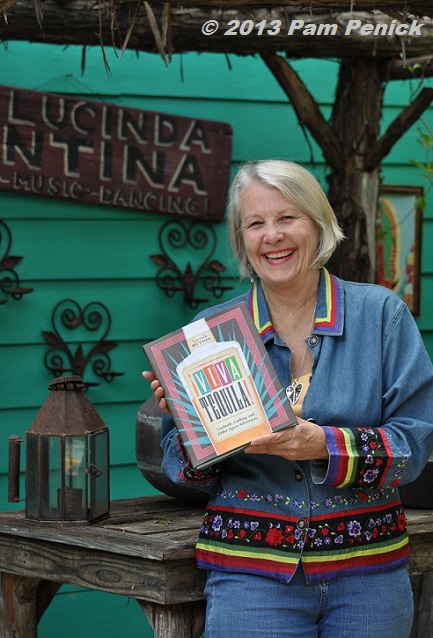 What a perfect setting for Lucinda to show off her brand-new book, Viva Tequila! Cocktails, Cooking, and Other Agave Adventures, soon to be released in May. By the way, if you want to hear the always entertaining Lucinda speak about her new book—and her agave adventures—plan to attend the Garden Club of Austin's May 23rd meeting, 7 pm, at Zilker Botanical Garden.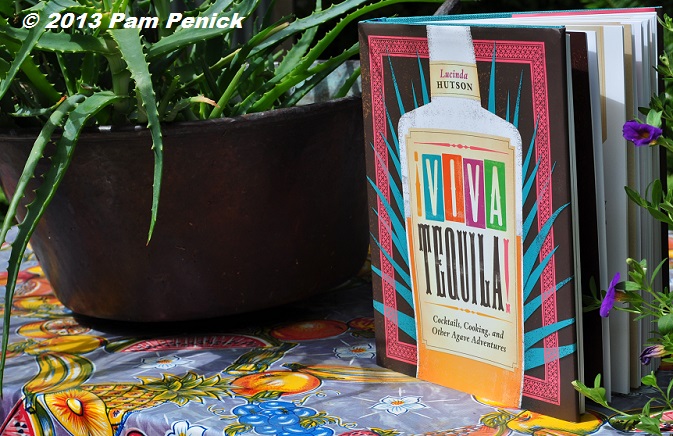 I got a sneak peek. It's a beautiful book!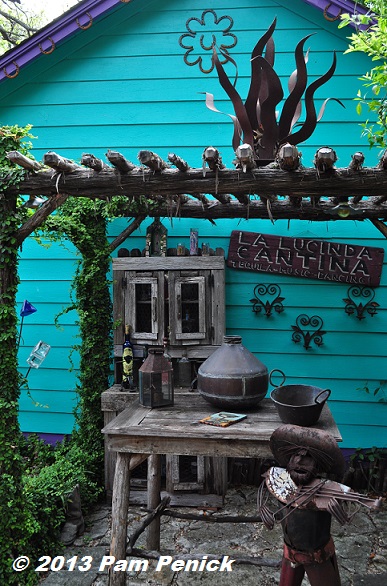 And the cantina is awfully fun, isn't it?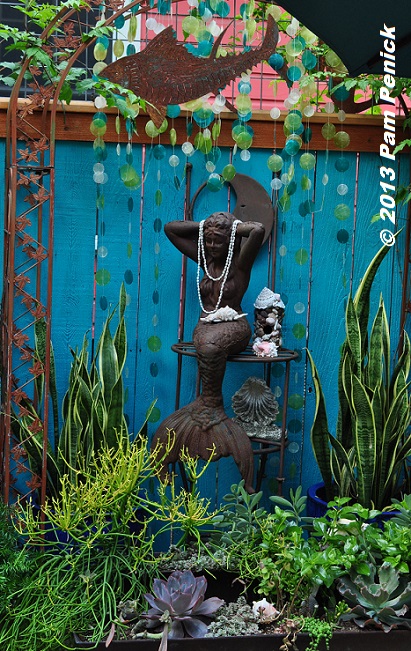 Lucinda is bold with color, painting even her wooden privacy fence to festive effect. Here's her mermaid garden, with blue and green capiz shells creating a watery curtain behind a metal fish and a preening mermaid. Snake plant (Sansevieria) and succulents like 'Sticks on Fire' euphorbia add to the wavy, under-the-sea vignette.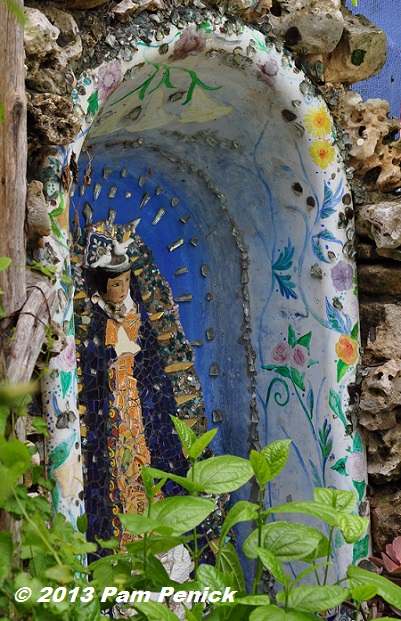 Lucinda created this mosaic Madonna altar out of an old bathtub and mortared it into a stone wall.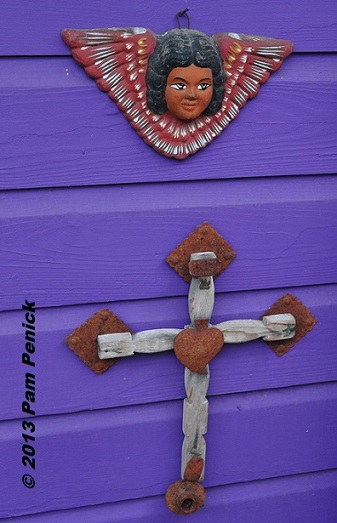 Mexican folk art is prominently displayed throughout her garden.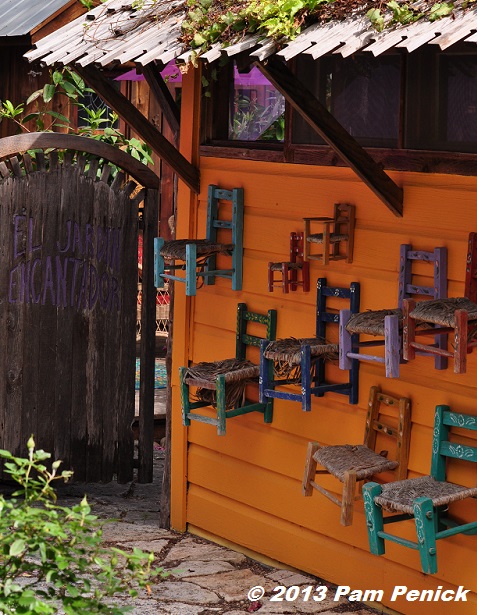 These are children's chairs from Mexico, turned into an artistic collection along an orange wall of her house.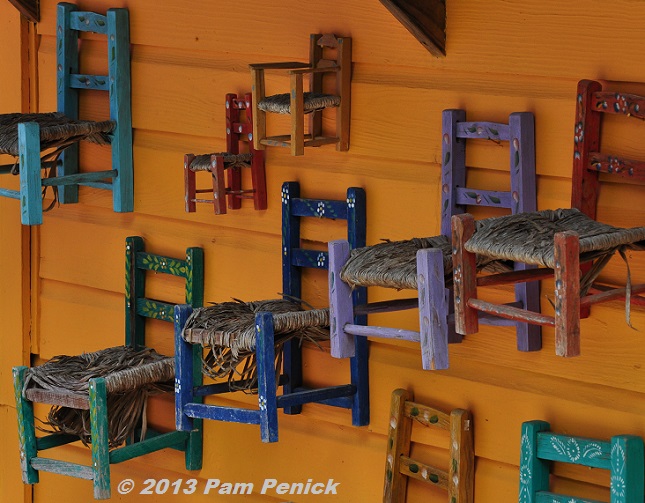 A closer look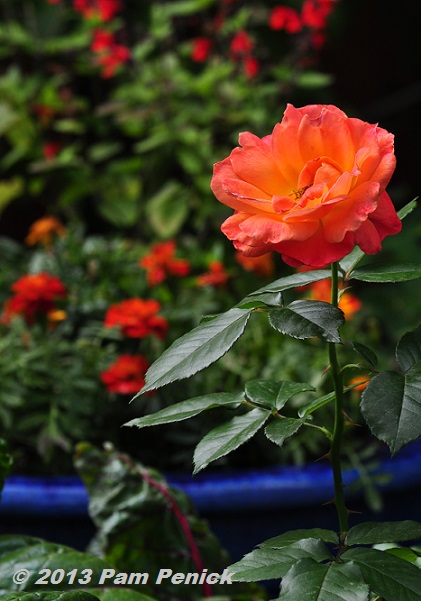 In front of her former garage, Lucinda built a large raised bed over her old driveway and planted edibles and more roses.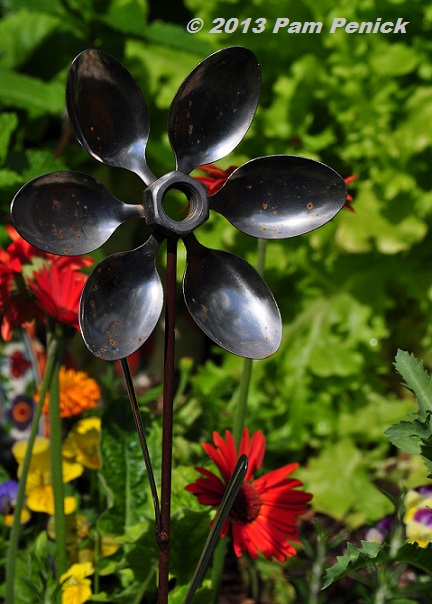 Silverware flowers pick up the edible theme with a touch of whimsy.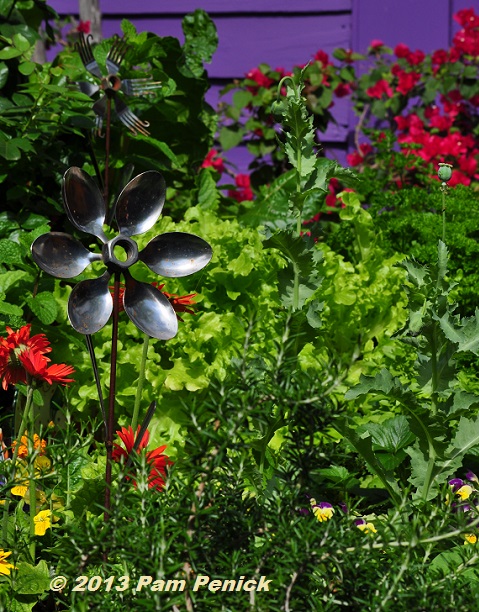 A wider view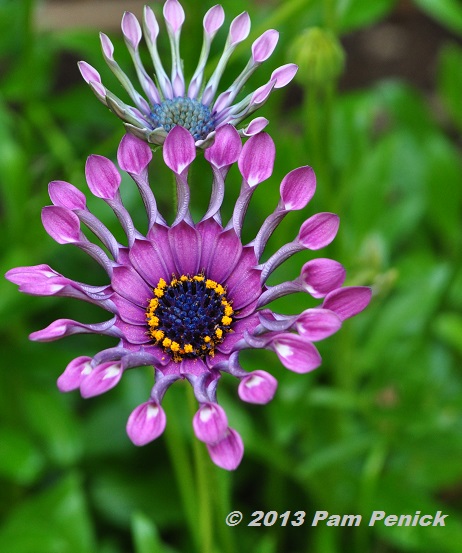 An eye-catching flower. This is some sort of African daisy, Lucinda said. Update: This is an Osteospermum hybrid, perhaps 'Soprano Lilac Spoon' by Proven Winners.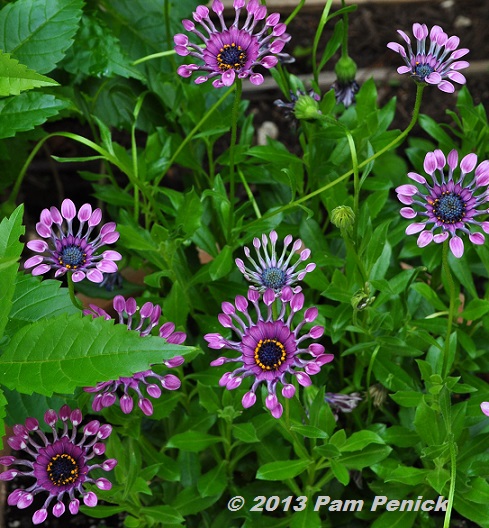 Aren't they cool?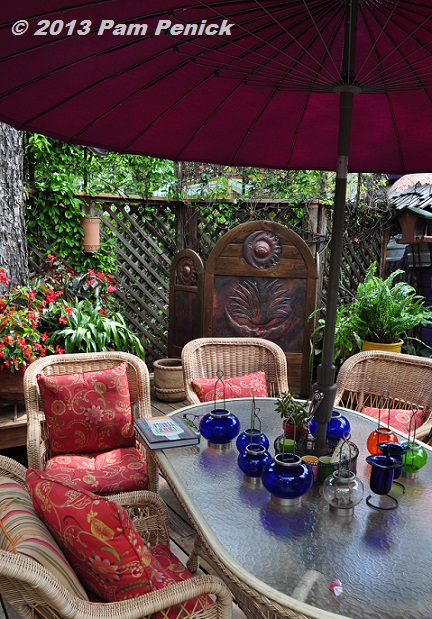 This is the dining deck immediately behind the house. A purple umbrella shades the table and cushy chairs. It always amazes me how many distinct garden rooms Lucinda was able to carve out of her tiny lot. And the beauty of it is that they make her garden live much larger than you'd expect.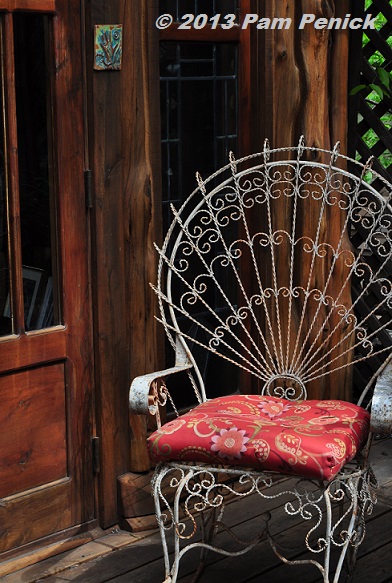 A frilly metal chair stands by the door to her detached office, where she writes and prepares for her many speaking engagements.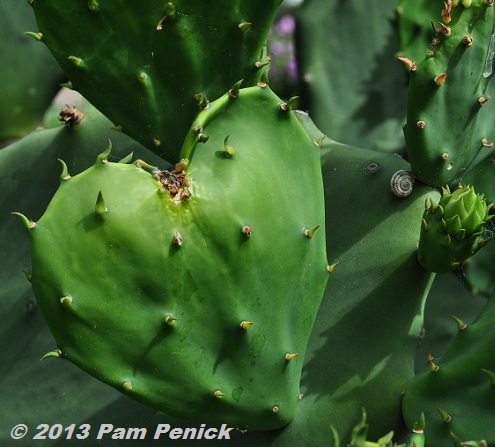 A heart-shaped pad on a spineless prickly pear—Mother Nature's own valentine?
My thanks to Lucinda for another delightful garden visit! Readers, if you'd like to see more of Lucinda's festive garden, check out my previous posts:
Lucinda Hutson's Easter-egg colorful garden, April 2012
Enchanted evening in Lucinda Hutson's cantina garden, April 2011
El Jardin Encantador: Lucinda Hutson's garden, October 2009
Lucinda Hutson's enchanting garden, April 2008
All material © 2006-2013 by Pam Penick for Digging. Unauthorized reproduction prohibited.
My friend
posted in
Agaves
,
Annuals
,
Arbors
,
Birds
,
Books
,
Bottle tree
,
Cactus
,
Cats
,
Color
,
Decor
,
Doors
,
Edibles
,
Fences
,
Garden art
,
Garden structures
,
Garden tours 2013
,
Gates
,
Lawn Gone!
,
Patios & decks
,
Roses
,
Seating
,
Spring color
,
Succulents
,
Walls