April 21st, 2013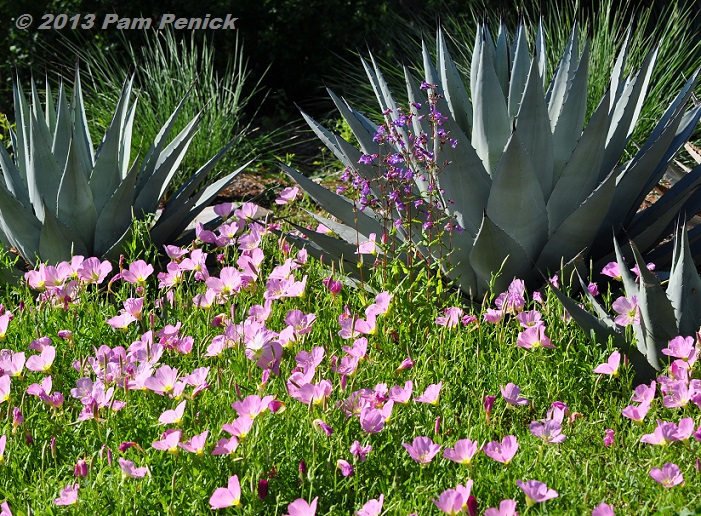 April is high season for wildflowers in Texas, and if you can't get out for a country drive to admire them in meadows and fields, an Austinite can always get a fix at the Lady Bird Johnson Wildflower Center. I stopped by for a wildflower stroll on Friday morning. Before I'd even pulled into the parking lot I stopped to ogle this spiky/soft combo of agave (maybe A. neomexicana?), Gulf Coast penstemon (Penstemon tenuis), and pink evening primrose (Oenothera speciosa).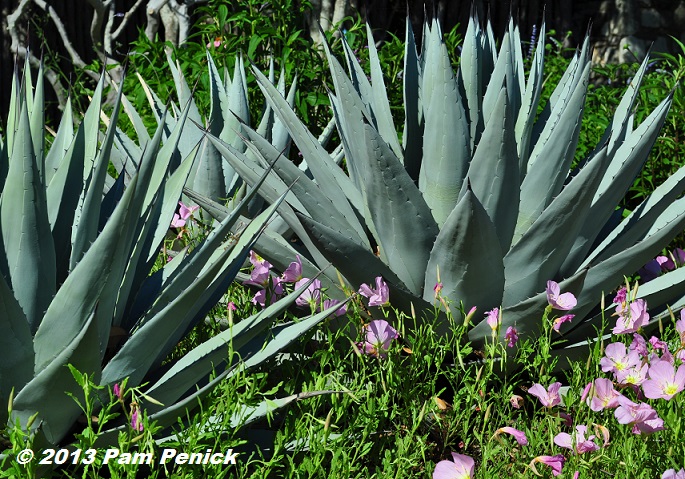 Muscular agave leaves…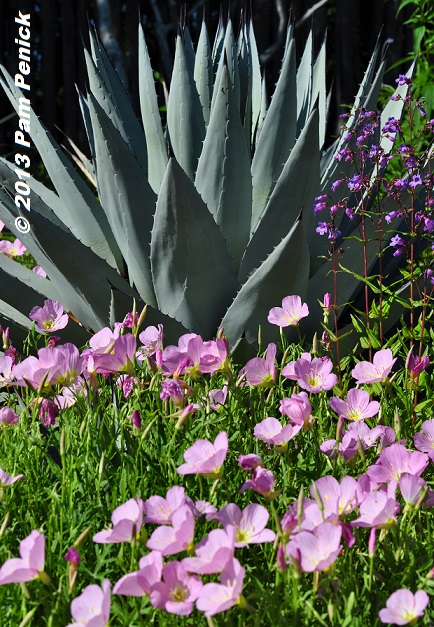 …make a strong backdrop to the tissuey, pink petals of the primrose.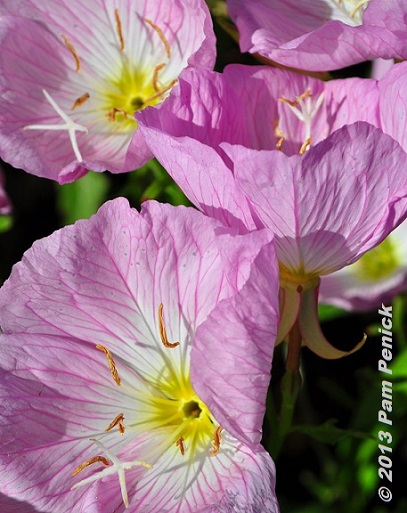 A closer look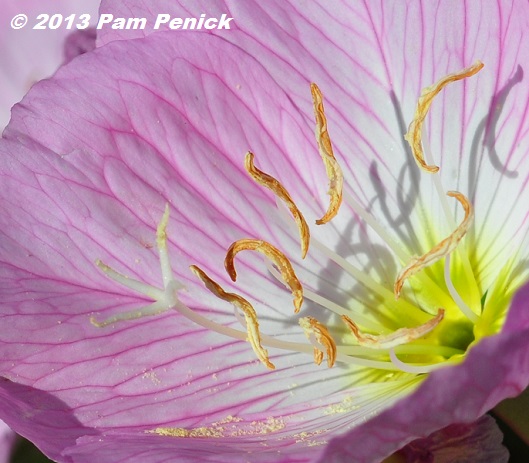 Even closer. Notice the pollen dust held by the veined, cupped flower.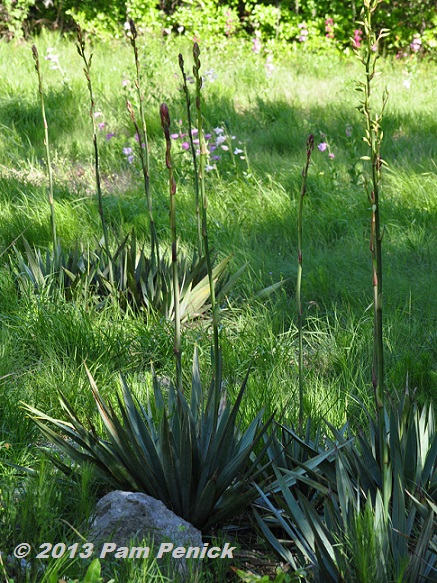 Entering the gardens you pass a grassy meadow studded with yuccas (perhaps Y. pallida), their bloom stalks held aloft like flagpoles. Soon they'll all be flying white flags.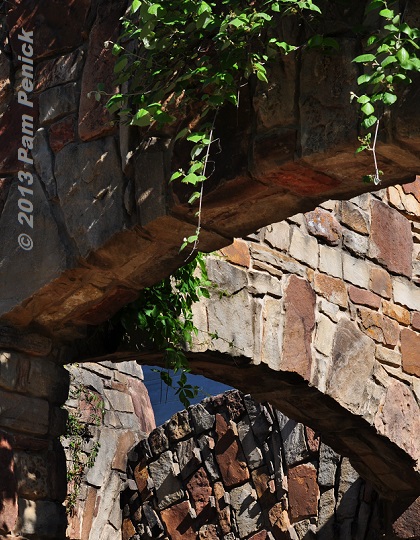 The striking architecture of the Wildflower Center, with its copper-colored stone and heavy arches softened by trailing vines, is an important part of the garden.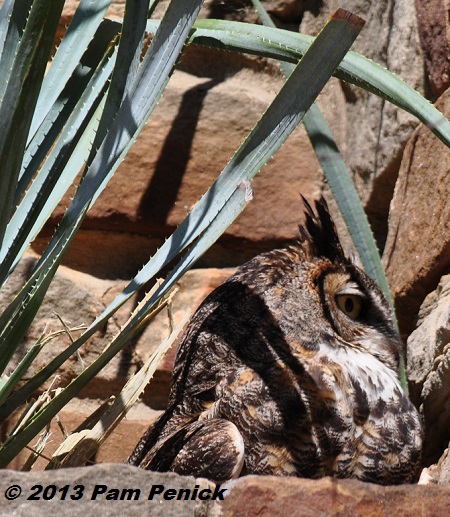 Tucked high up in an alcove planter, nesting under a Wheeler sotol, is a great horned owl. She has two nearly full-grown chicks that I'd hoped to see. But a brisk wind seemed not to their liking. The chicks tucked themselves in too low for photos, and Mama Owl turned her face to the wall, staring at it placidly as the wind gusted around her.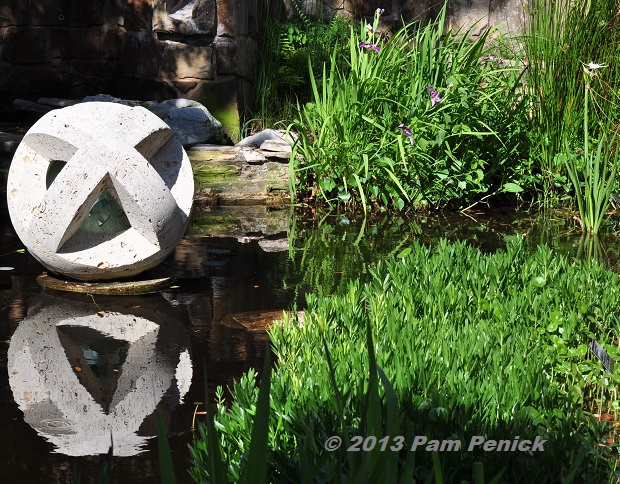 Just to her left is the pretty little entry pond.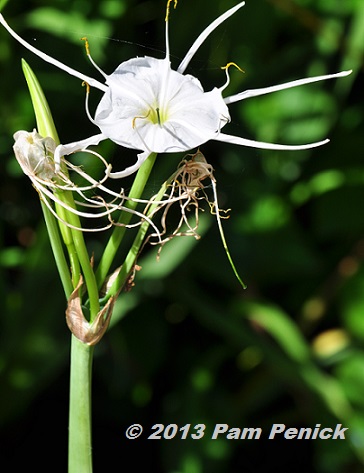 I didn't get the ID of this flowering pond plant. Update: Hymenocallis liriosme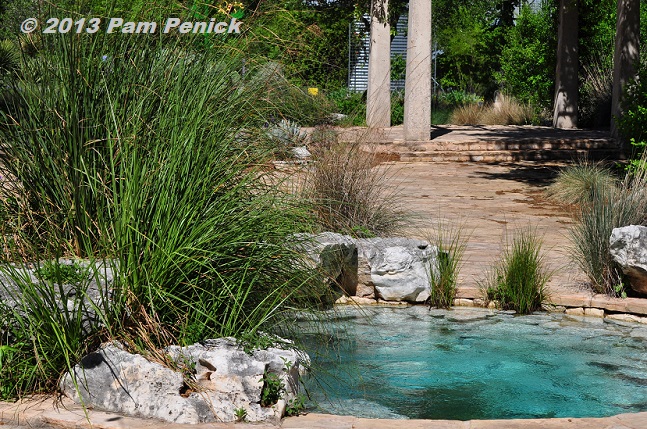 A clear blue pond, built to resemble a spring-fed pool in the Hill Country called Jacob's Well, or so I've heard, anchors the main courtyard.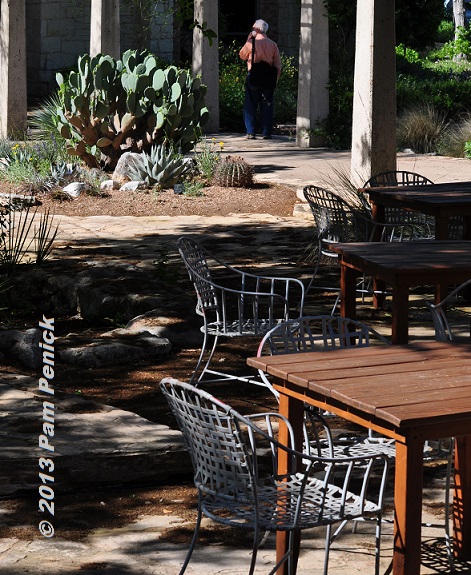 Seating at one side of the courtyard makes a pleasant spot to enjoy lunch from the cafe.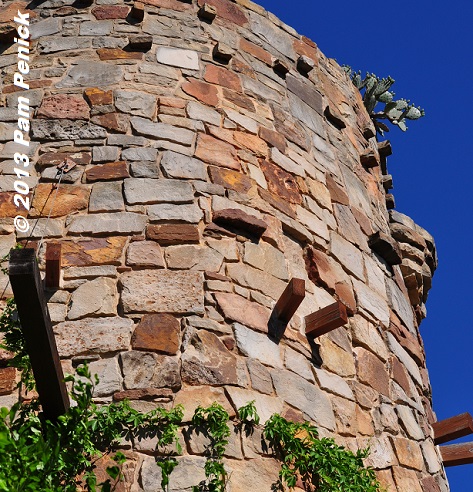 More of that marvelous architecture. This is the Wildflower Center's signature tower. The core houses a rainwater-collection cistern, and you can walk a spiraling stair up to the very top for an overlook of the grounds.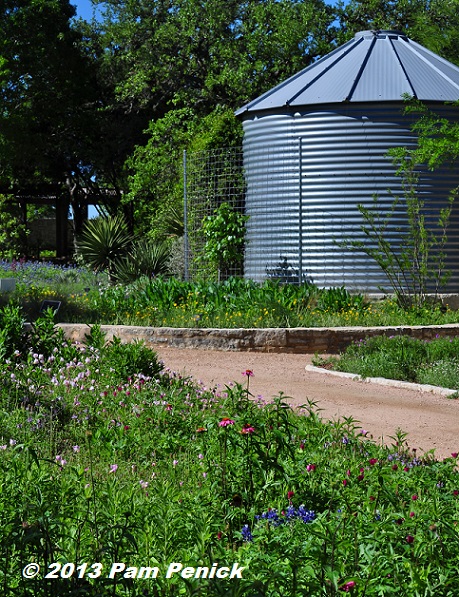 Continuing along the back of the tower instead, I snapped a photo of another of the massive cisterns that dot the grounds, a reminder of how vital water collection is in central Texas. I love this style of cistern—all that galvanized metal and the cylindrical silo shape—and wish I had one in my own garden.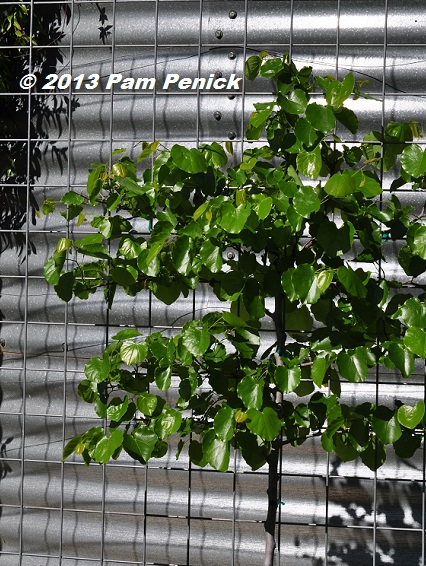 Espaliered on a section of cattle-panel fencing, a Mexican redbud (Cercis canadensis var. mexicana) sapling's glossy leaves show to advantage.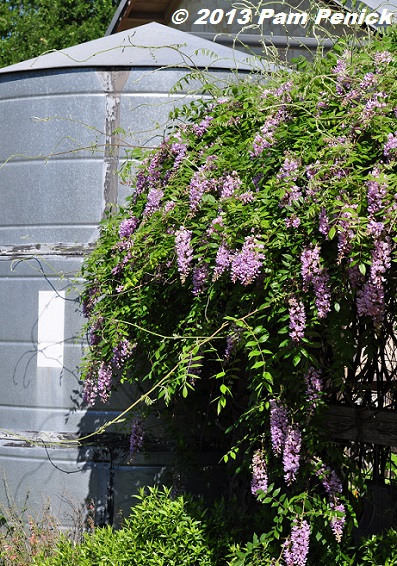 Another smaller cistern in the children's garden makes a rustic backdrop to a blooming Texas wisteria vine (Wisteria frutescens).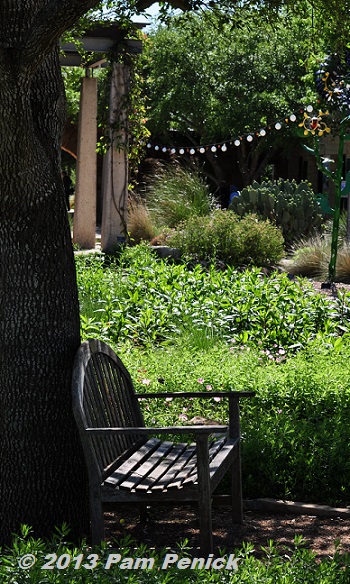 I sat here for a few minutes to soak in the beauty of the morning—a cool, sunny morning of the sort we'll be longing for soon enough—and the wildflowers blooming all around me…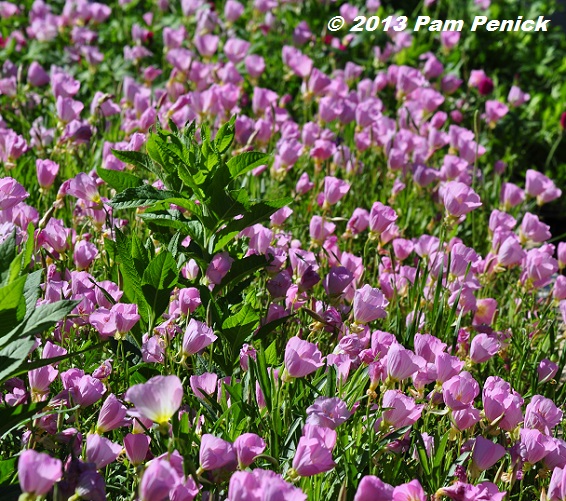 …like this swath of pink evening primrose.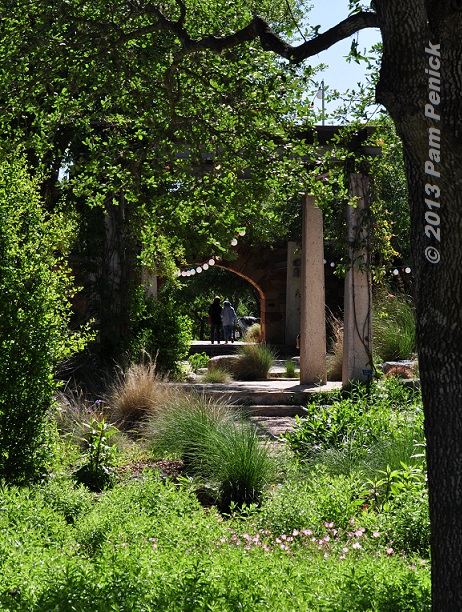 But what about Texas bluebonnets, you may be wondering? Oh yes, they were blooming too. Stay tuned—I'll have pictures of bluebonnets in part two of my Wildflower Center visit.
All material © 2006-2013 by Pam Penick for Digging. Unauthorized reproduction prohibited.
posted in
Agaves
,
Birds
,
Botanic/Public Gardens
,
Flowers
,
Garden art
,
Garden structures
,
Garden tours 2013
,
Paths
,
Patios & decks
,
Ponds
,
Sculpture
,
Seating
,
Spring color
,
Texas natives
,
Trees
,
Trellis
,
Vines
,
Water conservation
,
Water features
,
Water gardening
,
Wildflowers
,
Wildlife
,
Xeric plants
,
Yuccas