April 18th, 2013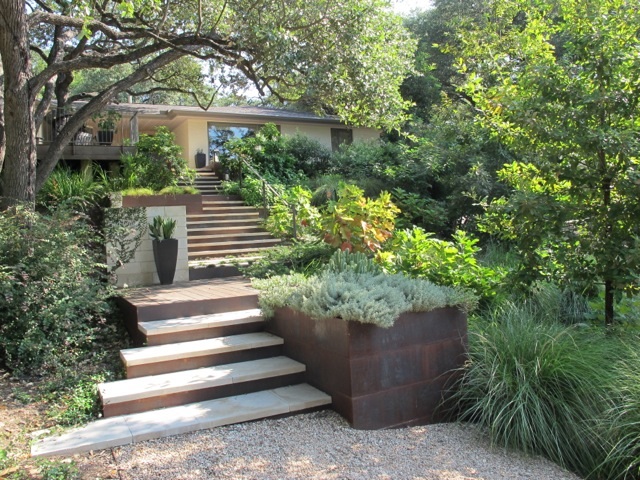 Photo by Maggie Goen. Used with permission from Mark Word Design.
For Austin designer Mark Word, selecting plants for clients' gardens is akin to playing a good jazz set at a hopping nightclub. "You do plenty of crowd-pleasing standards," he says—the Deep South evergreens and Hill Country natives, which have long been popular in this South-meets-Southwest city—"but mix them up with improvisations of your own," like dry-loving plants from California and, increasingly, northern Mexico. "It's not good enough to say let's just go native," he adds. "Our climate is becoming less hospitable to certain natives. Greater care must be taken when selecting and placing them."
The ongoing, 3-year drought in Texas has indeed taken a toll on thirstier exotics and even some native flora and raised the consciousness of its already green-minded capital city. Year-round municipal watering restrictions, increasing water rates, and public "shame lists" of the city's biggest water consumers have encouraged even high-end clients to ask for lower-water landscapes—while still often desiring the lush, green aesthetic that Austin is known for.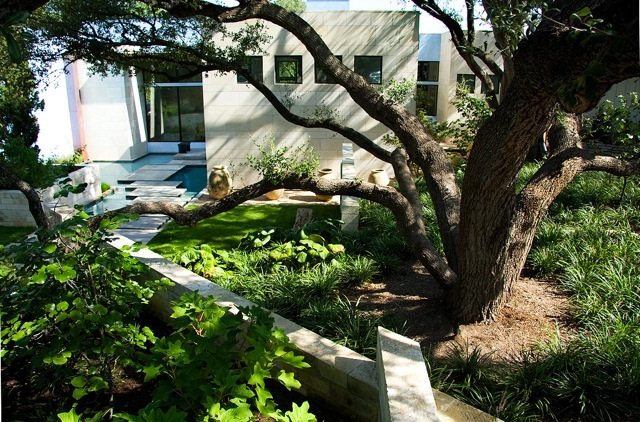 Photo by Amanda Elmore. Used with permission from Mark Word Design.
Amid this seeming contradiction of desires, Word works his magic. "Xeric doesn't have to mean white gravel and Yucca rostrata," he says. Instead his gardens incorporate sunny rivers of light-catching ornamental grasses—maiden grass (Miscanthus spp.), switchgrass (Panicum virgatum 'Prairie Sky'), and 'Blonde Ambition' blue grama (Bouteloua gracilis)—and ground-covering swaths of shade- and drought-tolerant Berkeley sedge (Carex divulsa), liriope, and zoysia lawn (left long in summer), punctuated by flowering shrubs and perennials like pineapple guava (Feijoa sellowiana), 'Penelope' and 'Ducher' roses, Russian sage (Perovskia atriplicifolia), giant hesperaloe (Hesperaloe funifera), and firecracker fern (Russelia equisetiformis). Small trees like Mexican plum (Prunus mexicana) and Japanese maple (Acer palmatum), which requires extra moisture, add a leafy layer beneath the city's canopy of live oaks.
"We're not in the desert," he points out, even in drought. "It's too clayey and too wet for that. But finding plants that'll take our warm nights, our heat, our drought is the challenge."
Born and raised in Austin, his boyhood spent exploring the woods and limestone caves above the city's beloved spring-fed Barton Springs Pool, Word enjoys a deep understanding of the region's ecology. In college he studied art, but on the side he and a friend operated a design/install business called Blue in Green in homage to the Bill Evans-Miles Davis jazz classic of the same name. "We spent a lot of time worrying about the right music for laying out plants and digging holes," he remembers.
A four-year stint at Gardens, James David's groundbreaking design studio and boutique nursery in Austin, taught him to work on a larger scale, and eventually Word opened his own studio, Mark Word Design. Today he's in demand among clients building or remodeling contemporary, green-certified homes in Austin's toniest neighborhoods, who want their landscaping to reflect their home's architecture while blending with more-traditional neighbors and adhering to the city's increasingly restrictive watering rules.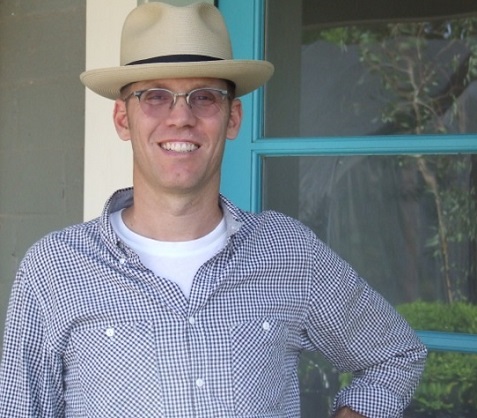 Garden designer Mark Word. Used with permission from Mark Word Design.
"The vocabulary of conservation is becoming better known," Word notes. "Water restrictions phase 2—people know what that means now." Even so, he's leery of being tagged with the buzzword sustainable. "You still have to water. You have to weed. You have to make something sustainable over time. Sustainability is a process as well as the legacy of your garden."
Acknowledging the difficulty of creating hardy gardens in central Texas' extreme climate, Word reminisces about a few years spent in Los Angeles. "Living in California is like cheating," he laughs. "Gardening there is too easy."
He enjoys a challenge and views the ecology of his home turf as a poet does the strict form of a sonnet. "The structure is 30 inches of rain, frequent drought, watering restrictions. These are our rules. But rules get you going, thinking, 'What can I do?' Ninety-nine percent of this is craft, budgeting, answering phone calls. But that one percent"—the poetic vision behind a garden's creation—"is sublime."
Note: This article was originally slated to appear in Garden Design's May 2013 issue, but the magazine folded in April. My thanks to Mark Word and his associates for taking the time to talk with me and show me several of his clients' gardens. I wrote a post about one of his commercial designs, at El Monumento restaurant, in November 2012.
All material © 2006-2013 by Pam Penick for Digging. Unauthorized reproduction prohibited.