April 8th, 2013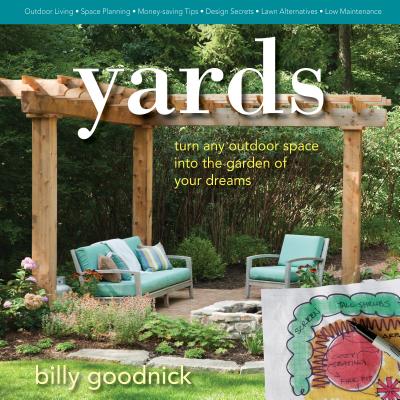 Two new books from St. Lynn's Press are well worth some of the precious real estate on your bedside table as you start making plans for your garden this spring. I've followed Santa Barbara, California, landscape architect, garden writer, and funny guy Billy Goodnick online for several years. His debut book is called Yards: Turn Any Outdoor Space Into the Garden of Your Dreams. It's an excellent primer about how to design your own garden in the same way that a professional would. While this might be dry reading in the hands of another writer, Goodnick's trademark humor and wry, down-home colloquialisms lighten the mood and keep you engaged as you work through his design exercises.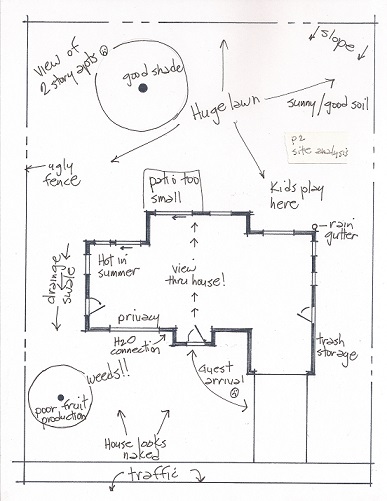 Sketch by Billy Goodnick, from Yards
Work? Yes, as Goodnick says straight up in the introduction, "A good yard doesn't just happen. You've got to work for it….The work I'm talking about starts between your ears." His exercises show that it can take a lot of thinking to really get to know your yard and yourself—and to narrow the options for your design. Under his laid-back, joking persona, he's surprisingly methodical, leading you step-by-step through the thought processes and creative exercises that yield a design that's not only beautiful but well suited to the way you live.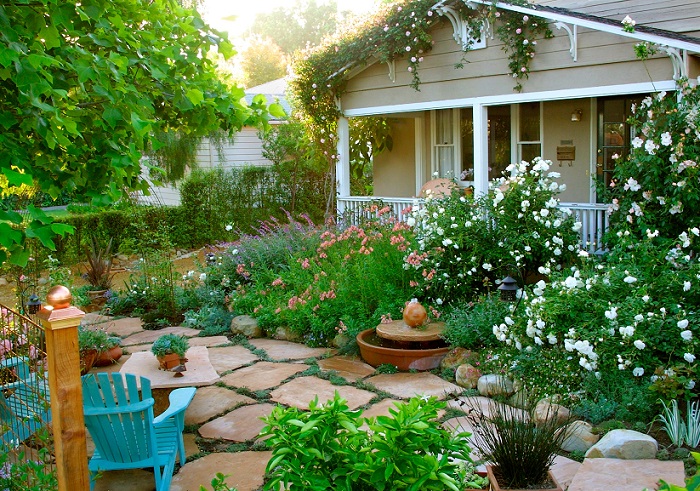 Photo by Holly Lepere, from Yards
For readers who don't want to do the exercises (you know who you are!) but prefer to just glean inspiration from pretty pictures, Yards offers that too (see this image and the one below). However, most of the images are tighter views of design or planting details. The real meat of the book is truly in working through the design process that Goodnick lays out.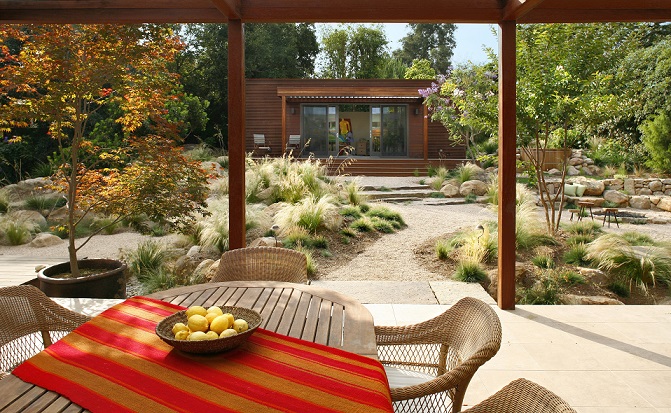 Photo by Billy Goodnick, from Yards
His design advice is spot-on and will get you from that nebulous, anxious feeling of "where do I start?" to a plan of action with regard to your yard. If you're a do-it-yourselfer, Yards will help you figure out what you want to do and get going on it. If you're more inclined to hire a designer, Yards will help you settle on specific ideas that you can then share with your designer.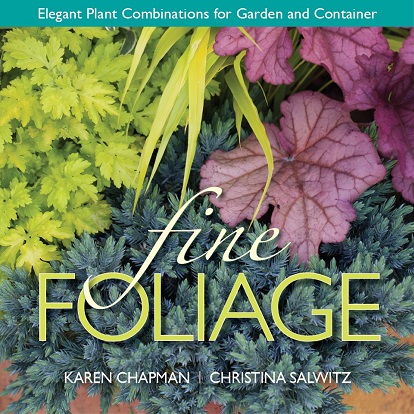 If you're tired of the same old flower-based combos in your garden, or bored with seasonal containers planted up with pansies, petunias, or whatever flowering annual is on sale at the big-box store this week, read Fine Foliage: Elegant Plant Combinations for Garden and Container by Seattle authors Karen Chapman and Christina Salwitz. They know that foliage-based gardens offer longer seasons of interest, contribute to winter structure if evergreen, and generally require less work than traditional flower gardens. While we may await ephemeral flowers with anticipation, it's foliage that carries a garden through the seasons and the years.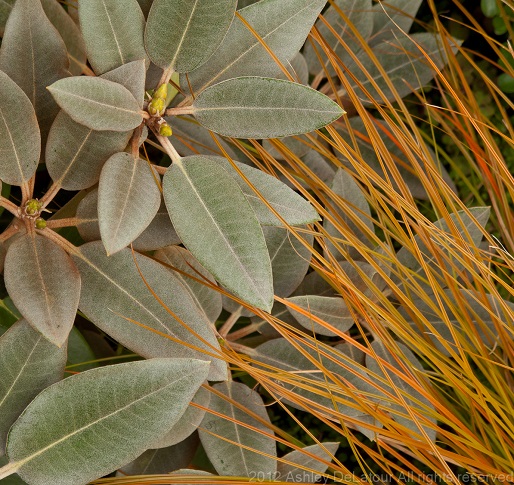 Photo by Ashley DeLatour, from Fine Foliage
Chapman and Salwitz take the guesswork out of combining foliage plants by providing more than 60 "recipes" and explanations for why their combos work. I like that each arrangement is given a two-page spread, with a full-page photo of the combination and smaller images of the individual "players," along with growing information. Most helpful is a paragraph about why each combination works—how the plants harmonize, for example, or provide pleasing contrast. These design observations are great teaching tools, allowing you to become more adept at making your own combinations.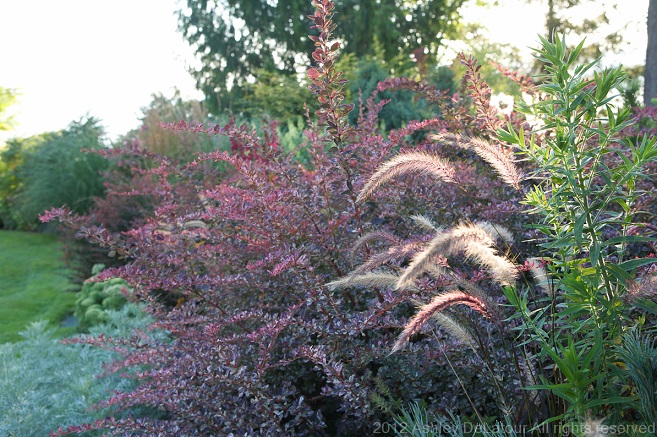 Photo by Ashley DeLatour, from Fine Foliage
As with most gardening books not focused on central Texas' unique climate, most of the plants named here won't be relevant for our gardens. Don't let that dissuade you from studying these combinations anyway. Because the authors explain why the combos work, all you need do to copy them is substitute plants that do grow well here for any unsuitable ones.
For instance, to replicate the "Purple Waves" combination shown above—made up of purple fountain grass (which grows well as an annual in central Texas), 'Rose Glow' barberry, and 'Silver Mound' wormwood—simply sub out the barberry for loropetalum and the 'Silver Mound' wormwood for unbeatable 'Powis Castle' artemisia, and you get the same look, but with plants that are known to grow well here.
This spring, follow the plant recipes in Fine Foliage to cook up some great new combos for your garden.
Disclosure: Billy Goodnick sent me a copy of Yards, and St. Lynn's sent me a copy of Fine Foliage for review. I read and reviewed each book at my own discretion and without any compensation. This post, as with everything at Digging, is my own personal opinion.
All material © 2006-2013 by Pam Penick for Digging. Unauthorized reproduction prohibited.