March 31st, 2013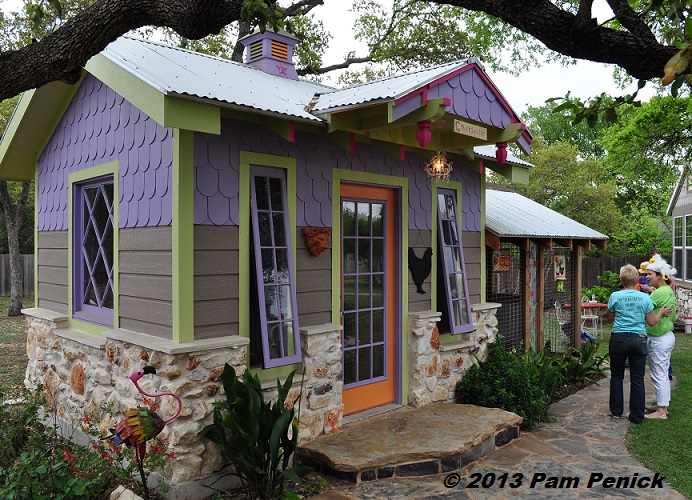 No, I'm not looking for a Mildred or Louise to eat bugs and lay eggs in my garden. But I couldn't resist buying a ticket to Austin's 5th annual Funky Chicken Coop Tour after watching a recent Central Texas Gardener episode (below) about Dani and Gary Moss's charming and playful garden in southwest Austin.

Located on Westview Road, the garden is a homegrown creation by the retired but hard-working owners, who clearly can create anything they set their minds to. Dani envisions projects like their whimsical Chicksville hen house, and Gary builds them. He also welds metal into flowery stair railings, arbors…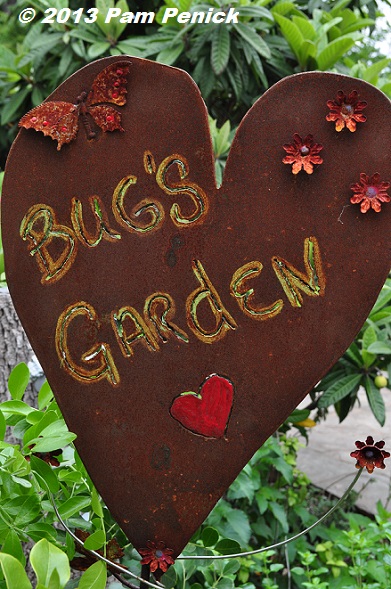 …and decorative accents placed throughout the garden, like this metal heart inscribed with Dani's nickname. How adorable is that?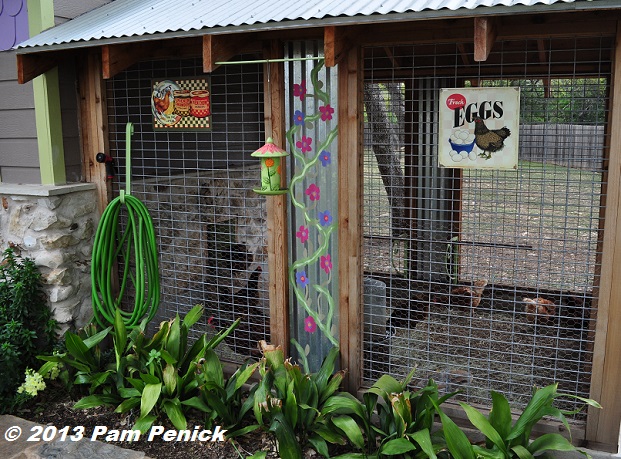 Their chicken coop is sturdily constructed of wood and wire, with a metal roof for shelter from sun and rain. A ramp leads up through a hen-sized doorway in the stone foundation…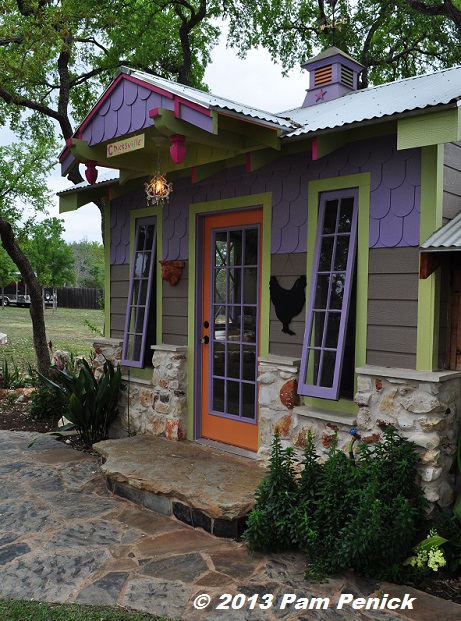 …into the colorful hen house itself, which also offers storage space for food and other supplies. It looks more like a lucky little girl's playhouse than a hen house, doesn't it? A tiny chandelier even hangs from the porch ceiling.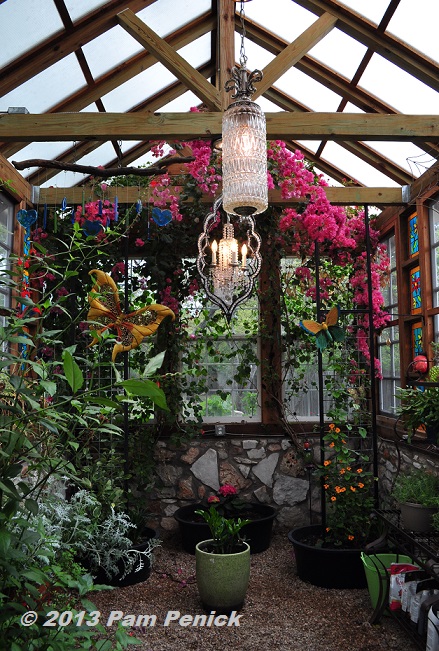 Similarly, the English-style greenhouse that Gary built for Dani is dressed up inside with two chandeliers.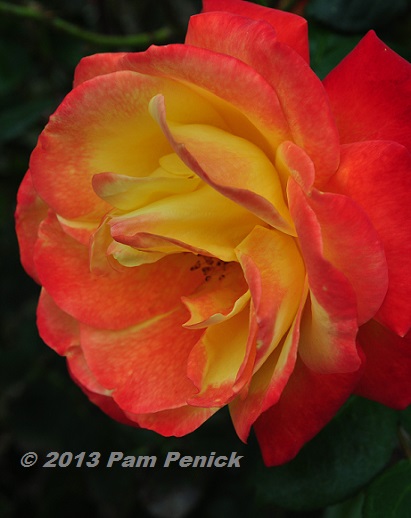 In the garden, roses were in bloom—lots of red Knock Outs plus a climbing pink rose and this flaming orange-and-yellow beauty.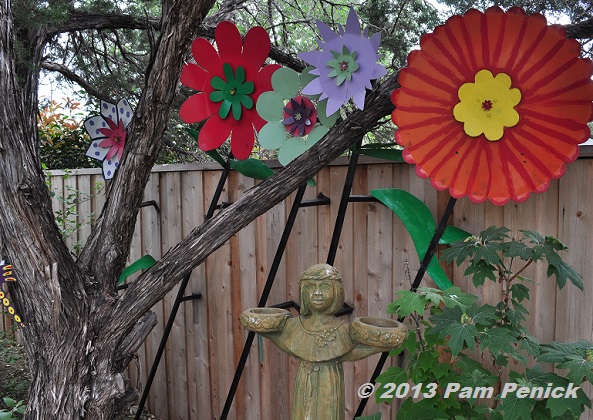 Gary's metal flowers provide nonstop blooms along the fence.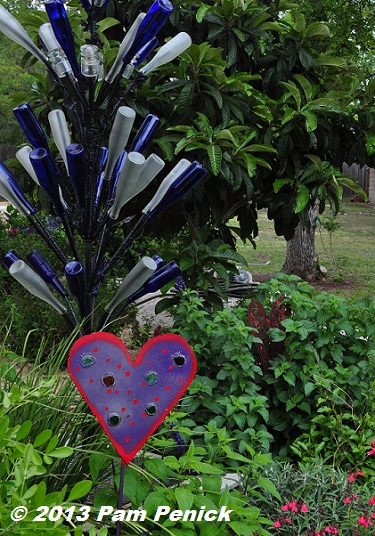 As does a bottle tree set in a garden bed near another of Gary's heart creations.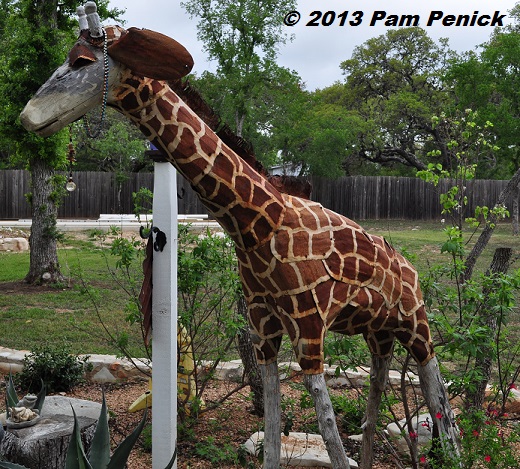 What don't they have? There was even this metal giraffe, cheekily wearing Mardi Gras beads…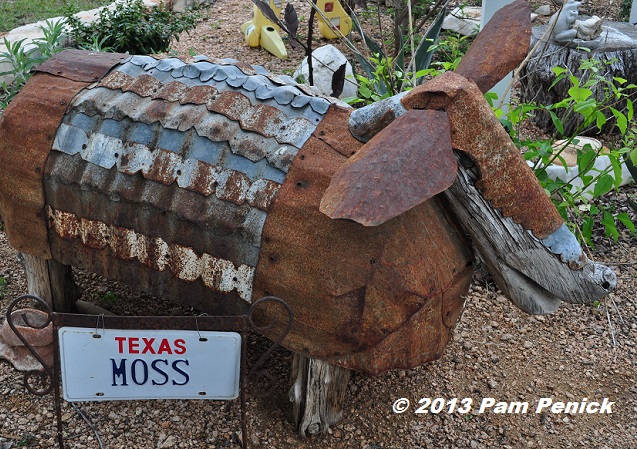 …and a banded armadillo made of scrap metal.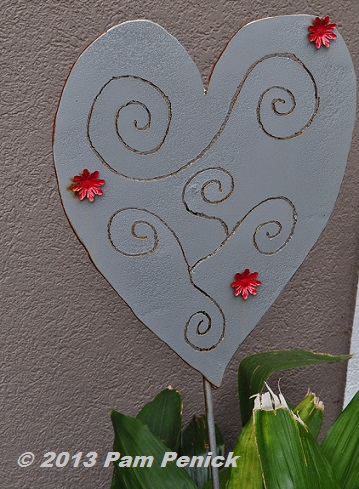 Everywhere you looked, there were more of the couple's creations, as well as lush plantings of evergreens and flowering perennials.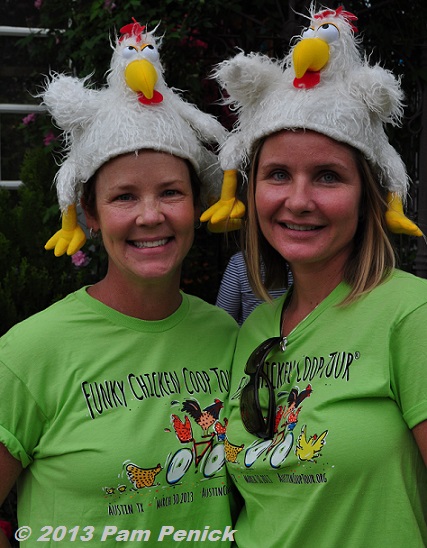 I'm glad I had a chance to see it, along with these two docents wearing hilarious chicken hats.
Happy Easter and happy spring!
All material © 2006-2013 by Pam Penick for Digging. Unauthorized reproduction prohibited.
posted in
Bottle tree
,
Chickens
,
Decor
,
Garden art
,
Garden structures
,
Garden tours 2013
,
Greenhouses
,
Roses
,
Sculpture
,
Sheds
,
Video