March 26th, 2013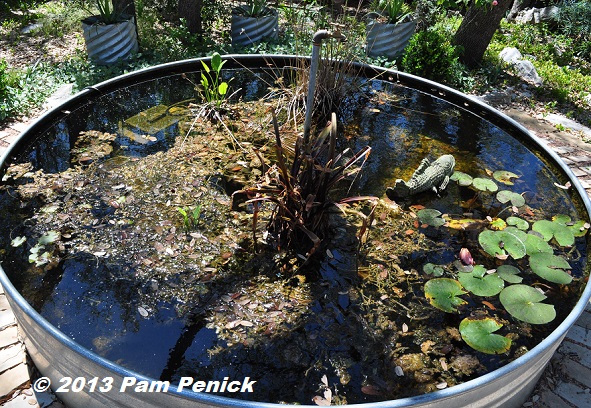 A few years ago I wrote a post explaining how to make a container pond in a stock tank, and many readers have since written to tell me they've made their own ponds by following my instructions. I also get a lot of questions about how to take care of a stock-tank pond throughout the year, so last fall I wrote a follow-up post about winterizing my pond, and today I'll show you how to clean a stock-tank pond in preparation for summer. Keep in mind that all my pond information is relevant for zone 8b; those of you in colder climates should consult a local pond expert for more information.
The picture above shows just how ugly my stock-tank pond looked last weekend, after a few winter freezes and the big leaf drop that happens in mid-March as the live oaks shed their old leaves. Not pretty! With freezing temps behind us and summer right around the corner, it was time to clean the pond.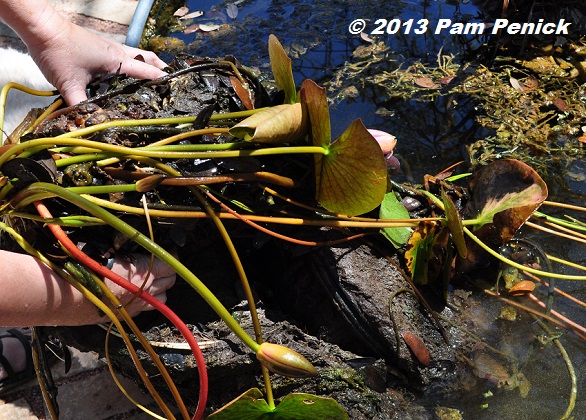 First I put on old clothes that I didn't mind getting muddy. Next I unplugged the pump that runs the spigot fountain. Then I reached in and pulled out all the plants. Have I mentioned that pond plants grow like they're on steroids? This is my 'Colorado' water lily after a season of growth. It's grown right out of its plastic container and produced an entirely new plant, connected to the old one, outside the pot. Look carefully on the lower right, and you'll see the rim of the black plastic pot. The mass in my hands is the new, unrooted lily.

Once all the pond plants are out of the pond (place them under wet newspapers in the shade if the day is hot; they should not be allowed to dry out), use a sturdy net to clean the surface of the pond of leaves, rotted plant material, and other debris. Then sweep the bottom of the pond with the net, lifting out decomposing plant matter and putting it in the compost pile. Be careful not to scoop up or accidentally discard your fish. Once you start netting the bottom of the pond, the water will get cloudy with silt, so you'll need to examine your net carefully each time you dump it out. Alternatively, you could net your fish and put them in a clean tank filled with pond water while you clean, but I never do this and still end up with what seems like all my fish.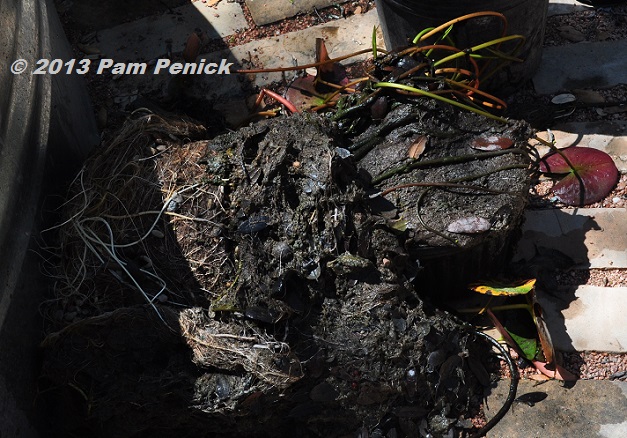 Once the pond is mucked out, it's time to divide the plants. Pond plants need dividing every year because of their aggressive growth. The nice thing about this is that you can furnish your pond-loving friends with divisions each year. Of course, next year they'll be looking for someone to give their divisions to as well.
If you can slip or shake your plant loose from the plastic pot, great. Sometimes, however, the plant just won't budge. In that case, I use a hatchet to split the side of the pot, cutting the plant loose and exposing a very root-bound plant.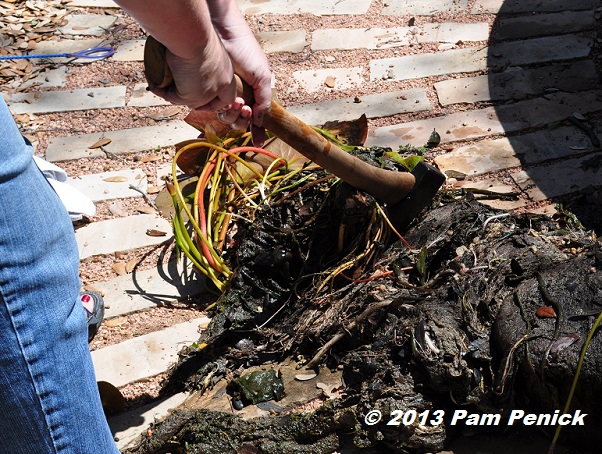 Then I use the hatchet to cut through the root-bound plant, dividing it in half. You could also use a plant saw to divide the plant, and maybe that would be safer than a hatchet. I am quite careful about where I swing that blade.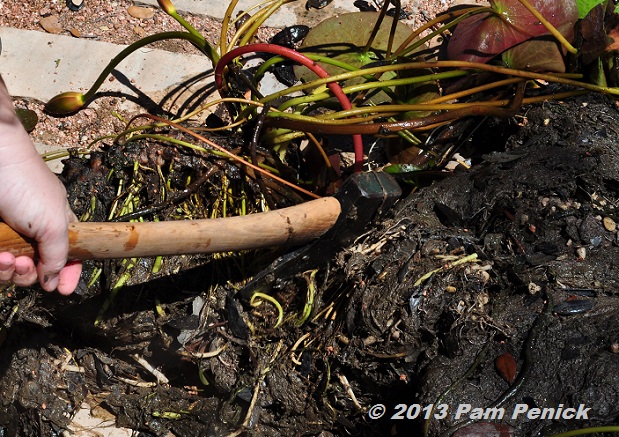 The hatchet goes through all that mess as if it were soft butter.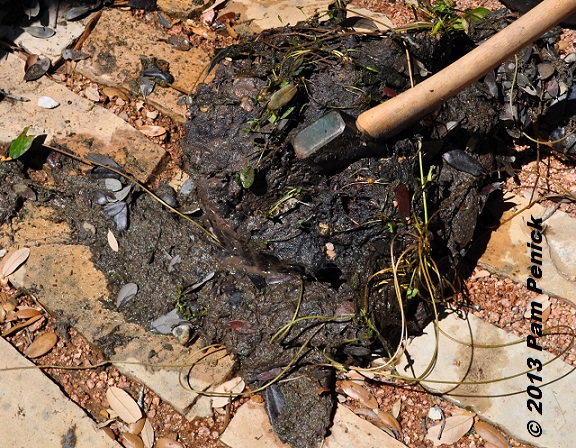 Here I'm dividing a slightly less messy 'Helvola' water lily. Make sure you divide so that you see stems and roots in each piece.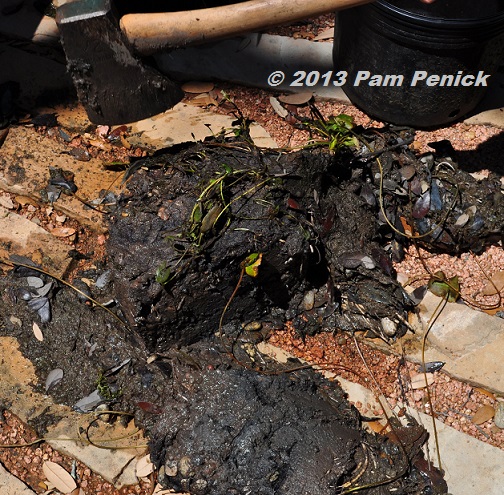 Chop, chop. I got three divisions out of this one.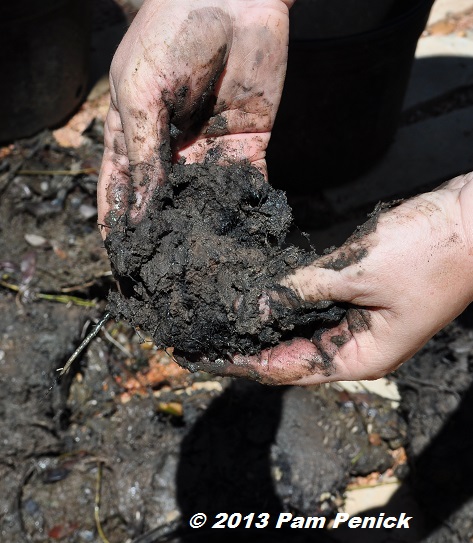 Place your divisions, ideally, in solid, plastic pond pots with no drainage holes. However, if, like me, you neglected to buy enough pond pots, you can use regular nursery pots. The plant will probably send roots out through the drainage holes, but since the pot sits in a metal tank, the plant can't really escape anywhere.
You'll need to fill in around the divisions with soil. Pond plants like to be planted in heavy clay. Don't use regular bagged potting soil, which is too light and will float out of the pot. I just go out in the garden and dig up some clayey soil, of which I have plenty, to fill in my pots. If you don't have clay soil in your yard, heavy potting soil can be purchased at pond stores. Hill Country Water Gardens in Cedar Park, for example, sells a 50-lb. bag for $5. I'm sure you don't douse your lawn or garden with chemical fertilizers or pesticides, but if so, you shouldn't use that soil in your pond.

Here's a 'Helvola' division all potted up with lots of growing room. Next step: top your plant pots with a layer of clean gravel to help keep fish from nibbling the plant down to nothing and to keep mud from clouding your water. I press one fertilizer tab for pond plants into each of my new divisions and then place them back in the pond. Water lilies go on the bottom of the tank; marginal or bog plants go on top of overturned pots or piles of bricks so that they sit near the surface.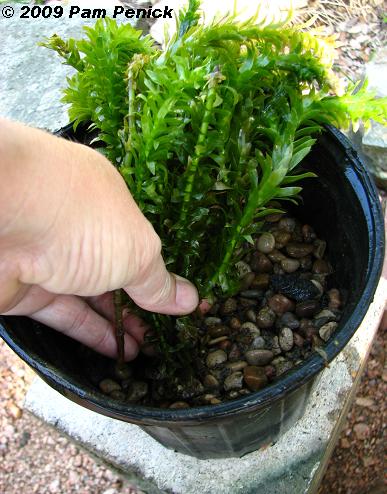 The final step is to purchase new underwater cleaner plants, which are essential for keeping your pond free of algae in the summer. I use 8 bundles of anacharis in my 700-gallon pond. Place the bundled anacharis stems in pots of clean gravel (no need for soil) on the bottom of the pond. The gravel holds the bundles in place.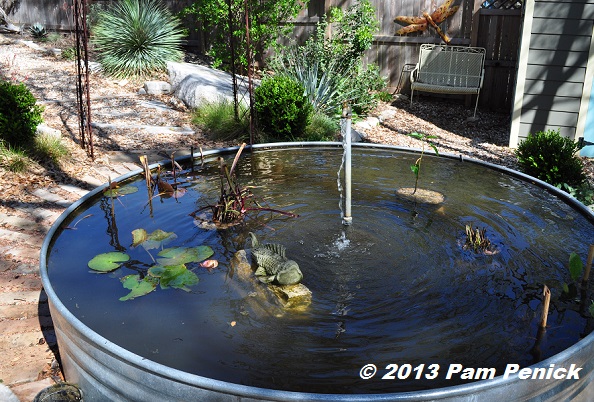 Take this opportunity to clean out the filter in your pond pump. Remind yourself that you really should stay more on top of cleaning your pump's filter. Then put it back in the pond and plug it in.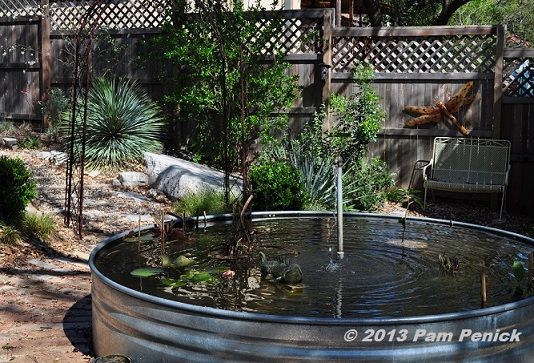 Voila! Your pond is clean and ready for summer. Enjoy!
This is part 3 of a 3-part pond series:
Part 1 — How to make a container pond in a stock tank
Part 2 — Winterizing a stock tank pond
Part 3 — How to spring clean your stock tank container pond
All material © 2006-2013 by Pam Penick for Digging. Unauthorized reproduction prohibited.