March 20th, 2013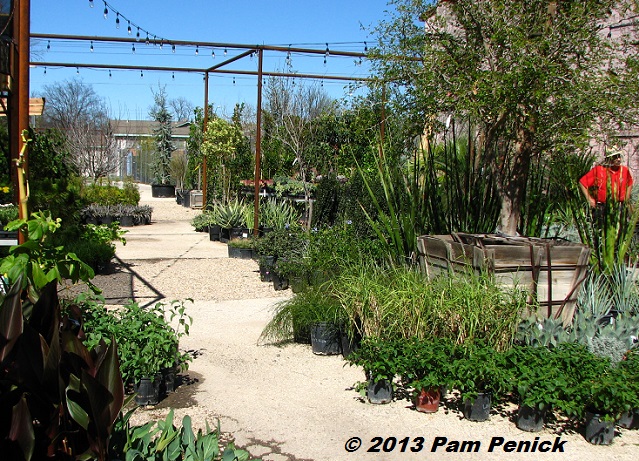 Is the Great Recession finally over? I see encouraging signs in the number of people hiring garden designers/landscapers these days and in the opening of brand-new neighborhood nurseries like Jardineros.
Owned by Austin designer Mark Word and partner Billy Spencer (who did the landscaping at Hotel San Jose and El Monumento), Jardineros is located along East Cesar Chavez, just down the street from the now-closed Big Red Sun boutique nursery. Unlike the boutique model, which sells as many pots and garden-decor items as plants, Jardineros is a plant place, offering an intriguing mix of large, hard-to-find trees and shrubs, priced for well-to-do collectors; 1-gallon succulents for the homeowner on a budget; and small, 4-inch-size tomatoes and herbs for walk-in customers from the gentrifying but still gritty east Austin neighborhood.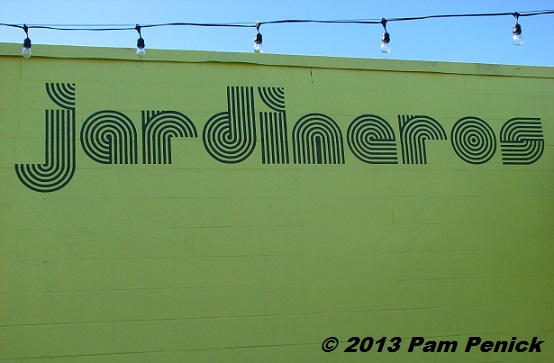 From the Jardineros website, a romantic explanation of the nursery's name:
What is a Jardinero?

The word is a translation of "Gardener", but is also slang in Cuba to describe the outfielders in baseball. Youth players subjected the to [sic] outfield often find themselves wandering the grassy area picking weeds and day-dreaming.

We chose the name both because of its affiliation in baseball but also in recognition of all that is possible to imagined [sic] while spending time out in the garden. We hope to work with you to make your garden day-dreams come true, be it a xeriscaped lawn, a grass knoll, an array of succulents or a grove of oaks.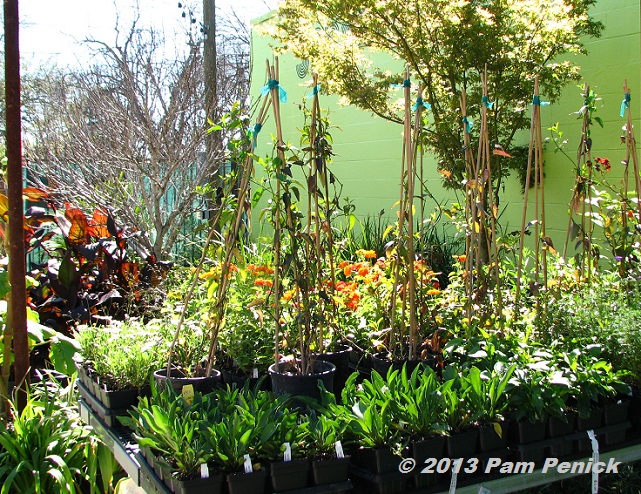 There is certainly plenty to explore and daydream over, from flowering vines and edibles…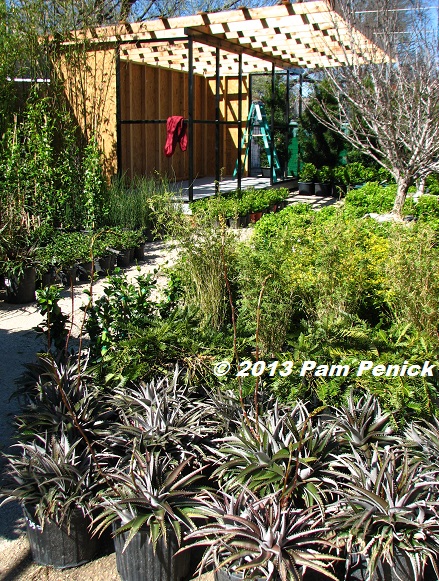 …to rows of spiny dyckia…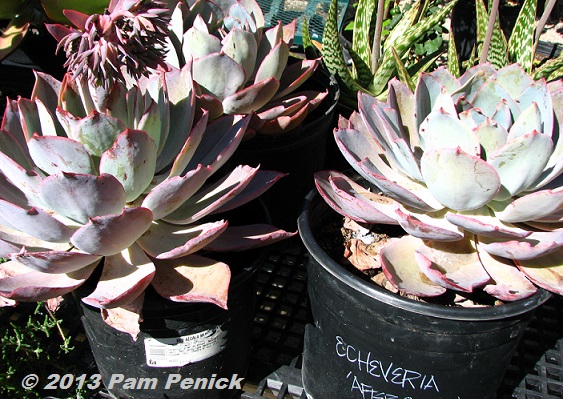 …and cabbagey heads of Echeveria 'Afterglow'.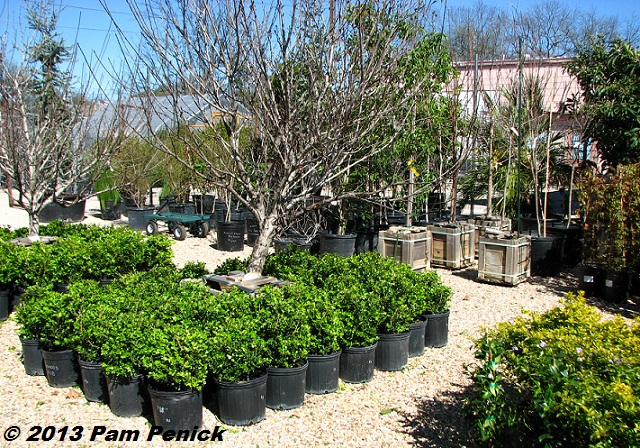 You want classic boxwood? They've got it.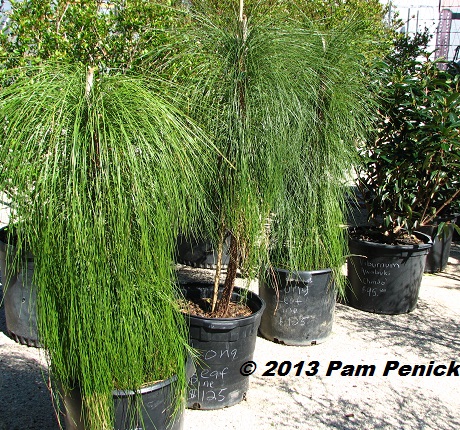 Want to try a long-leaf pine that resembles Cousin Itt? They've got that too.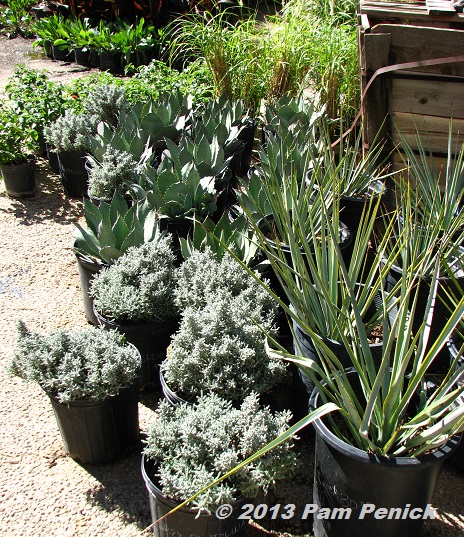 They carry a great selection of xeric and desert plants. But I noticed they also have azaleas and other typically southeastern plants. Billy Spencer happened to be there during my visit, and I asked him about the azaleas, wondering whether customers here in Austin wouldn't be tempted to try them and find they are more thirsty and acid-loving than local conditions offer. He said that they sell the same plants they use in their designs, and that the azaleas they offer are better adapted to our region than some. He pointed out that many of their clients love the lush, green look of the Deep South, and that Austin straddles the line separating the Deep South from the West.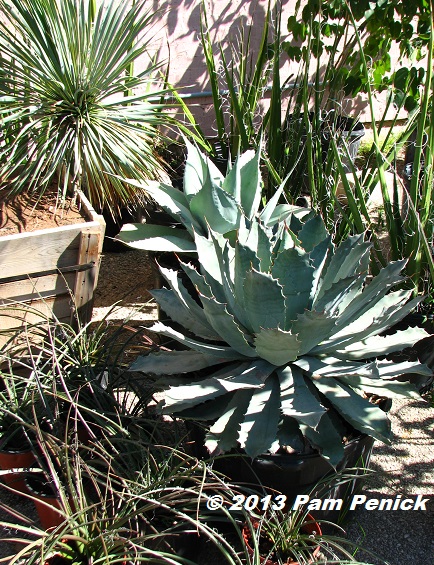 Well, considering my water bill, I'll leave those to others, but there's something here for everyone, no matter your taste.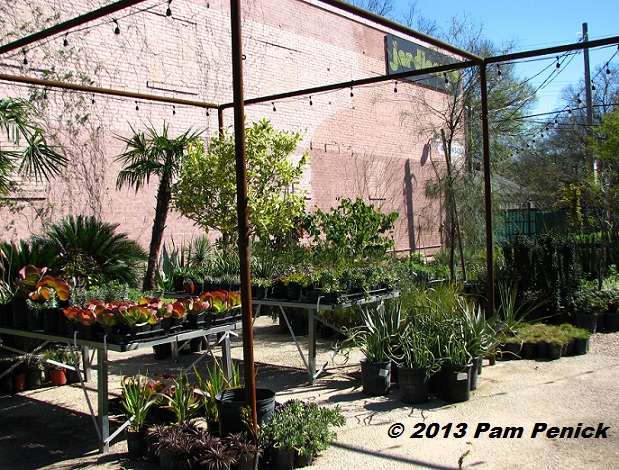 I like the party-lights atmosphere and can easily imagine a garden-lovers' happy hour in this space.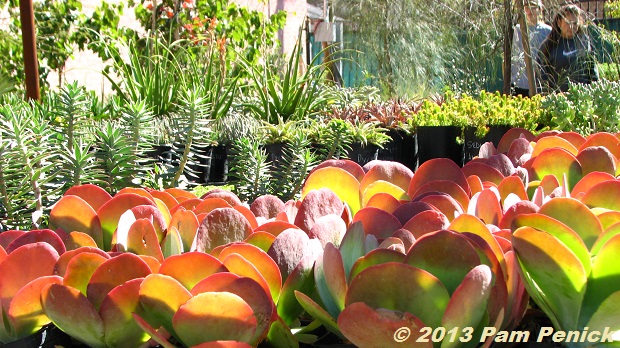 I'm certain I'll be popping in again soon.
Located at 2320 East Cesar Chavez Street. Open Tuesday through Sunday; closed Monday
Upcoming: Lawn Gone! talk and book-signing, this Saturday
Hey, Texas Hill Country peeps! Please join me this Saturday at 10 am at Backbone Valley Nursery in Marble Falls for my talk, "Lawn Alternatives for Central Texas" and a Lawn Gone! book-signing. I don't know about you, but since it's bluebonnet season, I'm going to take a little wildflower-peeping drive while I'm out there.
All material © 2006-2013 by Pam Penick for Digging. Unauthorized reproduction prohibited.