March 18th, 2013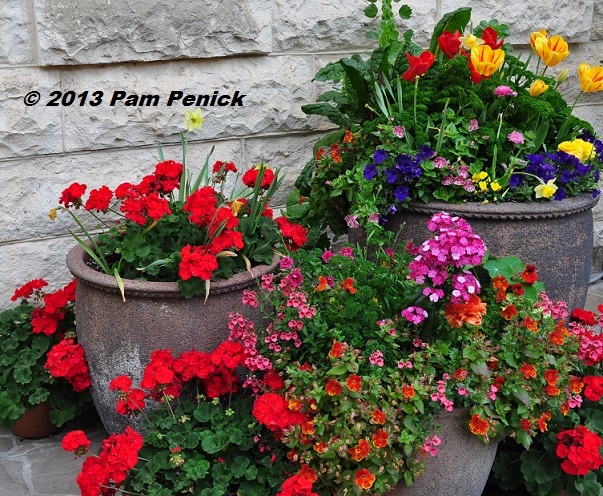 Two weekends ago my family and I kicked off spring break with a fun day trip to San Antonio and a visit to San Antonio Botanical Garden. We were greeted with a crayon box of annual color in these containers just inside the entry. Geraniums, nasturtiums, pansies, and tulips and even a little chard tucked in the back for leafy texture—is there anything cheerier?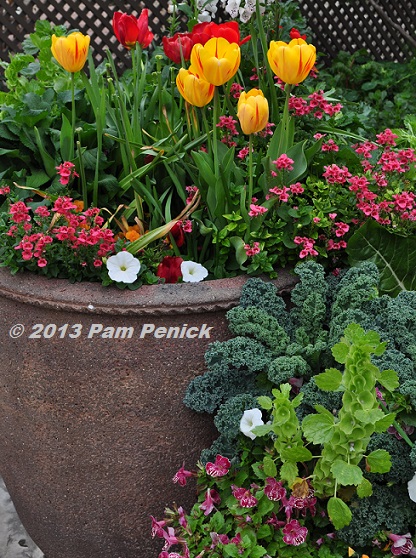 More annual color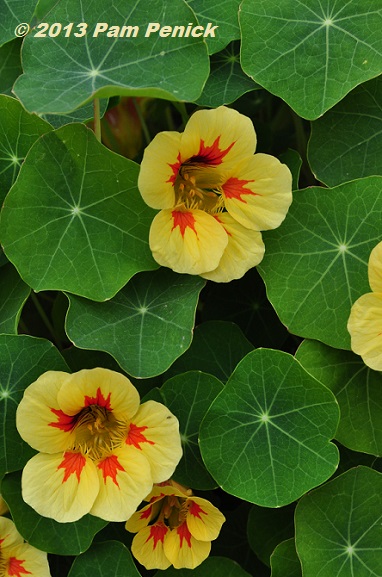 The starry, water-repelling leaves of nasturtium are my favorite part of the plant, but the flowers are charming too.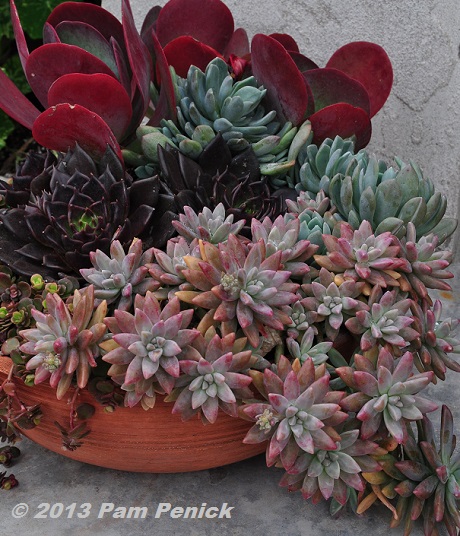 Mmm, succulent goodness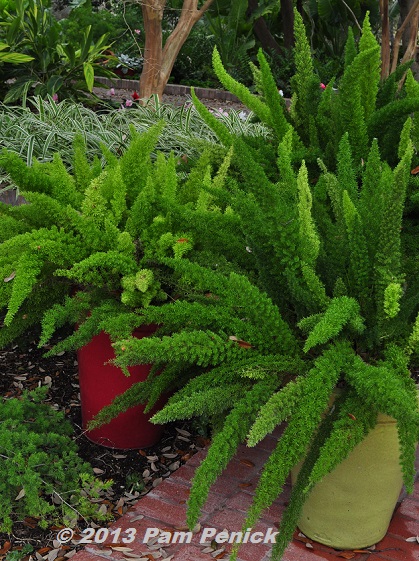 Massive foxtail ferns, with colorful pots adding a little zing to the scene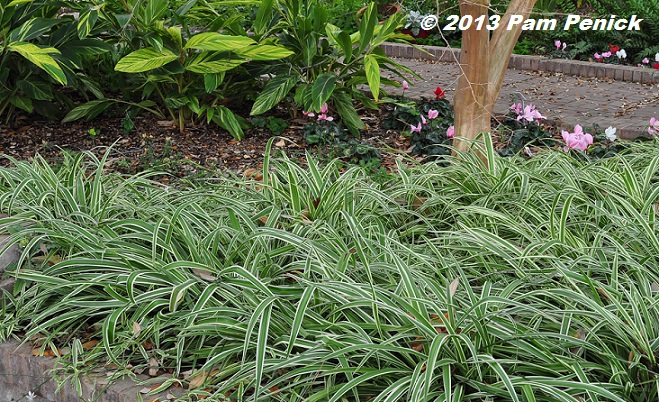 Aztec grass Spider plants (Chlorophytum comosum) handsomely cloaked the ground beneath a crepe myrtle, backed by candy-pink cyclamen and tropical-looking variegated shell ginger.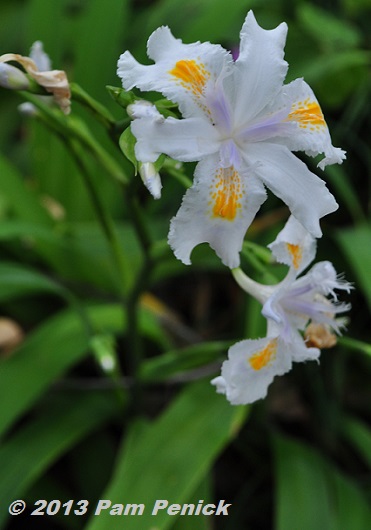 In the shade, delicate blossoms of Japanese roof iris (Iris tectorum) stood erect on long stems.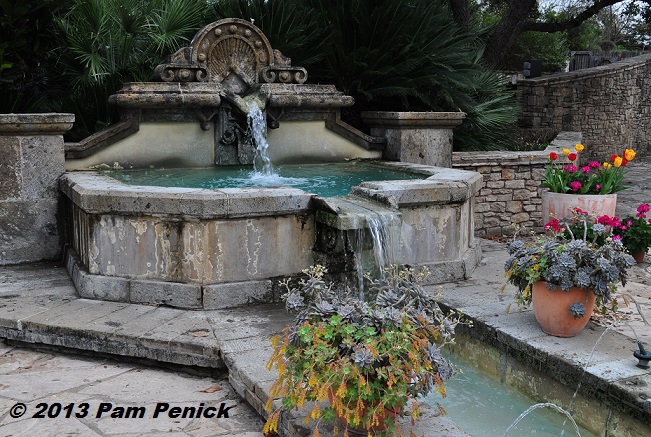 In the sun, by a Spanish-style fountain and rill, pots of gorgeously arranged succulents caught my eye.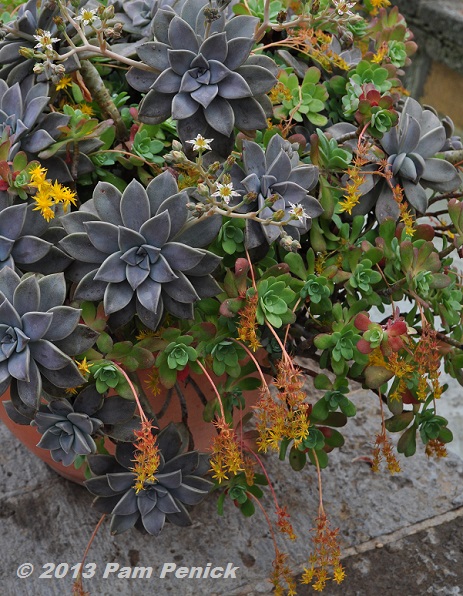 Is that ghost plant (gray) and a blooming echeveria (green)? Update: The green succulent is Sedum palmeri. Thanks to David for the ID.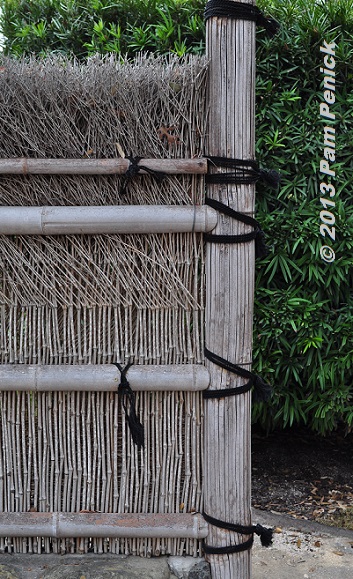 The small Japanese Garden beckoned to us with its woven-reed-and-bamboo fence.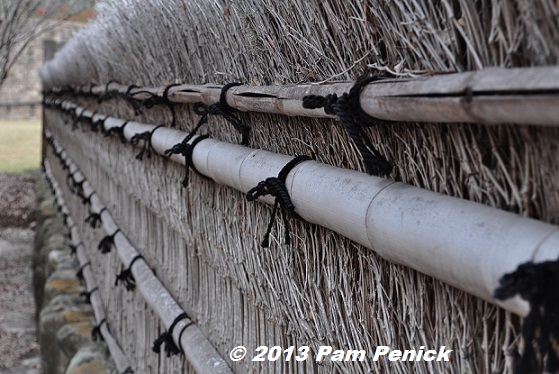 Naturally elegant with black string holding it together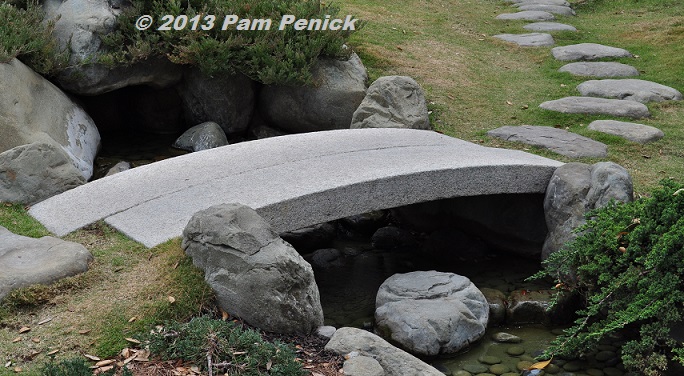 I've always liked this gently arching stone bridge.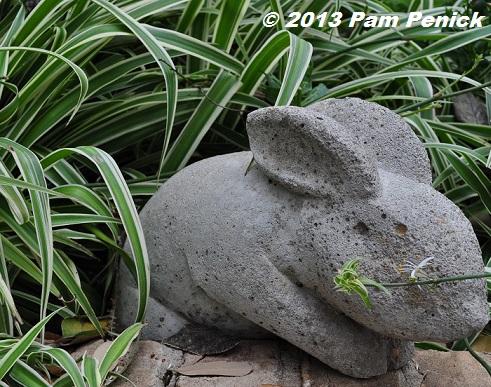 Next we explored the Sensory Garden (Garden for the Blind), which is filled with scented and texturally interesting plants—plus this stone bunny.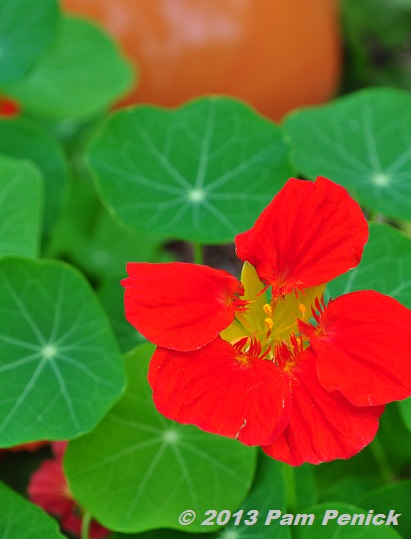 Red nasturtium seemed to pulse with color on this cloudy day.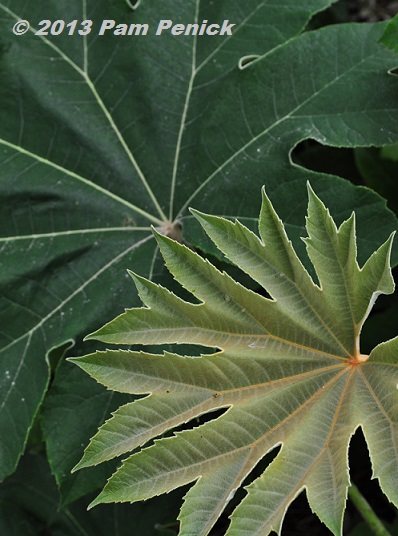 Fascinating leaves the size of small parasols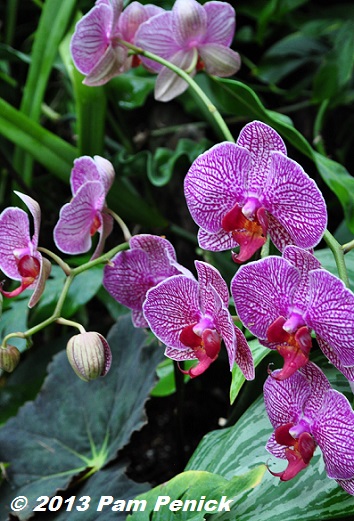 In the conservatory we admired orchids growing in tropical humidity.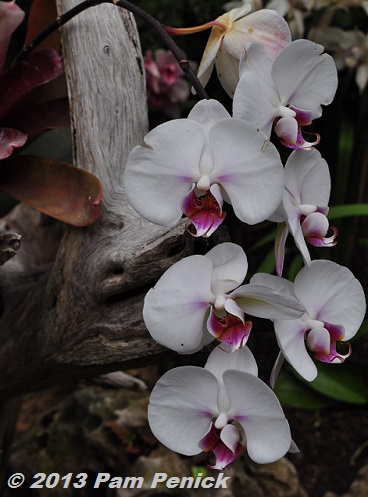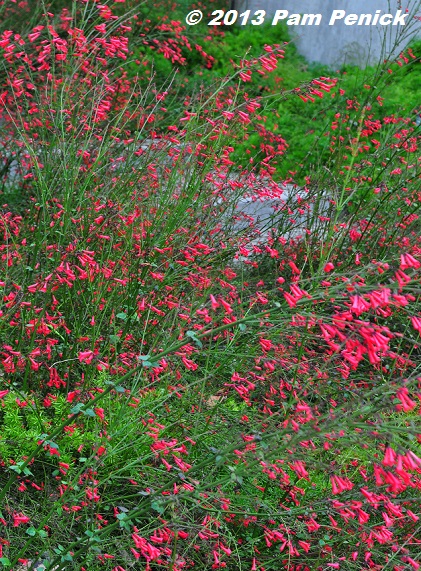 Firecracker fern was blooming with abandon throughout the gardens…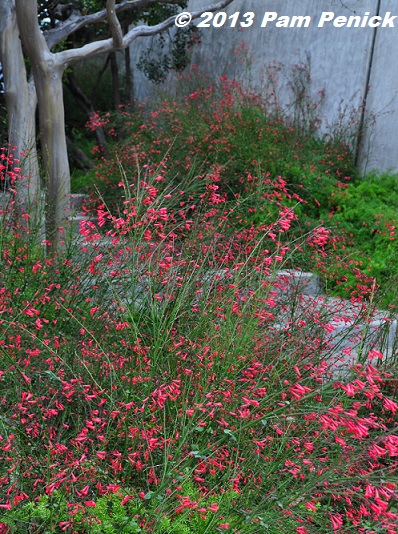 …including along these stairs.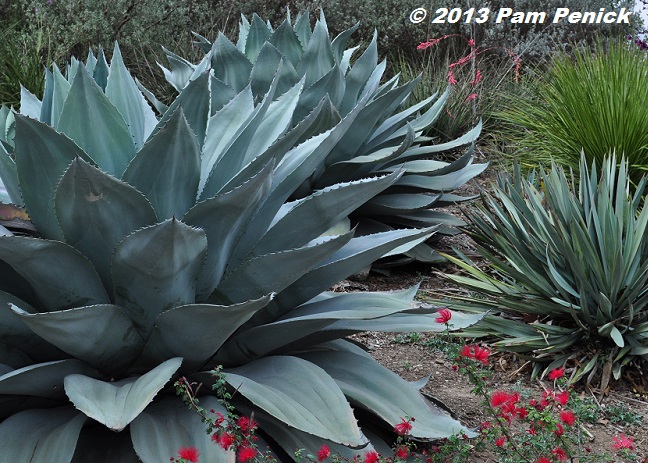 On a dry slope, one of my favorite agaves, 'Whale's Tongue' (A. ovatifolia), grew in silvery blue clusters, their broad leaves cupping upward.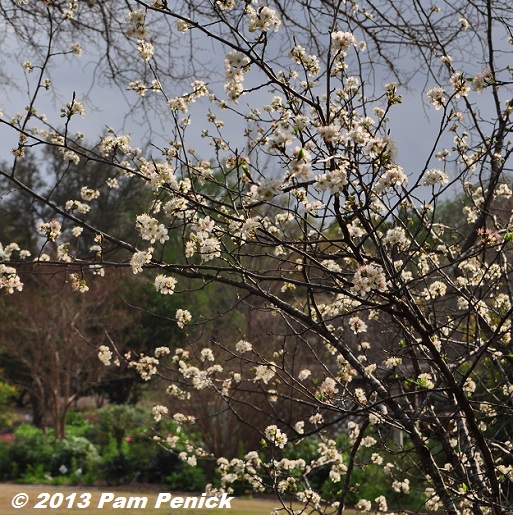 A Mexican plum had puffed into bloom, its white blossoms gleaming in the fitful sunlight against satiny black branches.

Acacia were in bloom as well, with charming, yellow puffballs hanging from the green-leafed branches.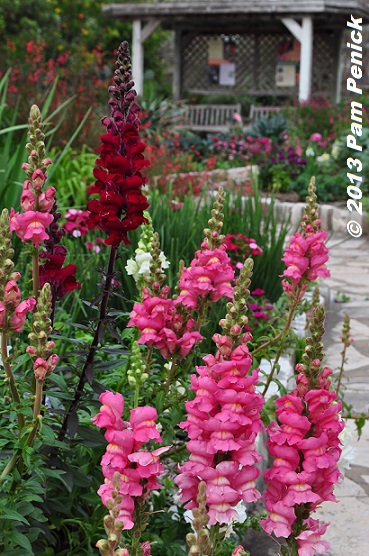 Old-fashioned snapdragons brightened up the spring beds too.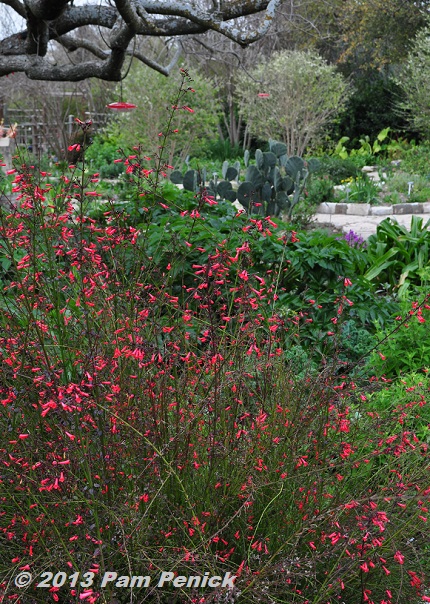 More firecracker fern…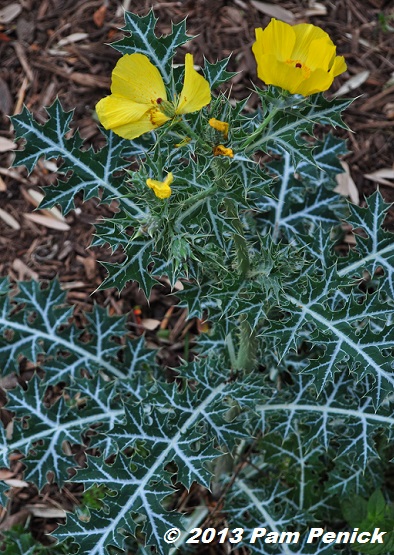 …and some sort of thistle-looking plant added their spring flowers to the mix. Update: This is Mexican prickly poppy (Argemone mexicana). Thanks for the ID, Diana.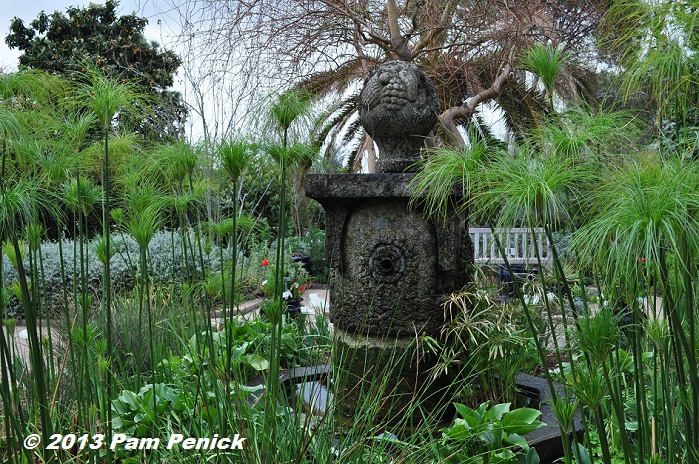 A lovely, stone fountain surrounded by giant papryus, with a big date palm in the background, puts me in mind of an Egyptian garden along the Nile—or at least that's how I imagine it to be. Never been there.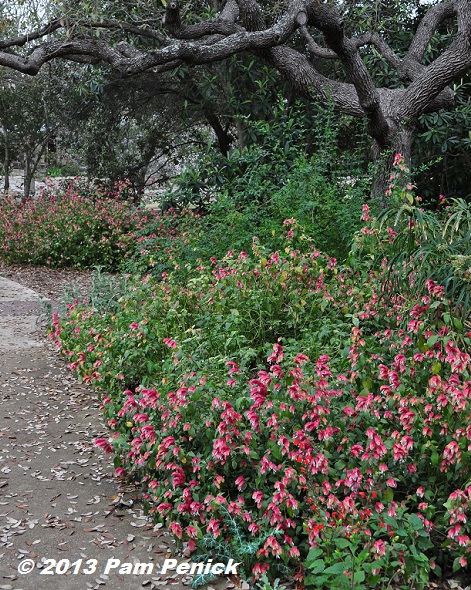 Salmon-colored shrimp plant made a colorful groundcover beneath live oaks shedding their old leaves.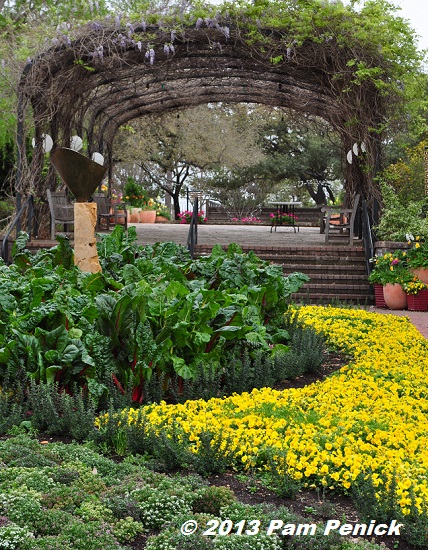 We were just slightly too early for the wisteria on the main arbor to be in full bloom. I was sorry. I've long wanted to see it in its full glory. In the foreground, annual bedding plants included leafy chard, a fun change from the ordinary.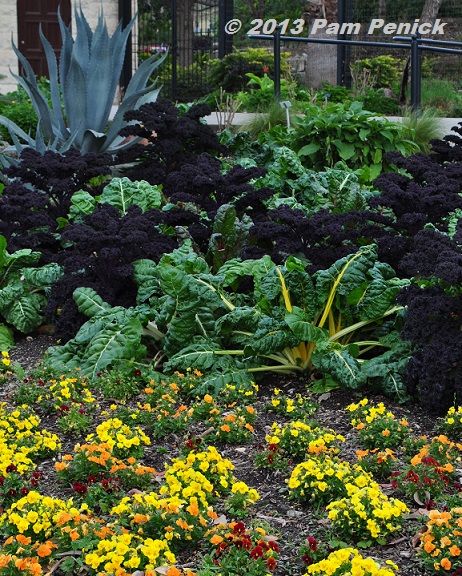 The edible theme continued out front, with leafy vegetables adding crinkly texture, deep-purple foliage, and brightly colored stems that picked up the golden-yellow of the pansies in front. In back, a large silver agave added contrasting color and form.
For more images from our visit to San Antonio Botanical Garden—specifically the fern room and cactus room in the conservatory—click here.
Posts about my previous visits to San Antonio Botanical Garden can be found on my Noteworthy Gardens page. Feel free to click around for armchair visits.
Upcoming: Lawn Gone! talk and book-signing, this Saturday
Hey, Texas Hill Country peeps! Please join me this Saturday at 10 am at Backbone Valley Nursery in Marble Falls for my talk, "Lawn Alternatives for Central Texas" and a Lawn Gone! book-signing. I don't know about you, but since it's bluebonnet season, I'm going to take a little wildflower-peeping drive while I'm out there.
All material © 2006-2013 by Pam Penick for Digging. Unauthorized reproduction prohibited.
posted in
Agaves
,
Annuals
,
Arbors
,
Botanic/Public Gardens
,
Bridges
,
Containers
,
Edibles
,
Fences
,
Flowers
,
Fountains
,
Garden art
,
Garden tours 2013
,
Japanese garden
,
Rills
,
Travel
,
Trees
,
Tropicals
,
Xeric plants