March 5th, 2013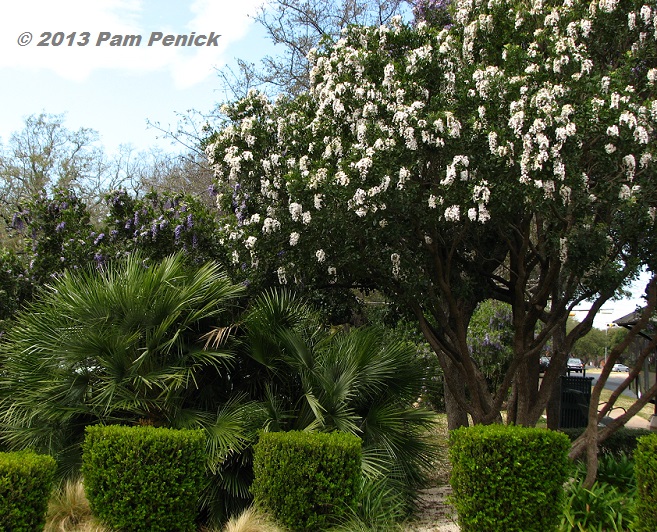 Well, now you have! I spotted this mature, white-flowering Texas mountain laurel (Sophora secundiflora) in full bloom at the Arboretum shopping center in northwest Austin yesterday (at the entrance near Brio, from Great Hills Trail). Surrounded by several of the common (but stunning!) purple-blooming trees, the white one stood out like a bride among her bridesmaids. I slammed on the brakes, jumped out of my car, and snapped several shots while a maintenance crew and people waiting for a bus smiled indulgently.
Yes, we central Texans are lucky—and we know it—to have such a glorious native tree as the Texas mountain laurel, which blooms beautifully each spring against deep-green, glossy leaves and twisty, mahogany trunks and smells like a thousand uncapped bottles of grape soda. A ritual of spring is to press my nose—watching out for blissed-out bees—into each cascading blossom I can reach. Those on the white tree were too high for that, but the smell wafted all around, just as grapey as the traditional purples.
Mr. Smarty Plants at the Wildflower Center says the white Texas mountain laurel is very rare, and it's unknown whether seeds collected from one would come true or revert to the standard purple. Is anyone out there experimenting with seed from a white tree?
By the way…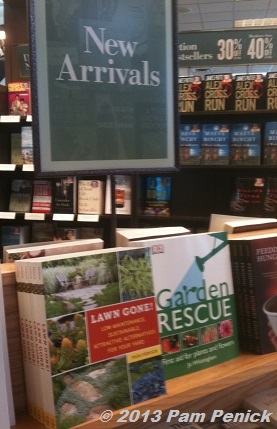 Lots of copies of Lawn Gone! are available on the nonfiction new arrivals table at the Arboretum Barnes & Noble in Austin.
And don't forget: The Lawn Gone! Book Party is rockin', and you're invited! Seven bloggers are hosting 7 cool, alt-lawn related giveaways this week. Find all the links on my giveaway post, and leave a comment on each one for your chance to win!
All material © 2006-2013 by Pam Penick for Digging. Unauthorized reproduction prohibited.