February 27th, 2013
groundhog makes his appearance
in Punxsutawney, the gophers start blazing here in Austin. Gopher
plant
, that is. Formally, and more elegantly, known as
Euphorbia rigida
,
gopher plant
is one of my favorite full-sun, hot-spot plants. Its blue-green foliage visually cools things down in summer, although in early spring screaming chartreuse bracts top each stem with a spotlight of color.
This is my first season to try a new cultivar called 'Winter Blush', which I picked up at The Natural Gardener last fall. It differs from the species in two ways, neither particularly significant so far as I can tell: its leaves seem a bit longer and narrower, and they're more densely arranged along the plant's arm-like stems; and the foliage takes on a pink tinge during the cold months. Look carefully and you can see a bit of pink coloring the leaves at back-left in this photo.
I've paired 'Winter Blush' gopher plant with Mexican feathergrass (Nassella tenuissima) and 'Color Guard' yucca for a golden-yellow combo that would be better if the feathergrass were blooming in blonde waves right now, rather than still showing its tawny winter dormancy.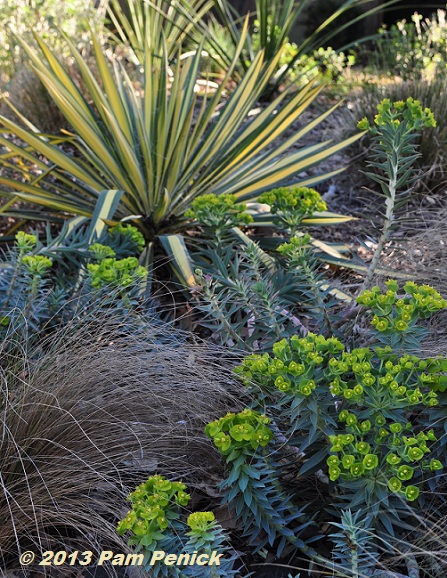 A wider view. These gophers are planted at the end of the driveway, and every neighbor who walks by ends up asking what that plant is. Did I mention that it's also deer-resistant? The infamous latex sap held in the stems of euphorbias is decidedly non-tasty to deer, so if they take a nibble, it'll probably only happen once. Remember to protect your eyes and hands when trimming it because that milky sap is very irritating to us as well.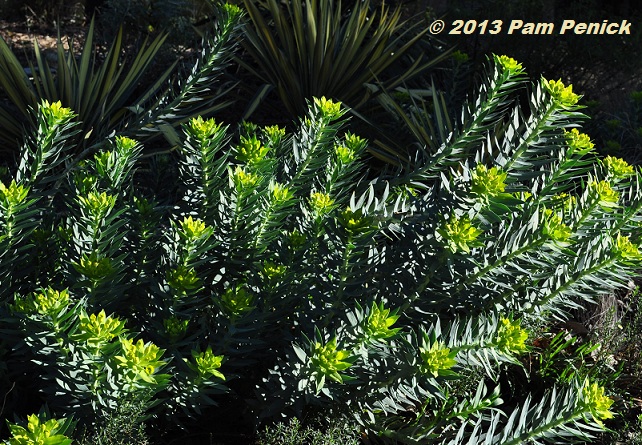 Here's the standard gopher plant, shadowy between the stems, its blooms spotlit in bright afternoon light.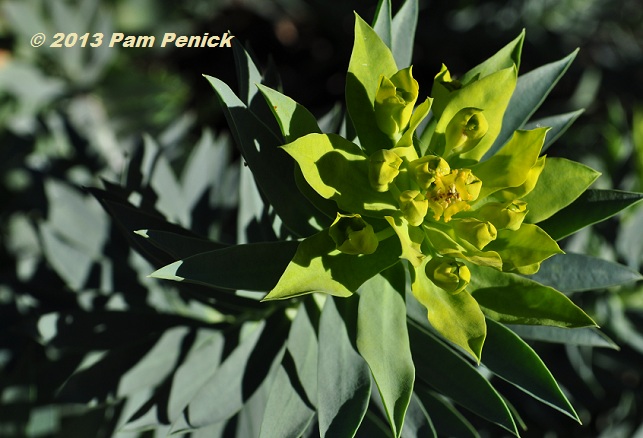 Chartreuse bracts attract attention, with yellow flowers beginning to open up in the center.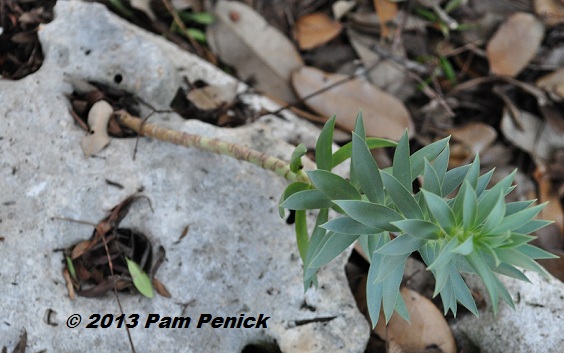 While never aggressive about it, gopher plant does seed out after blooming. I always find a few baby gophers popping up in spring, like this one growing out of a holey piece of limestone. Go for it, gopher plant!
All material © 2006-2013 by Pam Penick for Digging. Unauthorized reproduction prohibited.
Right after the