February 20th, 2013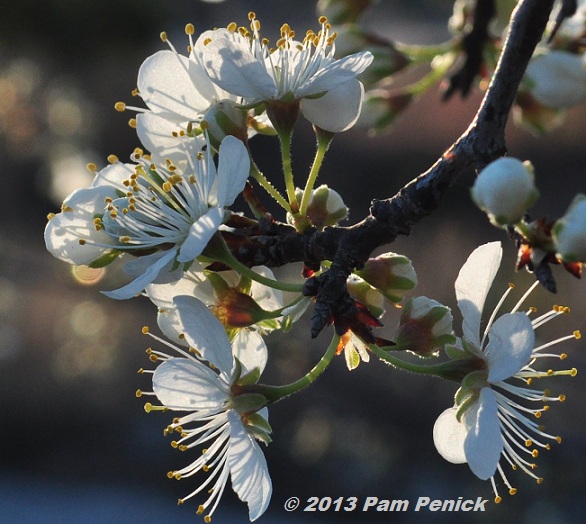 I took a fire-wise landscaping class at the Lady Bird Johnson Wildflower Center last week, and I arrived early enough for a leisurely stroll around the gardens. The sunshine and blooming Mexican plums promised spring, but a chill in the air spoke of winter. By the time I went inside, my hands were numb. Even so, I loved being able to photograph the gardens in the light of early morning. Ordinarily you can't get in until 9 am, well after the "magic hour" for taking photos.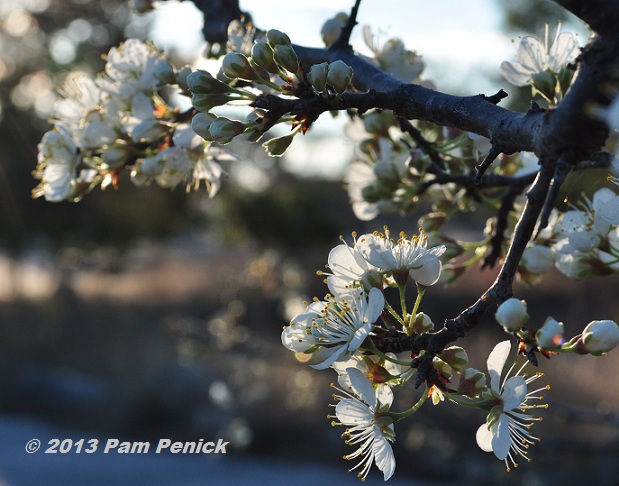 In the parking lot my eye was caught by a Mexican plum (Prunus mexicana) in full bloom. Its spicy-scented white blossoms were backlit so beautifully.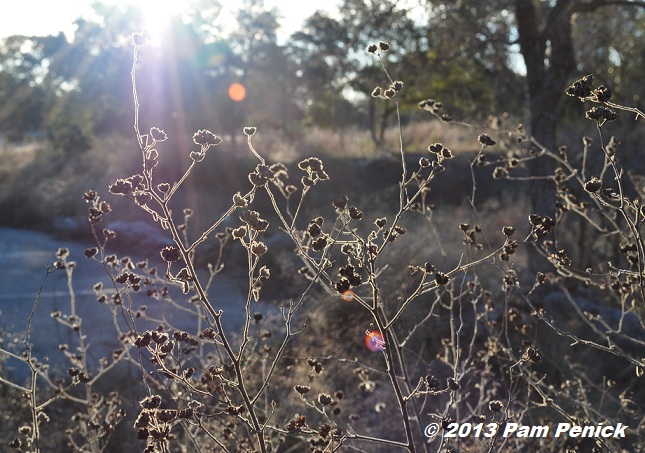 As were these seedheads, the light tracing each stem with glowing incandescence.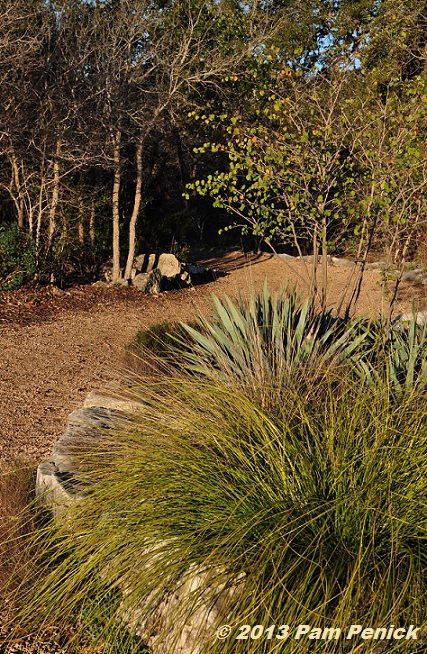 Turning toward the wooded path that leads through the parking lot, I admired this vignette of Anacacho orchid tree, yucca, and nolina, all suffused in the golden light of morning.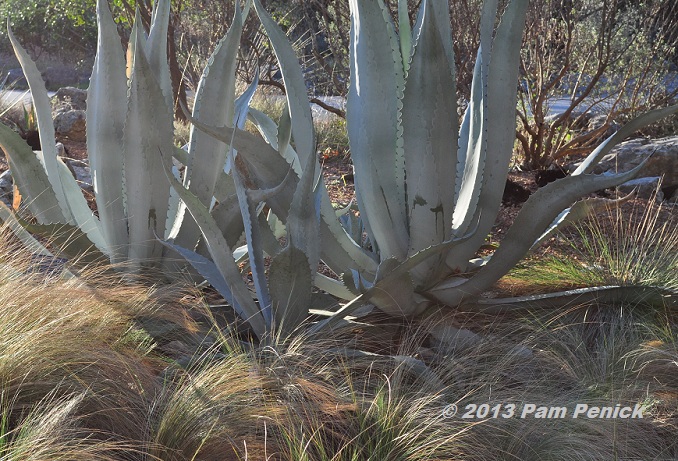 I always take a photo of this pairing of American agave and Mexican feathergrass. Simple yet stunning.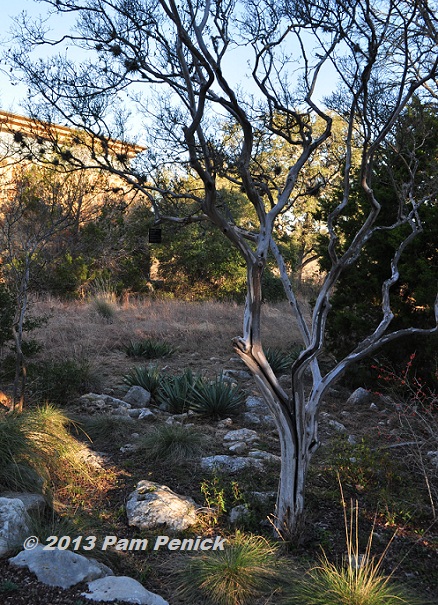 A weatherbeaten Texas persimmon (Diospyros texana) stands sentinel along the main walk.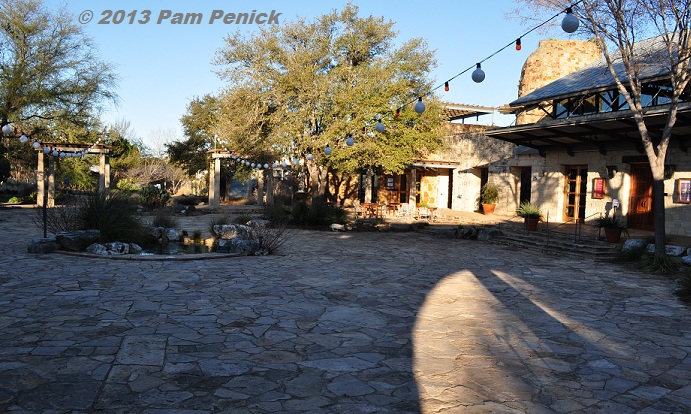 Inside, the shadows lay long on the entry plaza, but the Wildflower Center's landmark spiral tower, visible to the right, was spotlit by the rising sun.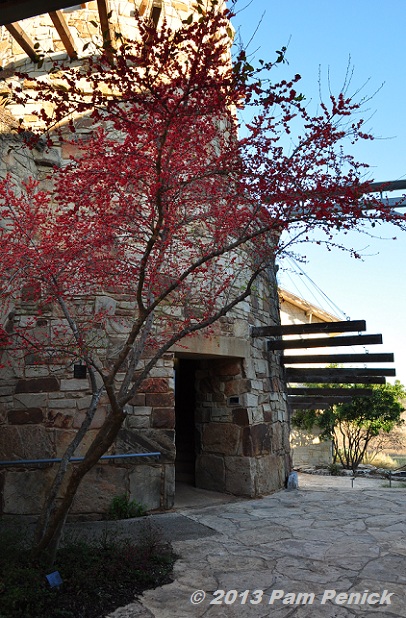 A possumhaw holly (Ilex decidua) in full winter berry accents the base of the tower.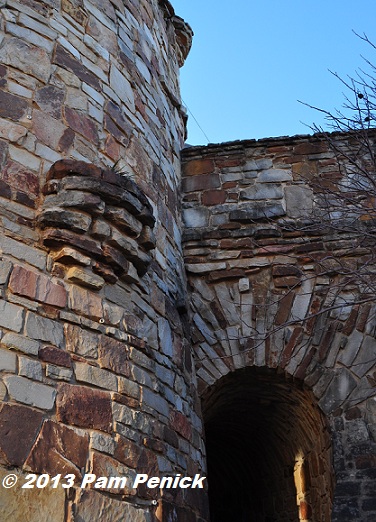 The architecture of the place always fascinates me. Check out the planter pocket built into the tower wall.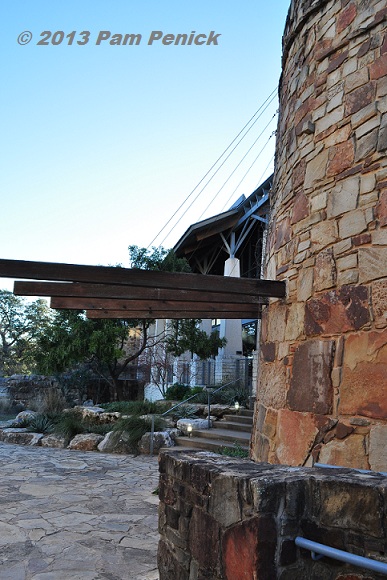 Another view, with wire-suspended beams acting as a pergola.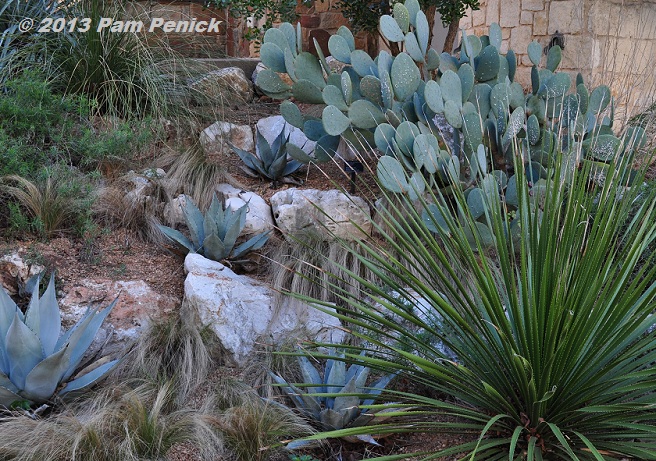 On the back side of the tower, a terraced, rocky garden of agave, opuntia, sotol, and Mexican feathergrass creates a scene of xeric beauty.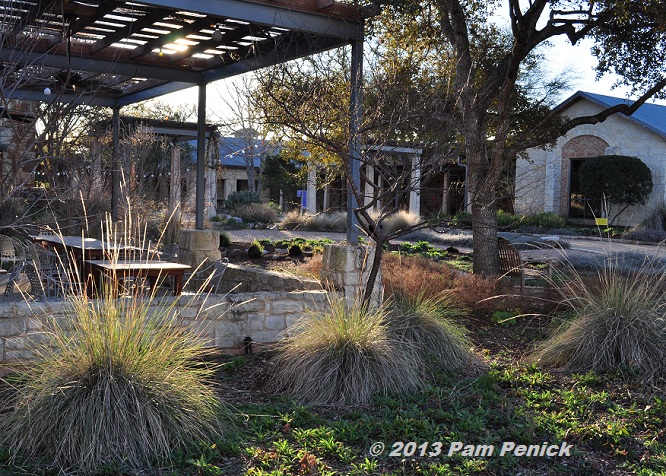 Lindheimer muhly grasses (Muhlenbergia lindheimeri), their fall blooms still held aloft, screen the cafe's patio seating. In front, wildflowers and perennials are starting to green up at their feet.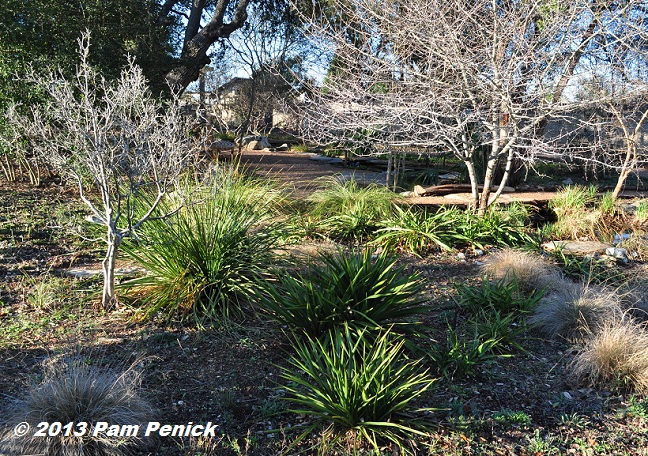 Looking toward the Hill Country stream garden, bare trees accent a green understory of yucca and nolina.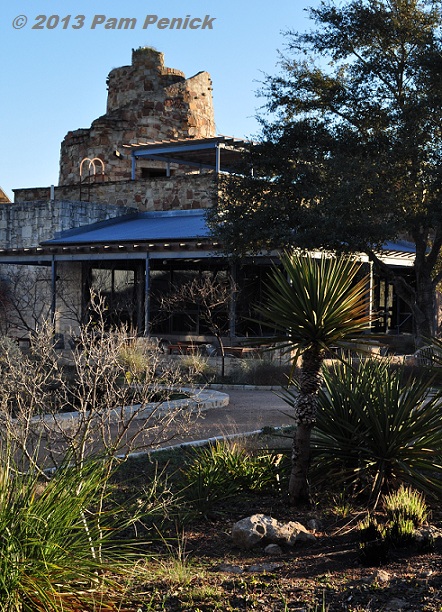 Glancing back toward the tower again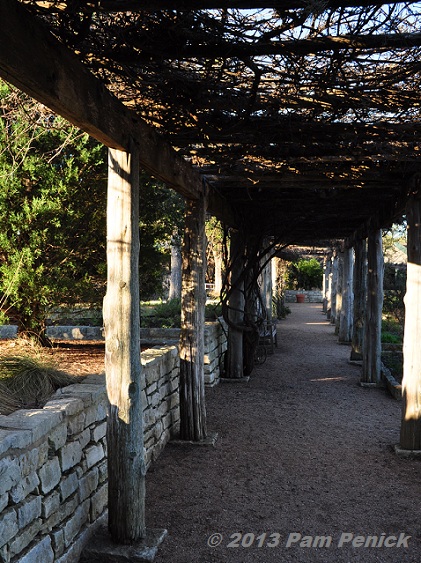 Heading into the sunny demonstration garden, I strolled under the long grape arbor, as I always do. But on this cold morning there was no need of shade.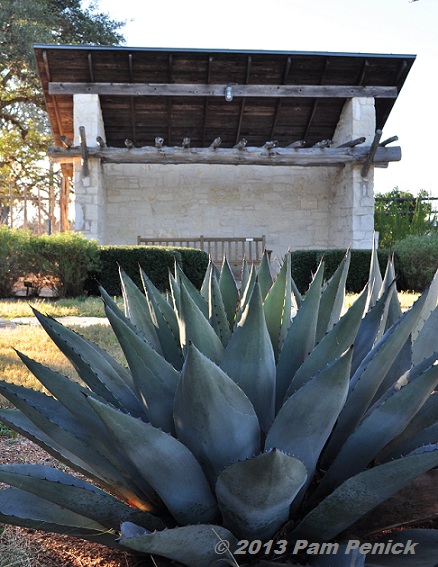 Looking left, I admired a magnificent Harvard agave (Agave harvardiana), framed by the limestone-and-cedar shade structure in the background.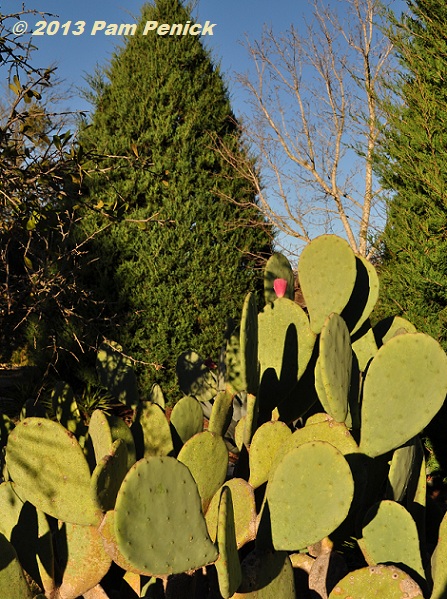 Its Mickey Mouse ears warmed by the sun, a spineless prickly pear is all texture and shape.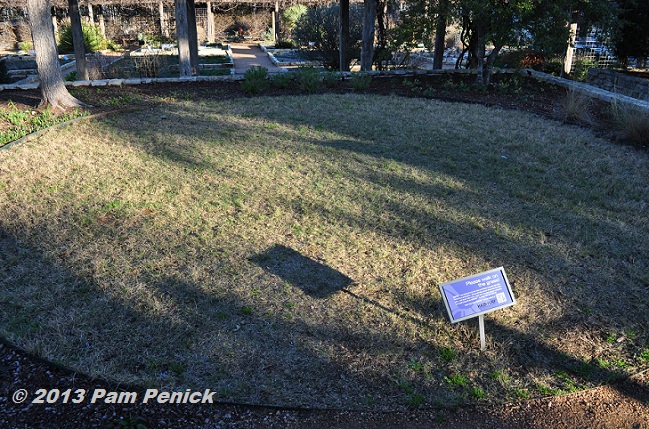 A patch of Habiturf lawn is on display. Habiturf is the Wildflower Center's own ecological lawn mix of short, slow-growing native grasses, which can be sown by seed to create a lawn that needs little water and only occasional mowing. (Click the link for more info, including the very specific installation instructions.)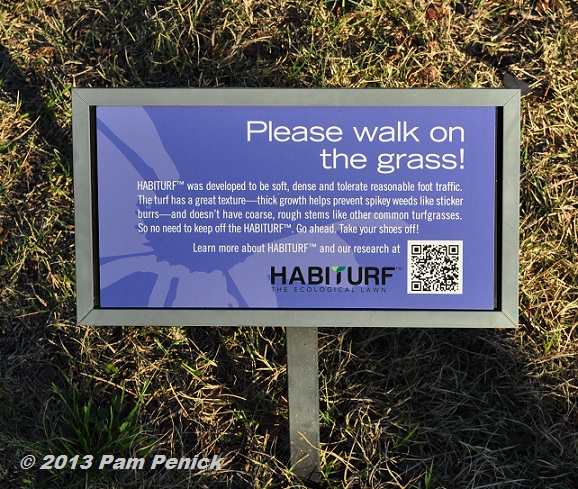 I was invited to take off my shoes and walk on it barefoot, but the morning was too chilly for that.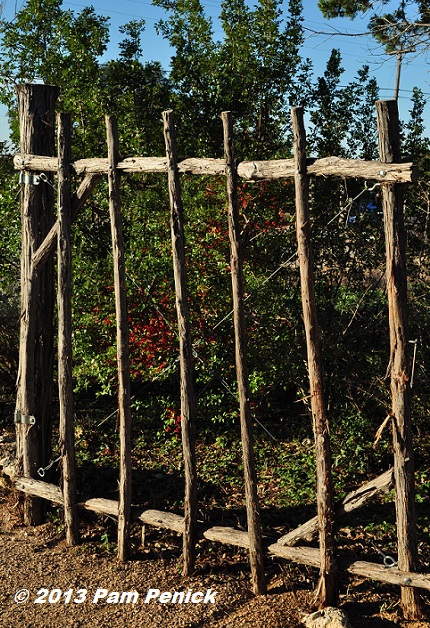 At this time of year, you really notice the architecture of the gardens, not just the plants—like this rustic cedar gate.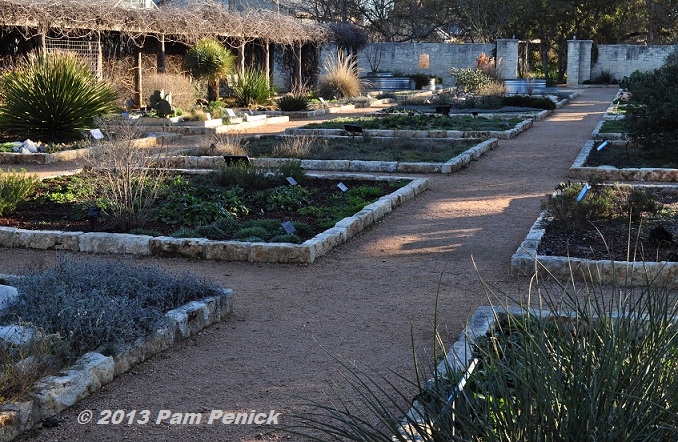 Looking across the still-shadowed demonstration garden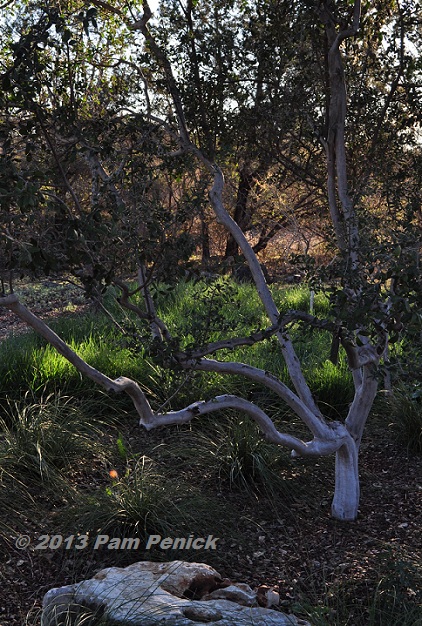 The new Texas Arboretum—"where visitors can learn about the diversity of Texas trees"—has opened since I last visited, but I ventured only as far as the entry since I was running short on time. I'll have to come back later in the spring. This is another Texas persimmon.

For rugged screening and fencing, you can't go wrong with a coyote fence. So very central Texas. I like how this one is cut at different levels, becoming more welcoming, at picket-fence height, on the side you approach from.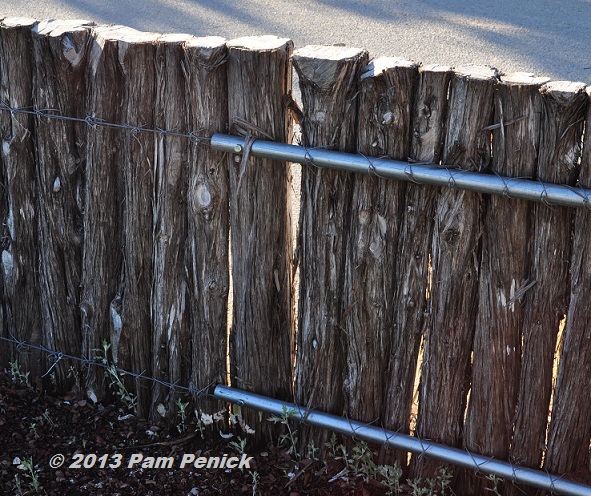 Each cedar post (juniper, to be precise) is encircled with sturdy wire that's attached to two cables running horizontally along the fence. Those metal pipes along part of the fence must be for extra stability.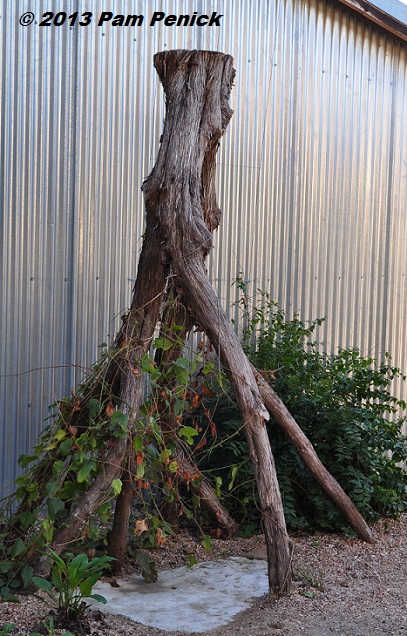 In the kids' Little House garden, a vine "tepee" is given a twist. Instead of bamboo poles, an upturned cedar trunk and branches provides the structure.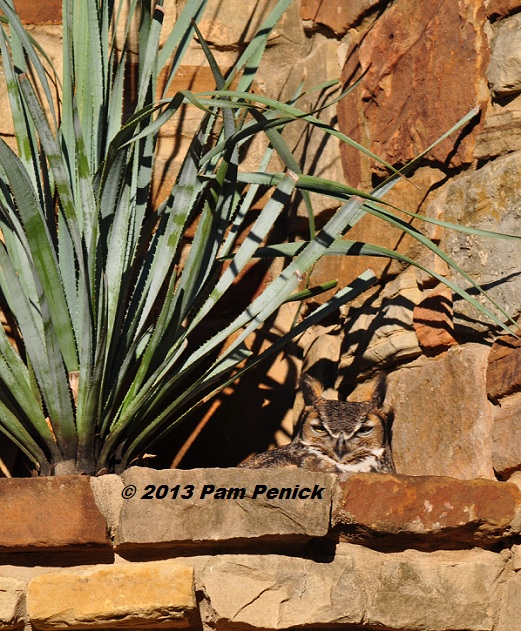 As I was about to enter the auditorium for my class, a staff member asked if I'd seen their visitor, and pointed up at a planter niche built high on the wall near the entry pond. I immediately knew he was referring to a great horned owl because I'd seen one raising chicks in that same spot two years ago. Sure enough, there was Mama owl, snuggled into her usual spot under a Wheeler sotol.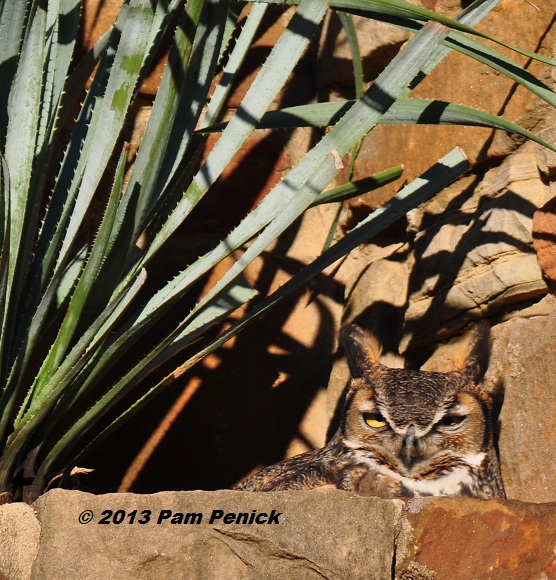 The employee said they thought it was the same owl, and that this is her third year to nest in that spot.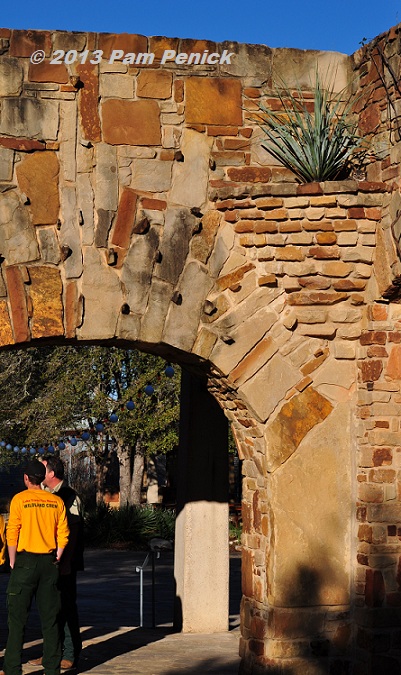 If you didn't know she was there, you might never notice. See her up there? If you go see her in person, walk softly and carry binoculars for a better view.
All material © 2006-2013 by Pam Penick for Digging. Unauthorized reproduction prohibited.
posted in
Agaves
,
Arbors
,
Berries
,
Birds
,
Botanic/Public Gardens
,
Cactus
,
Fences
,
Garden structures
,
Garden tours 2013
,
Gates
,
Grasses
,
Lawns
,
Patios & decks
,
Texas natives
,
Trees
,
Xeric plants