January 31st, 2013
Linda Lehmusvirta
of KLRU's
Central Texas Gardener
has produced one of the best episodes ever in her interview with acclaimed landscape architect
Christy Ten Eyck
, who moved back to Austin in 2006 after 22 years living and designing gardens in Phoenix, Arizona.
Watch the episode here:
Central Texas Gardener, Feb. 2, 2013
Christy's garden, which I've toured several times, offers much inspiration to central Texas home- owners, who may be wondering how to respond to ongoing drought and hotter summers. Coming from Phoenix, which gets only 7 inches of rain a year, Christy viewed Austin's normal annual rainfall of 33 inches as a bonanza but still chose mostly native plants, which are in sync with our region's drought cycles and long, hot summers.
She also removed a circular driveway, which paved over much of her front yard, and terraced her sloping lot to retain rainwater (which usually comes in drenching downpours that formerly ran off into the street) and make planting beds beneath the venerable live oaks that shade her garden.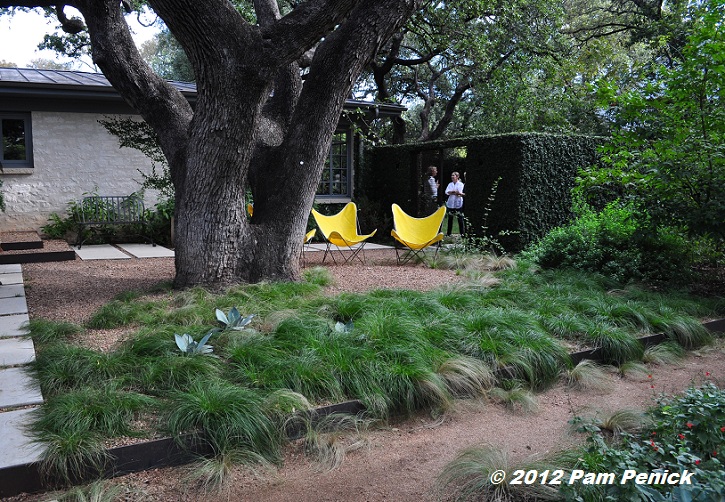 Swaths of easy-care grasses (bamboo muhly, Mexican feathergrass, inland sea oats, sedges) help reduce maintenance.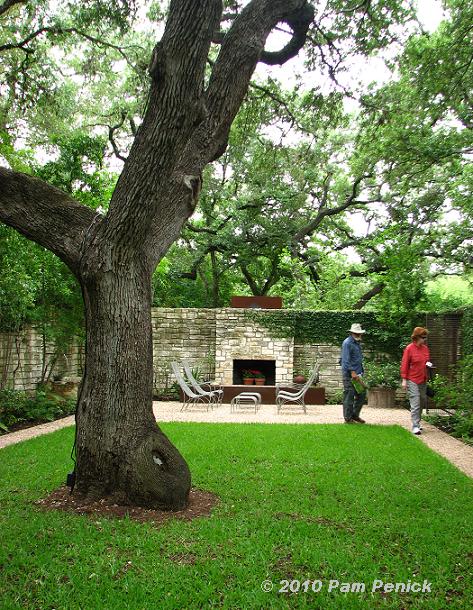 Thanks to the inclusion of "before" pictures, the video gives me a much better idea of how Christy improved the design of the property as well. Take the time to pause the video on those "before" images and study them. You'll be impressed by how seemingly small changes add up to a huge difference in the look of the space. For example, the framed, rectangular lawn in the walled back garden (the only lawn remaining on the property) was basically wall-to-wall carpet when she moved in. Adding a crisp border of steel edging and a pea-gravel frame brought the small lawn into focus as a design element and improved its looks enormously.
She also "freed" her trees from constricted, rock-edged planting beds. The massive live oak in the 2nd photo, for example, was previously encircled with a rock border and underplanted with a few iris. Christy liberated her trees by opening up space around them, whether with a gravel seating area, a large planting bed, or even lawn (as in the 3rd picture). The result is more natural looking and offers a better invitation to people as well, providing space to move through the garden and perhaps sit under a tree to enjoy the shade.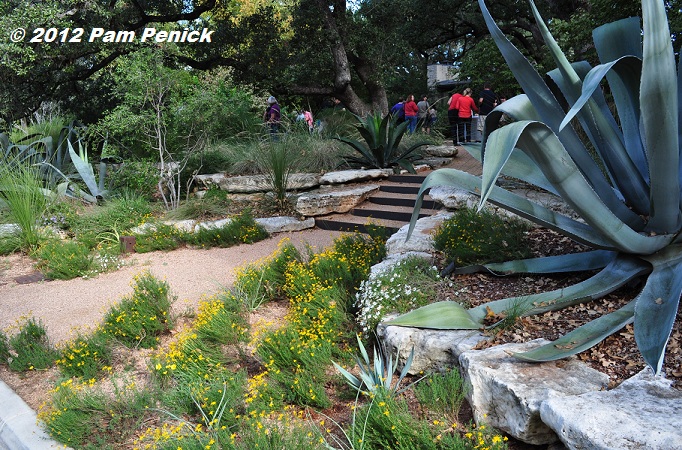 The full episode of this week's CTG show (Christy's segment is the first part) is worth watching as well because my friend David Cristiani, blogger at The Desert Edge and landscape architect in Albuquerque, New Mexico, is in the studio to talk with host Tom Spencer about appropriate design for our two distinct regions. As he says, Austin is not Tucson, so don't be too quick to yank up all your drought-stressed plants and throw down a carpet of gravel. There's a right way to use gravel, and it includes the welcoming (and heat-alleviating) "furniture," as David says, of well-chosen plants.
All material © 2006-2013 by Pam Penick for Digging. Unauthorized reproduction prohibited.
posted in
Design
,
Groundcovers
,
Lawn Gone!
,
Lawns
,
Paths
,
Sustainable Gardening
,
Texas natives
,
Trees
,
Video
,
Water conservation
,
Xeric plants