January 30th, 2013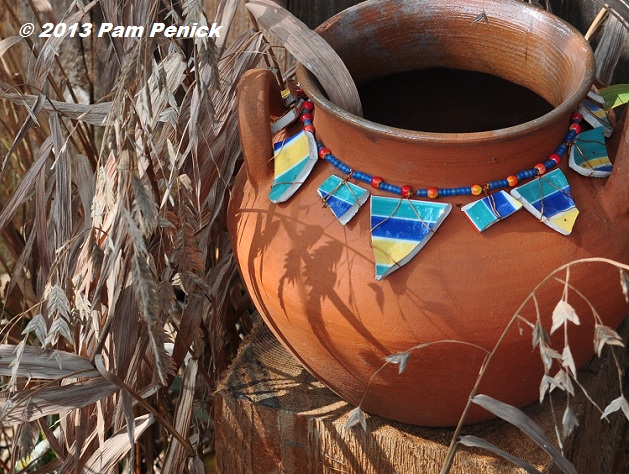 Yesterday I opened a storage box and found this terracotta olla adorned with a bead-and-broken-china necklace I'd made for it about 7 years ago. Stowed away at some point, probably during our move, it was forgotten. I decided it would look good sitting amid the winter-browned inland sea oats (Chasmanthium latifolium), so I positioned a remnant cedar post for a pedestal and set the olla on top. It looks so pretty, with its colorful necklace adding sparkle to the winter garden, that I thought you might like to learn how to dress up your own pot.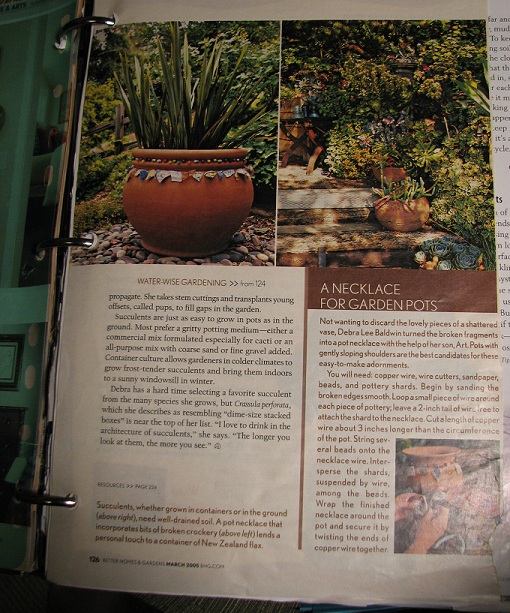 First, credit where due. I keep an idea file of tear-outs from magazines, and in March 2005 I added an article from Better Homes & Gardens about water-wise gardening. It featured the San Diego garden of author Debra Lee Baldwin, and one of the photos showed an earthenware pot with a bead-and-china necklace she'd made for it. A helpful sidebar explained her method.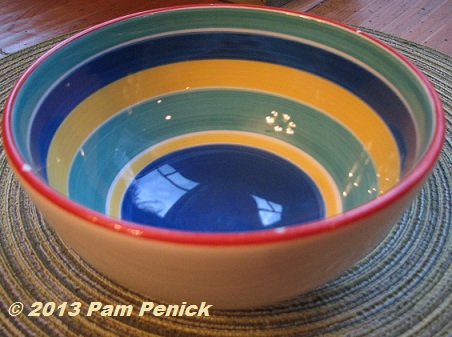 Over the years, I've saved a few broken dishes and bowls in case the mosaic-making bug ever bit me. One of these bowls, accidentally broken, made up the pile. I collected the pieces and broke the larger shards into 1-inch bits by wrapping them in newspaper and tapping them with a hammer.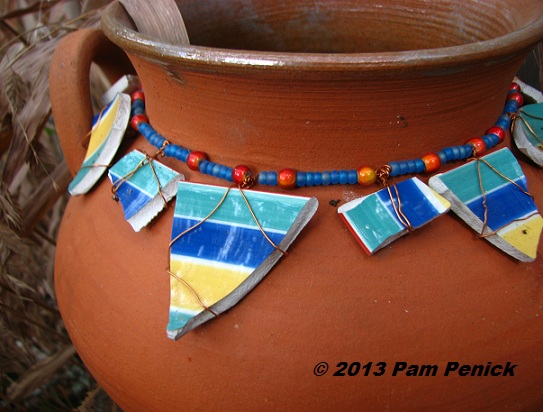 I ignored Debra's instructions to sand the broken edges; I just wasn't that concerned about getting cut by a pot that was going to sit out in the garden. The rest of her instructions I followed to the letter. 1. I found a pot with an indented "neck" for the necklace to go around. 2. I wrapped copper wire around each piece of the broken bowl, leaving a couple inches of extra wire hanging in order to attach it to the necklace. 3. I measured the diameter of the pot's circumference (the "neck" portion) and cut a length of thin copper wire that was 3 inches longer. 4. Using blue and red beads, I strung the copper wire, attaching a piece of the bowl every inch or so. 5. When complete, I wrapped the necklace around the neck of the pot and twisted the ends of the copper wire together to secure it. Then I tucked the twisted wire under the beaded necklace to hide it.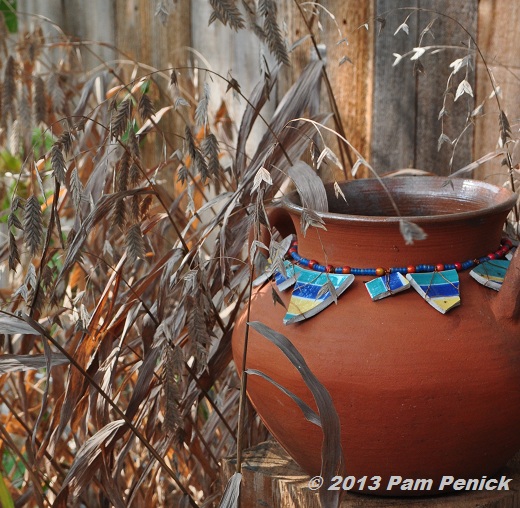 And that's it. You could use other decorative objects to make a pot necklace, like weatherproof charms or milagros, seashells, or, for a large pot, copper plant tags with your wishes written on them. Showcase a small collection this way, or just see what you have lying around the house that you could use to adorn your own pot.
An interesting sidenote: I had no idea who Debra was in 2005, when I read the article about her garden in BH&G. I've since read and reviewed her books Succulent Container Gardens and Designing with Succulents. I also follow her at Gardening Gone Wild, where she's a regular contributor. In a May 2010 post at Gardening Gone Wild, she wrote about that BH&G photo shoot and mentioned the pot necklace, which of course reminded me of the article I'd saved that inspired my own pot-necklace project all those years ago. Small (gardening) world, eh?
All material © 2006-2013 by Pam Penick for Digging. Unauthorized reproduction prohibited.