January 23rd, 2013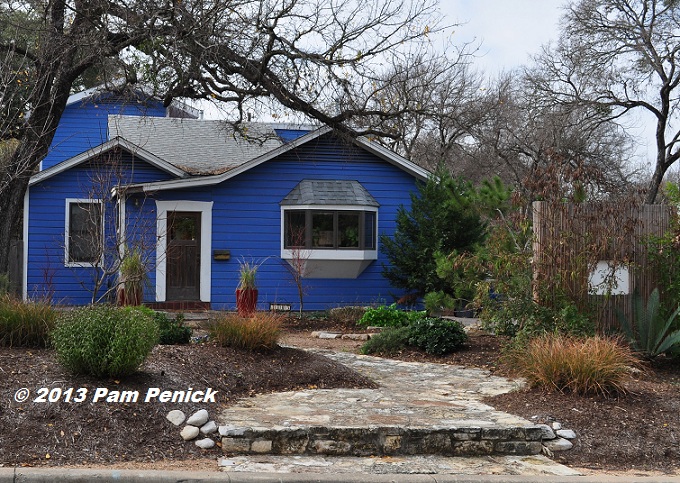 I'm starting a new feature called Drive-by Gardens to show some of the many interesting gardens I see while driving around Austin on a daily basis to meet clients. Today I spotted three lawn-gone or reduced-lawn gardens that look pretty darn good for mid-winter, so let's have a look!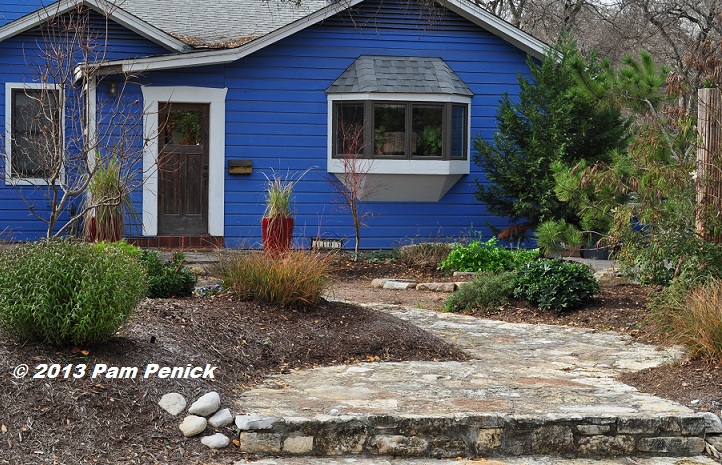 The first is this adorable blue bungalow in West Austin. I guess that it was recently relandscaped because the plants are few and widely spaced. The limestone walk doesn't look new though, does it? A mystery. Anyway, I like that the walkway is broad at the curb (about 9 feet wide), offering an open-armed welcome to visitors. Clumps of coppery grasses repeat along each side of the walk, leading your eye toward the front door, where two tall, red pots offer a jolt of warm color and hold two more ornamental grasses.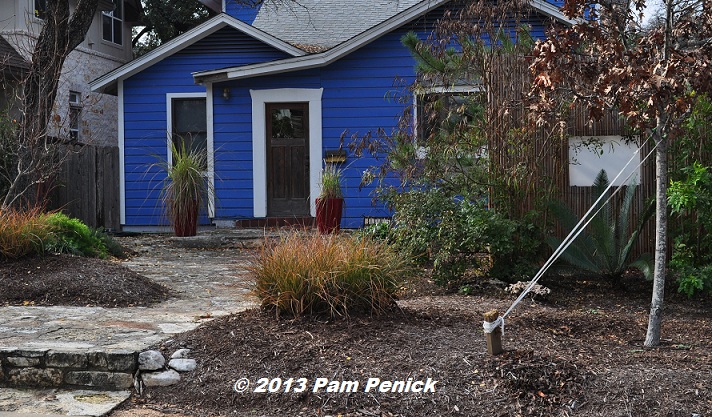 The garden is punctuated with evergreens to keep it looking lively in winter. The house and pot colors do so as well. A screen of bamboo poles hides the driveway (and maybe a front parking area?) from view. My drive-by impression? This is a welcoming garden that suits the colorful house and should become even more interesting as additional plants are added.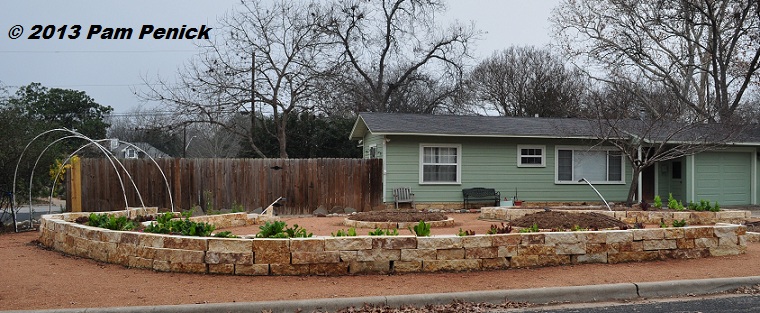 Here's a bold homeowner! The large front yard of this ranch house in Allandale has been entirely converted into a vegetable garden. A long, curving, raised bed constructed of native limestone not only lifts the plants within easy reach (and keeps them away from dogs marking their territory) but also functions as a friendly barrier and indicator of private space, the same way a picket fence would.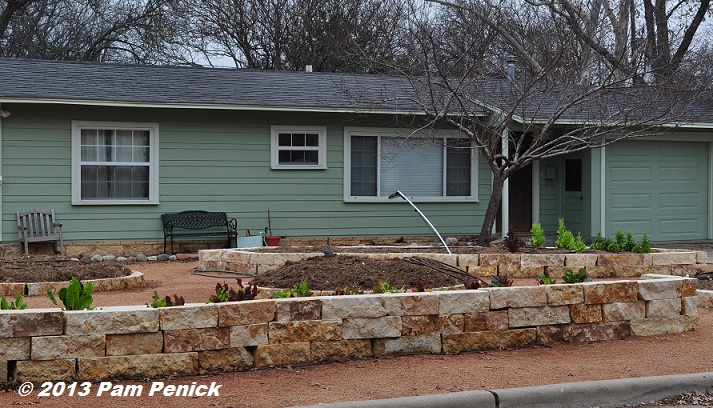 Lettuces green up the wall/bed for winter. Inside the wall, additional raised beds lie fallow, neatly mulched, waiting for spring. The whole garden is paved with decomposed granite (DG), eliminating the lawn altogether. A generous DG strip along the curb serves as a walkway for visitors—a much smarter decision than bringing the wall all the way to the street, which would have blocked the car doors of visitors and been less welcoming.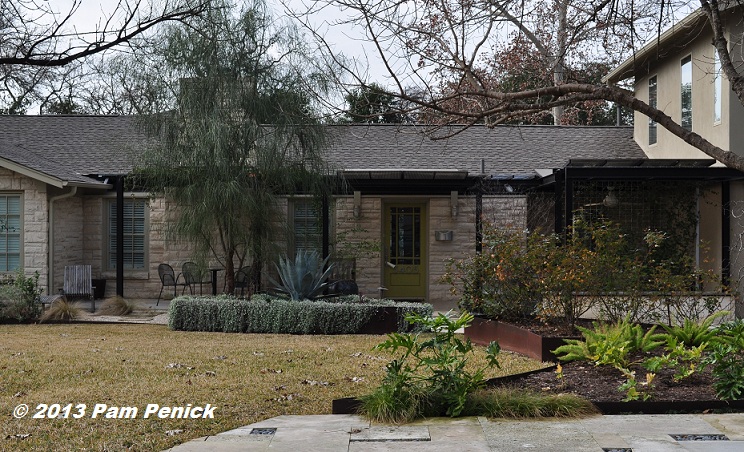 The last drive-by garden for today is this somewhat contemporary, reduced-lawn garden in Tarrytown. Again, the welcome begins at the curb with a cut-stone walkway, accented with cut-outs filled with Mexican beach pebbles. Rather than making a beeline for the front door, the walk leads the way around a series of steel raised beds and follows the driveway toward the house before curving back toward the avocado-green front door and an inviting terrace.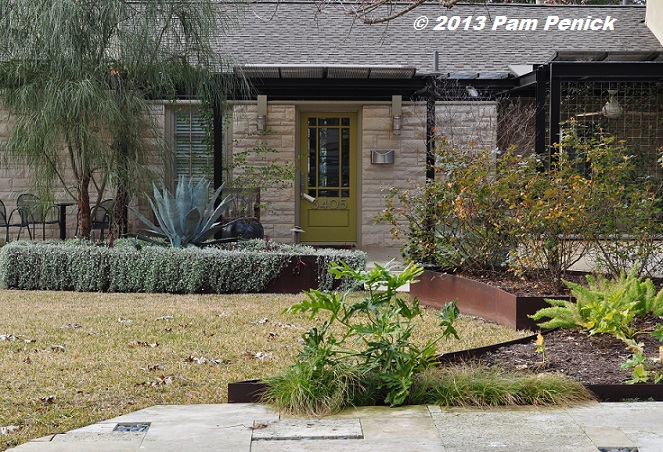 The terrace is partially screened by another steel planter, anchored by a large agave and a shoestring acacia, both evergreen. Silver ponyfoot cascades over the edges of the planter, offering additional greenery. Roses, foxtail fern, sedge, and a philodendron (still green despite a few freezes) add their own softening greenery to the winter garden.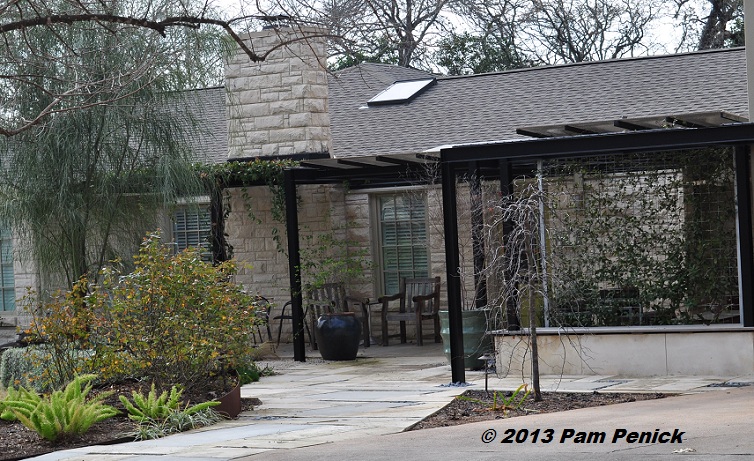 Looking back as I drive away—the terrace is nicely constructed with a sheltering arbor offering protection from the summer sun. A cattle-panel trellis, framed by the arbor's posts, is planted with what looks like star jasmine, an evergreen vine that will provide additional privacy as it fills in. Wouldn't it be great to have a front "room" like this instead of just a big swath of lawn?
All material © 2006-2013 by Pam Penick for Digging. Unauthorized reproduction prohibited.