January 10th, 2013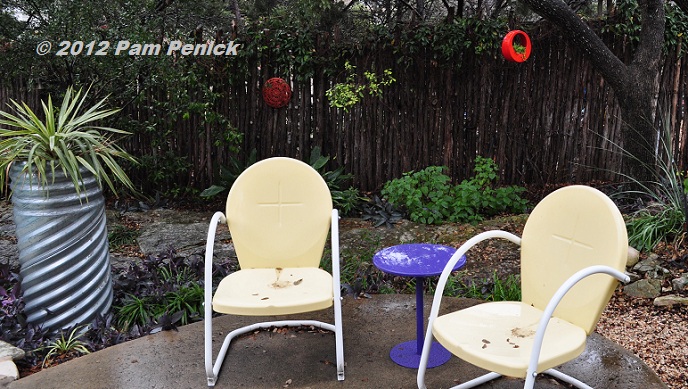 I don't think I ever mentioned last October that I received a fabulous red Circle Pot from my fabulous sister and sister-in-law. Sis had told me to expect a package and to keep my mitts off it until my birthday because it wouldn't be wrapped. When the box arrived I took one look at the shipping label, which read Potted, Los Angeles, CA, and whooped! Potted!—a garden shop I've only visited online but whose planters, garden decor, and other goodies I simply drool over. I dashed an email off to my sister, probably in all caps: "You got me something from Potted!" Amused, she tapped back, "How do you even know about that place?" (She'd stumbled across their online catalog by accident.)
Oh, I have my ways.
(Potted just announced on Facebook that their Circle Pot maker, an American ceramics company, has shut its doors. No! I hope they can find another company, preferably not overseas, to make their iconic planter.)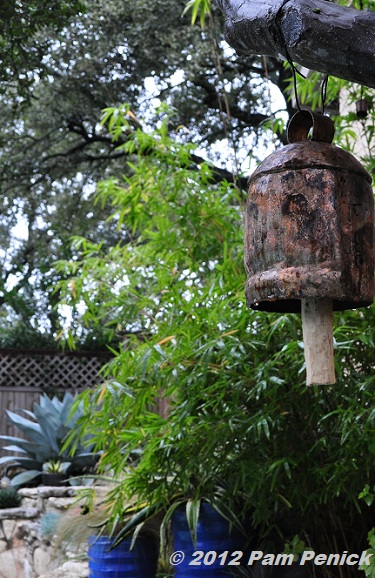 For Christmas Sis and sister-in-law gave me this cool Zen-style bell, which I hung from the Texas persimmon behind the house. Every time I walk by I can't help giving it a little push to hear its deep gong.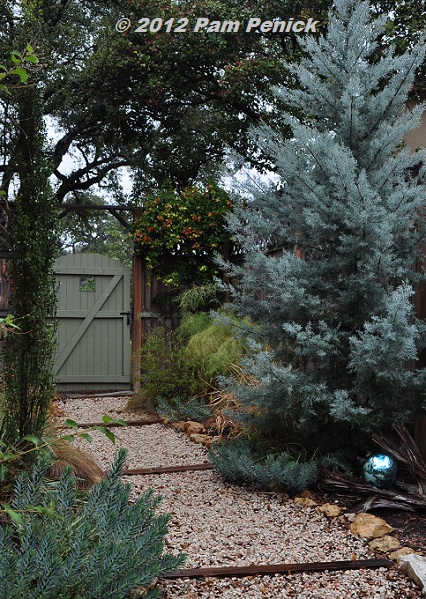 This image represents a garden present from the garden itself—tremendous growth after 3-1/2 years. I simply adore the 'Blue Ice' Arizona cypress, which was so little when I planted it. Now look at it! Don't even warn me that it'll get too big for the space. I simply don't care. If you want to know about the low-growing blue plant along the path edges, it's gopher plant (Euphorbia rigida), a heat-, drought-, and deer-tolerant favorite of mine.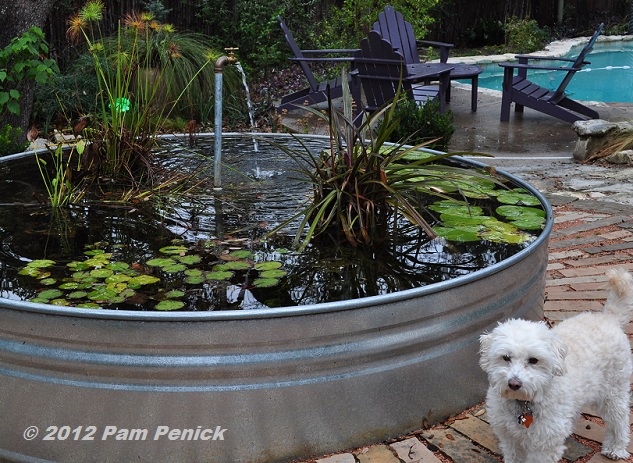 And the rain, rain, rain came down, down, down all day Tuesday and Wednesday, delivering a most welcome garden present of 3-3/4 inches of rain.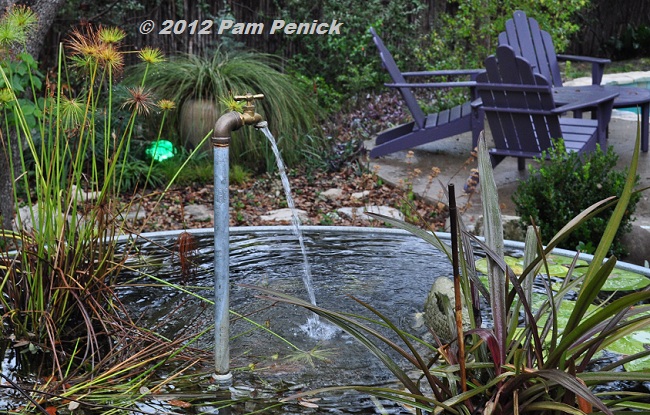 The stock-tank pond is brimming, plants are glistening, and I'm sure sticky-plant weeds and oak sprouts are already sending up grateful, unfurling leaves.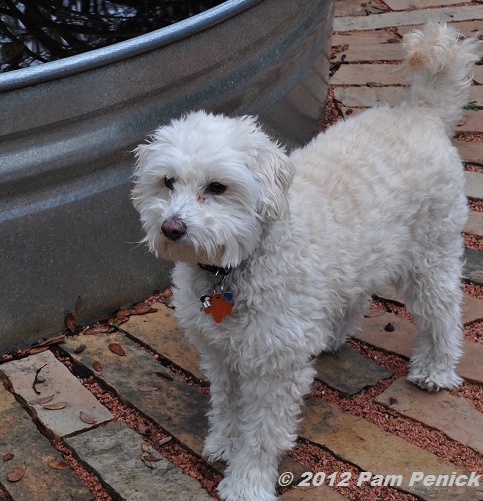 And last but not least, Cosmo has been a sweet gift to our family this year. He's pretty easy on the garden as well, digging only in one spot under the deck stairs so far. What a good dog!
All material © 2006-2013 by Pam Penick for Digging. Unauthorized reproduction prohibited.
posted in
2nd garden--2013
,
Containers
,
Decor
,
Dogs
,
Fountains
,
Gates
,
Paths
,
Patios & decks
,
Ponds
,
Seating
,
Stock tanks
,
Trees
,
Water features