January 2nd, 2013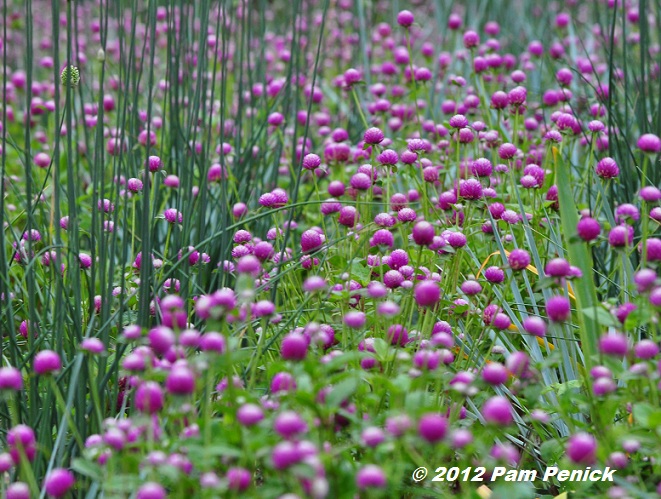 Les at A Tidewater Gardener, an excellent nature photographer, always ends the year with a look back at his favorite photos from the year, and he invites other bloggers to do the same. Without further ado, here are my favorites from 2012.
The first two happen to be from a spring visit to Dallas Arboretum. I made the visit for the Chihuly exhibit, which was stunning. But so were these gomphrena growing beneath the taller stems of drumstick allium. I like this image for the graphic quality of the lines and dots of stems and flowers, the river of gomphrena flowing through the allium stems, and the beautiful color scheme.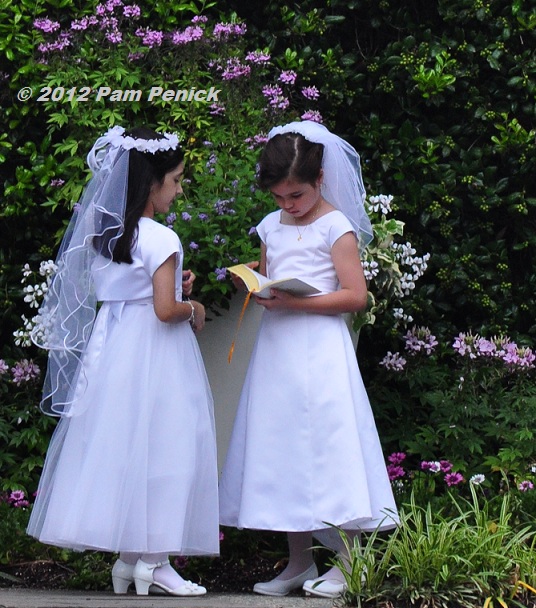 My second image, also snapped at the Arboretum, is of two little girls in their Communion Sunday finest, waiting to be photographed in the garden, their mothers standing nearby. I caught them in a candid moment, framed by greenery and pink and white cleome blossoms, looking, well, as pretty as a picture.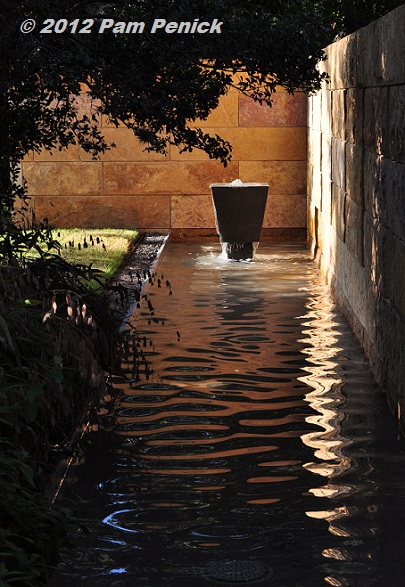 My third image is a reflecting pool in the Bonnell Drive Garden, which was on the Austin Open Days tour last fall. The light, reflecting off the golden wall and across the length of the pool, framed by shadowy foliage on the left, is the real subject of this photo.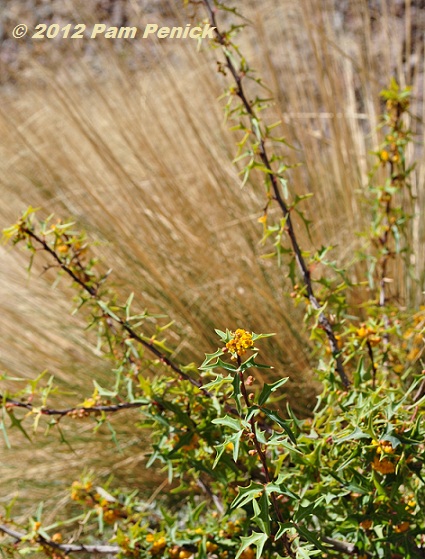 Bright desert light brings a different quality to my fourth image, a spray of agarita backed by an ornamental grass in the Capri Lounge garden in Marfa, Texas. The yellow-green hue and fireworks-like explosion of lines draw me to this image.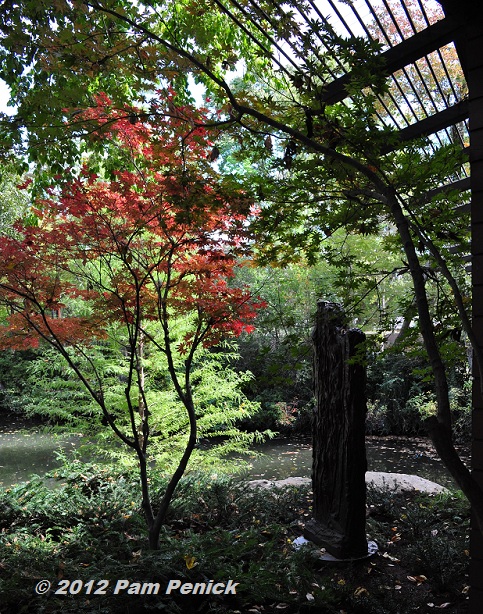 I like the soft textures and the play of light in my fifth image, from the Rockcliff Road Garden on last fall's Austin Open Days Tour. The arbor at upper right also nicely frames part of the scene.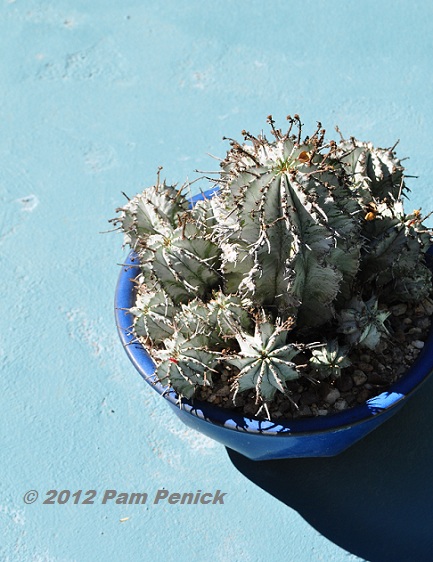 My sixth image is a study in blue. I spotted this blue-white cactus euphorbia in a blue bowl on a pale-blue bench in the garden of Alan Richards in Tucson, Arizona.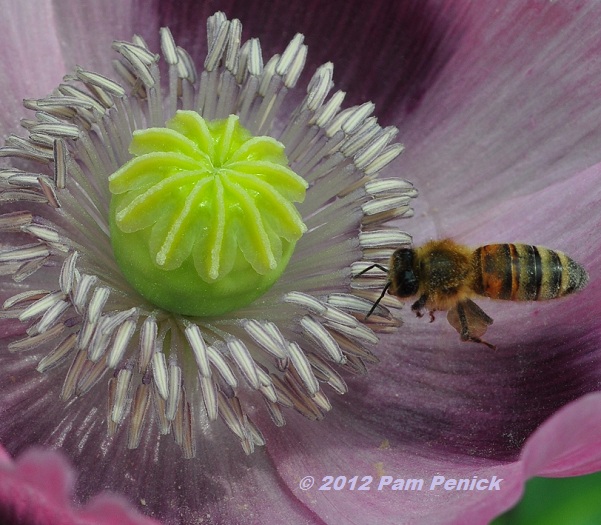 Travel led me to my seventh image as well: a bee buzzing a poppy blossom in the Burton Street Community Peace Garden in Asheville, North Carolina. The super-closeup view creates an almost otherworldly mood.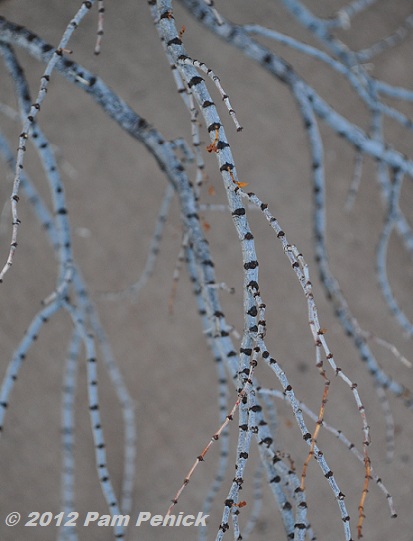 The black-and-white striping and texture of a creosote bush in Big Bend National Park, framed against a blurred-out gravel background, turns an ordinary desert plant into graphic sculpture in my eighth image.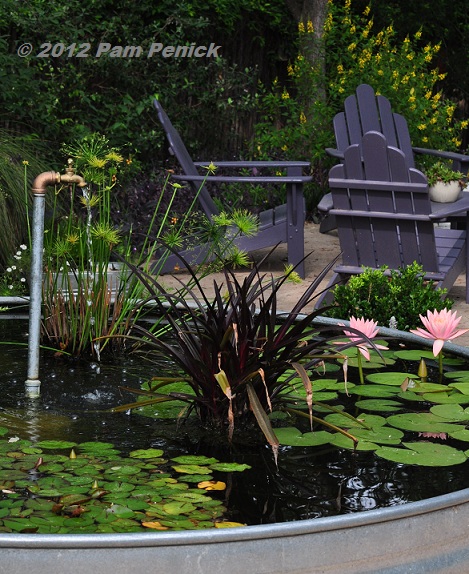 My ninth image is from home—my own stock-tank pond with blooming 'Colorado' water lilies, and an inviting trio of Adirondacks in the background, framed by golden thryallis. It's good to have at least one favorite image from one's own garden, wouldn't you say?
So if you blog, are you interested in playing along? If so, round up your favorite images from 2012 and add your link in a comment on Les's post. It's fun to see which photos people choose and why.
And if you'd like to see more, here are my favorite images from 2011.
All material © 2006-2013 by Pam Penick for Digging. Unauthorized reproduction prohibited.
posted in
2nd garden--2012
,
Cactus
,
Desert
,
Flowers
,
Fountains
,
Garden blogging
,
Photography
,
Ponds
,
Stock tanks
,
Water features
,
Year in Review