January 1st, 2013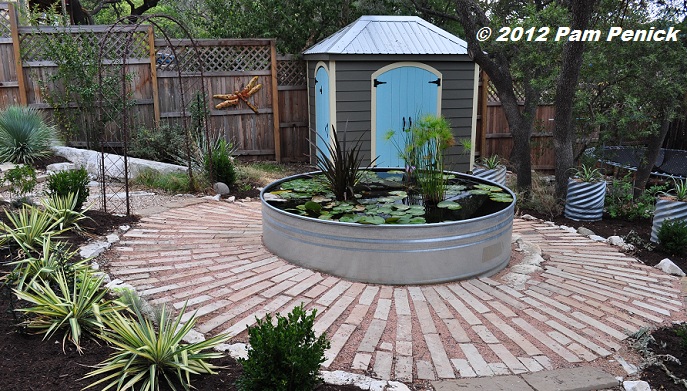 I included this photo in my upcoming book, Lawn Gone!, to illustrate how a simple water feature like a stock-tank pond can be used in place of lawn. This is the main focal point of my back garden, formerly a nondescript swath of St. Augustine.
My 16-year-old son was flipping through an advance copy of the book last week and stopped to gaze at the page with this image. "Hmm," he mused, half to himself. "I see what you did there. You repeated these circles and lines" — he pointed at the tank, the sunburst paving, the culvert-pipe planters, and the roof of the shed — "and the silver metal on the tank and roof and planter things. That's cool!"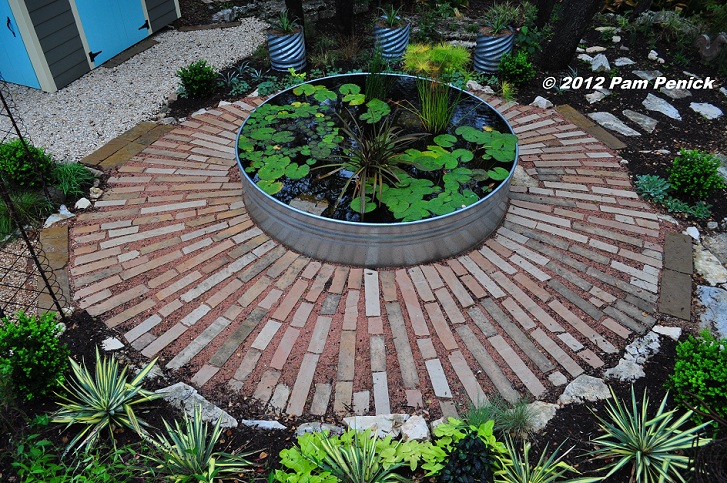 The smile on my face was pretty big as I replied, "Hey, you noticed!" I guess sometimes a photo gives you the perspective you need to really see something. Especially if you're a teenage boy who's never paid attention to his mother's garden before.
So, hey, if you're not already taking pictures of your garden on a regular basis, try it. It's amazing what you'll notice when you frame a view of your garden and study it for a few moments. You'll see what's not working, but you'll also see what is. Just ask my kid.
All material © 2006-2013 by Pam Penick for Digging. Unauthorized reproduction prohibited.