December 5th, 2012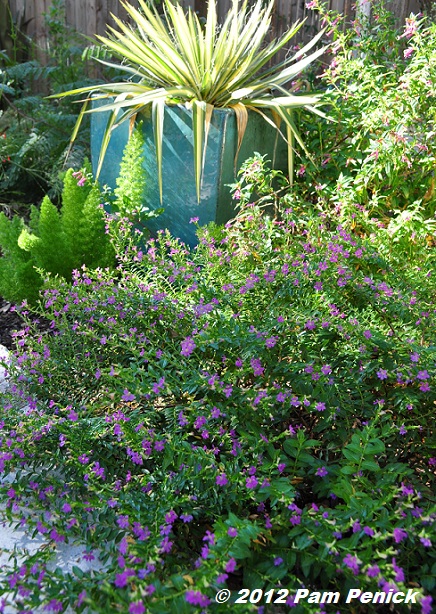 I confess: I used to be disdainful of Mexican heather (Cuphea hyssopifolia), that sturdy, prolifically blooming sub-shrub offered on the summer-color tables at the big-box stores and plugged into many a planter at local shopping centers. I often saw plants that were leggy and a bit sun-crisped. But Mexican heather is so darned eager to please that it finally won me over.
I inherited a single plant with the house, and I ignored it, expecting that the first freeze that year would take it out. It's often sold as an annual here in Austin, and experts differ on whether it's safely a zone 9 or zone 8 plant. I thought it likely that it would be an annual for me. But then it came back the next year, and the next, and even after our really cold winter in 2011.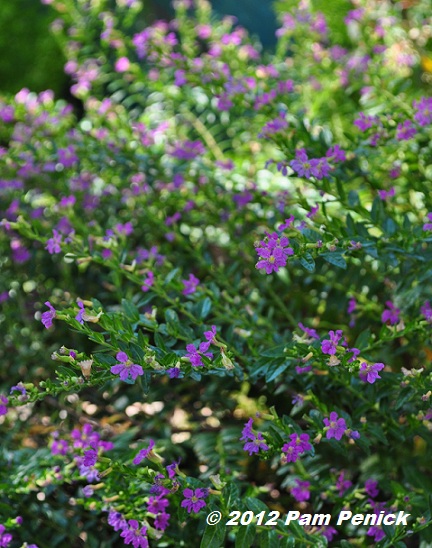 And then it spread out so neatly (about 15 inches wide and 12 inches tall) beneath a 'Twinkle Pink' cuphea and a potted 'Color Guard' yucca and bloomed so prettily all spring, summer, and fall. Heck, why had I given it the cold shoulder? I no longer remember. All I know is that I planted a few more in the fall and look forward to more purple blooms next year.
If you decide to carpet a portion of your garden with Mexican heather too, I suggest waiting until spring to plant unless you live in a frost-free zone. Warm-climate gardeners in zone 8 can expect it to return most years, especially with our increasingly warm winters. Farther north I'd consider it an annual. But it loves the heat and thrives in my part-sun garden, blooming nonstop spring through fall. That makes it a winner in my book.
Note: My Plant This posts are written primarily for gardeners in central Texas. The plants I recommend are ones I've grown myself and have direct experience with. I wish I could provide more information about how these plants might perform in other parts of the country, but gardening knowledge is local. Consider checking your local online gardening forums to see if a particular plant might work in your region.
All material © 2006-2012 by Pam Penick for Digging. Unauthorized reproduction prohibited.