November 20th, 2012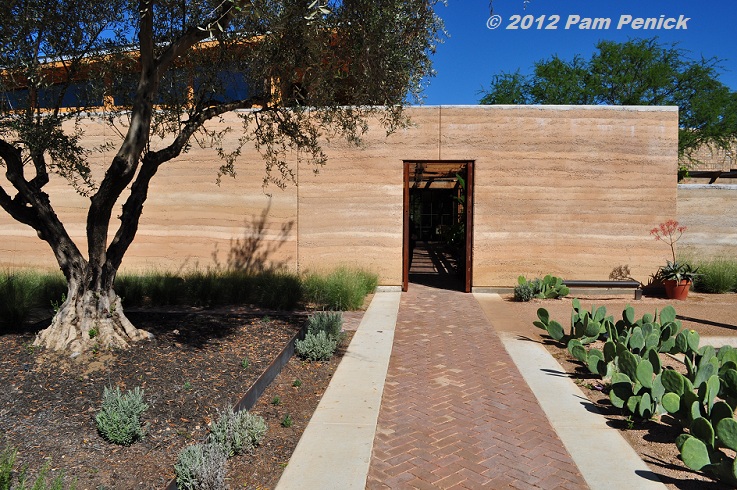 Last month I had the pleasure of meeting Mark Word, a highly regarded residential and commercial designer here in Austin. Thanks to his work designing unique and memorable gardens for Liz Lambert's boutique hotels, including uber-hip Hotel San Jose and the more luxurious Hotel Saint Cecilia, Mark's pared down but still lushly planted style has inspired rapturous reviews from fans and gained him wider recognition than if he were designing only for high-end clients. He does plenty of that too, of course (you can see images of several of these gardens in Stephen Orr's Tomorrow's Garden), but for some reason they don't tend to pop up on Austin's numerous garden tours.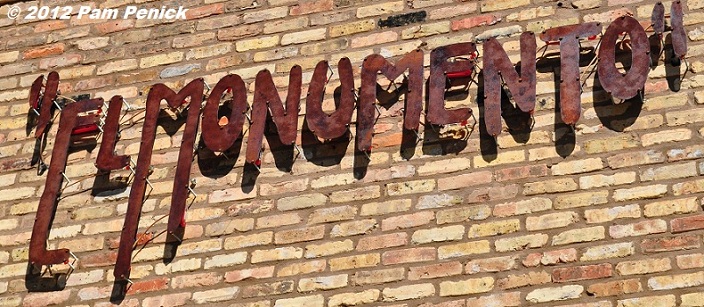 When Mark told me about a new commercial landscape he'd just finished in Georgetown, Texas—El Monumento, a farm-to-table style restaurant overlooking the San Gabriel River—I knew I would make the 30-minute drive north to see it.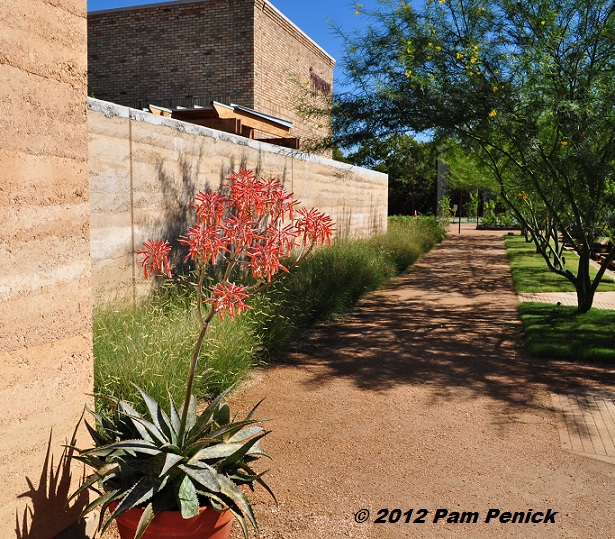 Opened by the owner of popular Georgetown diner Monument Cafe, the new place specializes in home-style Mexican food. The contemporary building and garden look like something you'd see in trendy Austin, not quiet, family- and retiree-friendly Georgetown.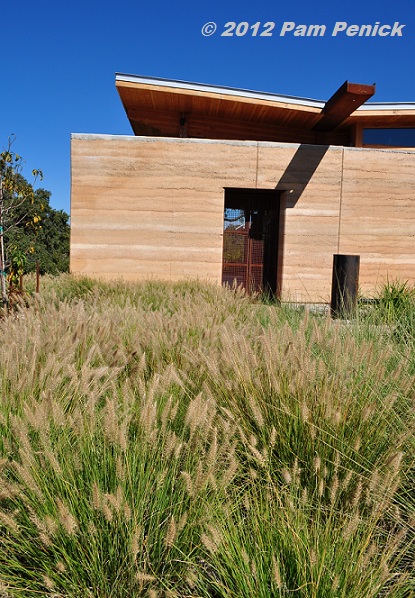 The experience of visiting the restaurant starts in the parking lot, before you even reach the door, thanks to sweeps of groundcovers and ornamental grasses between rows of cars. I was captivated as soon as I drove into the parking lot on a busy lunch hour last month.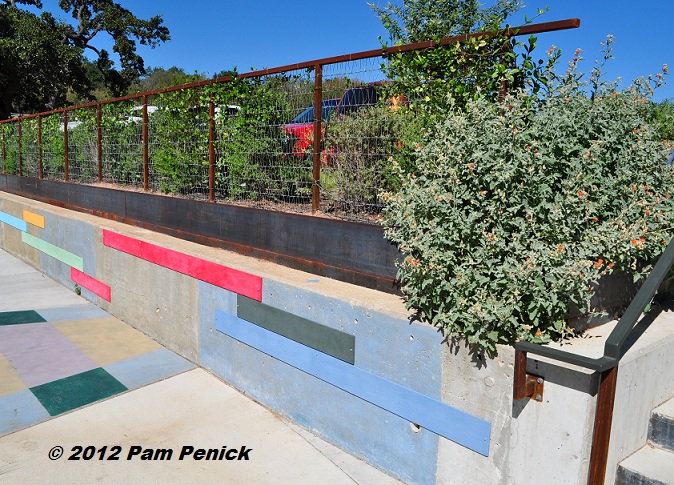 The excitement starts at the public sidewalk along the street, where this concrete retaining wall is made artful with paint and colored strips of some material bolted to the wall. A steel fence planted with vines will soon become a green wall, which is almost a shame since the metalwork of the fence is interesting in itself. A gray globemallow (Sphaeralcea incana) greets you at the stairs.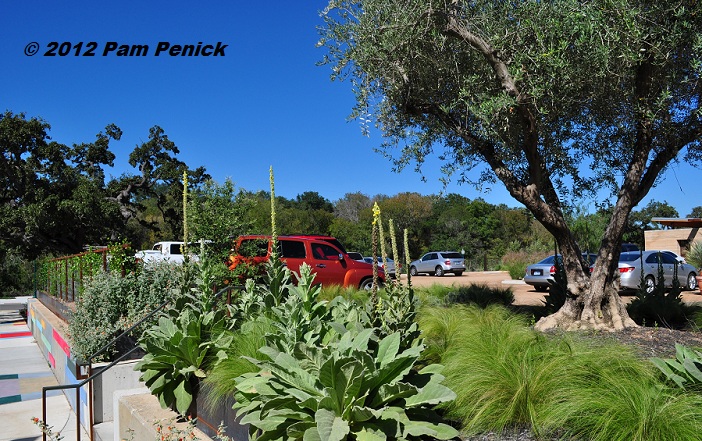 A wider view shows a massing of Mexican feathergrass (Nassella tenuissima) and giant mullein (Verbascum thapsus)—no boring lawn grass or the usual evergreen shrubs here—anchored by a large olive tree.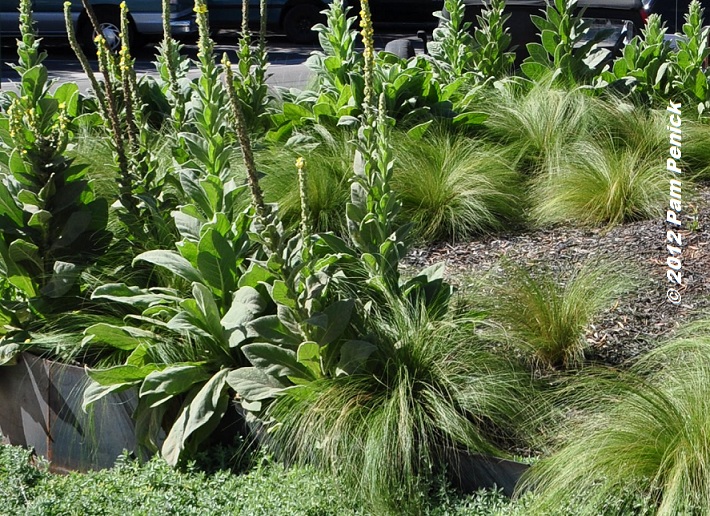 Tousled and oh-so-touchable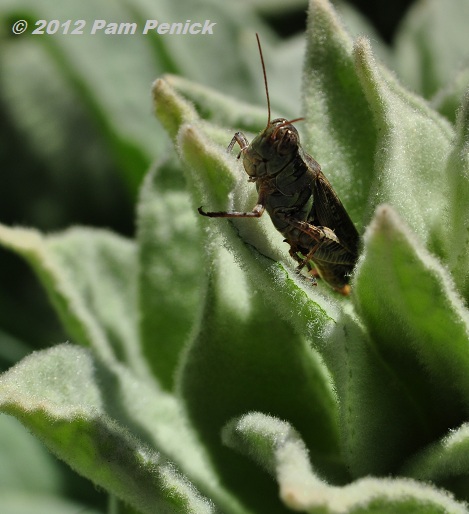 I spotted this grasshopper resting in a mullein's felted leaves.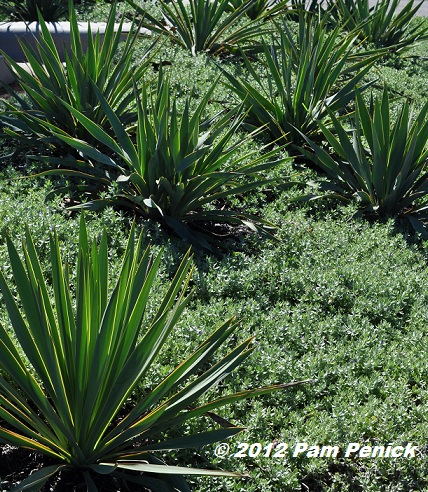 Yucca gloriosa (I think) punctuates ground-covering wooly stemodia (Stemodia lanata). Simple and beautiful.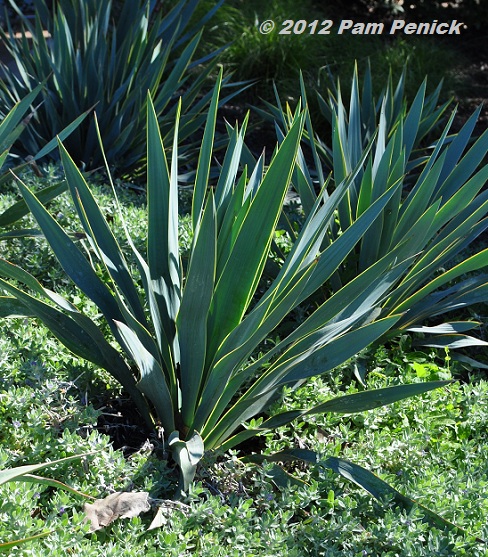 A closer look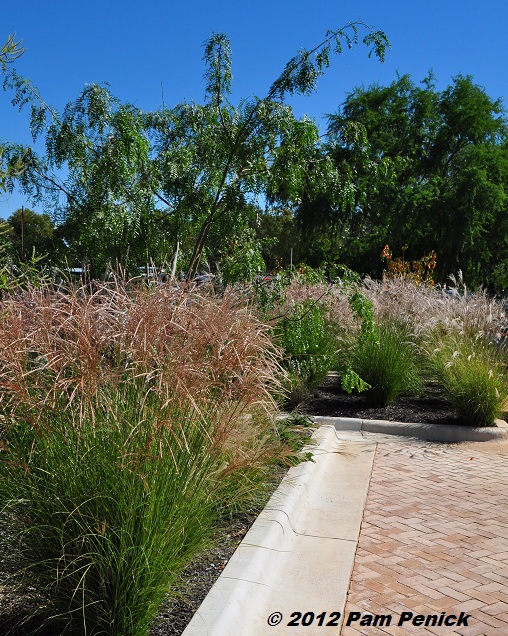 In the middle of the parking lot, a stand of miscanthus grass evokes a prairie. The grasses were lovely, their tasseled blossoms sparkling in the midday sunlight.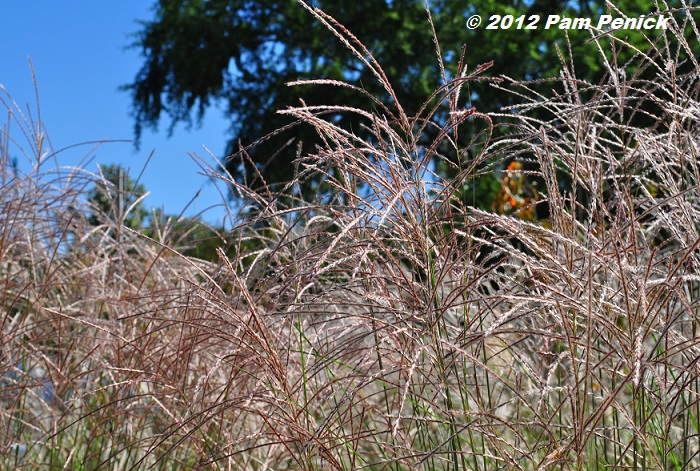 A closer look: flowering grasses and a blue, blue sky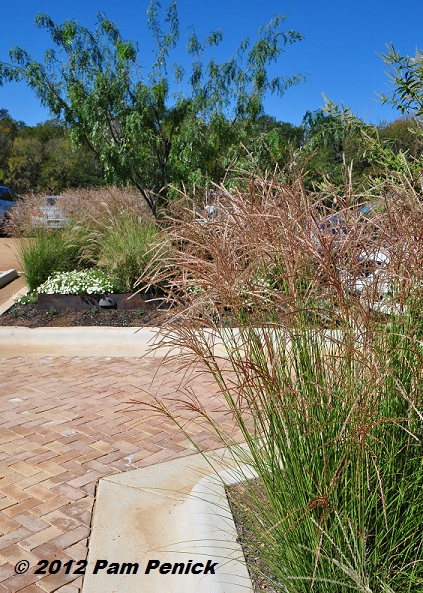 The parking lot is largely paved with water-permeable decomposed granite, with terracotta-colored, herringbone-patterned brick walking paths set amid the planting islands.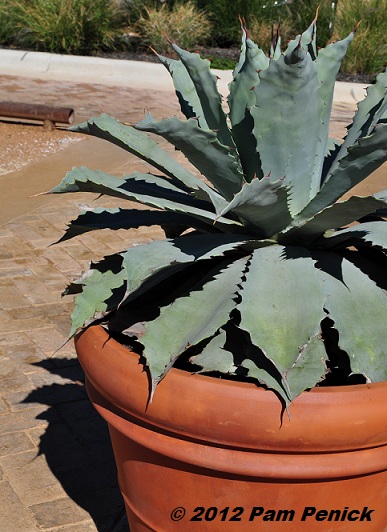 A few potted agaves punctuate the walkway.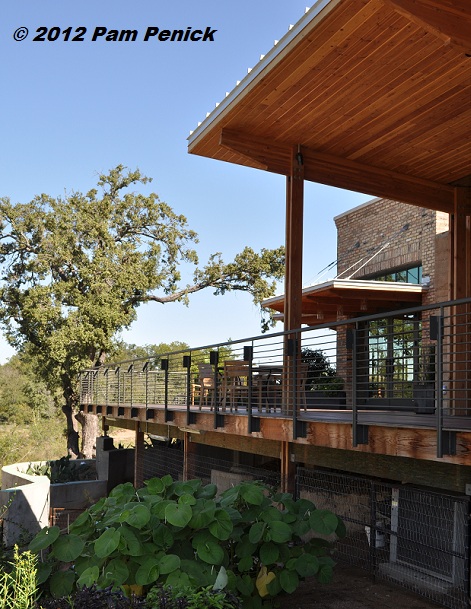 Exploring around the side of the building, I caught a glimpse of the back deck, with an edible garden planted below, including a tropical-sized root beer plant (Hoja santa).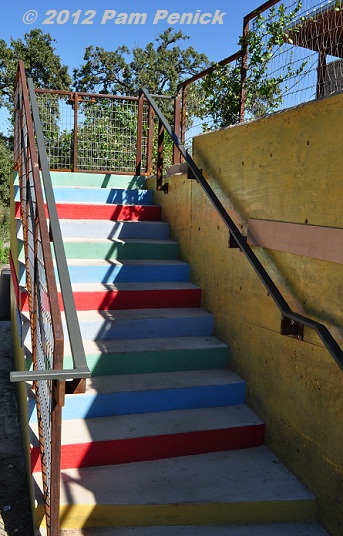 A colorful staircase descends to a lower garden…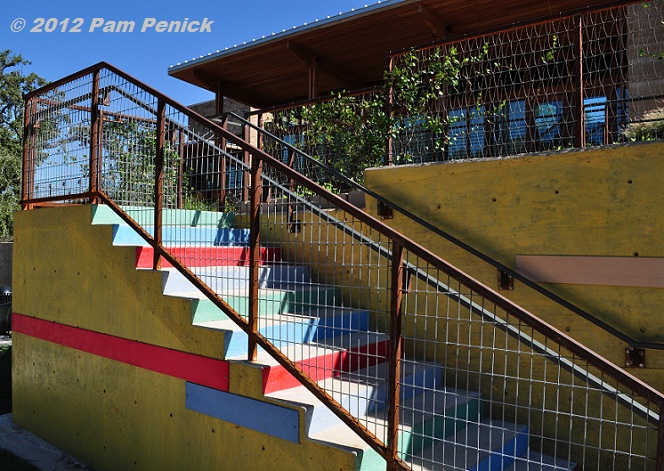 …and is itself a work of art. Why don't we paint stairs more often? This is so cheerful and fun.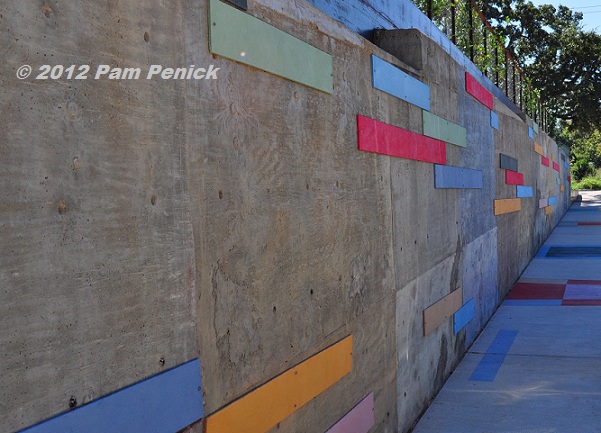 The wall and sidewalk along this side were given the same color-strip treatment as on the wall I showed earlier. I wonder if this would work to jazz up a boring wood privacy fence?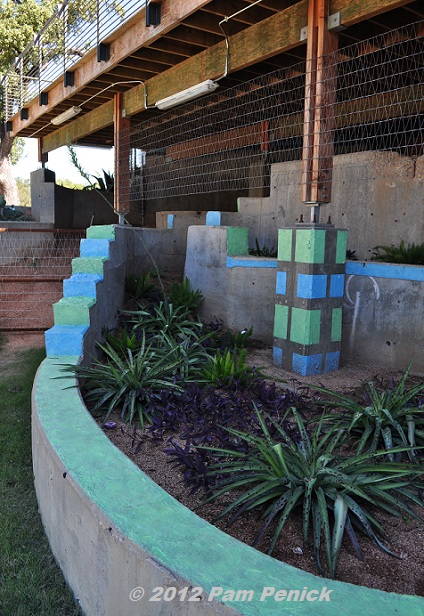 Beneath the deck I found more painted walls and a low-care, shade-tolerant planting of Manfreda maculosa, foxtail fern (Asparagus densiflorus 'Meyers'), and purple heart (Tradescantia pallida).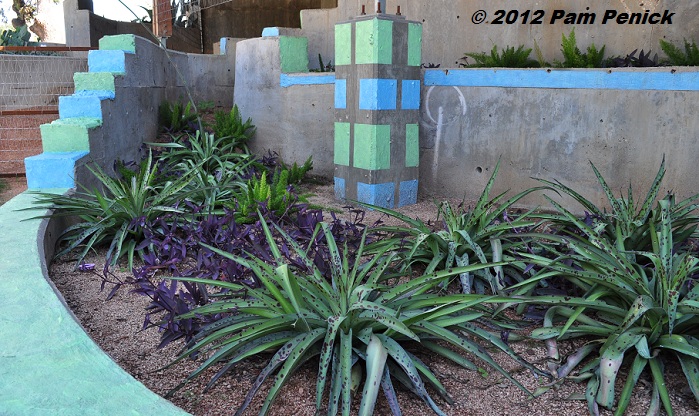 I really like this, and imagine how nice it will be when the purple heart has filled in around the purple-spotted manfredas.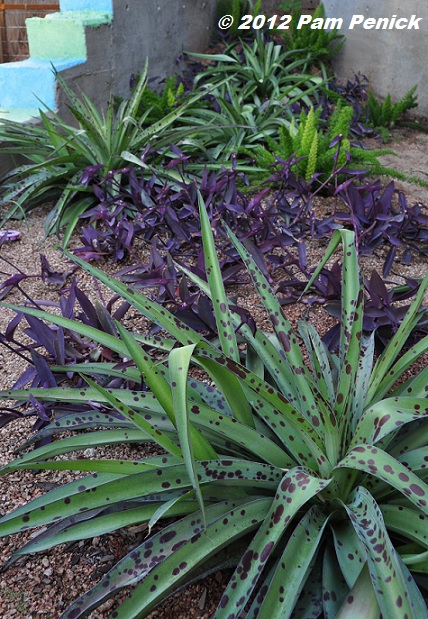 Another look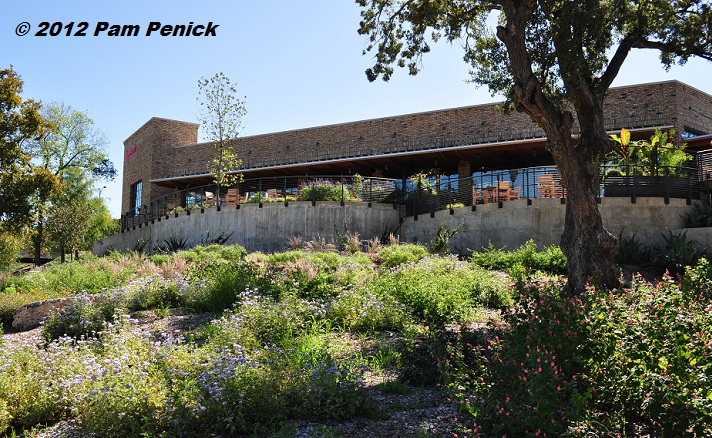 In back of the restaurant, a hillside of flowering perennials and ornamental grasses was alive with butterflies. The restaurant's rear terrace overlooks this garden and the San Gabriel River.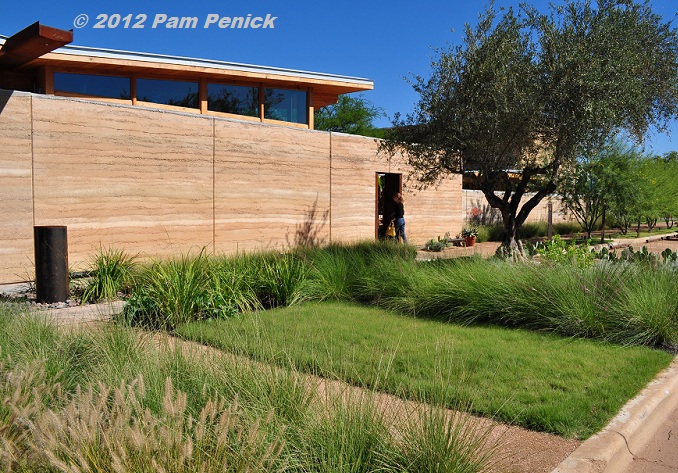 Moving back to the front of the building, you see more of Mark's signature use of massed grasses—including defined swaths of drought-tolerant turf grass used as just another plant species, not necessarily as a carpet for walking on. (In his residential gardens, such swaths of turf grass are often set off in raised beds for emphasis.)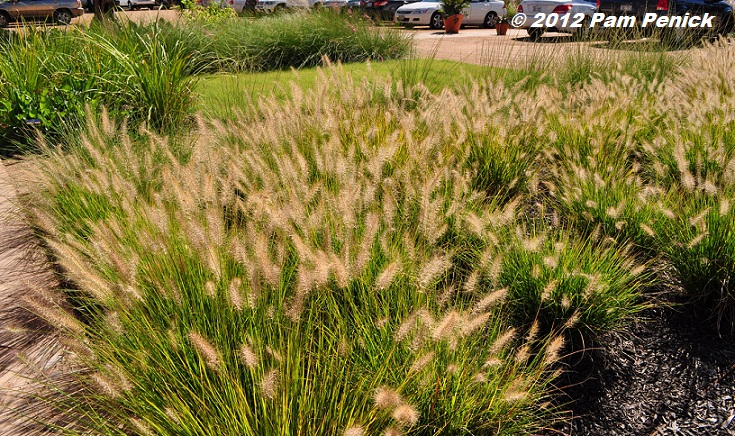 Pennisetum—I'm not sure what kind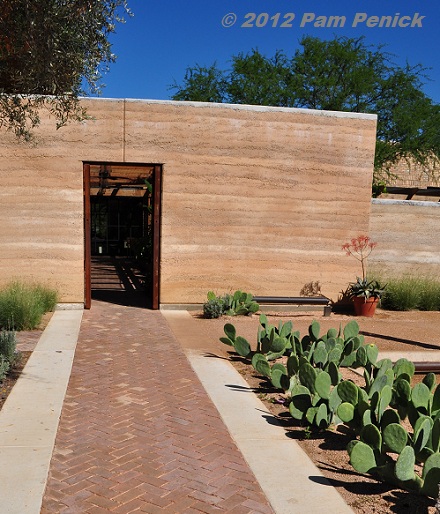 Spineless prickly pear (Opuntia) edges the front walk with Zen-like simplicity.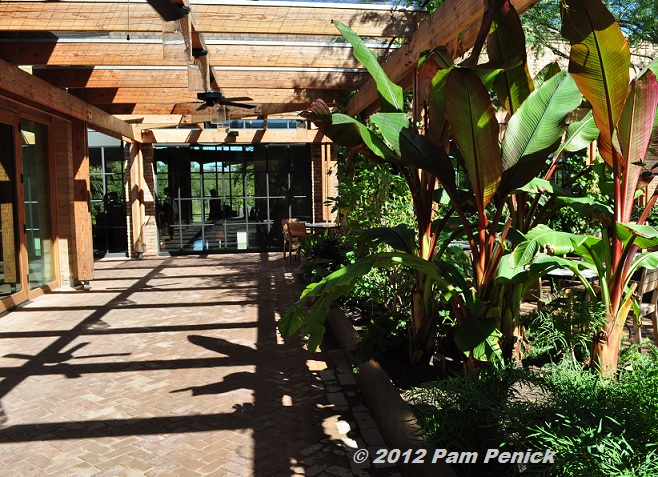 Step through that southwestern wall, from bright sunlight into the cool shade of the doorway, and you enter a tropical courtyard, with red-leaved banana trees pushing against the shade-providing arbor.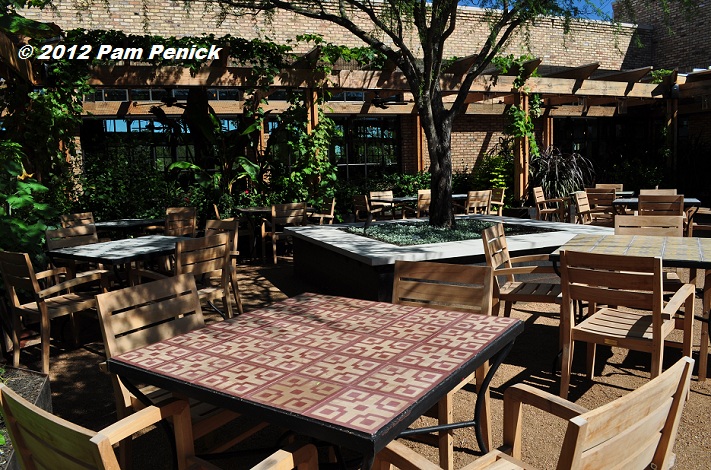 Looking right, you see an inviting courtyard with plenty of seating in both sun and shade. The vine-draped arbor in the background runs on three sides of this courtyard.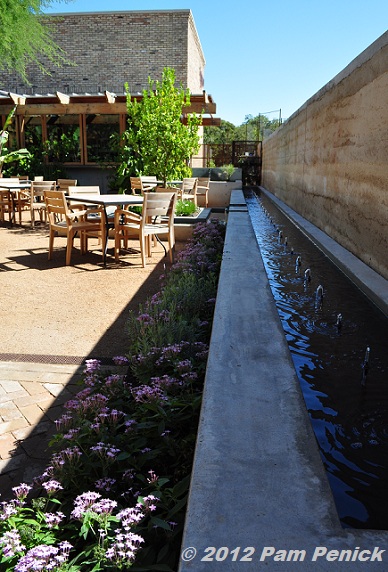 Immediately to your right as you enter the courtyard, a long, trough-style fountain runs the length of the wall that you just stepped through.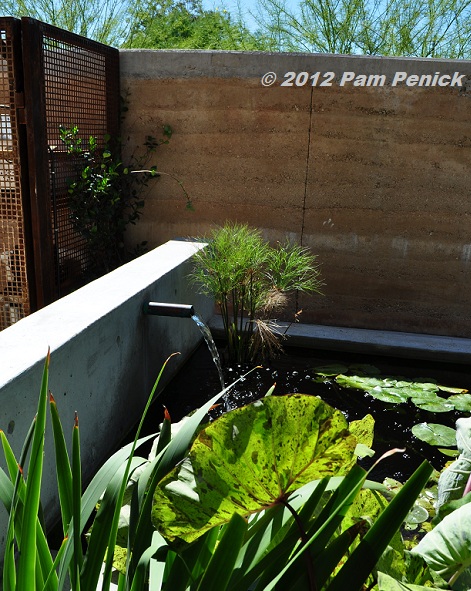 Rusty, grid-like metal fencing, a steel pipe fountain, and concrete basin trough—all very Austin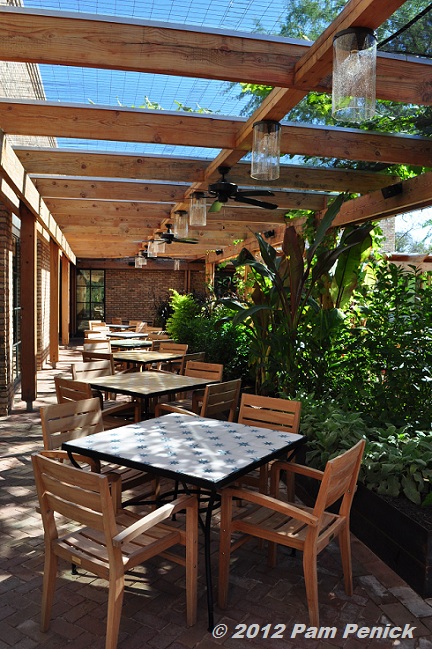 The shady arbor along the back of the courtyard has additional seating and is overlooked by interior windows, giving inside diners a nice view of the courtyard garden.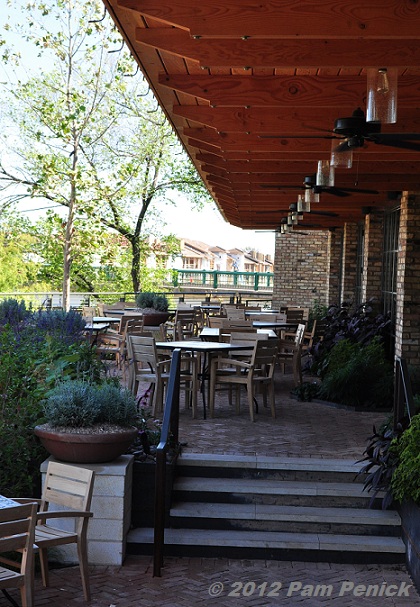 In back, a deck bridges one side of the building, leading to a rear terrace paved in the herringbone brick. Deep eaves, fans, and generous container plants all promise a feeling of coolness on hot days.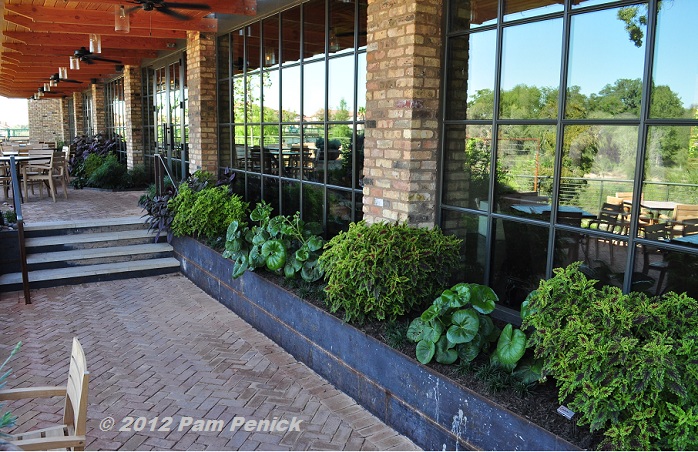 A steel raised bed along the back of the building holds coleus and leopard plant (I think).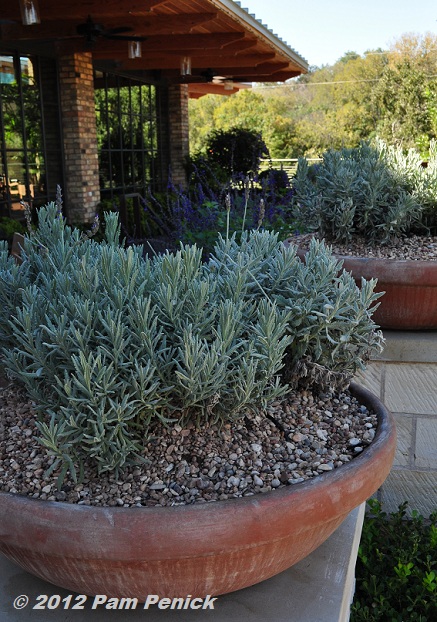 Dishes of lavender top short stone columns.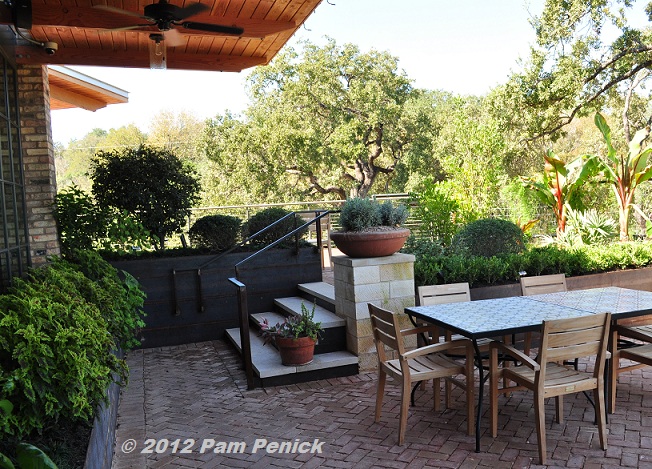 Banana trees along the sunny outer edge (at right) continue the tropical vibe. This whole space overlooks the hillside perennial and grass garden shown earlier.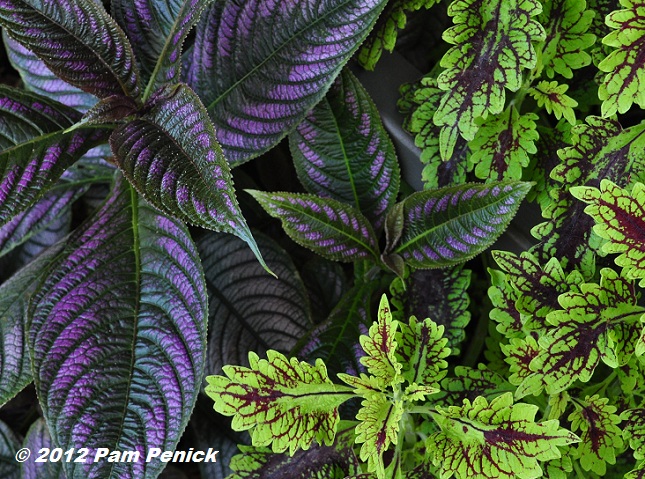 Persian shield (Strobilanthes dyerianus) and coleus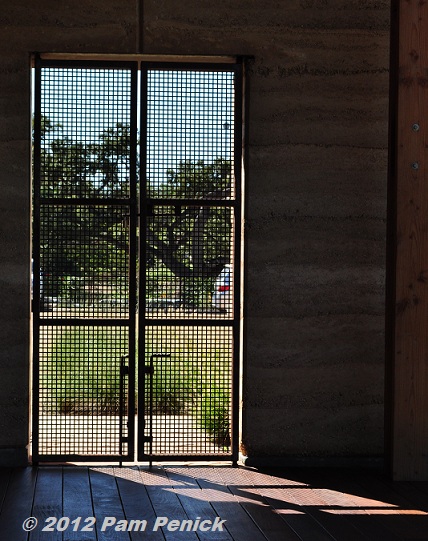 Avoiding the interior of the restaurant, which was full of noontime diners, I strolled back around the deck, admiring this view of the parking lot garden through the grid of a steel gate.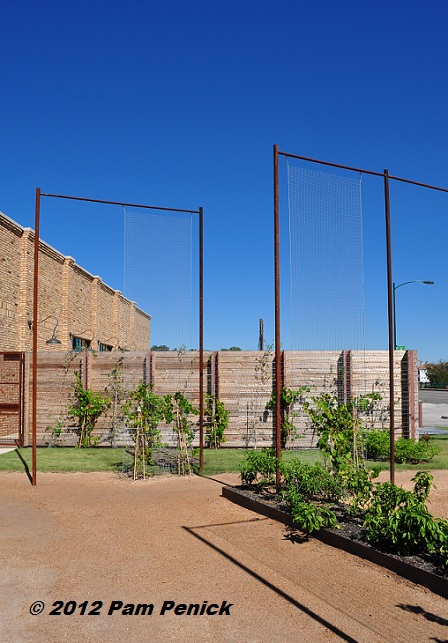 Along busy Austin Avenue, tall steel arbors hung with heavy-duty netting support young muscadine grapevines.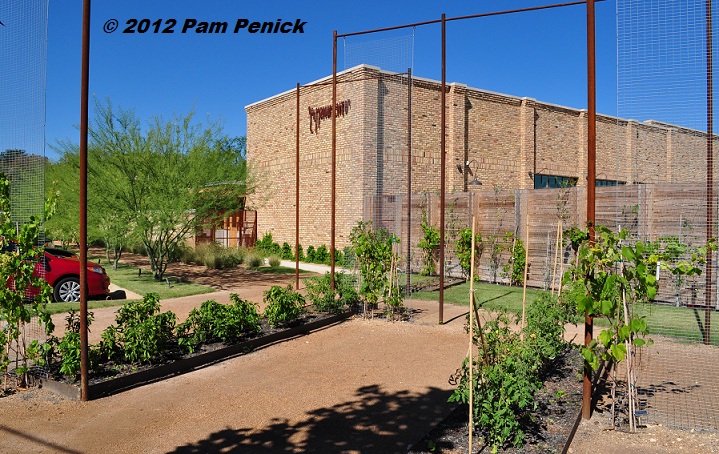 Other edibles grow in the raised beds laid out here, surrounded by generous paving of decomposed granite.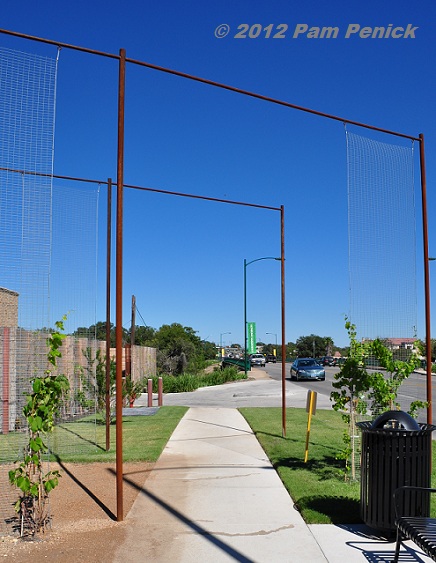 The grape arbors are cleverly constructed to arch over the public sidewalk, creating, one day, a shady tunnel for passersby.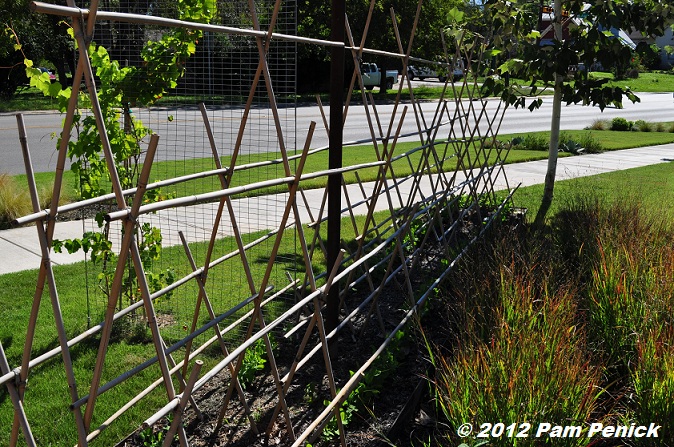 A bamboo trellis supports some other newly planted climber.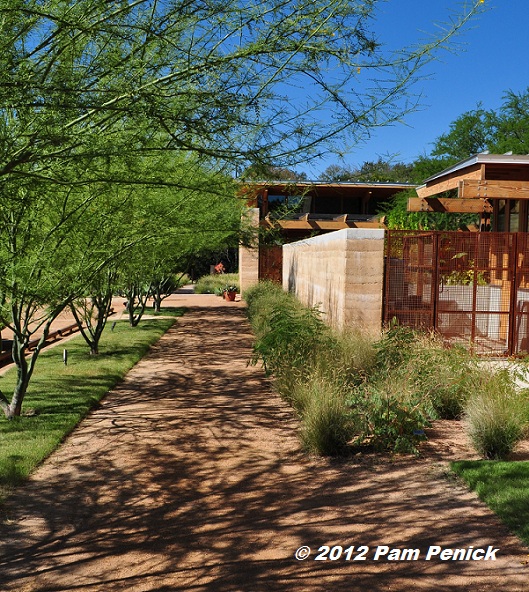 One last look at the entry garden from the Austin Avenue side. The decomposed-granite path and parallel lines of 'Desert Museum' palo verde trees (Parkinsonia x 'Desert Museum') and 'Blonde Ambition' grama grass lead to the door in the wall.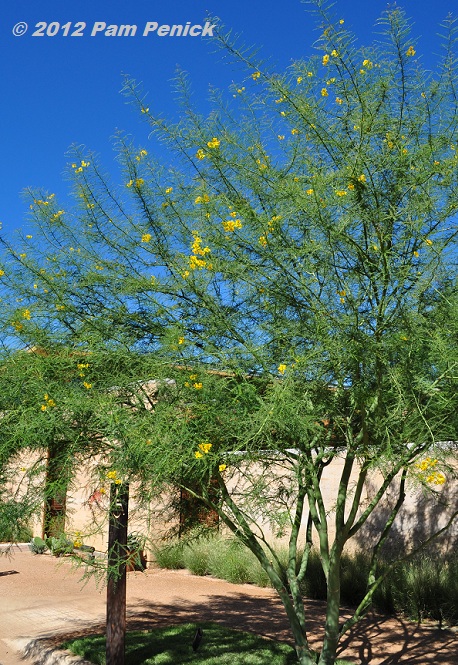 Airy, green-trunked 'Desert Museum' palo verde in flower is a lovely sight.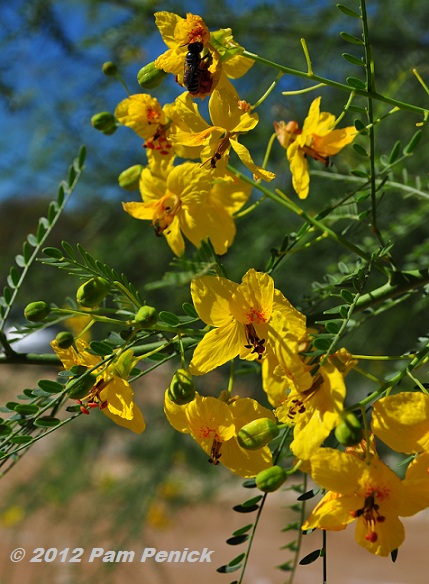 And bees love those yellow blossoms.
I hope you enjoyed the tour of this commercial project by designer Mark Word. I would love to be able to show some of his residential work one day. Until then, I plan to visit this new garden again in a year or so to see how it's matured—and maybe I'll even try out the dining experience in the meantime.
Speaking of food, I bet many of my American readers are prepping today for the big Thanksgiving feast on Thursday. I'll be doing the same. Happy Thanksgiving to you all!
All material © 2006-2012 by Pam Penick for Digging. Unauthorized reproduction prohibited.
posted in
Agaves
,
Aloes
,
Arbors
,
Bees
,
Cactus
,
Containers
,
Design
,
Doors
,
Edibles
,
Fences
,
Fountains
,
Garden tours 2012
,
Grasses
,
Groundcovers
,
Lawn Gone!
,
Paths
,
Patios & decks
,
Restaurants
,
Seating
,
Texas natives
,
Trees
,
Trellis
,
Walls
,
Water features
,
Xeric plants
,
Yuccas