November 16th, 2012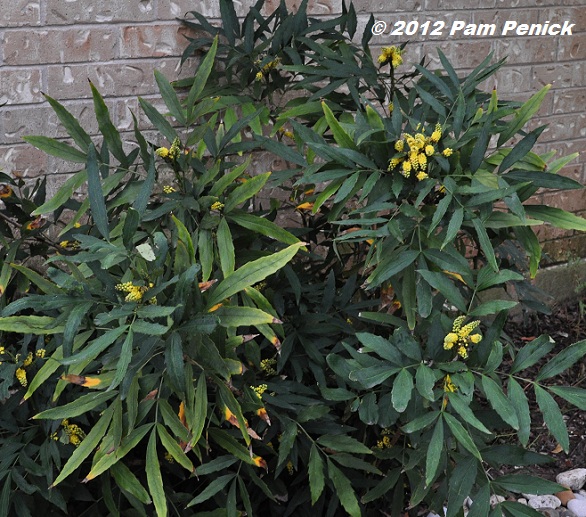 I inherited two Chinese mahonia (Mahonia fortunei) when I moved into this house, a plant previously unknown to me. In all my frequent nursery visits for 2-1/2 years, I never saw another one offered for sale, and it wasn't until I visited the Rister-Armstrong Garden in Dallas that I ran across another one and asked the owners for the ID. Since then I've spotted it for sale at Red Barn Garden Center and perhaps at Shoal Creek Nursery. I have no idea why it isn't more widely offered, since it's been bulletproof in my shady, deer-infested front garden.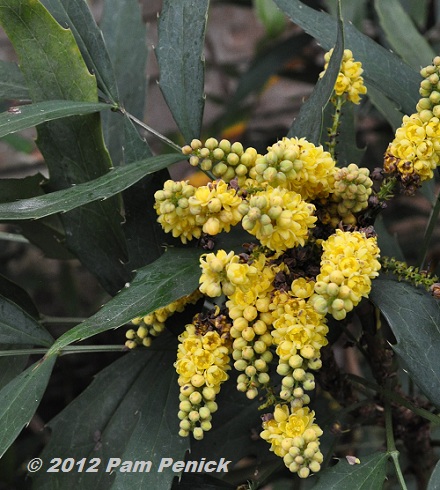 Chinese mahonia puts out lemon-yellow blooms in the fall, which contrast nicely against the deep-green foliage, but they are not the main attraction. The plant's graceful shape, long, narrow leaves, and sturdy, undemanding nature are what won me over.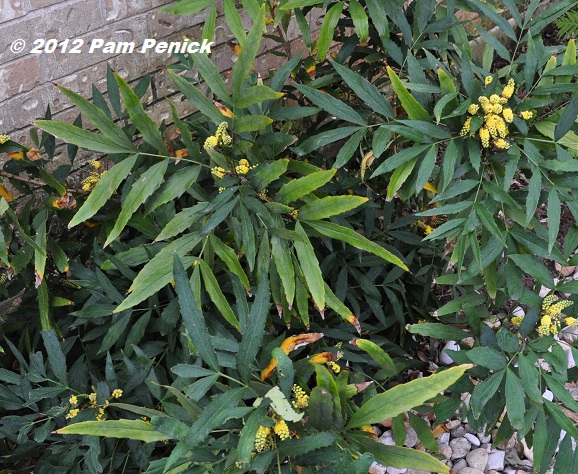 Like most mahonias ('Soft Caress' is a known exception), the leaves are surprisingly prickly if you stick your hand down into them. Deer ignore them in my garden, and they make a handsome, evergreen, medium-size screening plant or foundation shrub in full shade. I suspect the leaves might burn in sun, but maybe a few hours of morning sun would be OK. This is a zone 8-10 plant (sorry, northern gardeners), and in my shady, north-facing front garden it thrives on a once-a-week watering schedule.
Join me in posting about your lovely leaves of November for Foliage Follow-Up, a way to remind ourselves of the importance of foliage in the garden on the day after Bloom Day. Leave your link to your Foliage Follow-Up post in a comment. I really appreciate it if you'll also include a link to this post in your own post (sharing link love!). If you can't post so soon after Bloom Day, no worries. Just leave your link when you get to it.
Note: My Plant This posts are written primarily for gardeners in central Texas. The plants I recommend are ones I've grown myself and have direct experience with. I wish I could provide more information about how these plants might perform in other parts of the country, but gardening knowledge is local. Consider checking your local online gardening forums to see if a particular plant might work in your region.
All material © 2006-2012 by Pam Penick for Digging. Unauthorized reproduction prohibited.