November 15th, 2012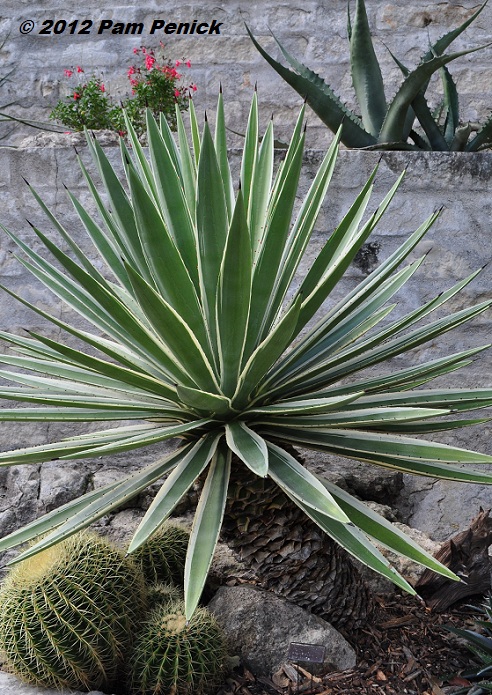 My sixth and final stop on November 3rd's Open Days tour was the garden of my friend Jeff Pavlat, located in the Westlake area. Jeff is vice president of the Austin Cactus and Succulent Society, and he's kindly invited me to visit his garden before (click for my 2009 visit to Jeff's garden and my 2010 visit to the Pavlat paradise).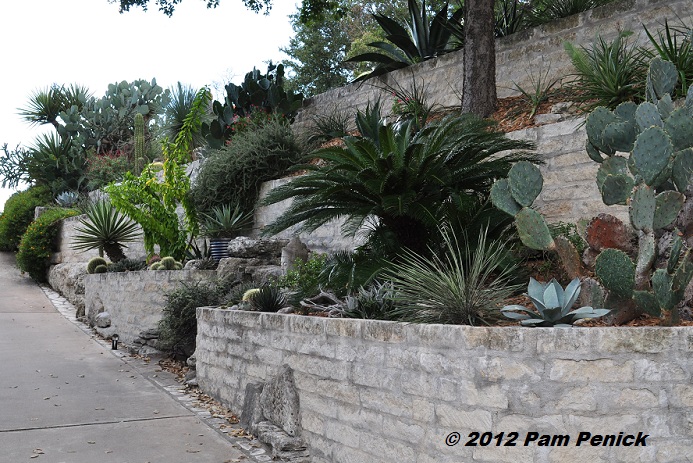 Aside from the fact that Jeff's garden is a succulent smorgasbord, one thing that always impresses me is that he and partner Ray Clayton also designed and built the extensive stone terracing that tames their narrow, steep hillside and enabled Jeff to turn this formerly unusable space into a traversable garden.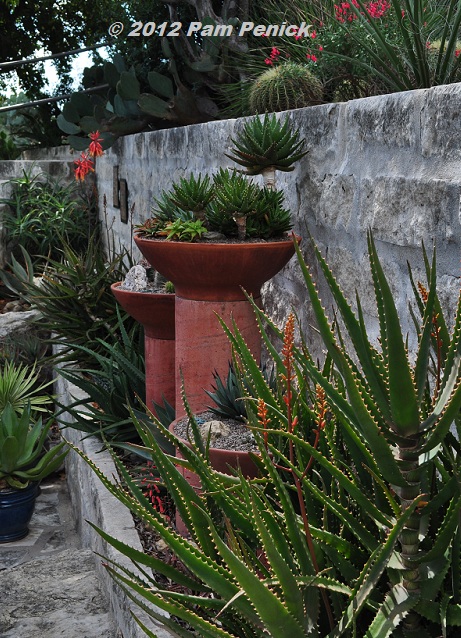 Plants are tucked into the terracing, creating a vertical garden effect. The terraces, along with the long street-level garden and house-level garden, come alive with exotic-looking aloes, agaves, dyckias, sotols, yuccas, and cacti—all manner of spiky and fleshy plants.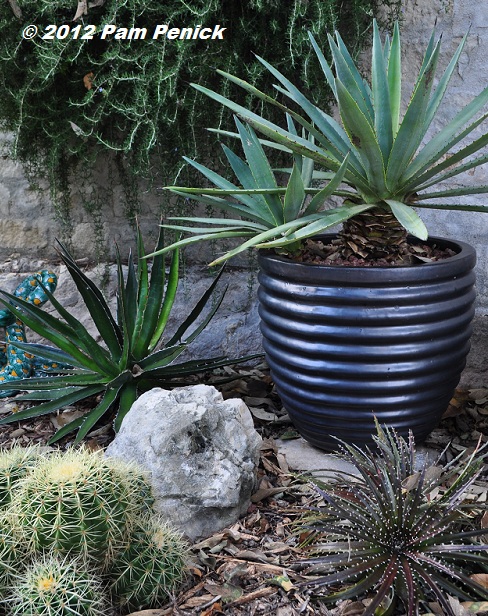 Jeff does go to certain lengths to preserve his more tender plants when it freezes, but he also uses many hardy succulents and cacti. Which ones are hardy in the Austin area? Check out the pdf list of cold-hardy plants on the Austin Cactus and Succulent Society's website.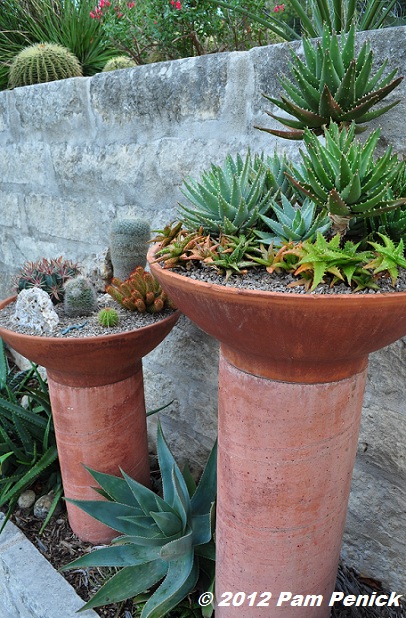 Potted plants placed in the garden beds add height and focal points. I particularly like these terracotta bowl planters, set atop homemade concrete pillars tinted with a terracotta mix-in color.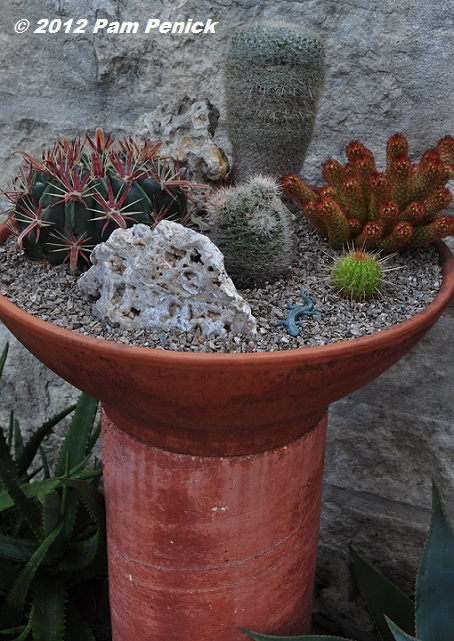 A trio of them includes a cactus landscape…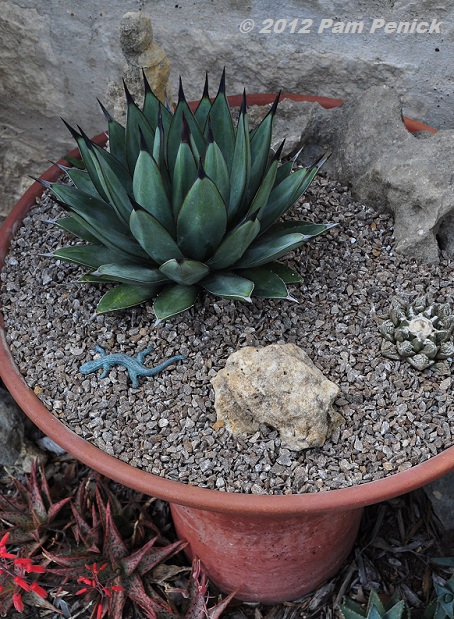 …a small agave, rock, and succulent dish…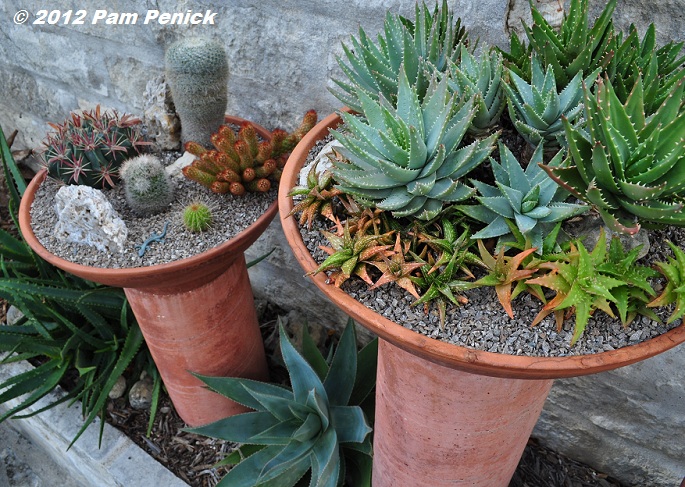 …and a collection of aloes.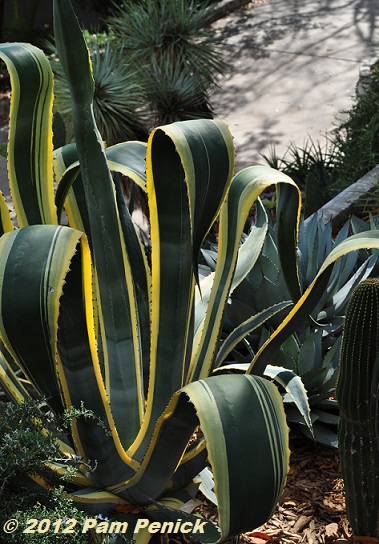 Variegated American agave writhes atop one of the terrace walls, overlooking a dizzying view down to the driveway.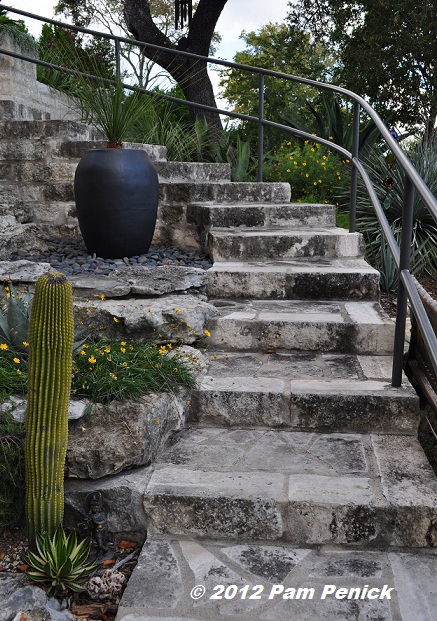 Jeff's garden is all about verticality. Limestone stairs lead up to street level from the house-level garden.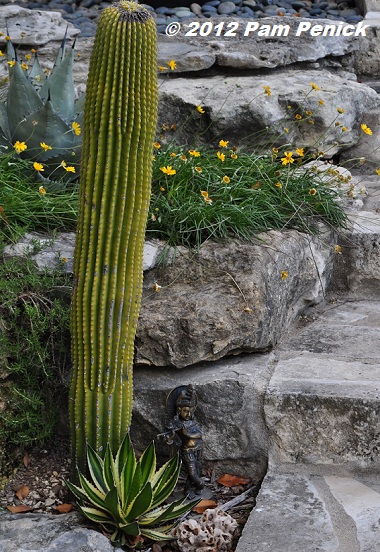 Desert Southwest cacti and succulents share garden space with tough, native flowering plants like four-nerve daisy (Tetraneuris scaposa).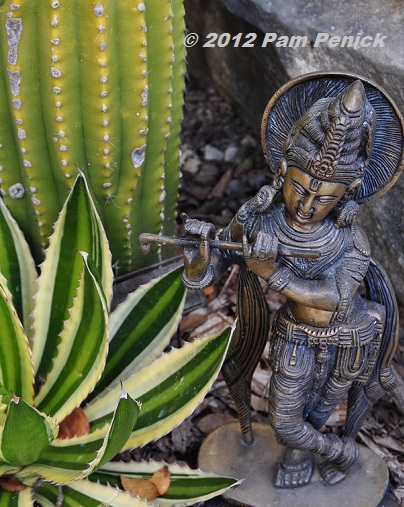 Small vignettes entice a closer look, but watch out for those spines.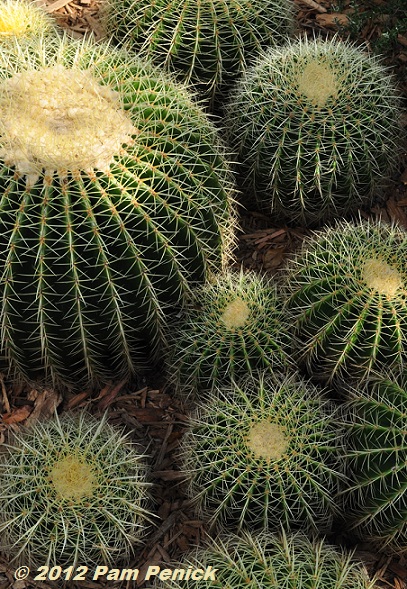 Speaking of which…a proliferation of golden barrel cacti, like so many pincushions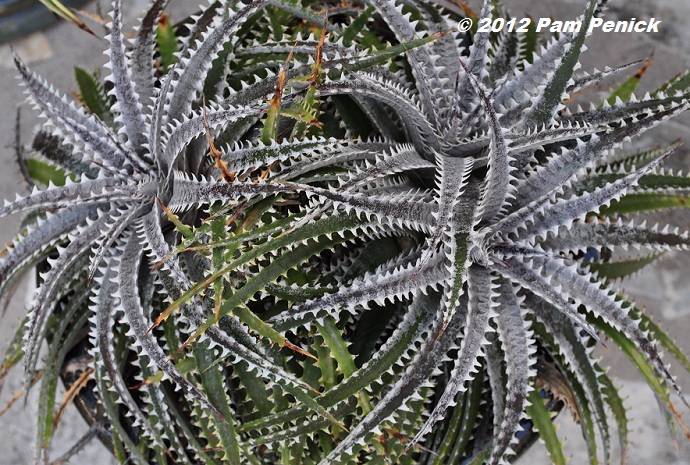 A beautiful, frosty dyckia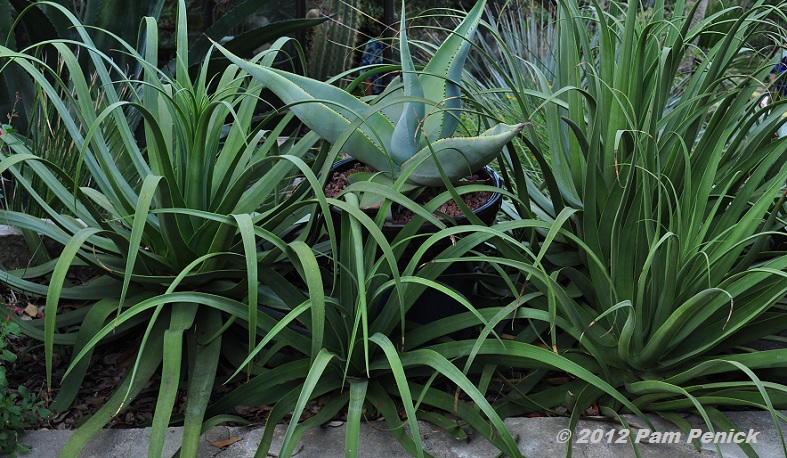 Curvy-armed squid agaves (A. bracteosa). Jeff masses his succulent collection to great effect.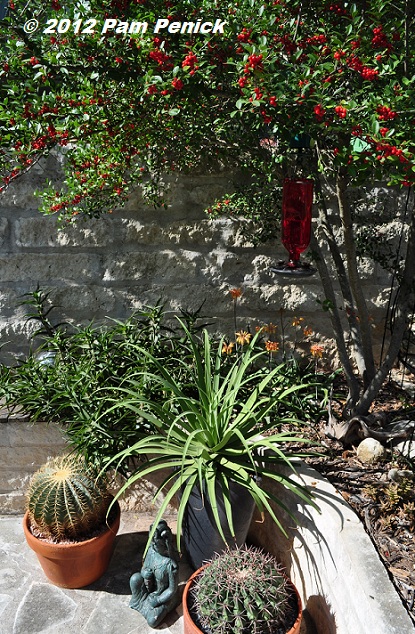 Halfway up the terraced hillside, Jeff and Ray carved out space for a small patio anchored in the center by a millstone fountain (not pictured) surrounded by Mexican beach pebbles. A yaupon or possumhaw holly anchors one corner of the patio, along with a vignette of potted barrel cacti and a squid agave.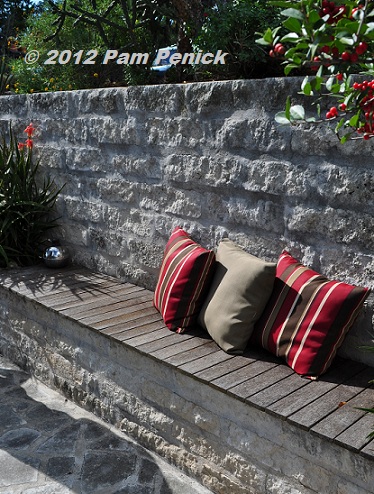 A built-in bench along the wall offers the perfect spot to stop and enjoy the view.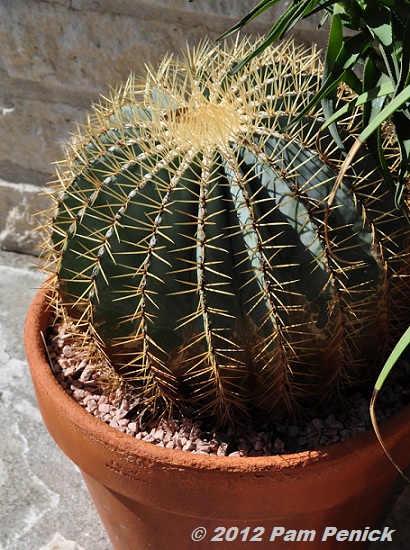 Barrel cactus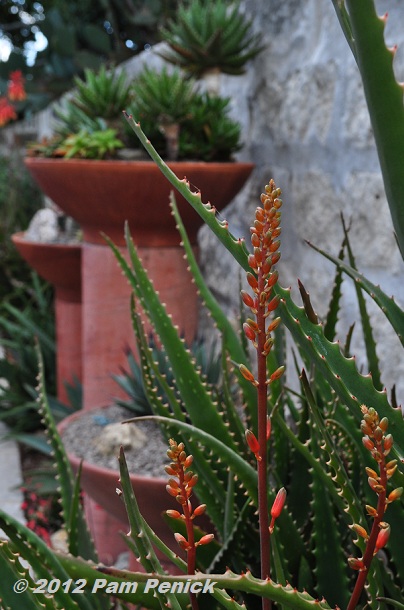 Fleshy, spiny aloes bloom in cooler weather, sending up candelabras of tubular, coral-red flowers.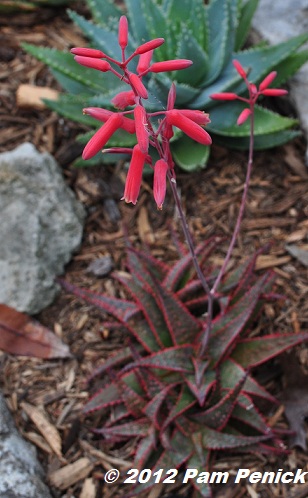 A tiny aloe in bloom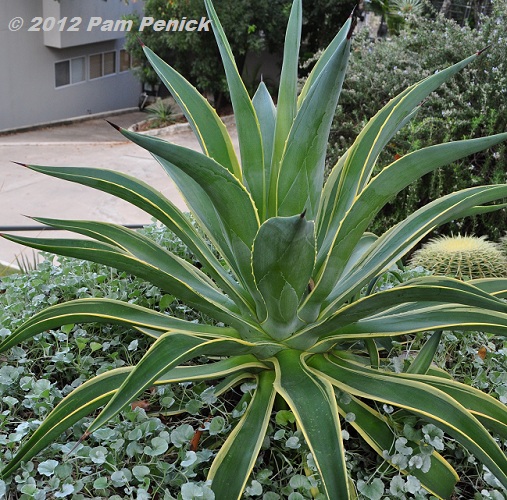 Variegated Agave desmettiana and silver ponyfoot make a dramatic gold-and-silver combo.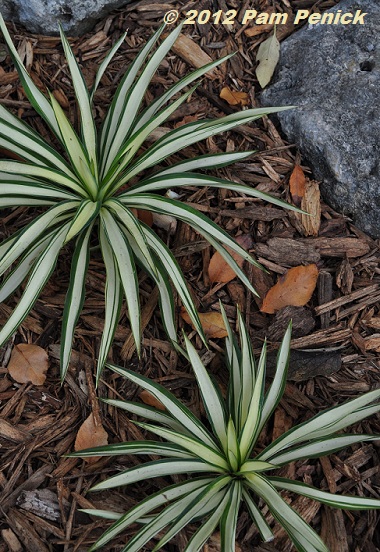 Yucca 'Tiny Star' adds its own golden gleam.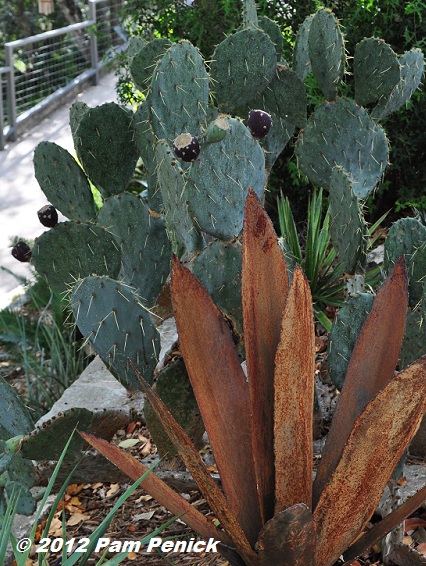 Even a metal agave finds a home here.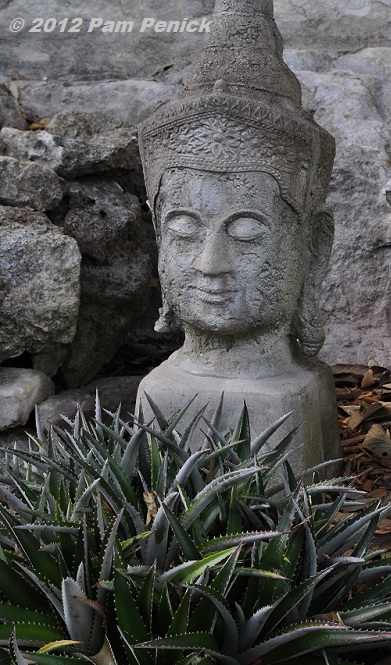 A silvery green dyckia carpets the ground next to an Asian-style sculpture, one of the many Zen touches in Jeff's garden.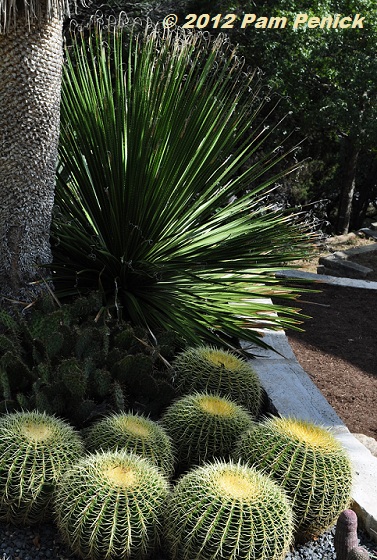 At the bottom of the driveway, at house-level, a limestone-bordered garden bed mulched in Texas Black gravel amps up the drama with a collection of golden barrel cactus, prickly pear, and other cacti, plus Texas sotol and two enormous Yucca rostrata standing sentry on either side of a stairway to the back of the house.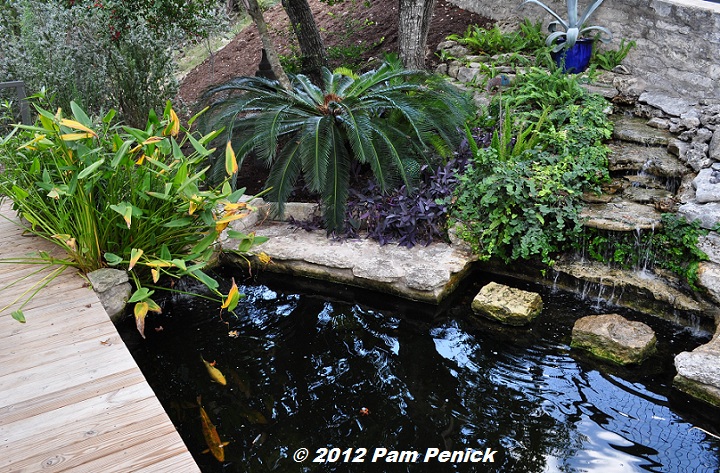 Next to the front walk, a fish pond adds the welcome surprise of water-loving plants in a dry garden.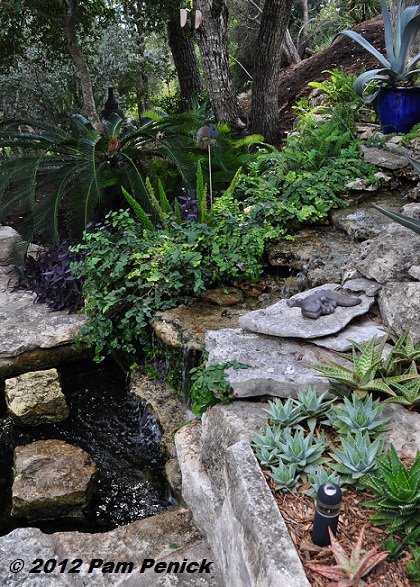 Even here the property's difficult slope is turned to advantage with the addition of a small waterfall.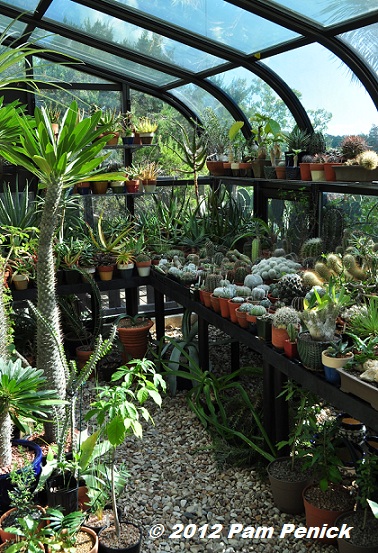 Jeff is an avid plant collector and propagator, and his greenhouse houses hundreds of tender succulents and cacti. I suspect he'll need a second greenhouse soon.
That wraps up the Austin Open Days Tour 2012. I hope you've enjoyed my virtual garden visits. For a look back at the art-collectors' Rockcliff Road Garden, click here.
All material © 2006-2012 by Pam Penick for Digging. Unauthorized reproduction prohibited.
posted in
Agaves
,
Aloes
,
Cactus
,
Containers
,
Fish
,
Fountains
,
Garden art
,
Garden tours 2012
,
Hillside
,
Paths
,
Patios & decks
,
Ponds
,
Sculpture
,
Seating
,
Succulents
,
Walls
,
Water conservation
,
Xeric plants
,
Yuccas