November 8th, 2012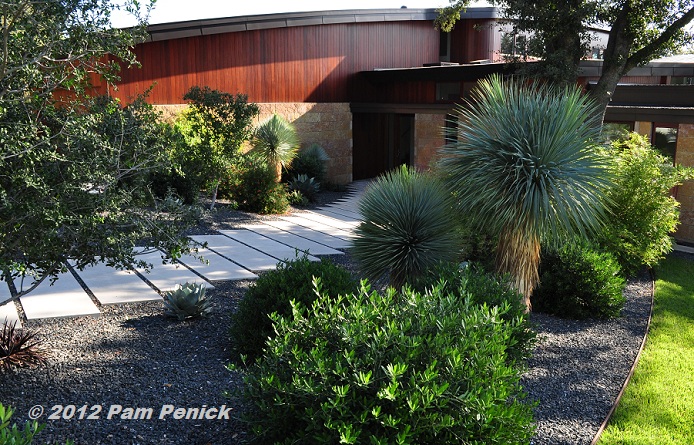 My fourth stop on Saturday's Open Days tour was the Bonnell Drive Garden in hilly West Austin, created by my friend Curt Arnette of Sitio Design. (For a post about Curt's fascinating personal garden, click here.) The contemporary front garden complements the Texas-modern style of the wood-and-limestone house.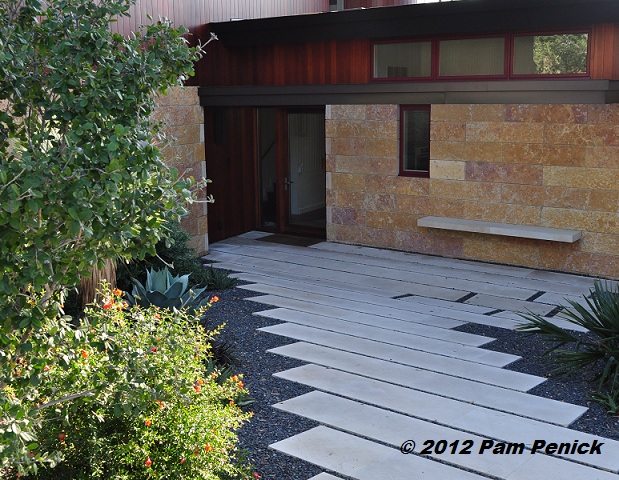 A dynamic, poured-concrete walk curves downward to the front door. Curt said the owner wanted the home to have universal design (generally thought of as being wheelchair accessible), so steps were eliminated in favor of a ramp-like path set in contrasting Texas Black gravel.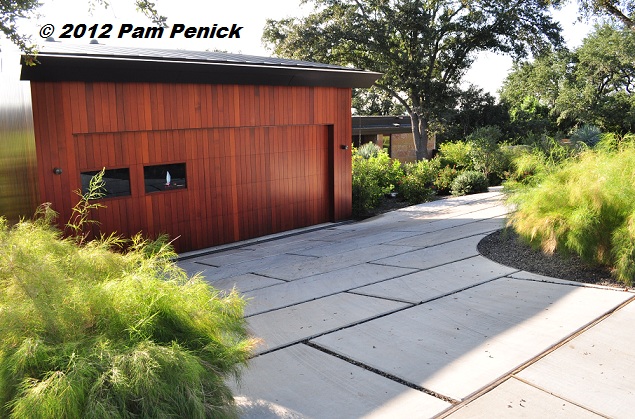 The driveway is constructed in a similar style, with "floating" concrete pads "grouted" by gravel, allowing air and water to reach the roots of trees growing close to the house. Chartreuse clouds of bamboo muhly (Muhlebergia dumosa) accent either side of the driveway.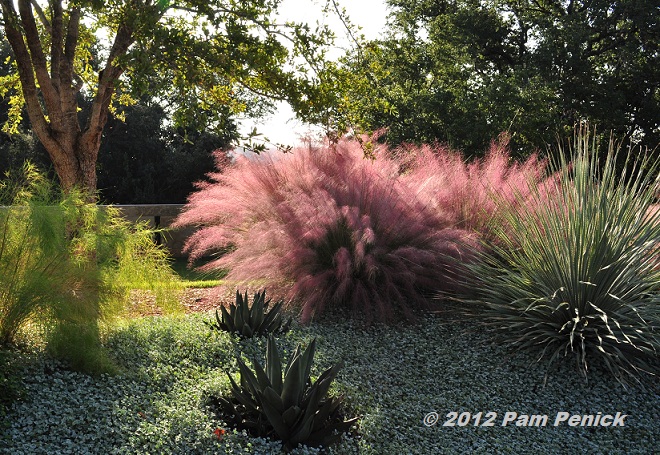 Stepping back to the streetside garden, you see an explosion of fall-blooming Gulf muhly grass (Muhlenbergia capillaris), beautifully sunlit. Bamboo muhly glows on the left, desert spoon (Dasylirion wheeleri) adds a spiky sphere on the right, and 'Sharkskin' agave and silver ponyfoot (Dichondra argentea) fill in below.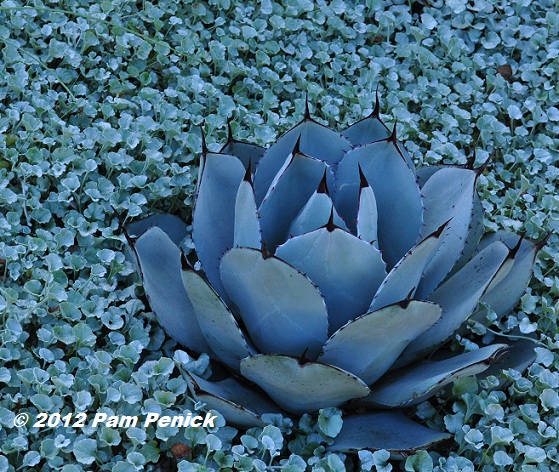 Is there anything more lovely than this? Agave parryi var. truncata, a spiky rosette of an island in a sea of silver ponyfoot.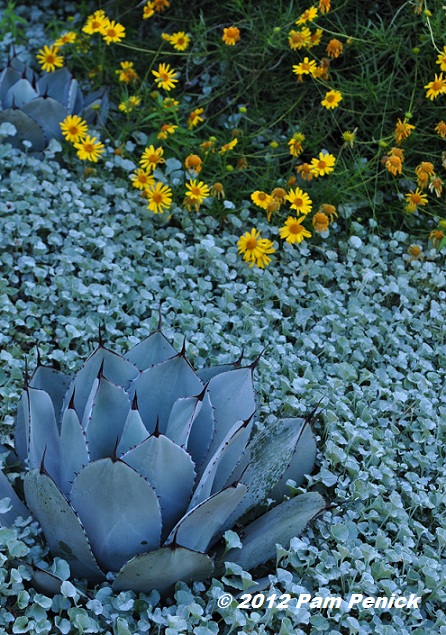 Well, this may be more lovely, with the addition of yellow-gold skeleton-leaf goldeneye (Viguiera stenoloba ).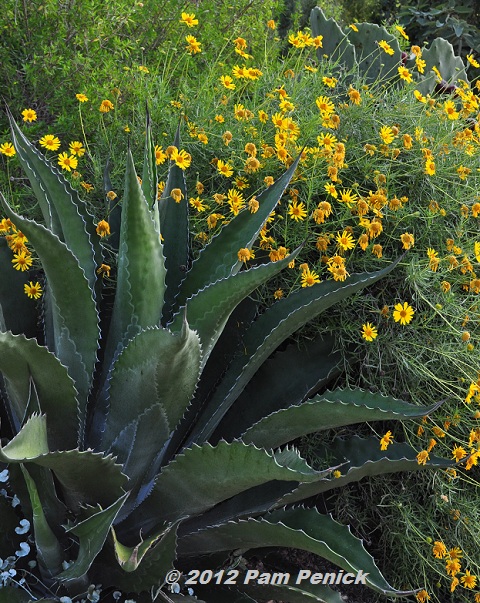 Farther around the corner lot, where the property drops off steeply, exposing the caliche bedrock, tough agaves and native perennials find a home: Agave ferox 'Green Goblet' and skeleton-leaf goldeneye (or the native variety, plateau goldeneye).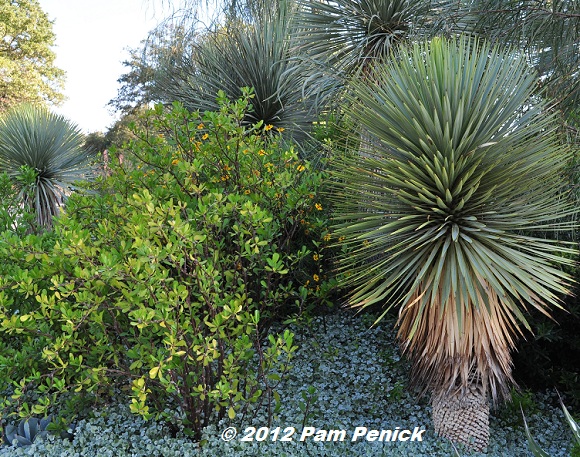 Yuccas stand tall above groundcovering silver ponyfoot. I don't know the name of the handsome shrub at left. Update: It's Jatropha dioica, or leatherstem (thanks, Cheryl!), a South Texas native.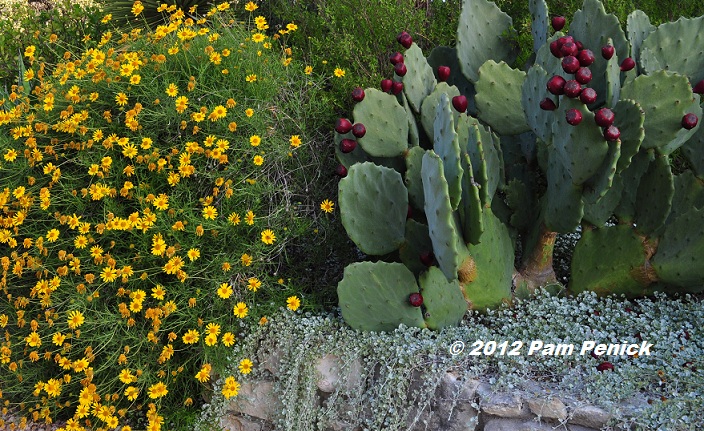 More daisies, spineless prickly pear, and silver ponyfoot—tough, drought-tolerant, and beautiful.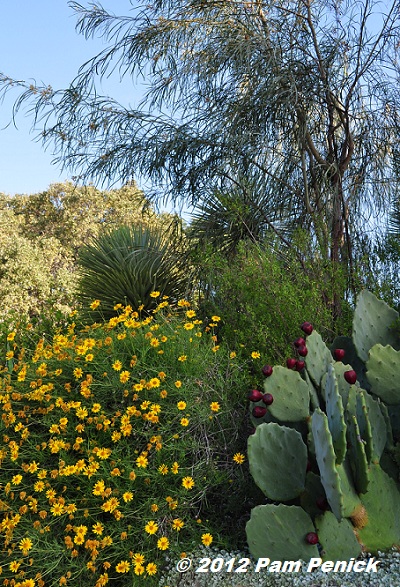 In the background stands a shoestring acacia (Acacia stenophylla), an Australian native.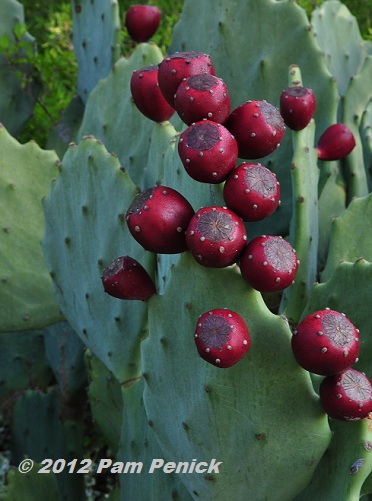 Just look at all those ruby-red tunas—the fruit of the prickly pear. You can make jam or lemonade out of the tunas if you burn off the thorns and glochids (tiny, almost translucent thorns).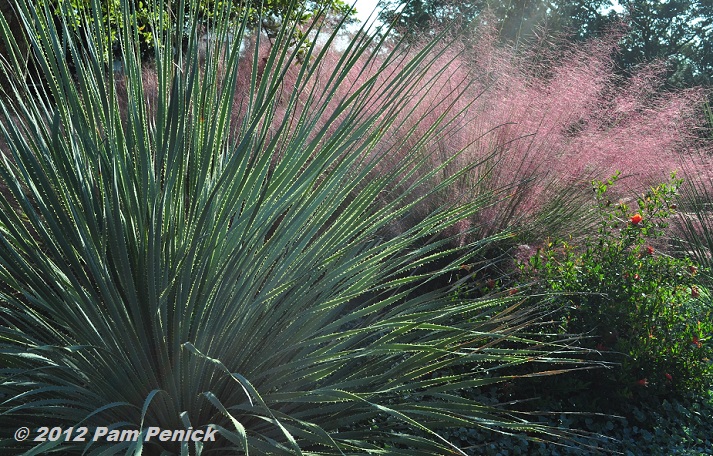 More sotol and Gulf muhly. The toothy sotol leaves catch the light so beautifully.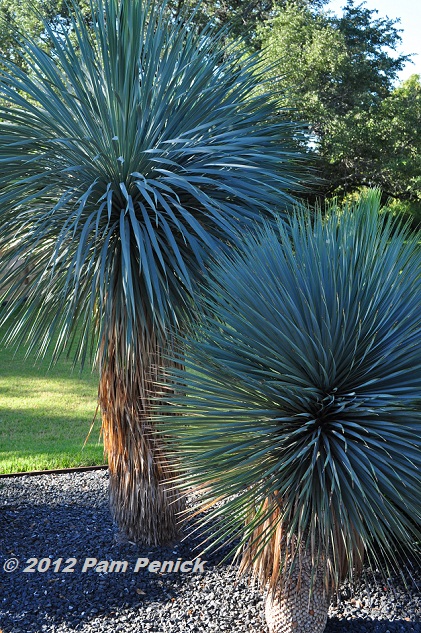 Yucca rostrata 'Sapphire Skies'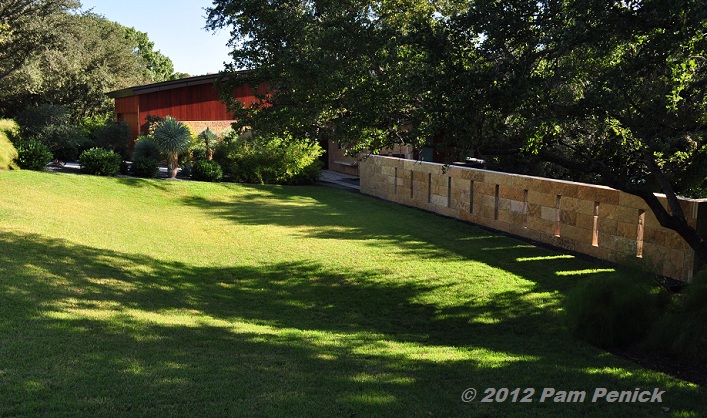 Between the streetside beds, which help to screen the house from view, and the home itself is a lawn that slopes down to a limestone-block wall with a row of vertical windows. At the house end of the wall, a gate opens onto this view…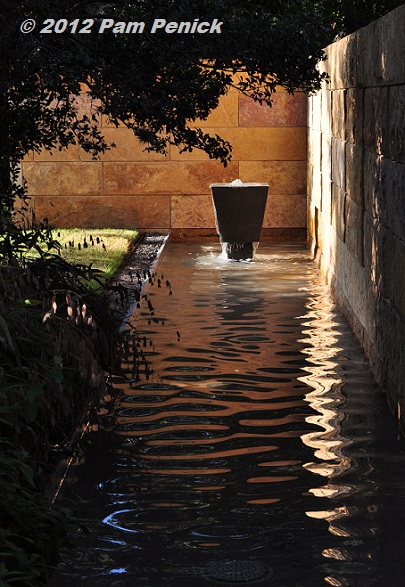 …a reflecting pool with a carved stone fountain by Berthold Haas at one end.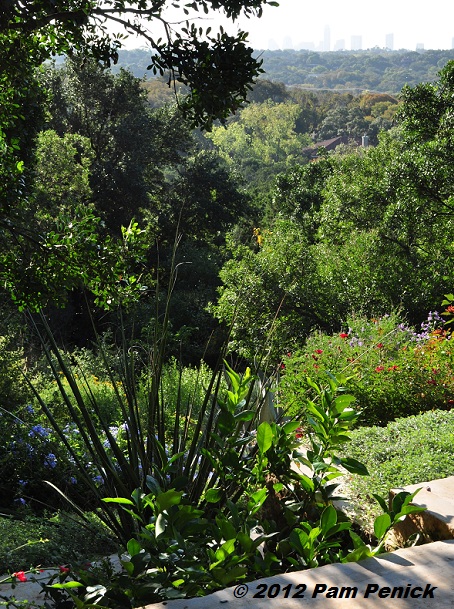 A small lawn to the left leads to this view of the terraced back garden and a view of downtown Austin in the distance.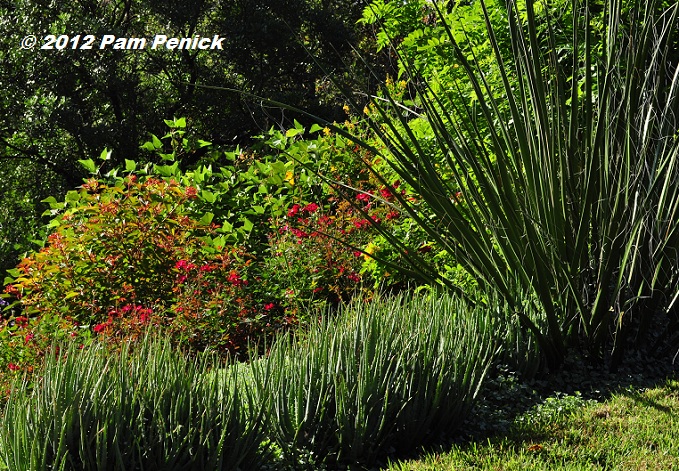 Aloe ('Blue Elf'?) and giant hesperaloe (Hesperaloe funifera) edge the top of the terraced garden.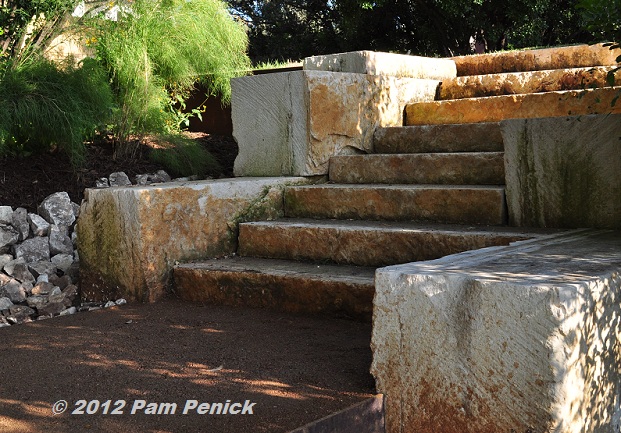 Monumental limestone blocks and treads create a stair that leads down to the lower part of the property, which is more naturalistic than the streetside garden in front.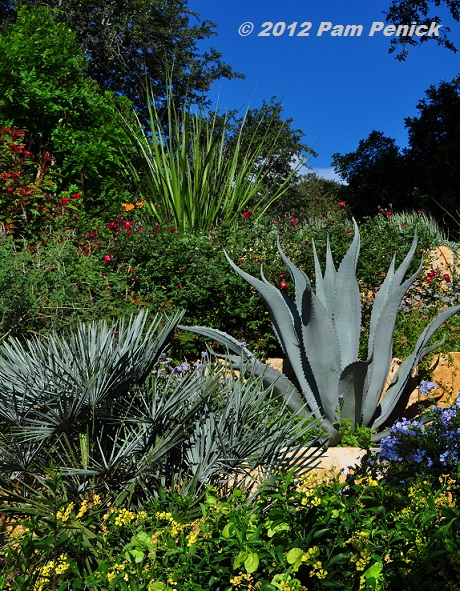 More massive limestone blocks terrace the steep hillside, creating planting pockets. Curt told me that a lot of the native trees in the densely planted lower garden were already here, and he built the garden around them. This sunny opening offers a spot for agaves, palms, and roses as well.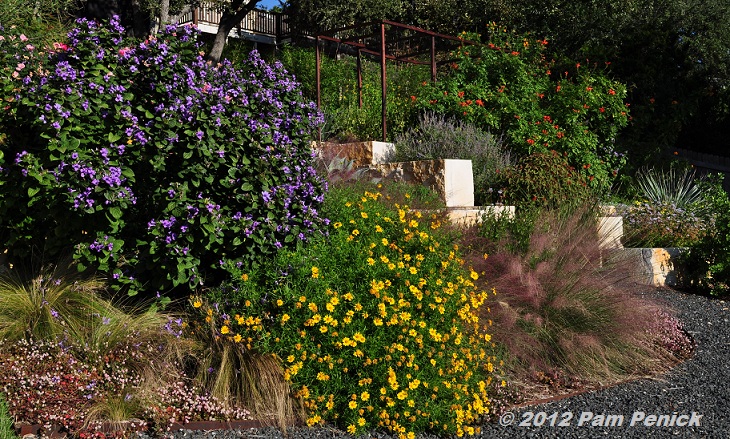 The lower part of the garden is a sloping, narrow lawn that runs between beds of perennials and ornamental grasses, and leads to another stair that takes you up to the back patio. Philippine violet (Barleria cristata) was in glorious purple bloom alongside skeleton-leaf goldeneye, Gulf muhly grass, Mexican feathergrass (Nassella tenuissima), and groundcovering pink knotweed (Polygonum capitatum).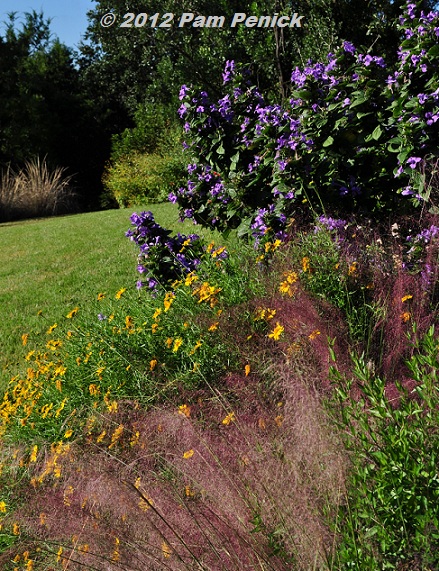 Another view of the Gulf muhly, daisy, and Philippine violet. I really need to try the Philippine violet in my own garden. It's stunning!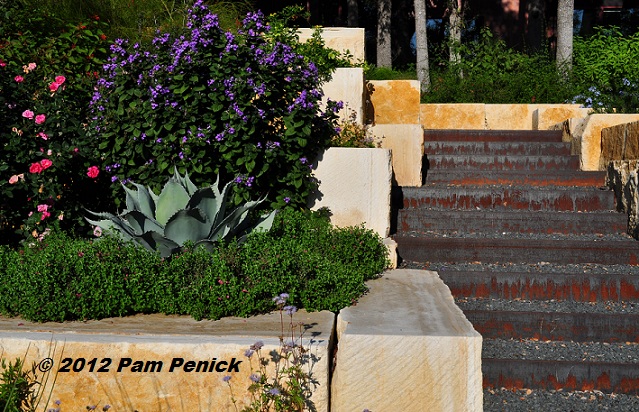 Steel risers and Texas Black gravel treads, edged with limestone blocks, make a contemporary stairway up through the hillside garden.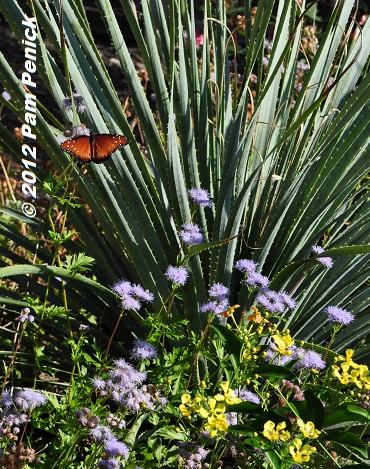 A queen butterfly was enjoying Gregg's mistflower (Conoclinium greggii) and butterfly vine (Mascagnia macroptera).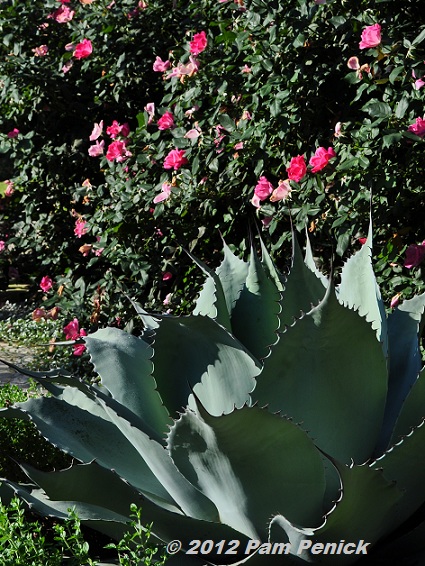 'Whale's Tongue' agave (A. ovatifolia) and pink roses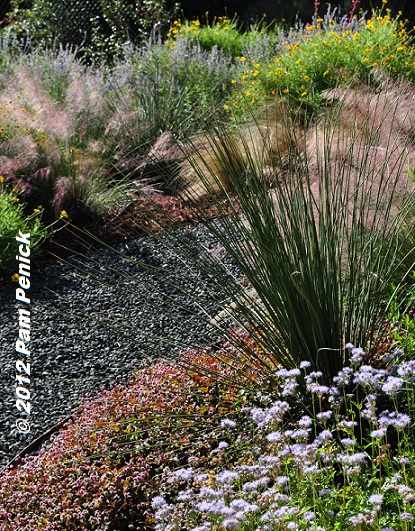 Looking back, you see a haze of pink muhly and lovely fall perennial blooms.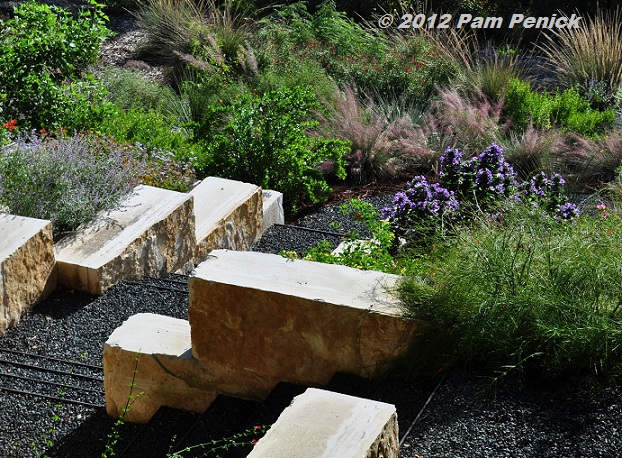 A wider view down the steps to the garden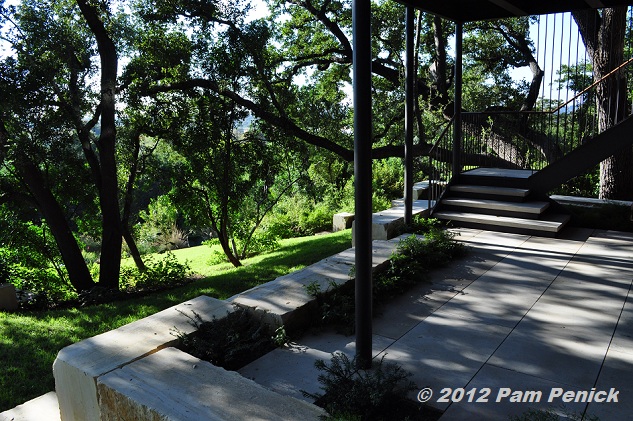 At the top of the steps, a limestone patio offers a shady spot to enjoy the garden. A deck off the second floor, above, shades this patio from the Texas sun, as does a cluster of live oaks.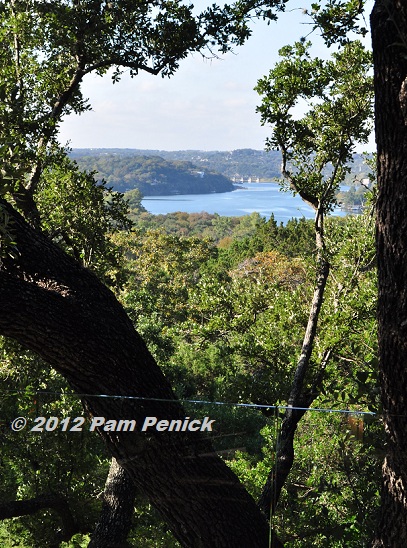 Climbing up to the second level, you enjoy this view of Lake Austin between the trees.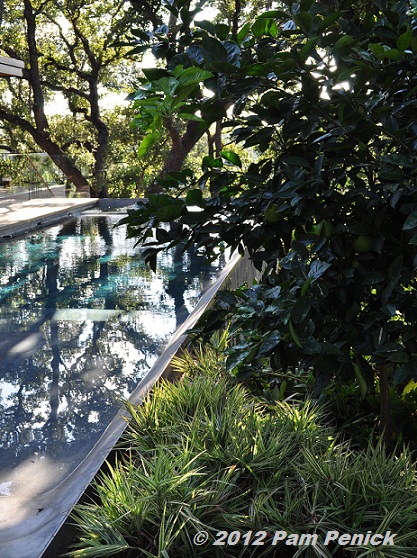 A pool with a beautiful Lueders limestone terrace sits atop the slope at one corner of the house. 'Sparkler' sedge, one of my favorite shade plants, brightens up a dark corner under a Valencia orange tree.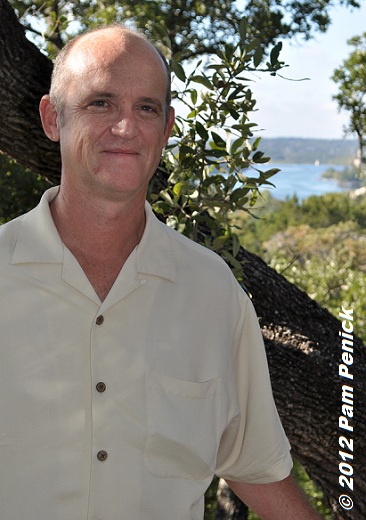 And here's the man who created all this for the lucky owners, Curt Arnette.
Up next: A tour of an art collectors' garden on Rockcliff Road on Lake Austin. For a look back at Christine Ten Eyck's water-conserving garden, click here.
All material © 2006-2012 by Pam Penick for Digging. Unauthorized reproduction prohibited.
posted in
Agaves
,
Aloes
,
Butterflies/Moths
,
Cactus
,
Fountains
,
Garden tours 2012
,
Grasses
,
Groundcovers
,
Hillside
,
Lawns
,
Palms/Cycads
,
Paths
,
Patios & decks
,
Roses
,
Trees
,
Views
,
Walls
,
Water features
,
Xeric plants
,
Yuccas