November 5th, 2012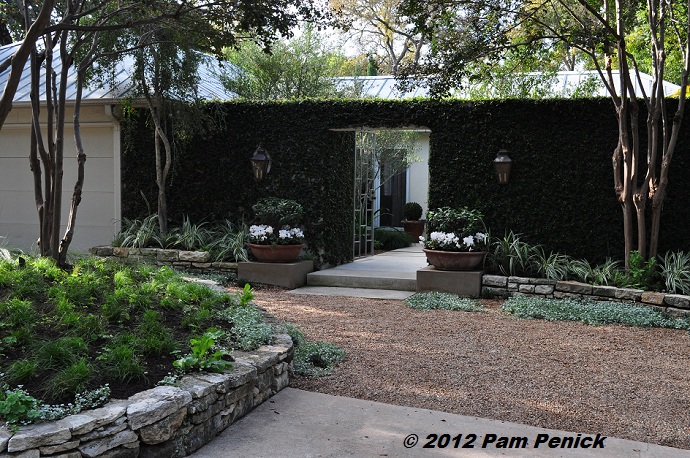 My second stop on Saturday's Garden Conservancy's Open Days tour was the courtyard garden of Yvonne Tocquigny and Tom Fornoff, located in West Austin's tony Tarrytown neighborhood. Elegant but relaxed and beautifully designed, this garden has a secret-garden aspect, with green walls erected in front and in back to define garden rooms, provide privacy, and screen unwanted views.
From the street you see a lawnless space with a gravel forecourt, a large island bed newly planted with sedge, with silver ponyfoot spilling over the raised edge, and crepe myrtles and variegated dianella flanking a gated entry in a wall cloaked in fig ivy.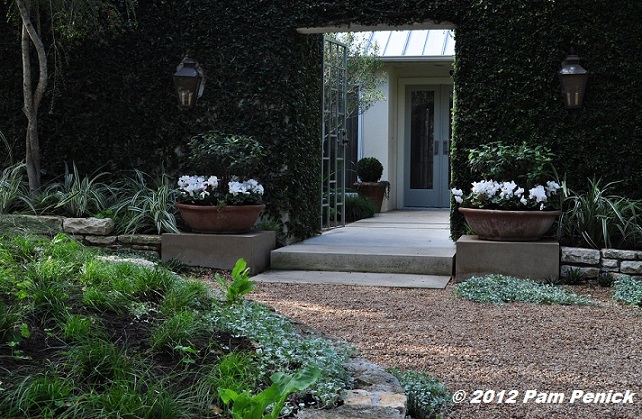 A closer look reveals oversized bowl planters on limestone plinths, planted up with an evergreen shrub and white cyclamen, and a glimpse of Wedgwood blue doors. French-style lanterns hang on the ivy-covered wall.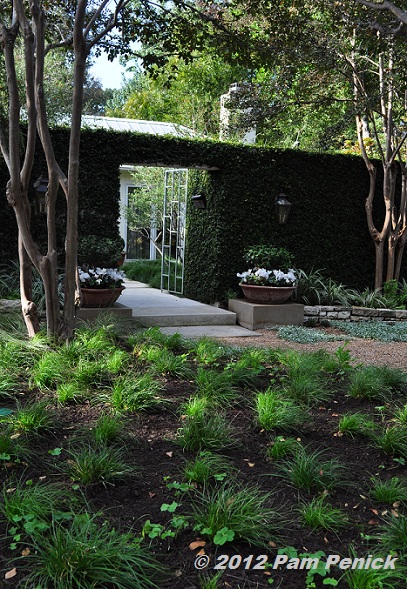 The sedge in the foreground is probably either Berkeley or Texas sedge. I'm betting Berkeley—it's fuller and more beautiful than our native sedge and just as hardy, and it's showing up in designer gardens all over town.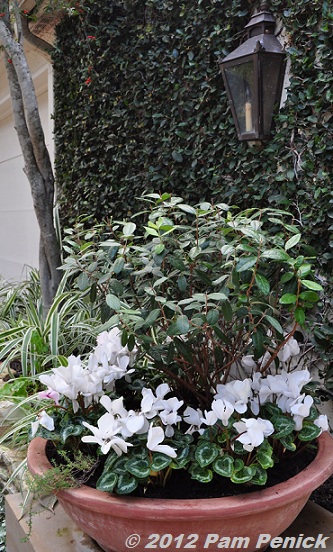 Classy bowl planters with cool-season cyclamen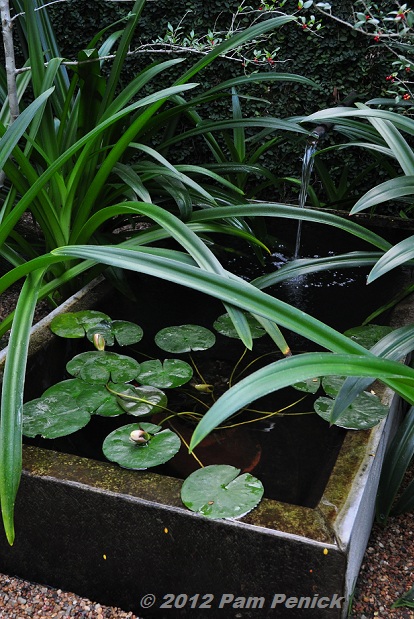 Step through the gate and your attention is drawn to the left by the trickling of a fountain that feeds a negative-edge trough housing goldfish and a single water lily.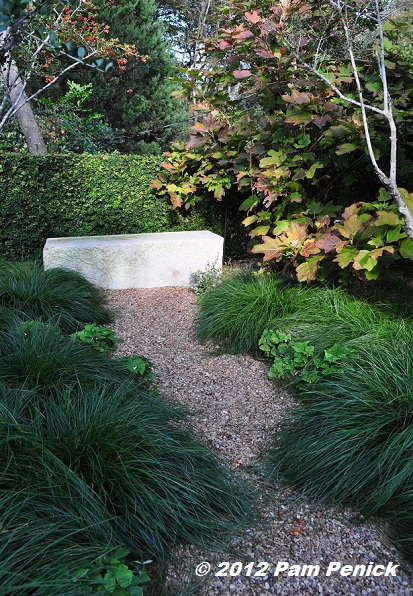 To the right, Berkeley sedge (I think) creates a tufted, no-mow groundcover under yaupon or possumhaw hollies, with a large oakleaf hydrangea at back-right. A solid limestone block is a simple bench.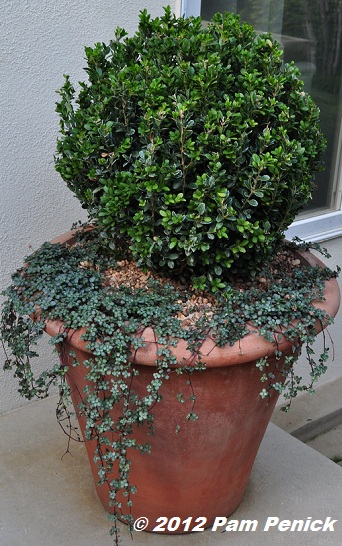 A boxwood topiary accents the front door.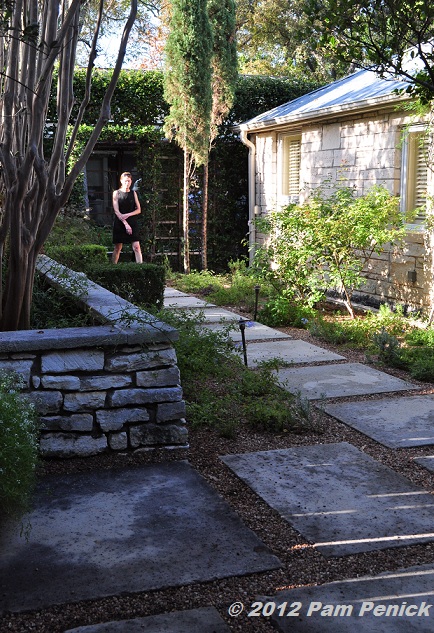 Stepping back out to the forecourt and following a discreet path around the garage, you find yourself in a side yard that's been turned into a lovely garden room, not merely a pass-through space. Cut-limestone pavers (or concrete that skillfully imitates limestone) set in gravel lead to a side door and around to the rear garden. A line of crepe myrtles planted in a raised bed adds privacy along the fence line.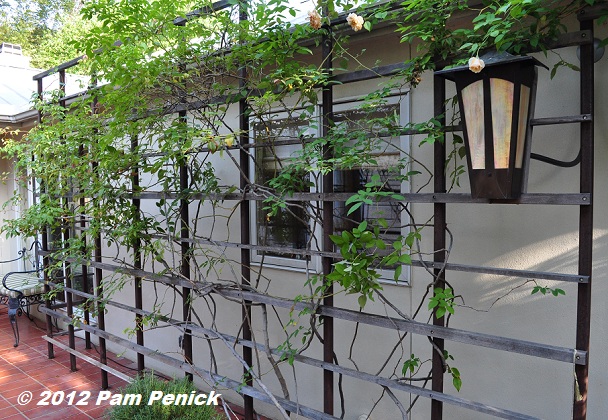 To the right, along the house, a metal-and-wood-slat trellis with rambling roses creates a leafy and flowering scrim. Lanterns are mounted directly on the trellis.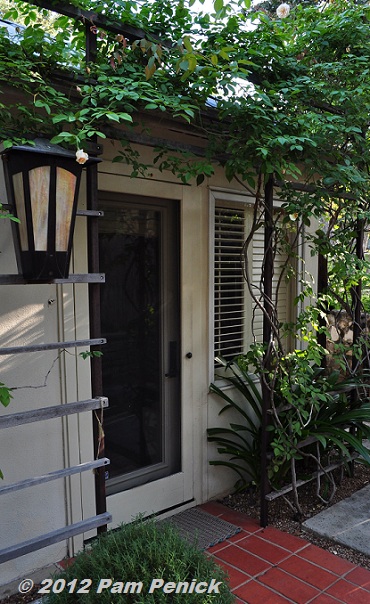 It's a delightful surprise to see the house framed in this manner.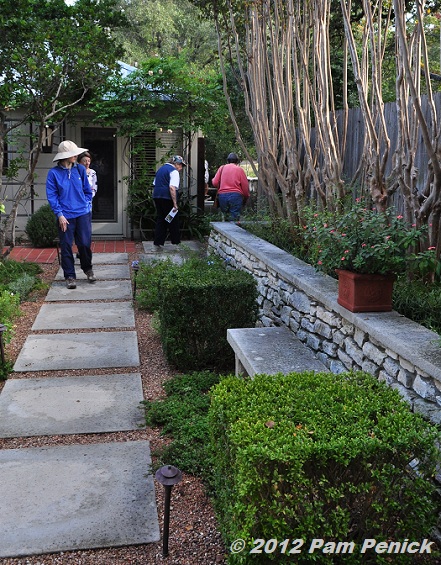 Continuing down the path, you look back and see this view, with the raised bed with crepe myrtles on the right and a simple limestone bench tucked between boxwood rectangles.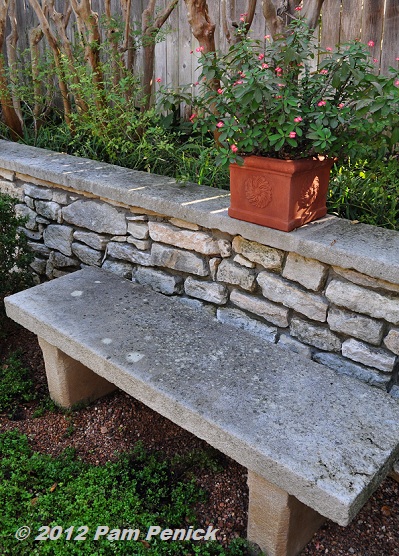 A closer look at the bench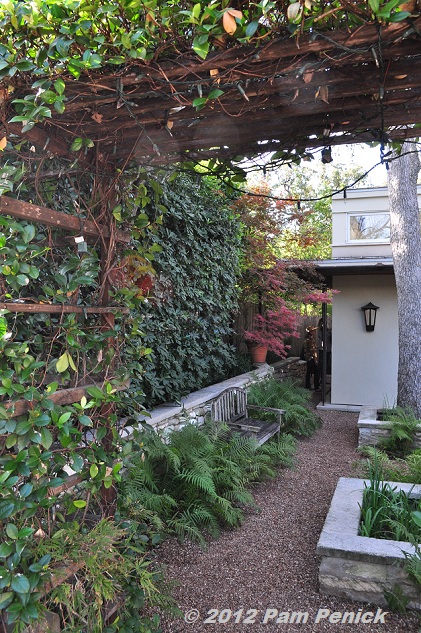 The entrance to the back garden is marked by an arbor entry, a continuation of the metal-and-wood-slat trellis that frames the house. Evergreen, glossy-leaved star jasmine cloaks the arbor and offers creamy, fragrant flowers in spring.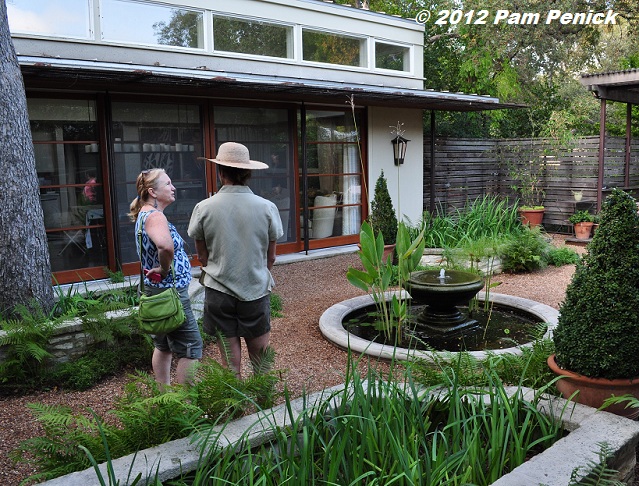 Step through the arbor and the formal, courtyard-style garden opens up to view, with an unattached guest house/studio framing the far side. Four indented, rectangular raised beds frame a stone, urn-style fountain set in a round, limestone-edged pond. It's a beautiful, serene, inviting space.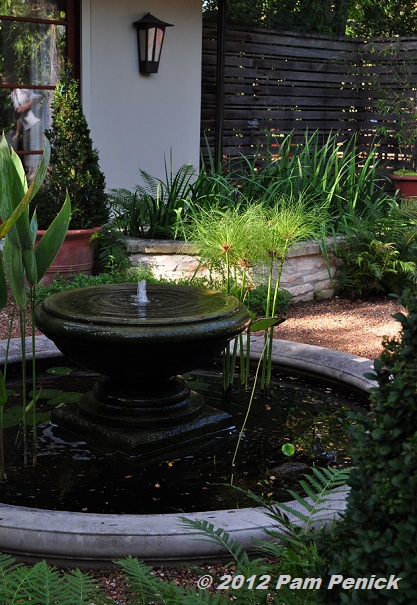 The small pond is softened with papyrus and other water-loving plants.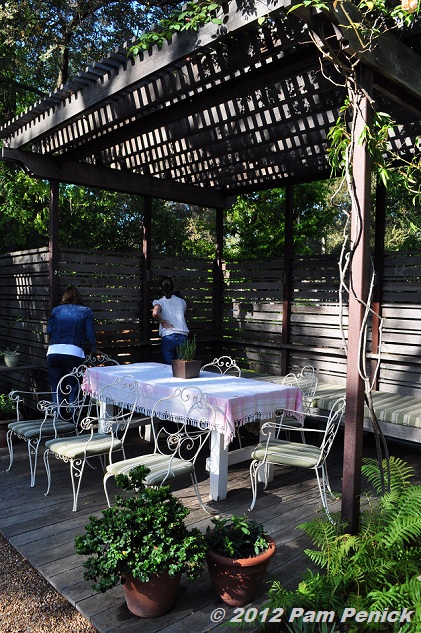 At the back of the garden, a metal-and-wood arbor shelters a dining table, enclosed by a horizontal-slat fence that screens a less-than-picturesque arroyo from view (as I heard the owner say). Those are my friends Diana and Catherine peering through the fence to see what's back there.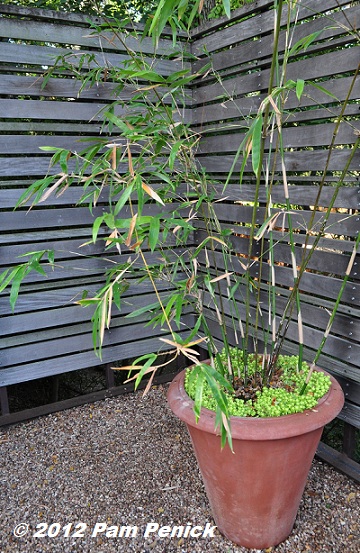 Potted bamboo in front of the slat fence adds a hint of Asian style.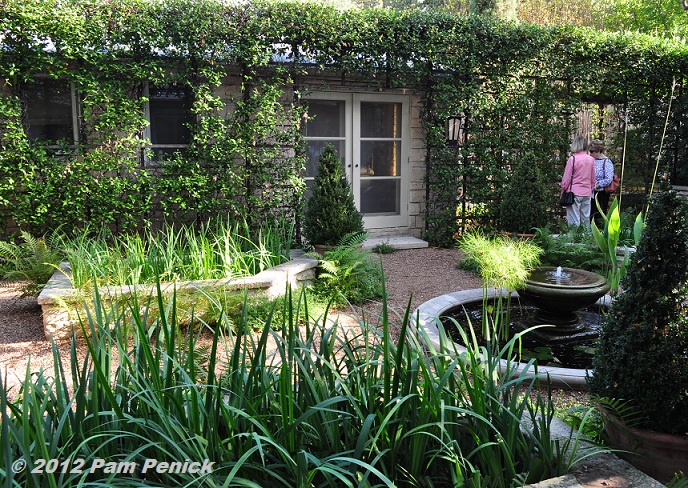 Looking back across the garden you see the whole scene: vine-smothered trellis screening the house and framing French doors that open into the garden; formal raised beds crowded with yellow-blooming iris, softened by ferns that have "escaped" at the base; the symmetry of potted, cone-shaped topiaries that mark the doorways; and the splashing fountain in the center. This is a low-maintenance garden with a limited, restful, mostly evergreen plant palette.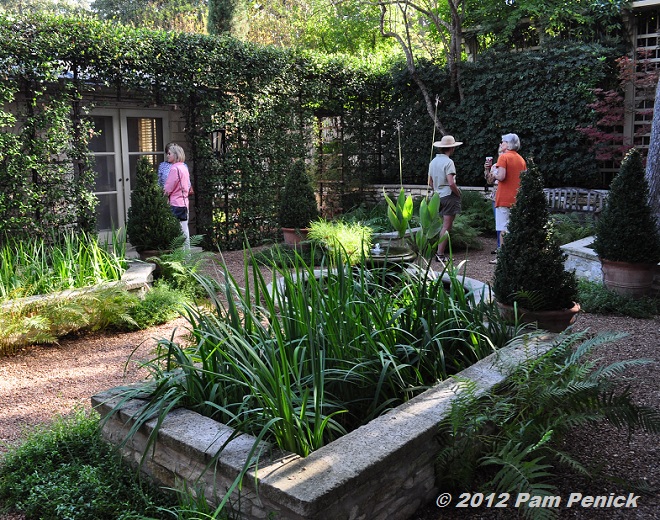 Yvonne's garden is featured in the book Tomorrow's Garden, from which I learned that she worked with two separate designers to create this garden: Berthold Haas and Patrick Kirwin.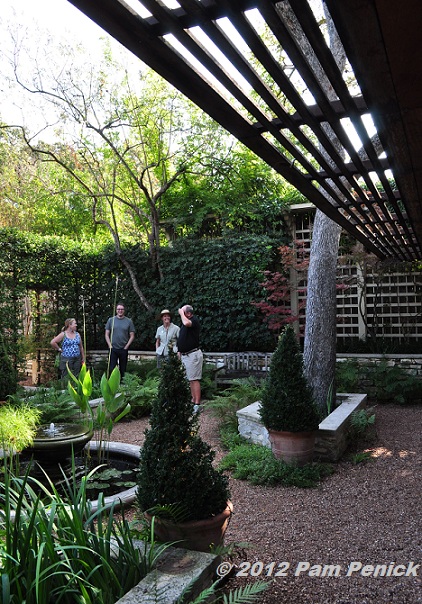 I loved the horizontal slatted arbor attached to the eave of the guest house/studio. At the far end of the garden, atop a low stone wall, a wooden lattice screens the neighboring house from view and provides a pretty backdrop for a rusty Japanese maple.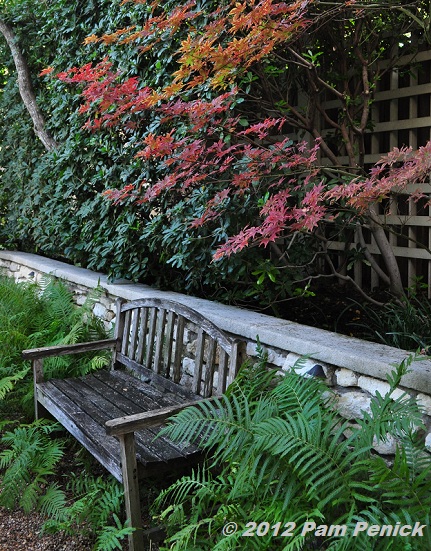 A garden bench sits under the maple, with a fringe of river fern on either side.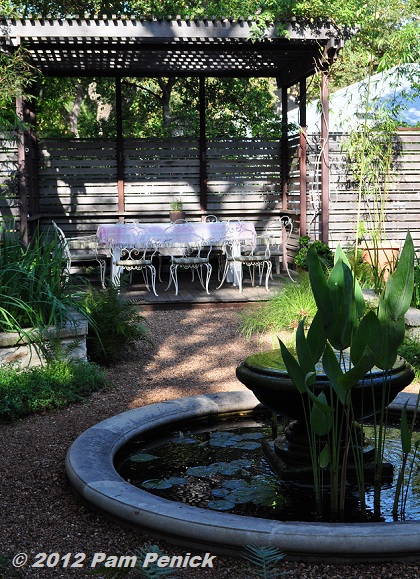 Looking back at the arbor-sheltered seating area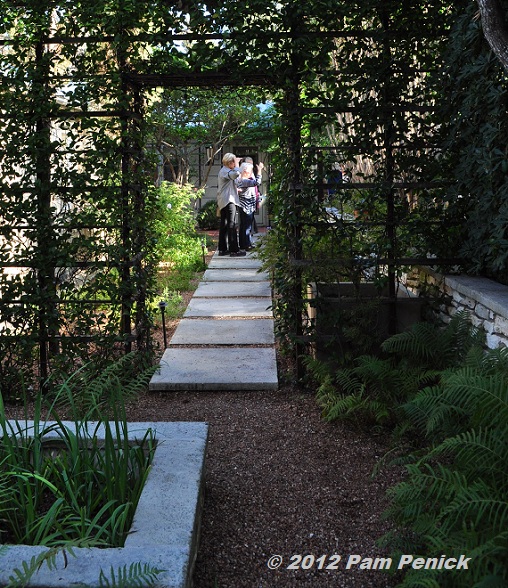 The view through the arbor doorway to the side-garden path. This is a finely crafted garden, very lovely and a treat to visit.
Up next: The garden of renowned landscape architect Christine Ten Eyck. For a look back at the eclectic and romantic garden of Jennifer and Fred Myers, click here.
All material © 2006-2012 by Pam Penick for Digging. Unauthorized reproduction prohibited.
posted in
Arbors
,
Bamboo
,
Containers
,
Design
,
Doors
,
Fish
,
Fountains
,
Garden tours 2012
,
Grasses
,
Groundcovers
,
Lawn Gone!
,
Lighting
,
Paths
,
Patios & decks
,
Ponds
,
Roses
,
Seating
,
Trellis
,
Vines
,
Walls
,
Water features