January 25th, 2007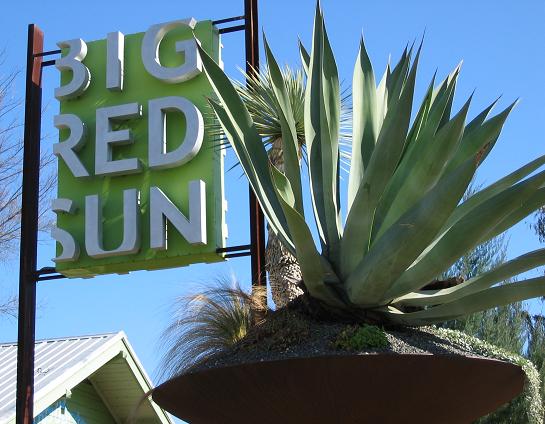 Roly-poly Buddhas, fleshy succulents, and spiny cacti mingle in towering, rusted-steel saucers and planters, the signature look at Big Red Sun, an eastside Austin nursery where East meets West. I get the Big Red Sun blues (with a nod to songwriter Lucinda Williams) every time I visit because I can't afford to bring home all the unusual plants, gorgeous floral arrangements, and glazed pots that I want. Cheap it isn't, but the whole place is a feast for the eyes.
Located within biking distance of the Capitol, Big Red Sun occupies a green, mod bungalow and side yard amid a rapidly gentrifying neighborhood. Great gift finds (books, clothes, jewelry, toys, a few small paintings) fill the bungalow's tiny rooms, and I often come to BRS just to shop inside. But today the blue skies and warm sun lured me outside, so I decided to give you a tour of this fun, urban nursery.
As you tour Big Red Sun with me, remember—it's winter. While Big Red Sun rarely blazes with color—the plants tend to be evergreen and architectural—the other seasons bring a fullness to the gardens. They are leaner now, but they still wow me.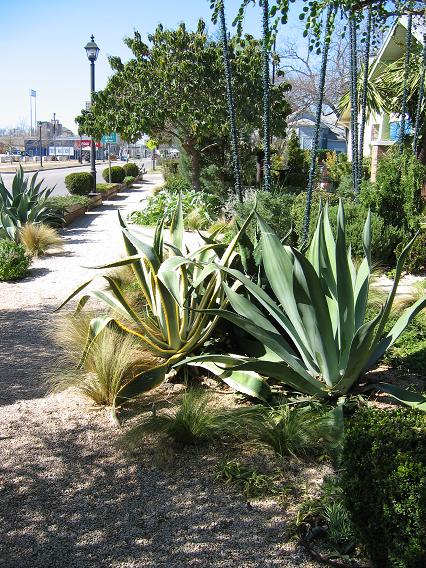 Even if I park in the alley lot, I always head to the front to ogle the sidewalk garden along the street. What a gift to the neighbors this garden is! Toothy, giant agaves hulk next to feathery grasses, the yellow in the variegated agave echoing the tawny Mexican feathergrass. Slightly akilter, tall poles tightly wound with twinkle lights mark the entrance to the nursery.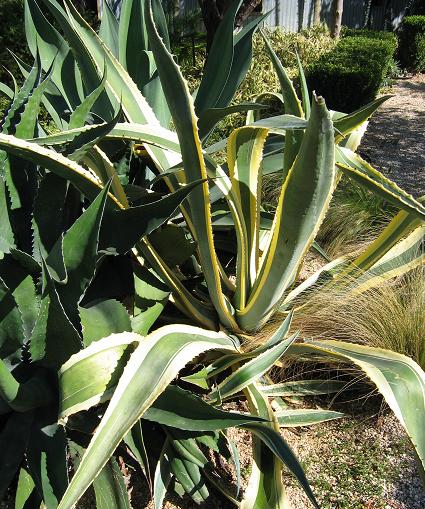 Agave closeup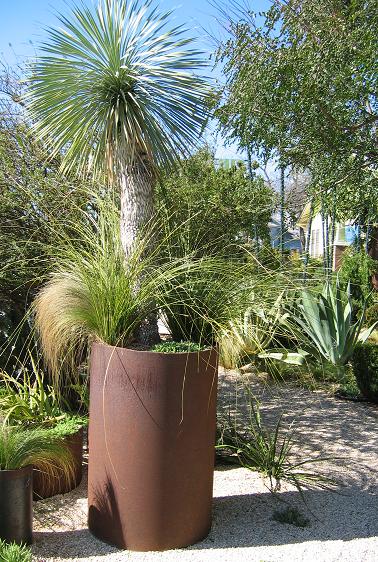 The Big Red Sun look: yucca, grasses, and succulents improbably sprouting from a rusted-steel cylinder. Height, movement, shape, texture, evergreen foliage—this planter has everything but fragrance and color. Yes, it would look really weird plopped down in the center of a lawn. But in the xeric garden of a contemporary house it would be an accent to madden the neighbors with jealousy.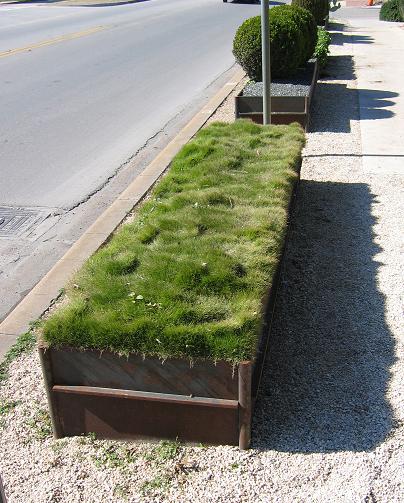 Don't forget the lawn. Yep, that can be planted in a container too. How to mow it, though?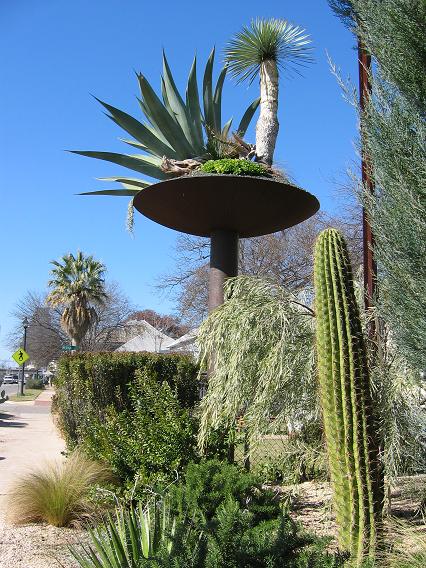 Occasionally while driving around Austin, I'll spot a container tower like this and wonder if Big Red Sun designed it. There's an elementary school in northeast Austin that has installed two or three planter towers, and I always wonder, How in the world did their PTA pull off that coup?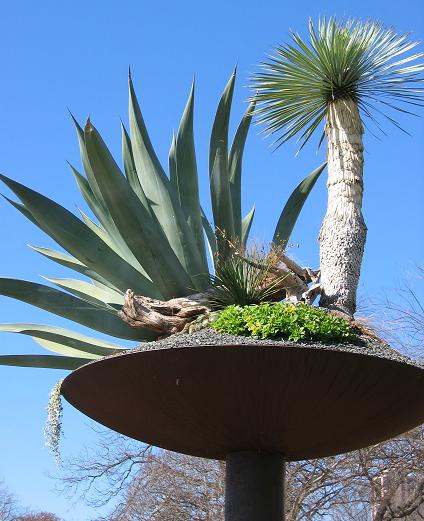 My second thought is always, How do they water and tend it?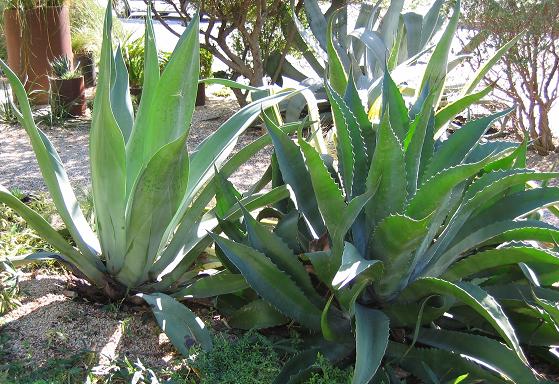 Agaves are big here, in every sense.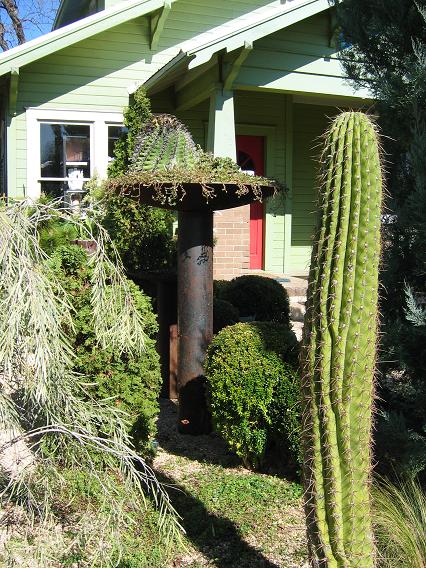 Despite the dusty, old-West image a lot of people conjure when they imagine Austin, 7-foot-tall cacti like this one are not native to central Texas. This giant pairs beautifully with the pole of the planter behind it, which contains another large cactus.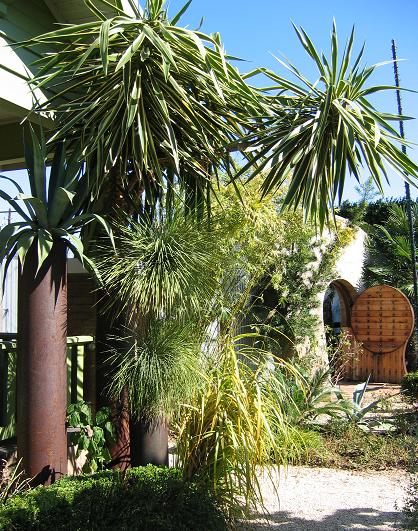 All manner of yuccas and agaves spray out of tall, narrow cylinders at the gift-shop door—an evergreen fireworks display.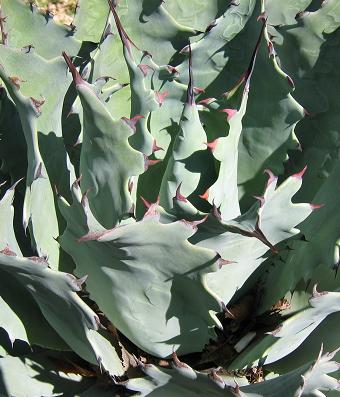 On the ground, a smaller agave in closeup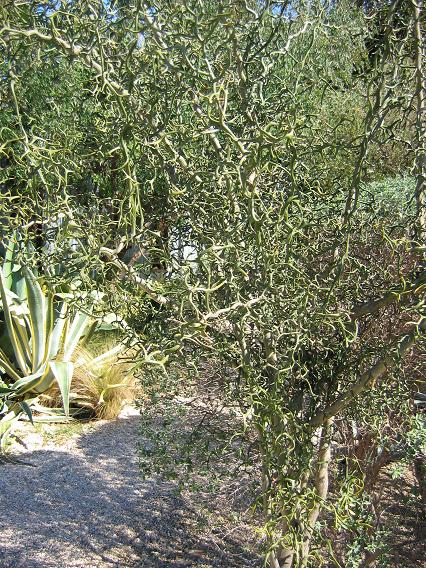 Near the entry, a trifoliate orange tree (Poncirus trifoliata) stretches out curved, thorny claws.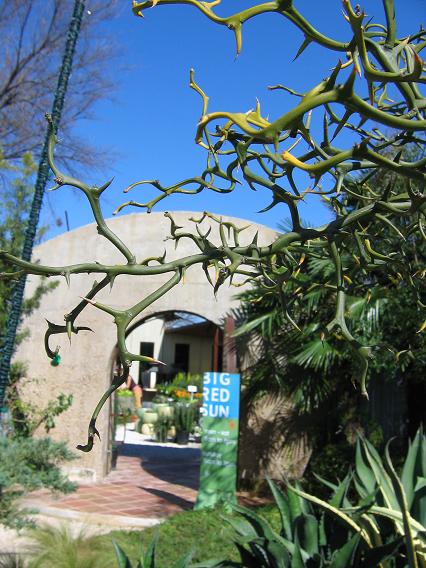 A closeup of the trifoliate orange's claws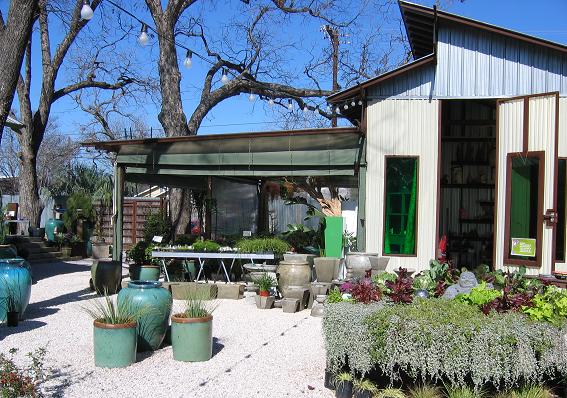 Through the arched gate, you enter the nursery proper. It's a little sparse right now but still interesting. An immense circular, steel planter is on the right, currently planted with what looks like lettuce and chard, with silver ponyfoot cascading over the edges. A Buddha reclines in the center.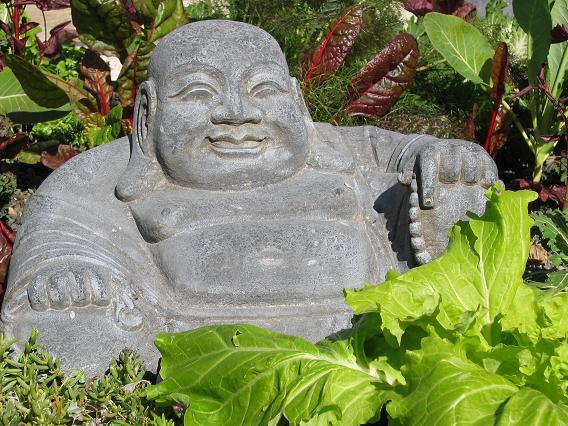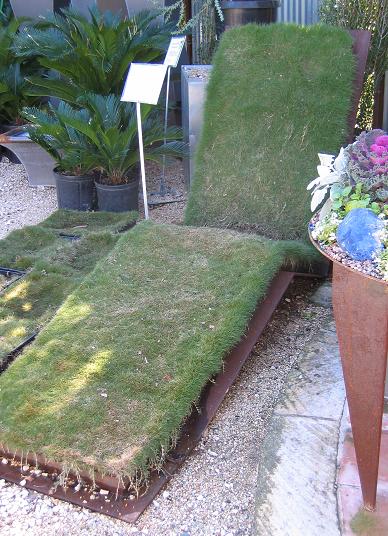 If the Buddhas look relaxed and happy, this grassy chaise lounge offers just the right place to put your own feet up. Hmmm, except for those pesky grass stains.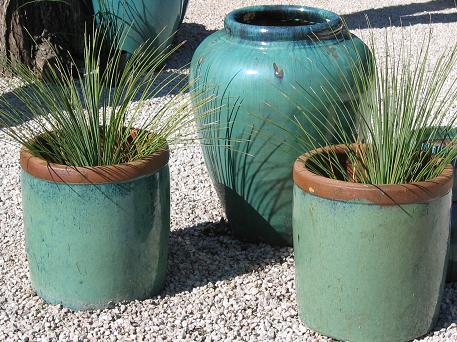 Lovely blue pots for sale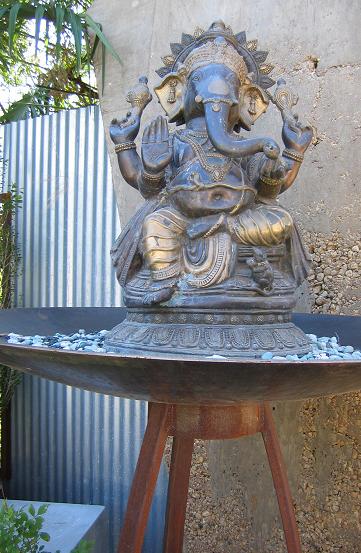 Ganesha resides in another planter filled with pebbles.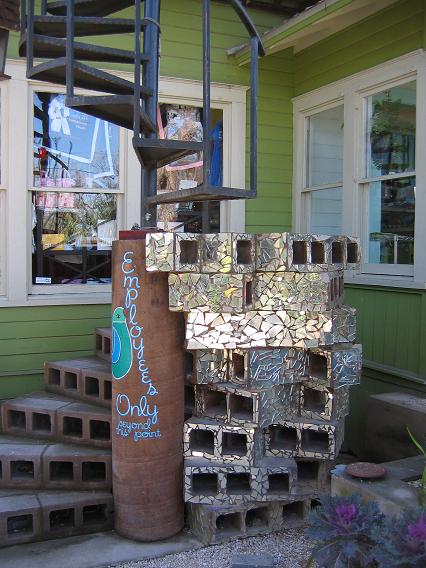 Cinderblock stairs have been playfully brightened with a mosaic of mirror shards. Alas, "employees only." Sorry, kids.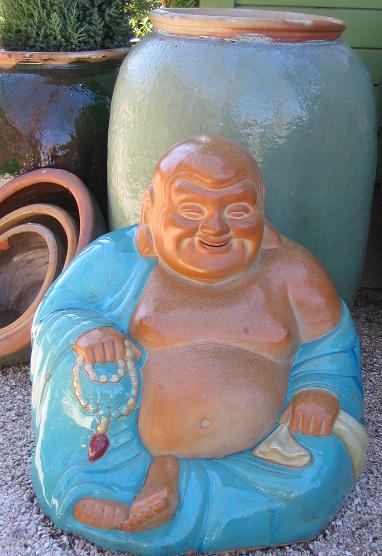 Blue Buddha and pot
Big Red Sun's mingling of western desert plants with eastern religious imagery is anything but middle-of-the-road. Serene yet playful, structural in design yet loosely planted, BRS's style is unique and immediately recognizable. If only the Middle East and the West could be brought together so harmoniously.
Update 2010: Big Red Sun no longer operates in Austin. This shop is closed.
Update 2011: Big Red Sun has reopened a few doors down from its original location, at 1311 E. Cesar Chavez Street.
posted in
1st garden--2007
,
Agaves
,
Arbors
,
Cactus
,
Containers
,
Decor
,
Garden art
,
Gates
,
Lawns
,
Nurseries & Shops
,
Xeric plants