October 30th, 2012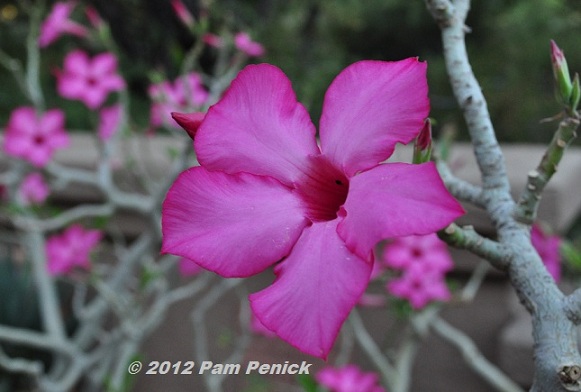 Tucson Botanical Gardens, which I visited as part of the recent Garden Writers Association symposium, is a surprisingly eclectic place. As I wrote in part 1 of my visit to TBG, the gardens house a wonderful collection of desert plants from all over the world, are home to seemingly hundreds of hummingbirds, look a little like central Texas in the lush, green shade gardens, and basically incandesce when all those cactus spines filter the low light of morning (and probably evening). But there's more, as I'll show you in this post.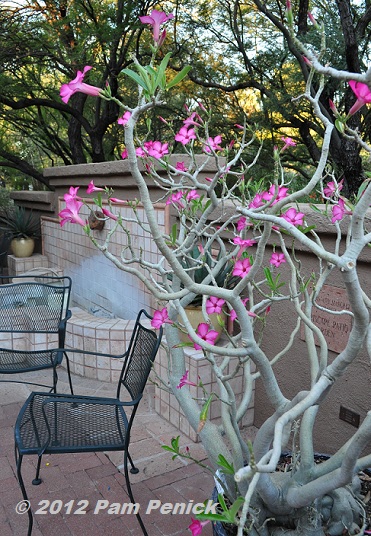 How about this big, beautiful desert rose (Adenium obesum), an African native that some of you may know as a houseplant.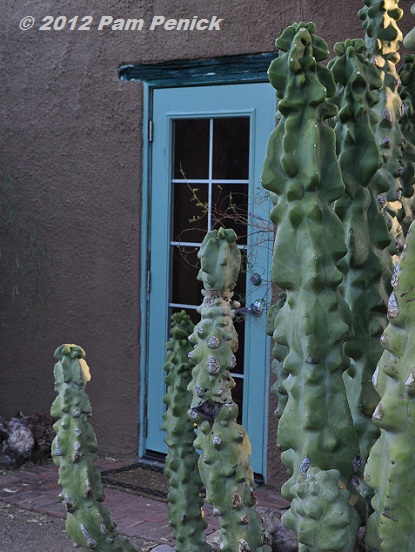 And look at this melted candle of a plant, totem pole cactus (Pachycereus schottii var. monstrosus). Bizarre, yes? And perfect for a monster garden!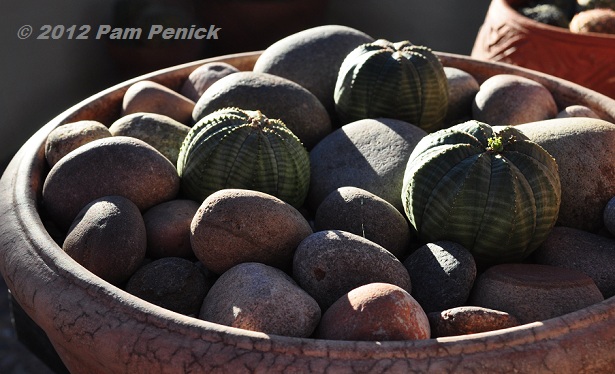 Other oddballs include this baseball plant (Euphorbia obesa)…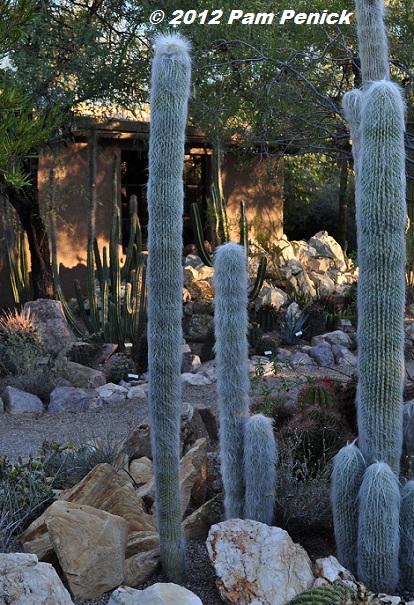 …hairy old man cactus (Cephalocereus senilis)…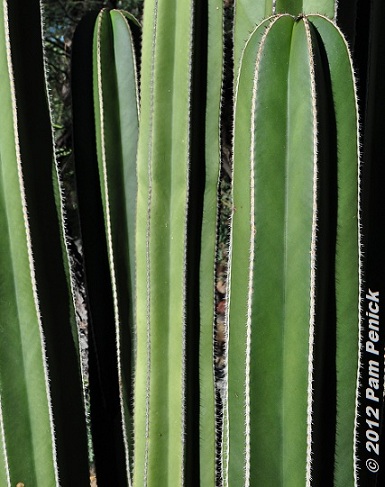 …and, my personal favorite, Mexican fence post cactus (Pachycereus marginatus).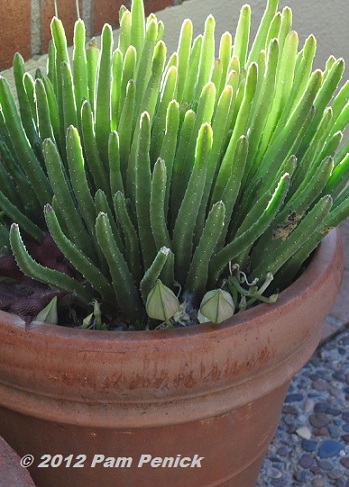 Stapelia—like green zombie fingers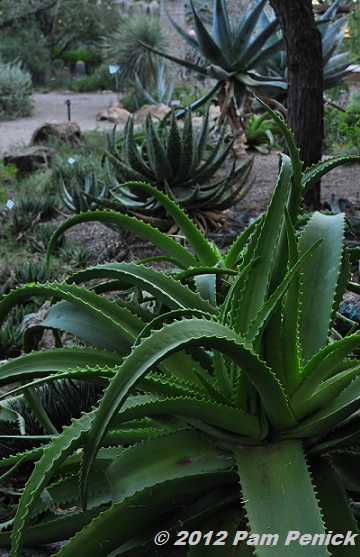 Squid-like aloes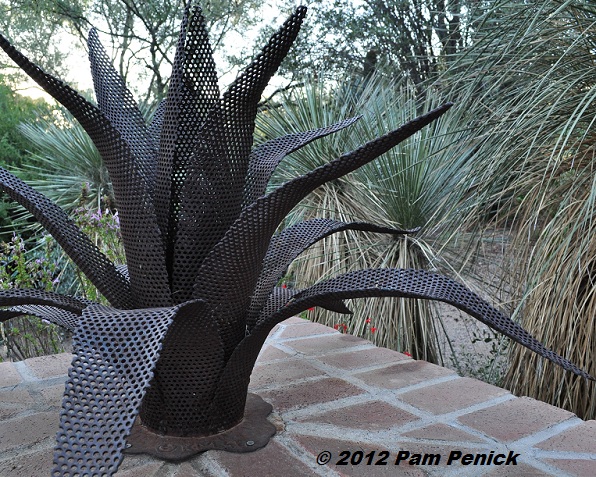 The gardens are also accented with fun art pieces, like this agave made of perforated metal…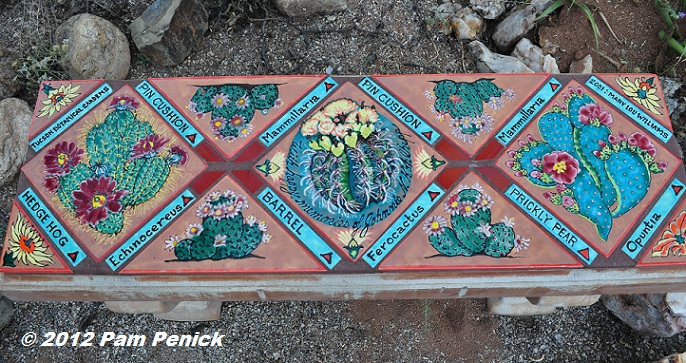 …and a number of colorful, mosaic benches. This one illustrates three types of cactus.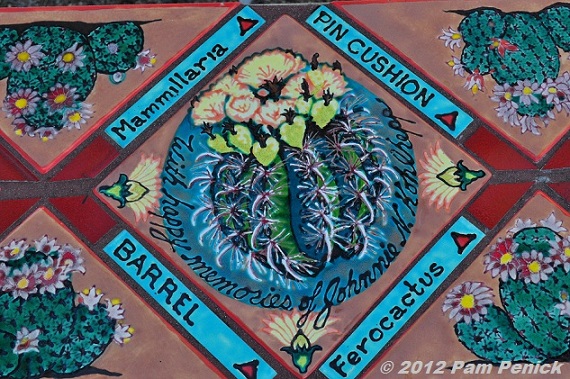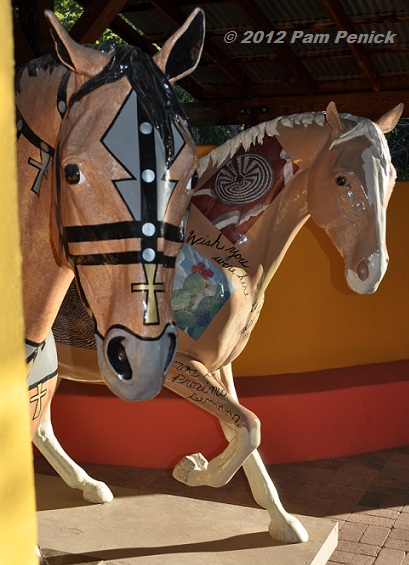 A children's garden contains a sheltered "stable" with these life-size horses peeking out…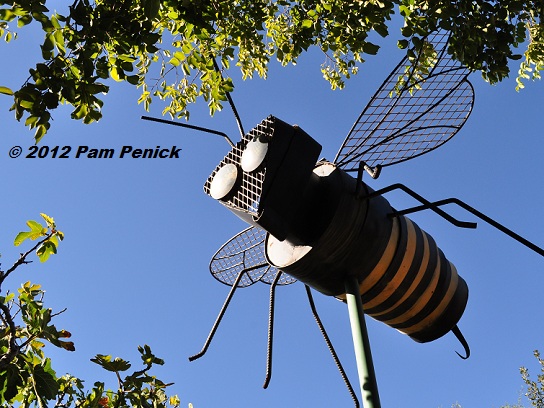 …as well as a big bee made of scrap metal…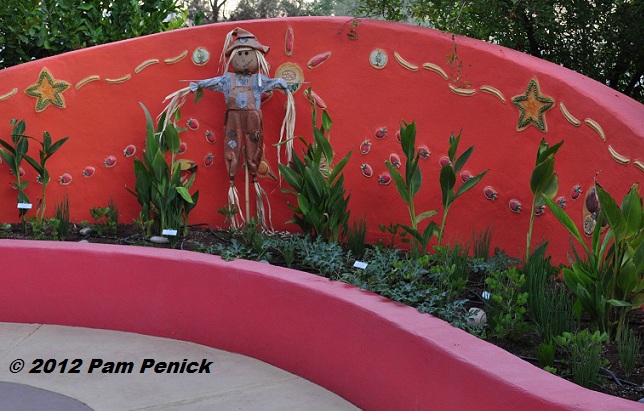 …and a friendly scarecrow standing against a colorful, swooping accent wall.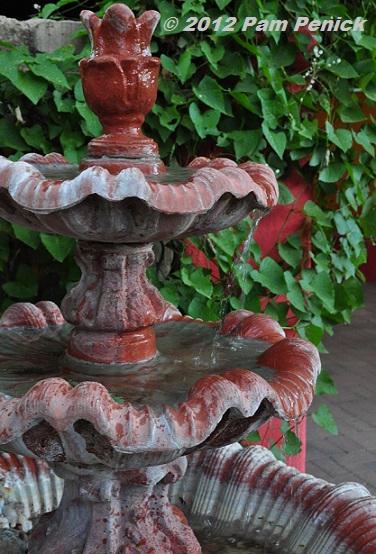 Another tiered fountain is sure to attract birds…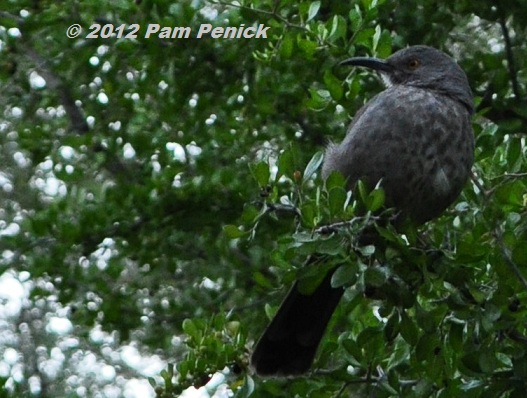 …like this curve-billed thrasher who serenaded us all morning.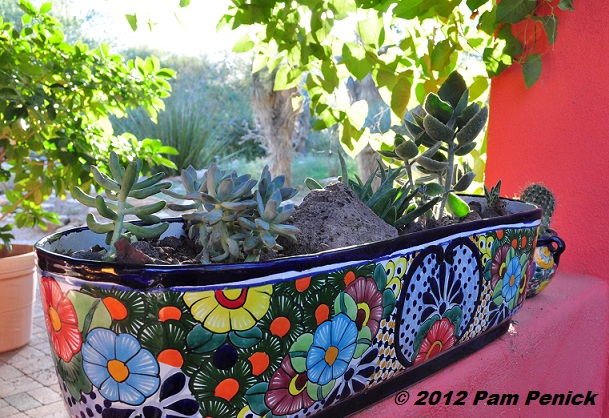 A charming planter filled with succulents adorns a low wall.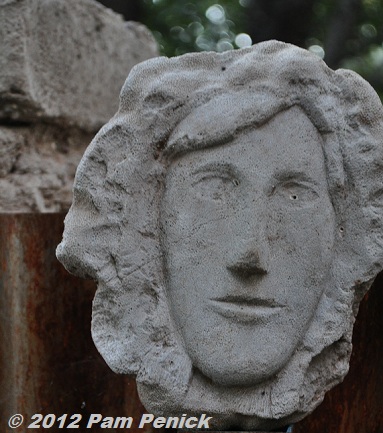 And this stone-faced lady graces a wall near the entrance to Nuestro Jardin.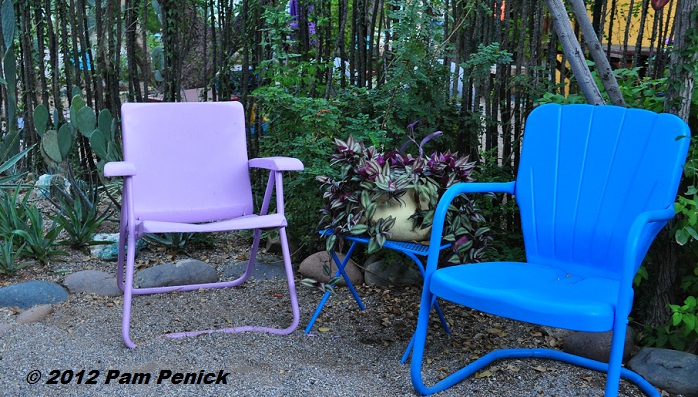 Nuestro Jardin (translated as Our Garden) is a small, walled space that represents the modest Mexican-American gardens frequently found in Tucson. We have a lot of these in Austin too. Colorful motel-style chairs are surrounded by easy passalong plants.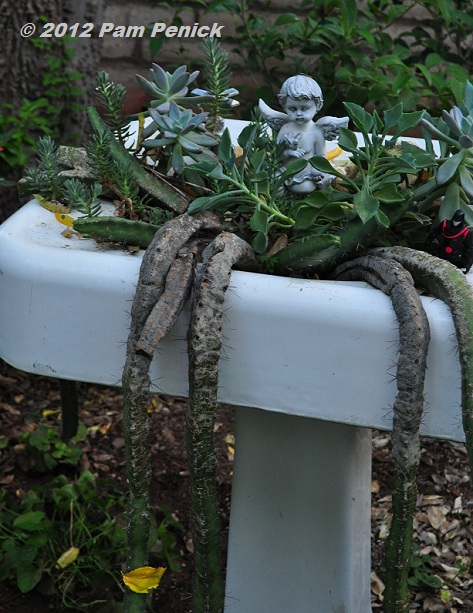 And quirky yard art abounds, like this sink planted up with succulents and…ew, what IS that? It looks like an enormous, hairy-legged spider is crawling out of the sink basin—perfect for Halloween.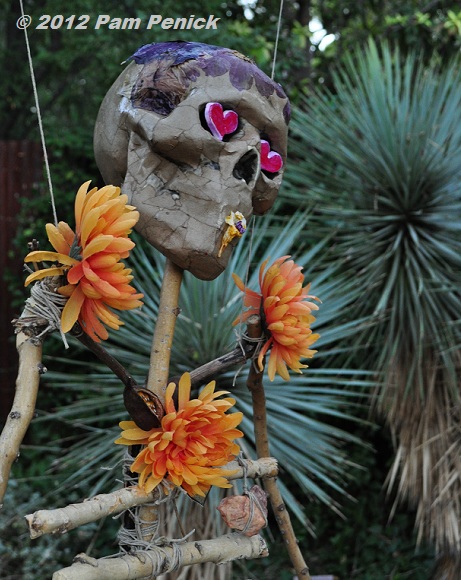 The garden did contain numerous skeleton art pieces, but these are not for Halloween but rather Dia de los Muertos (Day of the Dead), a loving tribute to family members who've passed away. This tradition is popular in Austin too.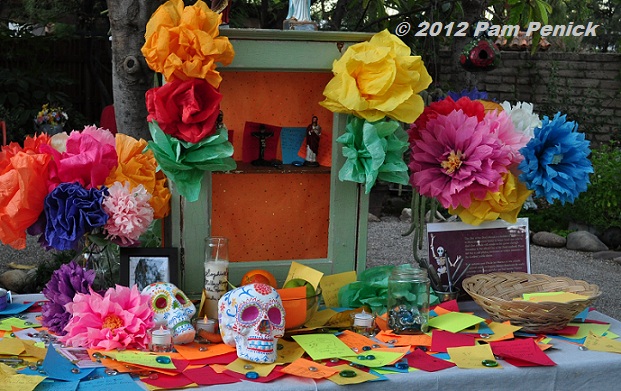 A colorful Dia de los Muertos altar contains photos of departed family, festively painted skulls, and, traditionally, small gifts of the favorite foods of the departed.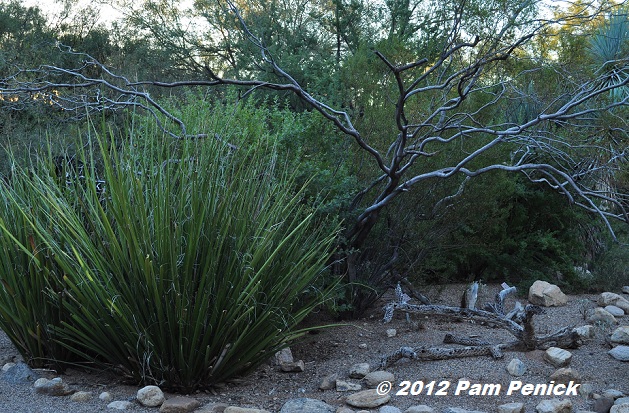 But Day of the Dead isn't until after Halloween, so I'll leave you with this spooky predawn image from the botanical gardens. Boo!
For a look back at my first post about Tucson Botanical Gardens, click here. Up next: A candlelit tour of Tucson designer and author Scott Calhoun's Zona Gardens.
All material © 2006-2012 by Pam Penick for Digging. Unauthorized reproduction prohibited.
posted in
Agaves
,
Aloes
,
Bees
,
Birds
,
Botanic/Public Gardens
,
Cactus
,
Containers
,
Decor
,
Desert
,
Doors
,
Fountains
,
Garden art
,
Garden tours 2012
,
GWA
,
Holidays
,
Patios & decks
,
Sculpture
,
Seating
,
Succulents
,
Travel
,
Vines
,
Walls
,
Water features
,
Wildlife
,
Xeric plants
,
Yuccas