October 28th, 2012
Garden Writers Association
symposium a couple of weeks ago. I really enjoyed this garden, not only for its stunning collection of cacti and succulents, but also for its creative and often slyly humorous homemade garden art.
The Zwickls have spent nearly 3 decades creating this garden. It flows around their house and blends with the native plants growing in the rolling foothills of the Catalina Mountains, whose rocky slopes can be glimpsed above the airy desert trees and tall saguaros. The garden wows right at the entry, with a beautifully planted island bed in the driveway/parking area. A vase-shaped ocotillo anchors one end of the bed, surrounded by variegated American agaves, barrel cactus, and cholla. The ever-present, deep-blue desert sky adds its own color to the scene.
I felt lucky to visit the garden in early morning, with morning rays caught in the spines and hairs of these tough desert plants.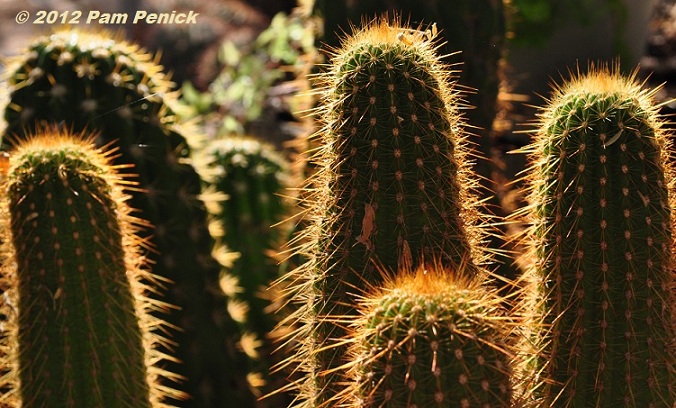 Just look at these Tricocereus hybrids, glowing golden in the morning sun.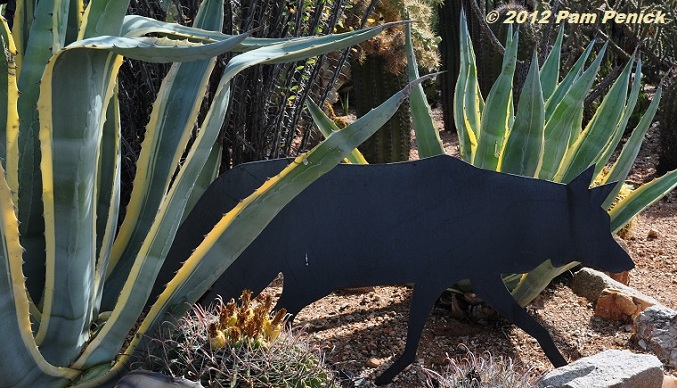 Trickster coyote, slinking past variegated American agaves. This is a metal silhouette created, I think, by the owner.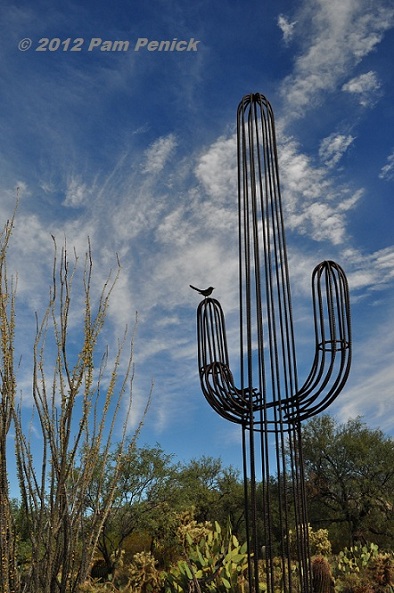 He also constructed this metal saguaro, complete with a mockingbird perched on an arm. Keith told us that he wanted a big saguaro in his garden but didn't have 75 years to wait for it to mature to this size. So he made one instead!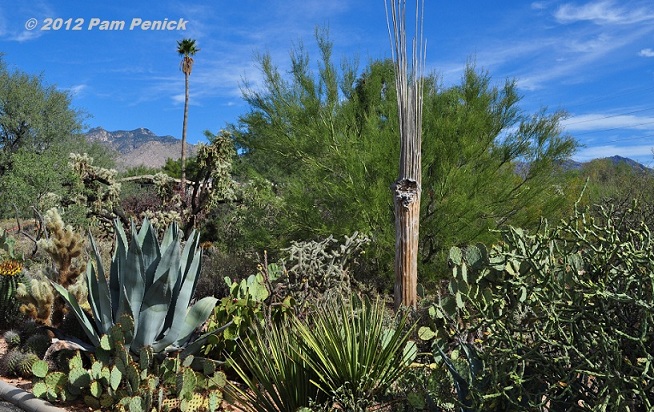 A wider view of the front garden. Those are the Catalinas in the background.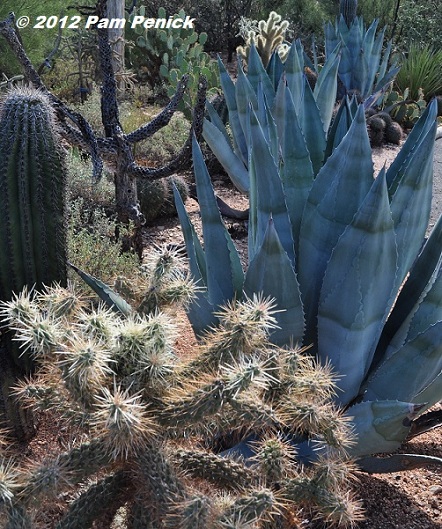 Keith is a plant collector and a plant rescuer; he showed me one barrel cactus that had been decapitated by "kids with a machete," which he brought to his garden and nursed to recovery. It's easy for a collector's garden to be a bit of a jumble in terms of design, but Keith uses repetition of plants effectively to give it rhythm and continuity. He also has an eye for contrasting forms.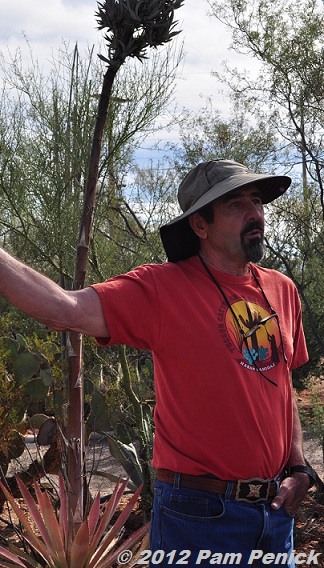 Keith telling us about his garden.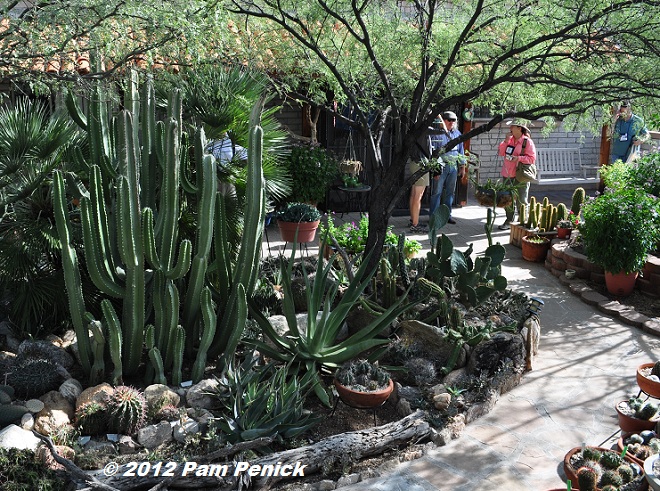 The rear garden is a narrow space along the back and side of the house, woven through with paths and rocky cactus and succulent beds.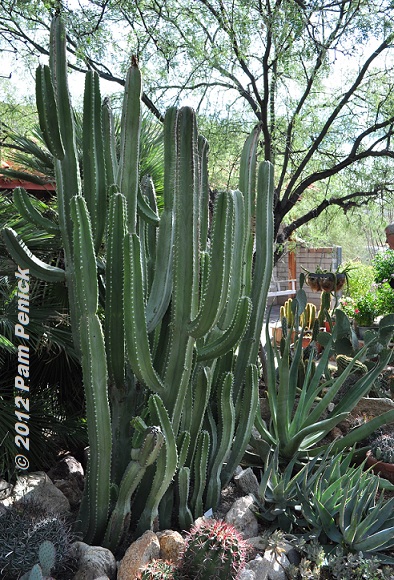 Airy trees offer filtered shade.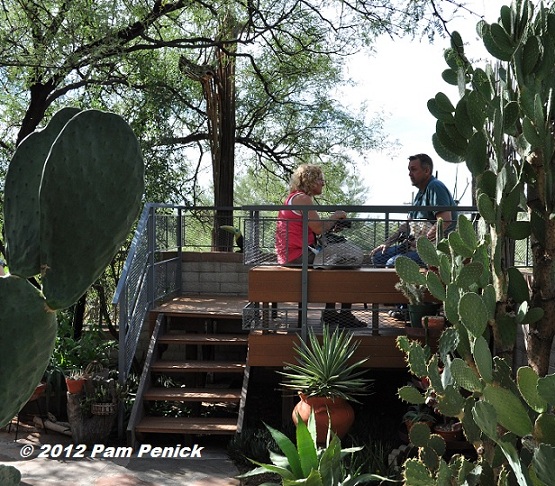 A small deck is elevated in a back corner, offering views of the garden and the wild greenbelt behind the house.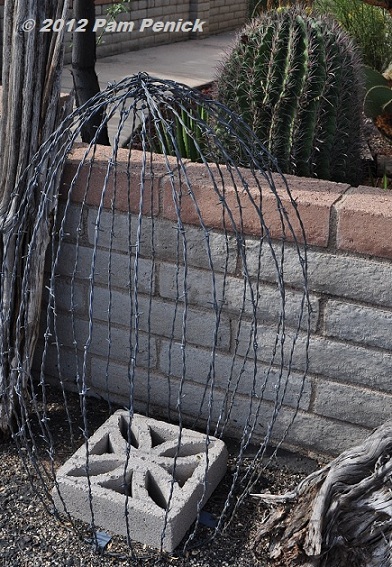 More of that sly humor is evident in this barbed-wire barrel cactus, which echoes the shape of the real one behind it.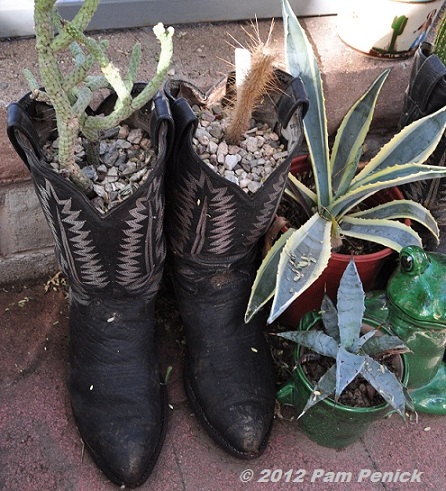 Planted cowboy boots are good for a grin too.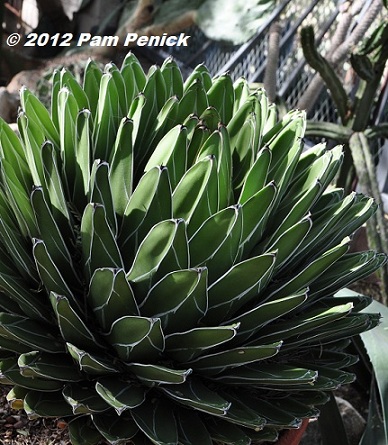 'Queen Victoria' agave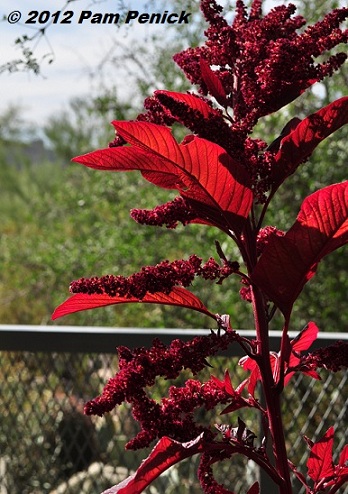 Richly hued amaranth adds annual color.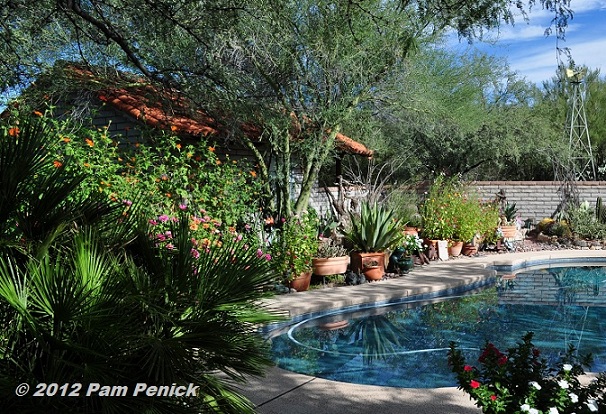 The pool garden along the side of the house is another spot for annual color, with swaths of bright zinnias and tithonia.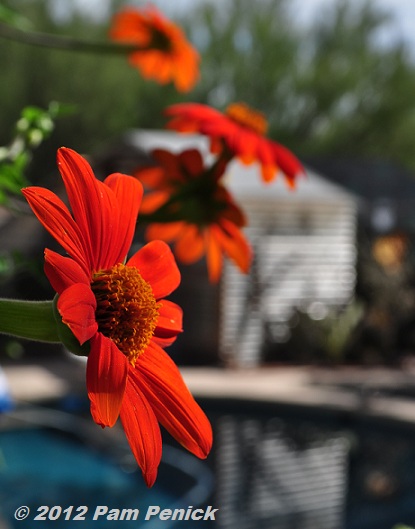 Tithonia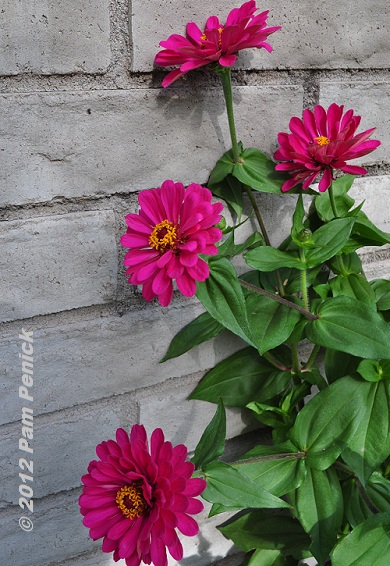 Zinnias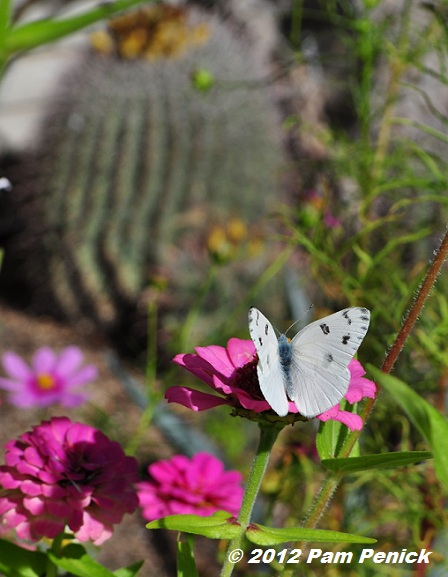 Butterflies were attracted to the zinnias…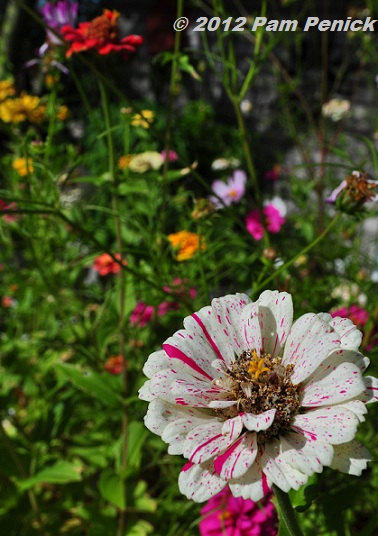 …and so was I.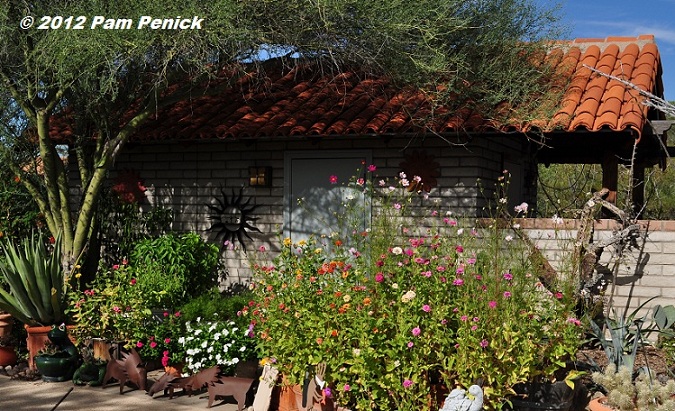 A wider view reveals a riot of colorful zinnias and more metal animal art—this time a family of javelinas.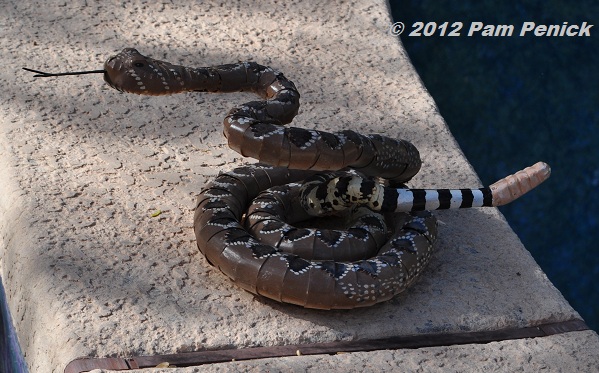 Oh, and look what the Zwickls have on their pool deck—a metal, fairly lifelike rattlesnake. Boo!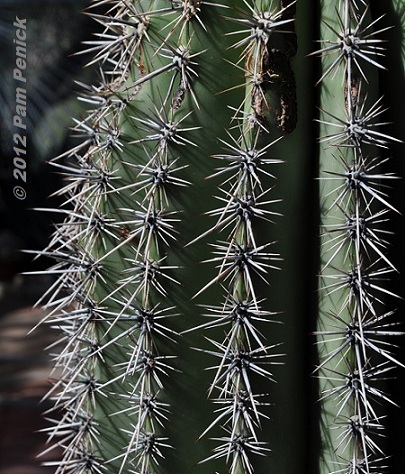 Most of the "fanged" occupants of the garden are, of course, the spiky plants, which you do have to be careful of as you explore the garden. But just look at that fascinating pattern of spines—like white stars.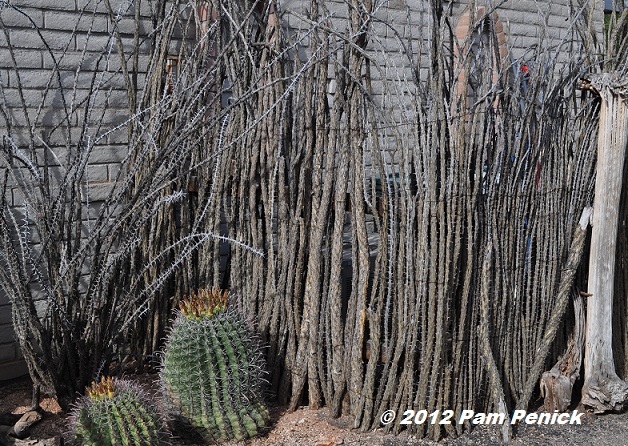 Spiny ocotillo branches are used to make a screen for the A/C. A living ocotillo (yes, it's alive even though it looks dead; ocotillo leafs out after a rain) grows at left. I think that's a piece of a saguaro skeleton leaning on the fence at right. Doesn't it look like a dinosaur bone?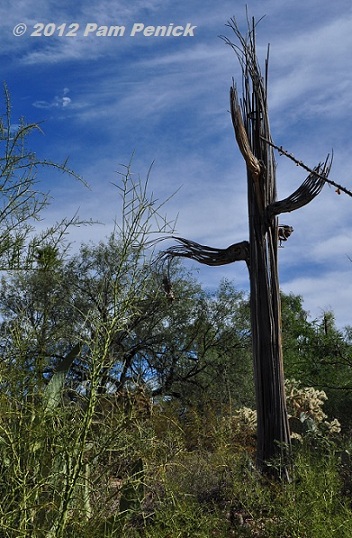 Here's an actual saguaro skeleton standing tall in the front garden. A closer inspection revealed a support network inside: metal rings and rebar to hold the thing up. I guess that Keith found and reassembled this saguaro skeleton, much as dinosaur fossils are displayed in museums. It is beautiful, sculptural, and a ghostly memory of an ancient plant.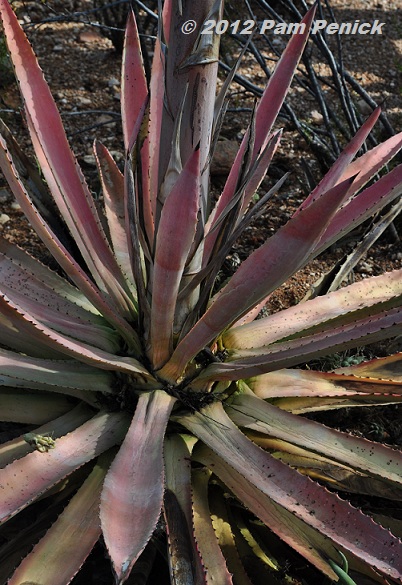 Another plant on the way out—a dying agave, growing more colorful as it fades away following the exhausting work of pushing up a bloom stalk.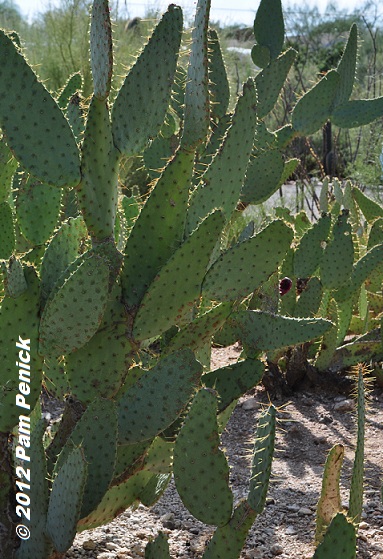 One of the many prickly pears (Opuntia) in the garden.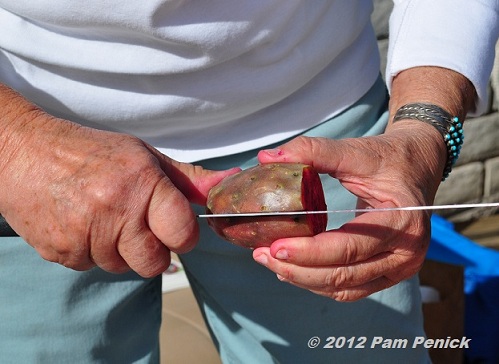 Docents were on hand to offer us prickly pear lemonade, which is a delightful thirst slaker, let me tell you. One of the ladies offered to show me how to peel a tuna—the fruit of the prickly pear—from which they make the lemonade. Here she is making a vertical cut on one side of the tuna.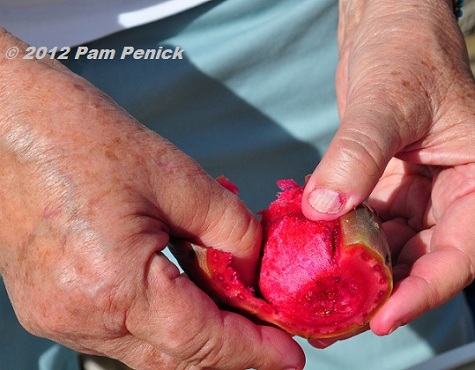 The skin just peels off.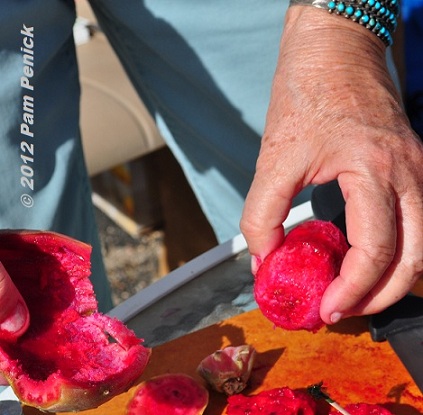 The cherry-red fruit is slipped out of its skin…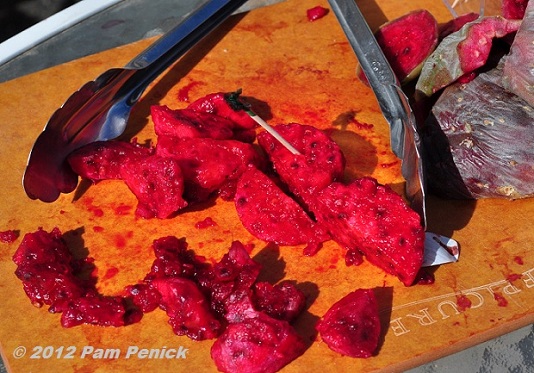 …cut up, and made into a refreshing drink.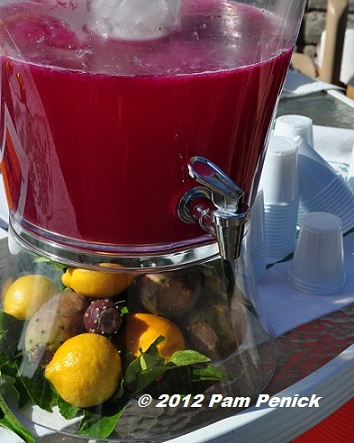 Yum!
For a look back at the DreamFlower desert garden of Lorien Tersey, click here. Up next: Part 1 of my visit to Tucson Botanical Gardens.
All material © 2006-2012 by Pam Penick for Digging. Unauthorized reproduction prohibited.
Keith and Helga Zwickl welcomed us to their Tucson, Arizona, garden during the
posted in
Agaves
,
Annuals
,
Butterflies/Moths
,
Cactus
,
Containers
,
Decor
,
Desert
,
Edibles
,
Fences
,
Garden art
,
Garden tours 2012
,
GWA
,
Patios & decks
,
Sculpture
,
Sky
,
Succulents
,
Travel
,
Wildlife
,
Xeric plants