January 23rd, 2007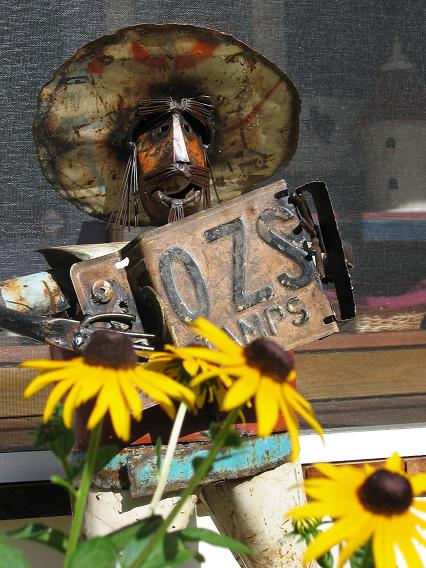 Over at Garden Rant, a fierce defense of painted garden furniture (indeed, garden furniture in general) has sprung up after Elizabeth ranted about magazine advice like painting a bench to match your hydrangeas. As it turned out, quite a few readers love slapping paint on furniture to match, or contrast with, their garden. Susan followed up with an ode to the Adirondack and a defense of what looks to me to be very tastefully painted Adirondack chairs.
At the risk of offending those with delicate or traditional taste in garden accessories, I decided to mount a defense of painted furniture, of using colors that riot and clash, of trashy yard art, of going a little nuts in the garden. Whoo-hooo! I'm having fun in my garden. Are you?
I love colorful furniture . . .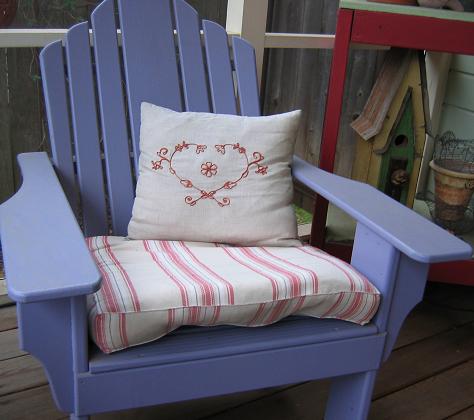 Purple Adirondack chair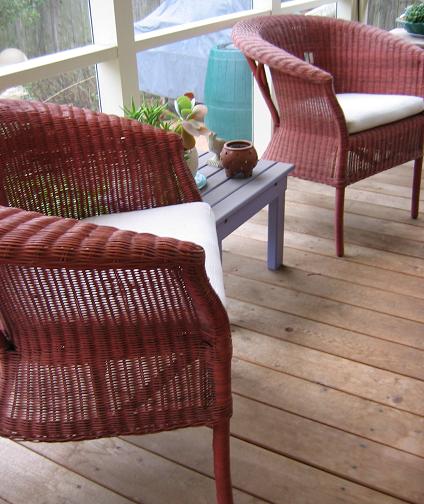 Red wicker chairs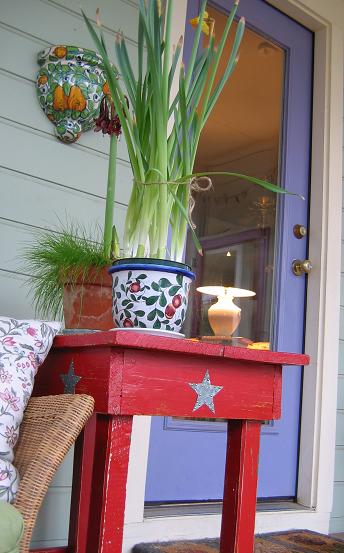 Red table next to purple door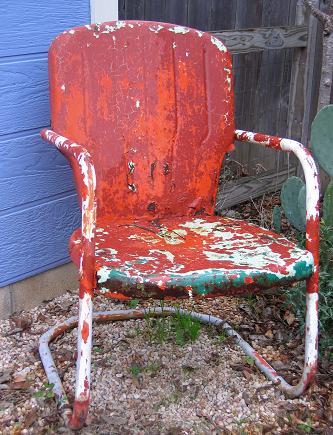 I even like junked-up painted furniture, like this peeling red motel chair.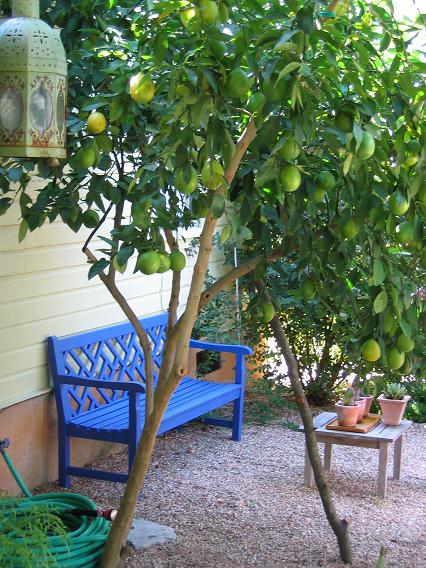 Remember Deborah Hornickel's cerulean bench beneath the lemon tree? I posted this photo from her garden tour back in October.
I love colorful sheds . . .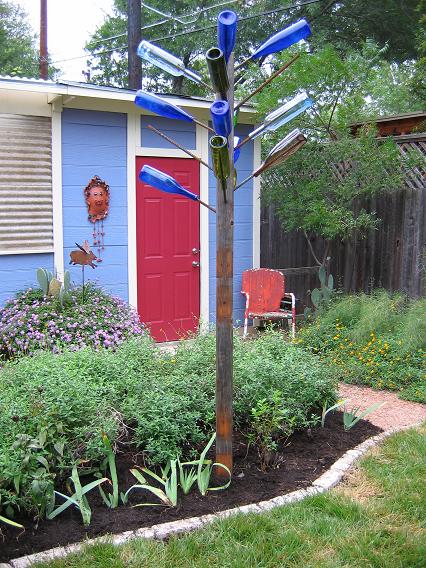 I painted my shed and attached greenhouse a grapey purple with a red door and stuck a folksy bottle tree next to it.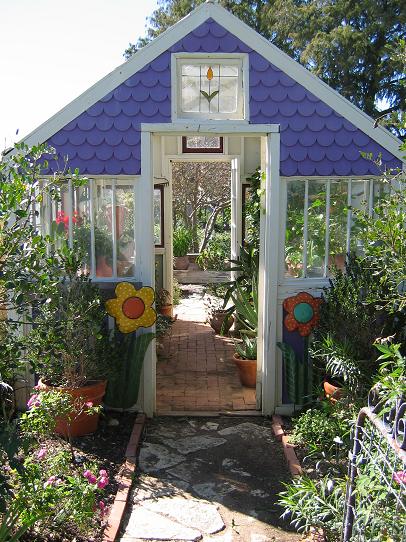 Hey, someone else loves purple greenhouses. I took this photo at the Antique Rose Emporium last fall.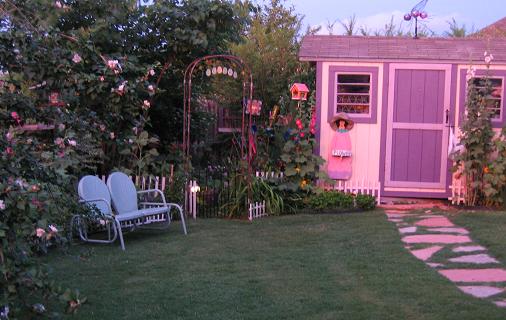 My mother's own pink-and-purple shed. Hmmm, I wonder if this deviant color preference runs in the family?
I love colorful pots . . .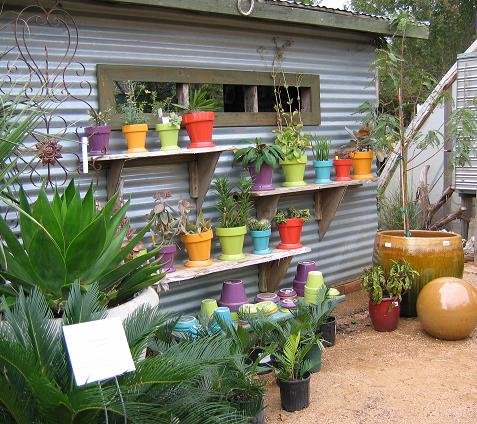 Colorful pots line a shed wall at Natural Gardener nursery.
I love colorful yard art . . .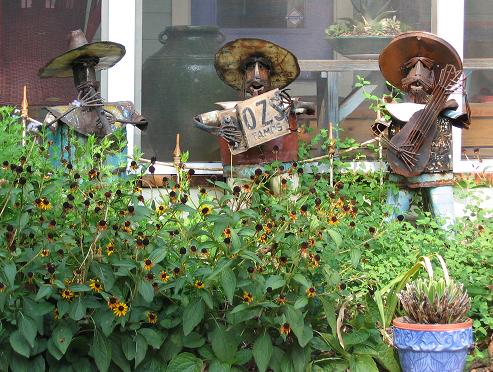 Scrap-metal mariachis in my garden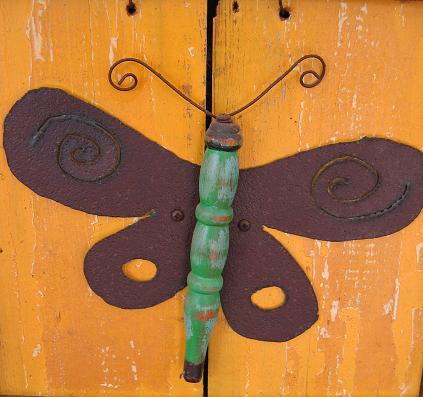 I found this in Decatur, Georgia.
And regular readers will have noticed by now that I tend to prefer colorful flowers. Hot pinks and oranges, tempered by blues and silvers, mix it up in my front cottage garden. While I enjoy restful, green gardens at other people's houses, at my own I go for color strong enough to hold its own against Austin's relentless summer sun. So maybe it all comes down to geography. I live in the South, therefore I prefer hot colors and tacky yard art.
Maybe. Or maybe I'd be this way even in the chilly, pastel-dominated northeast, melting the snow off the garden with those hot, hot colors.