October 25th, 2012
Garden Writers Association
Symposium, held this year in Tucson, Arizona. We were bused to three private gardens, along with various community gardens and the Tucson Botanical Garden. Boy, did they all deliver on the cactus! We saw marvelously outlandish specimens at every turn, from the iconic saguaro to rotund barrels to Mickey Mouse-eared Opuntia. It was in many ways a profoundly foreign landscape, even though we can grow many spiky species here in Austin too.
Alan Richards's garden also delivered on something I don't see much of in greener Austin: jolts of color on walls and benches, from the chalky hues of a box of pastels to the saturated jewel tones of a royal treasury. The intense sunlight, which so beautifully illuminates the spiny or hairy sun-protective coats on the native flora, meets its match in colors like these, which refuse to wash out or fade into the background. They look even more vibrant in contrast to the mostly evergreen plants and tan, rocky soil. Plus the stately, formidably armed plants just beg to be highlighted against a brightly colored wall. If I lived in the desert, I would definitely have a colored wall against which to show off my plants.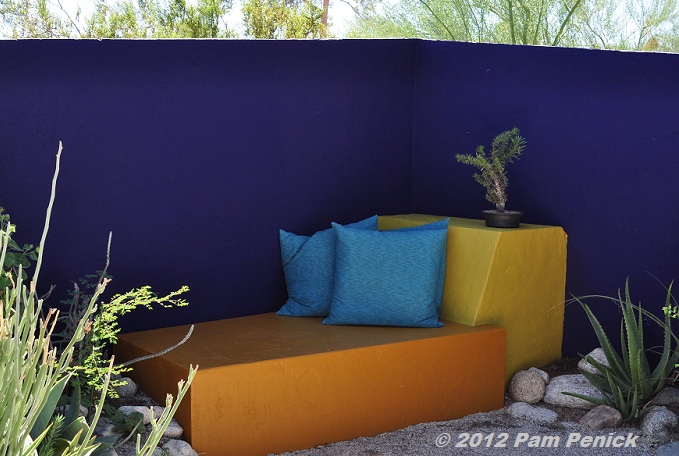 I can't quite see it working in Austin, but isn't this smashing in the bold desert garden?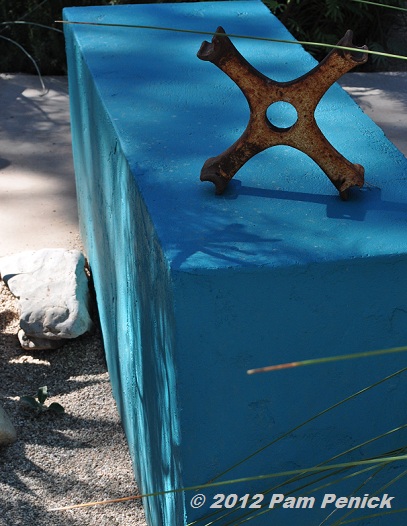 This low wall functions as a bench or pedestal for a display of found art.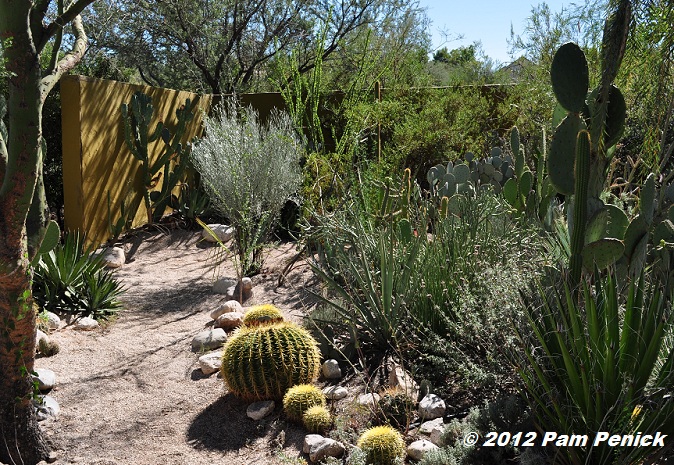 The front garden is enclosed by golden-yellow walls and packed densely with arid-loving plants. The floor of the garden is a sandy rock, which also makes up the paths, delineated by rounded rocks.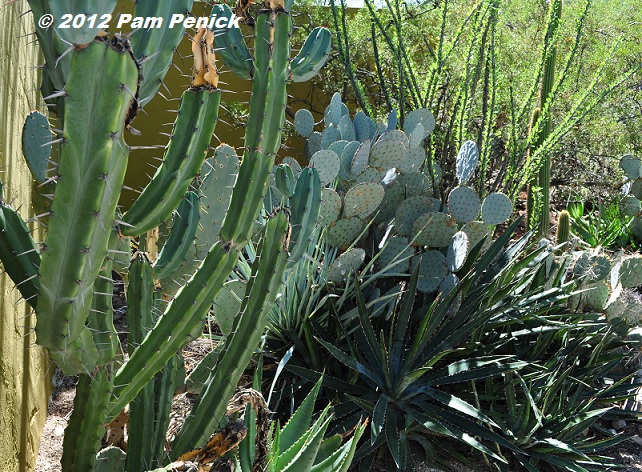 Juxtaposing different shapes is a time-honored design principle, and it works just as well in a desert garden.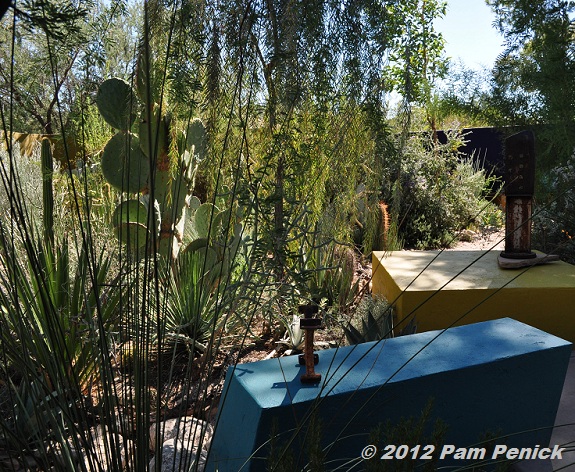 Tucson is located in the Sonoran Desert, which is considered an arboreal and relatively lush desert. The owner and designer, Alan Richards, has planted a number of airy trees for shade and vertical interest. From the front door, you essentially view the garden through a screen of fine-textured, leafy foliage.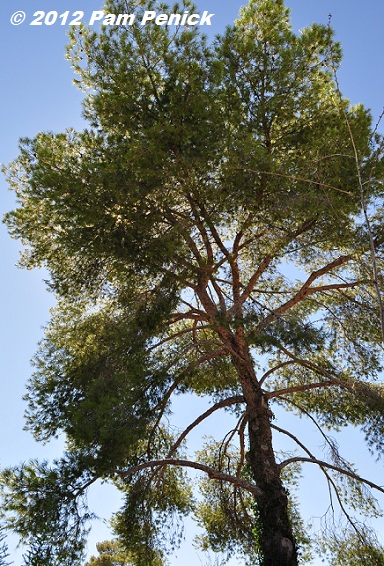 There's even a tall pine tree! Not what I expected to see in the desert. How about you?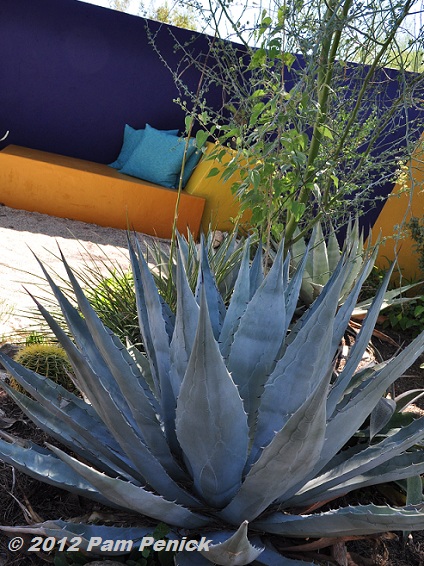 The blue, symmetrical rosette of this agave echoes the blue of the bench pillows.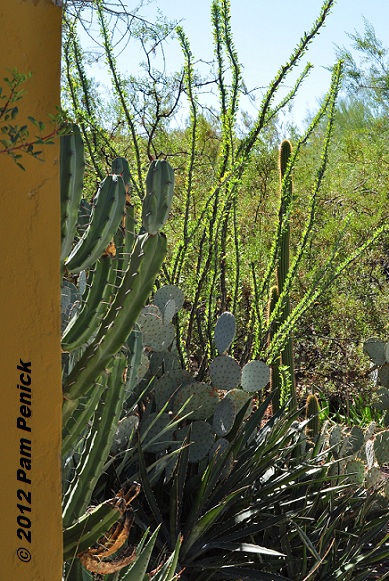 Ocotillo in leaf is yellow-green, which looks lovely alongside those golden walls.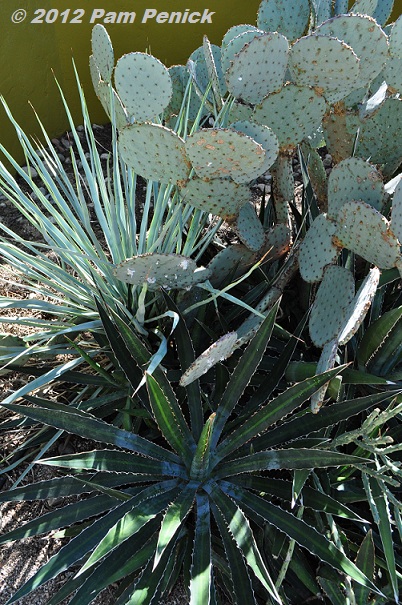 Agave, prickly pear, and a yucca-like plant that I'm not able to ID.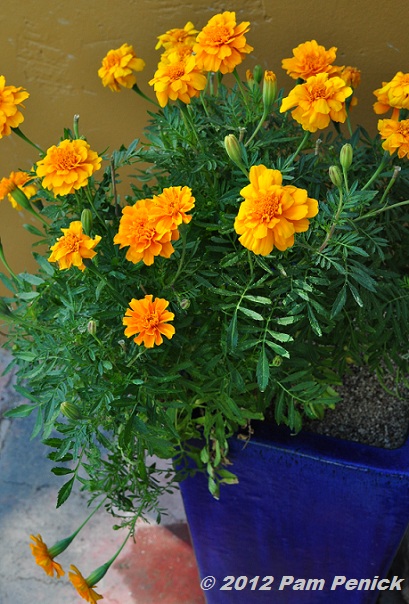 By the door, close to a watering can, there's even space for colorful marigolds. They look charming in this cobalt-blue pot.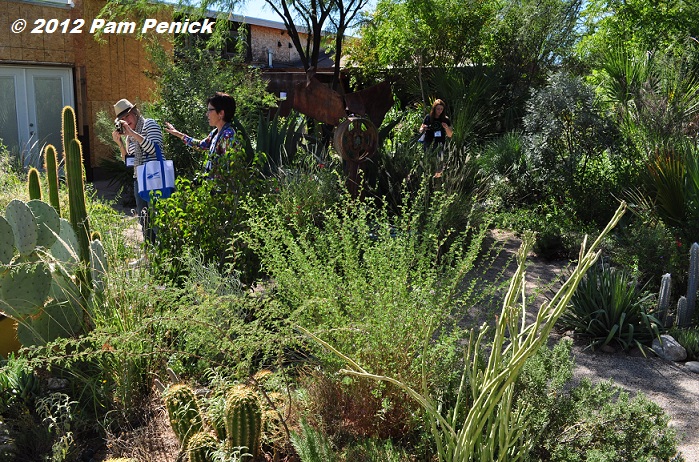 The back garden seems even more lush, and there are welcome areas of shade thanks to numerous small trees.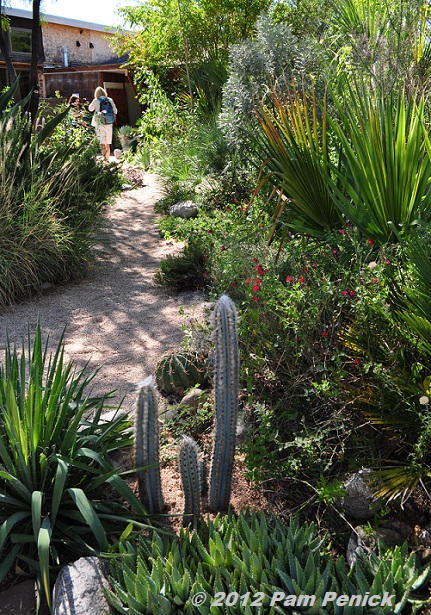 Sandy paths that reminded me of beach paths through dunes wind through the garden, creating an enticement to explore. The lush plants keep you from seeing everything at once.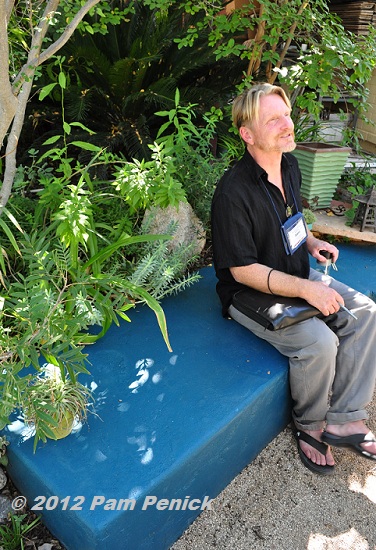 Here and there intimate seating areas are tucked under the shade of an airy tree.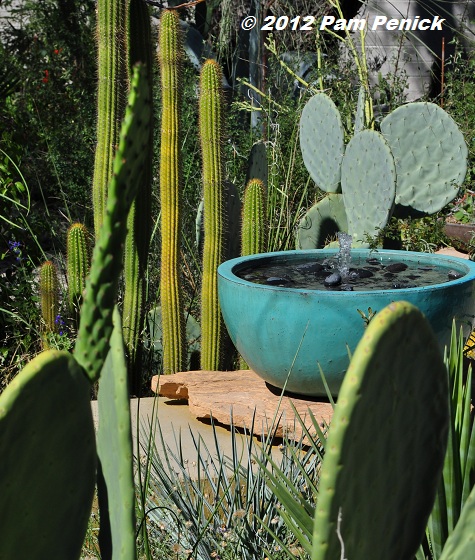 In a more open, sunny spot, columnar cactus and Opuntia frame a lovely turquoise-bowl water feature.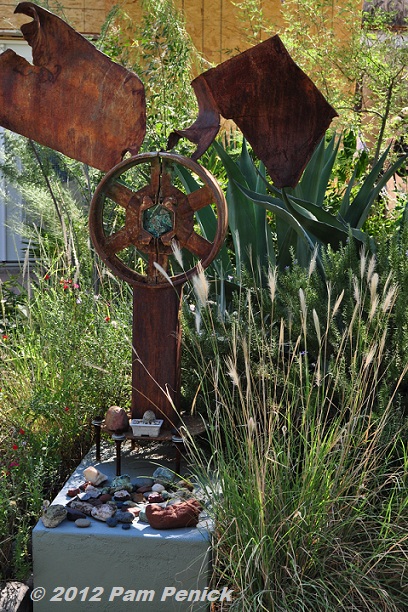 Scrap metal becomes sculpture, elevated by its placement atop a low wall.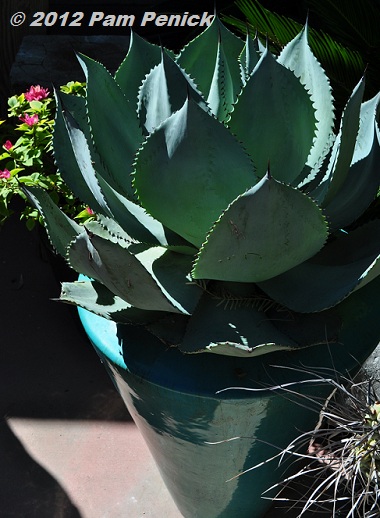 Plants become sculpture too, like this stunning agave in a matching turquoise pot.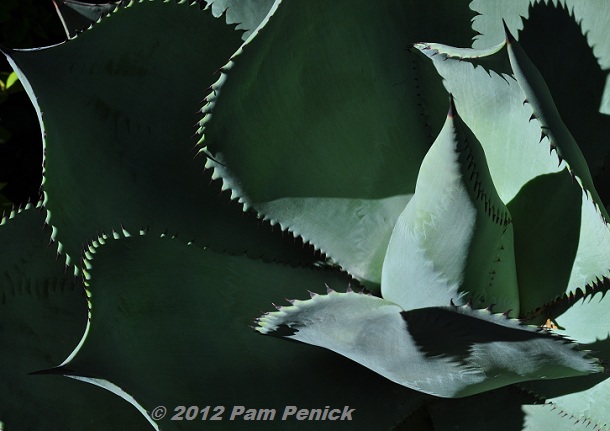 The play of light across its leaves highlights their toothy edges.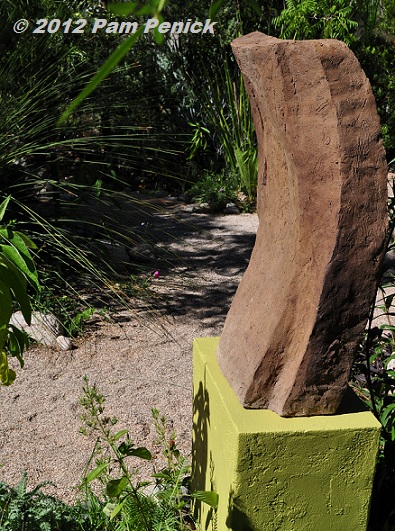 An elemental sculpture, like something Georgia O'Keefe might have painted, is displayed on another of those fabulous colored walls.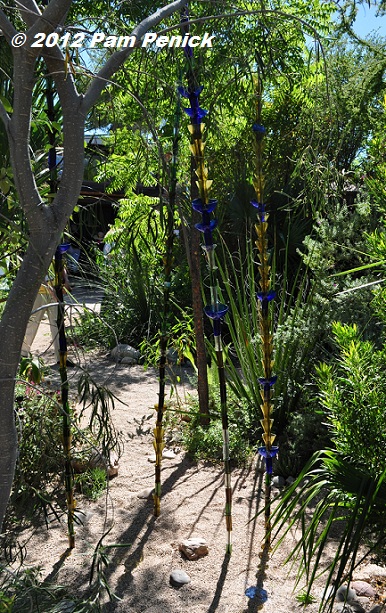 Like javelins on a playing field, these long poles stand at angles and glint blue and gold in the sunlight. This is a sculptural work that you must walk through, placed as they are in the sandy path.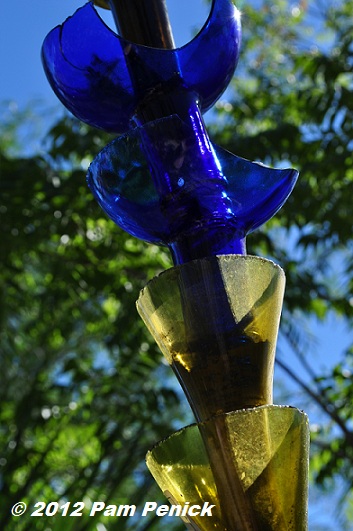 Looking more closely, you see that the necks of wine bottles have been stacked along the poles, making a sort of bottle ocotillo, rather than a bottle tree.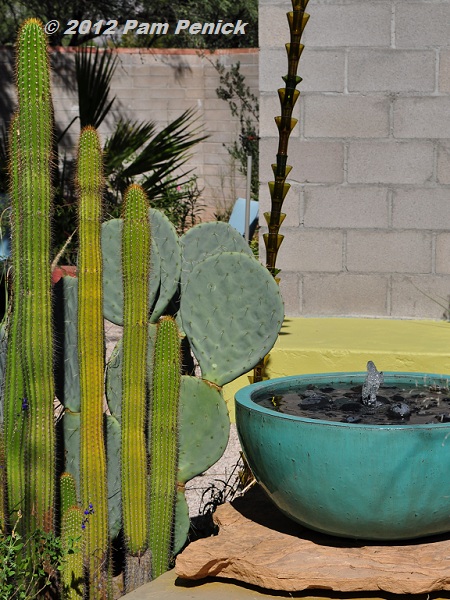 Another one stands behind the bowl fountain, echoing the vertical lines of the cactus.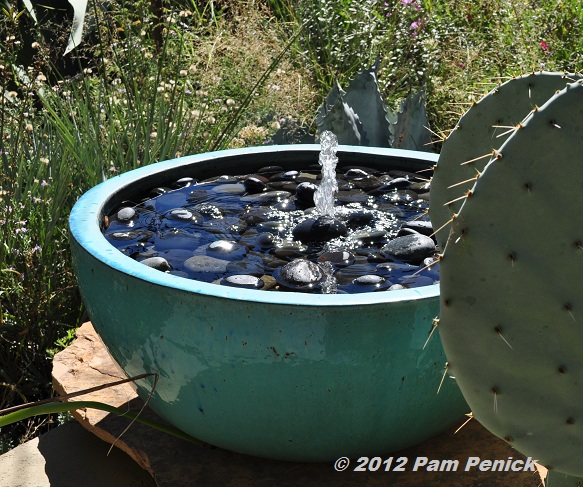 A water feature, even a small one like this, is a welcome oasis in a desert garden. I bet birds love to bathe in it, standing on the river stones that fill most of the bowl.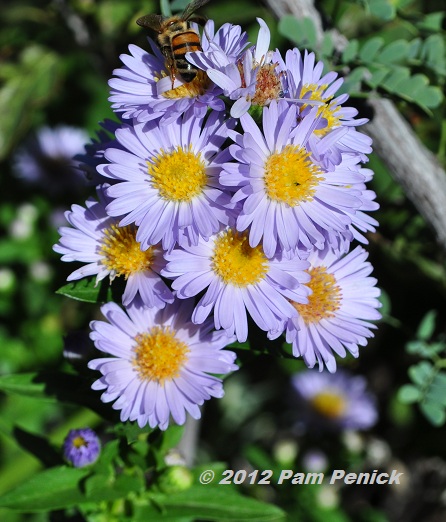 Bees are happy here too.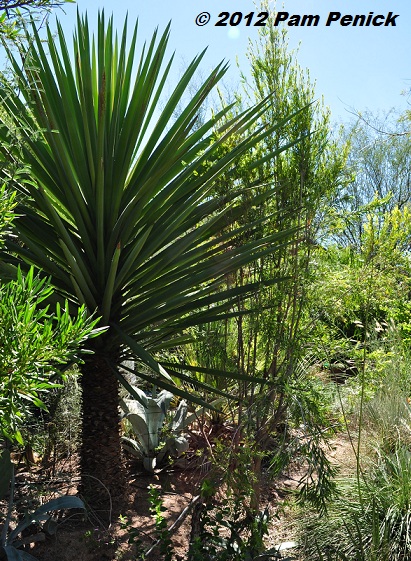 As was I, loving the bold forms of the plants and the way the fine-textured ones hold the light.
For a look back at my first post about going to the GWA symposium, click here. Coming up next: A visit to Lorien Tersey's DreamFlower Garden.
All material © 2006-2012 by Pam Penick for Digging. Unauthorized reproduction prohibited.
What do you expect to see when you visit a desert garden? Cactus, of course, in all its architectural, spiny splendor. I recently attended the annual
posted in
Agaves
,
Bees
,
Bottle tree
,
Cactus
,
Color
,
Containers
,
Desert
,
Fountains
,
Garden art
,
Garden tours 2012
,
GWA
,
Paths
,
Sculpture
,
Seating
,
Succulents
,
Travel
,
Trees
,
Walls
,
Water features
,
Xeric plants
,
Yuccas