October 21st, 2012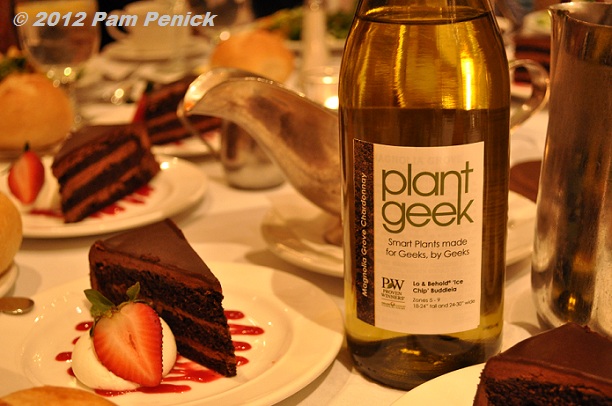 A few short years ago I didn't think of myself as a garden writer. I was a garden blogger, plain and simple. But then I started getting offered, and learned to pursue, paid writing assignments, and now I have a book coming out, a fact that still amazes me. And yet I still most strongly self-identify as a blogger—a realization brought home to me last week at my first Garden Writers Association (GWA) conference, where I was asked again and again by fellow attendees what it is I do. Invariably, I gave a meandering version of this reply: "Well, I write a garden blog called Digging. And I've written for print here and there. I'm a garden designer. I publish photos from time to time too. Oh! And I'm about to have my first book published." Um, yeah. I need to work on my elevator introduction.
I feel a fierce loyalty to my blog. Maybe it's because everything that I'm privileged to do now, and get paid for—writing, design, photography—has sprung from this well. Or maybe it's because Digging is my home place, where I can kick off my shoes and be as comfortable as I want, without the demands of editor or client, as much as I enjoy those creative challenges.
Nevertheless, I decided to explore the larger garden-writing world this year by attending the annual GWA symposium, which was held at a beautiful resort hotel in Tucson, Arizona. I experienced several firsts: networking with hundreds of garden writers, editors, publishers, publicists, and vendors; listening and learning in talks about everything from making videos to becoming a better speaker to successfully pitching a story idea to the love of place felt by a skinny, singing, storytelling desert rat named Petey Mesquitey; and visiting the Sonoran Desert for the first time.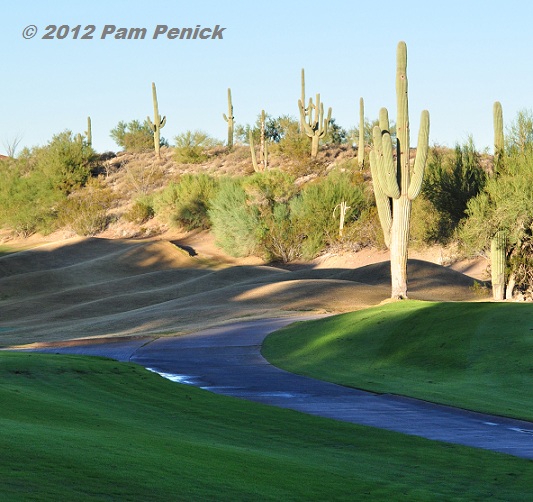 Did you know it takes 75 years before a saguaro cactus starts to grow an "arm"? These big guys are old-timers, and they are so easy to anthropomorphize. This is the view from my hotel room. You may be wondering about all that green grass. My room overlooked the golf course.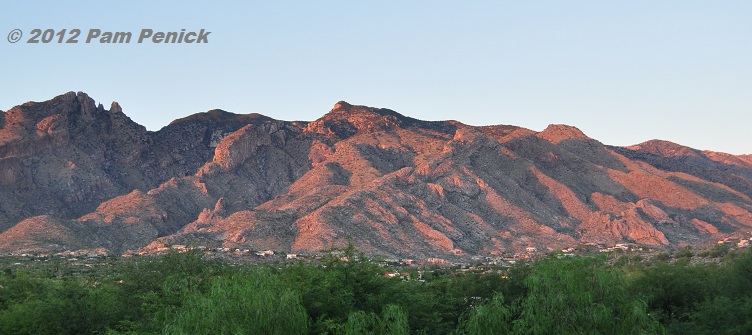 The rosy Catalina Mountains greeted me every morning at breakfast and every cool, desert evening on the hotel terrace.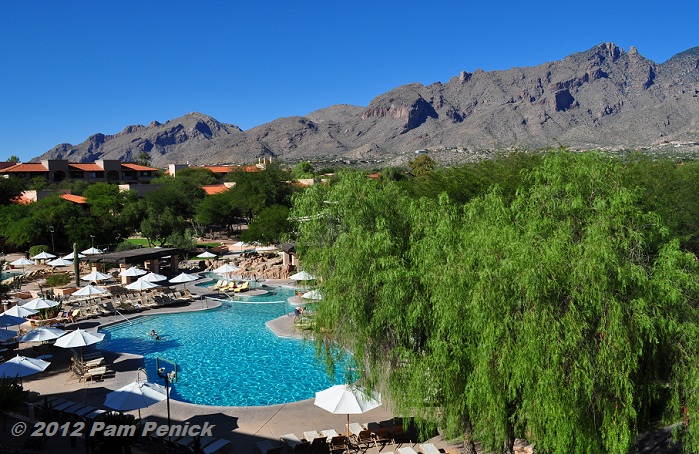 The hotel, the Westin La Paloma, was lovely, but I didn't find much time to lounge around the pool.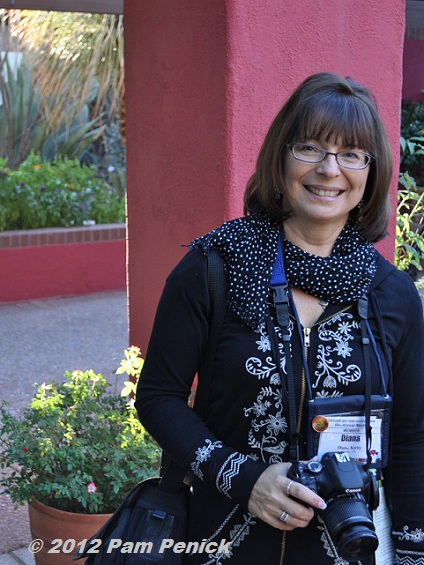 Instead we were constantly on the go, meeting people, attending presentations, and visiting gardens. Here's my traveling companion and good friend Diana Kirby at the Tucson Botanical Garden, camera at the ready, trying to stay warm in the chill of morning. (I loved those cool mornings.)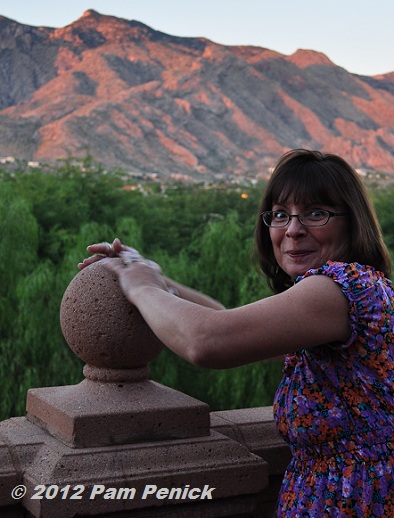 Oh, don't worry, we had plenty of fun too. Here's Diana working her magic with the aid of a crystal ball. You have to use your imagination.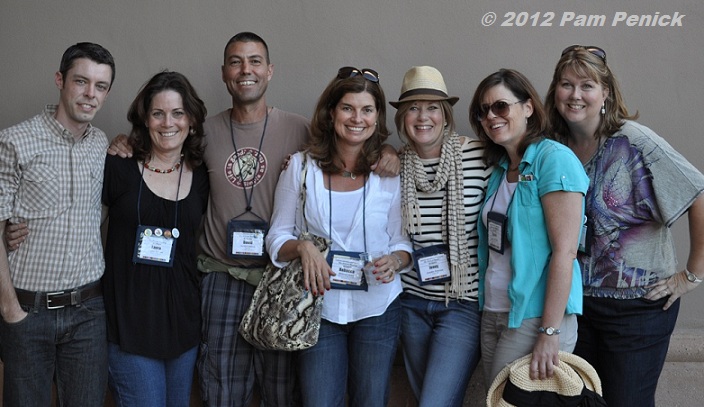 Garden Designers Roundtable members Andrew Keys, Laura Schaub, David Cristiani, Rebecca Sweet, Jenny Peterson, Susan Morrison, and me
Like most things, GWA is really all about the people you meet. I tried to meet as many new people as I could but know there were many I missed. I was thrilled, however, to finally meet Tucson author and designer Scott Calhoun, whose books I've long enjoyed, and Facebook friends and GDRT colleagues Susan Morrison, Rebecca Sweet, Andrew Keys, and Laura Schaub. Once I realized how many Garden Designers Roundtable members were at the conference, I knew we needed a group photo. After garden tours one afternoon, I herded our group together for a quick photo op. A passing GWA attendee graciously took our picture, getting a great shot in just one take. Whoever you are, thanks! And thanks also to the organizers of the Tucson symposium. I learned a lot and am still awed by the majesty and forbidding beauty of the desert.
More posts about garden tours at GWA Tucson coming soon, starting with the art-filled garden of Alan Richards.
All material © 2006-2012 by Pam Penick for Digging. Unauthorized reproduction prohibited.