October 14th, 2012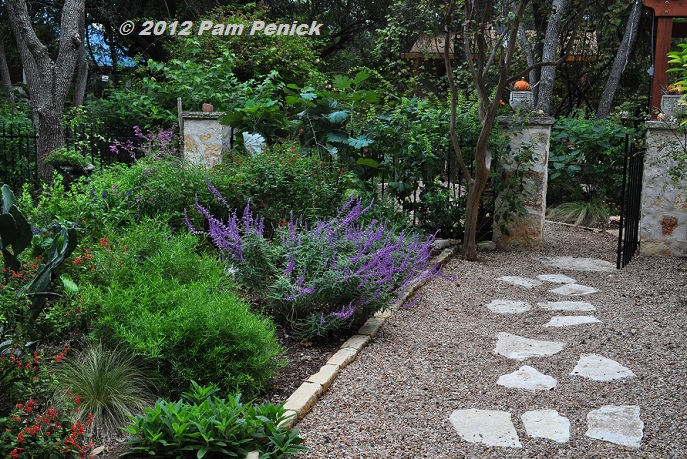 The final garden I'll show you on this sneak preview of the upcoming Inside Austin Gardens Tour, hosted by the Travis County Master Gardeners, is an inviting, lovely garden with a picture-perfect garden house, set in the hills above Lake Austin. This flagstone-and-gravel path leads along the side of the house to the back gate, which is flanked by handsome stone pillars.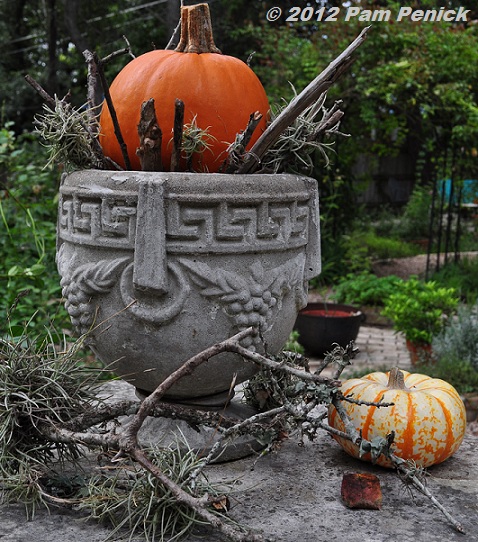 A pretty, rustic display of pumpkins, ball moss, and twigs adorned the tops of the entry pillars.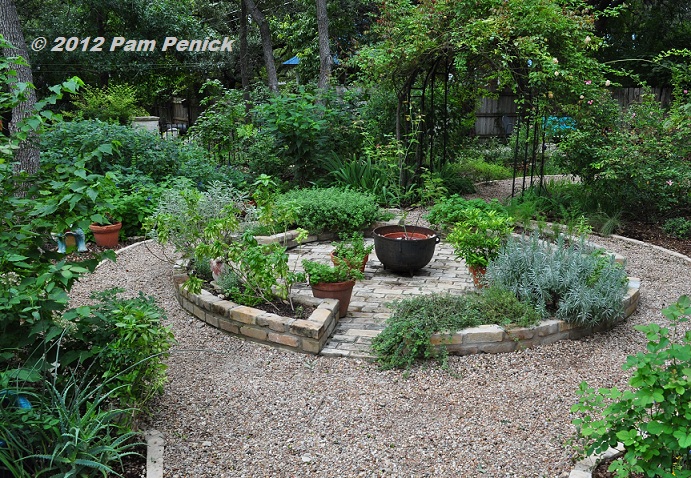 Inside the gate, the first thing you see is a Native American medicine wheel herb garden, which Carolyn planted in memory of her mother.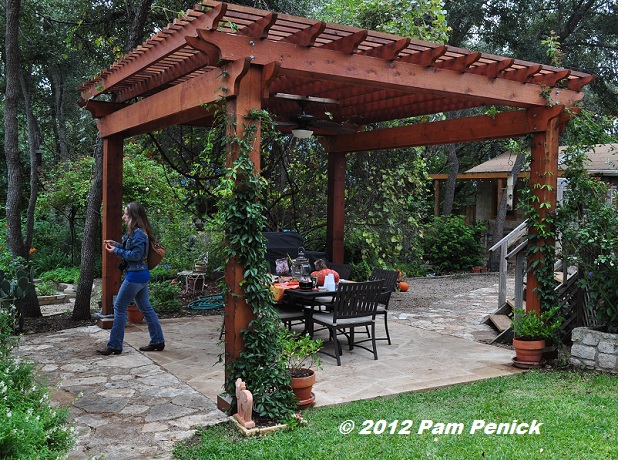 The second thing you see is an arbor-shaded dining patio, with steps leading up to a swimming pool on the right and a stone path beckoning you to a garden house in back.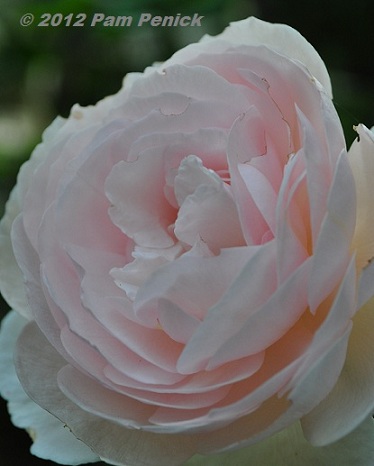 But first let's stop and smell the roses.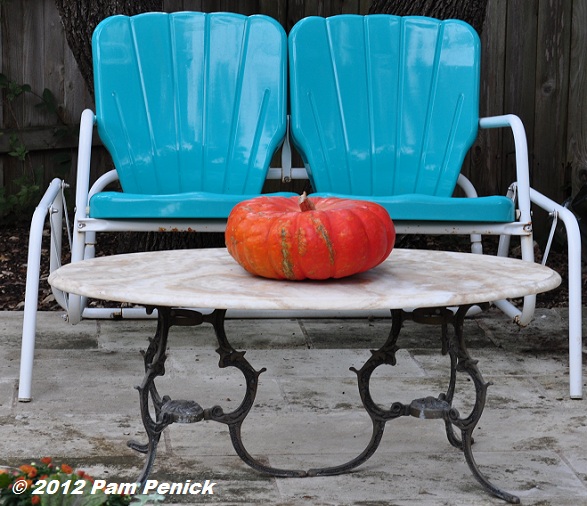 I love all the happy blues in this garden. Carolyn has a great eye for color and inviting, natural decor.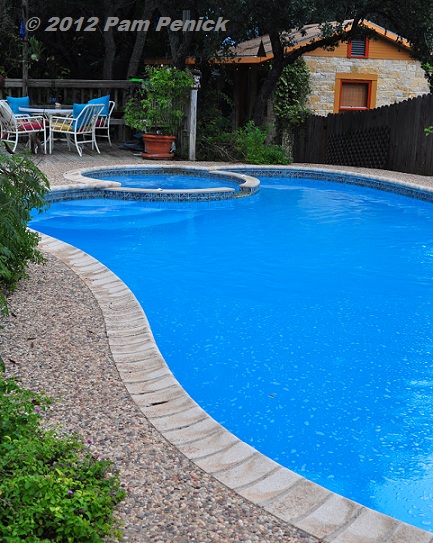 More blues at poolside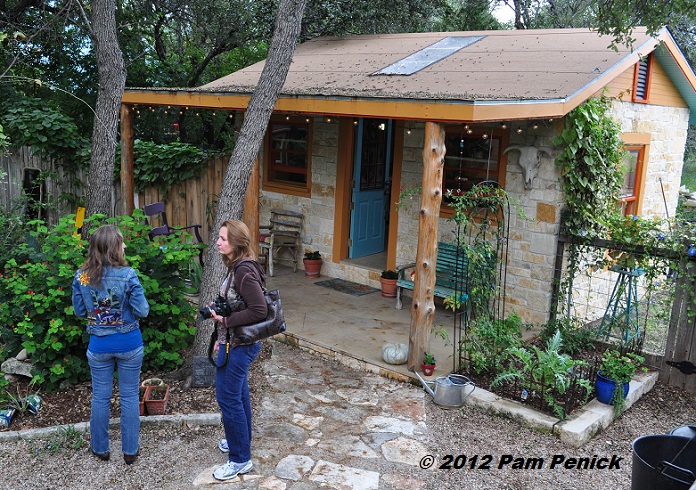 From the pool deck you get a view of the stone garden house that Michael, a stonemason, built for his wife. It's absolutely charming, reminiscent of Hill Country structures I've seen in Fredericksburg, Texas.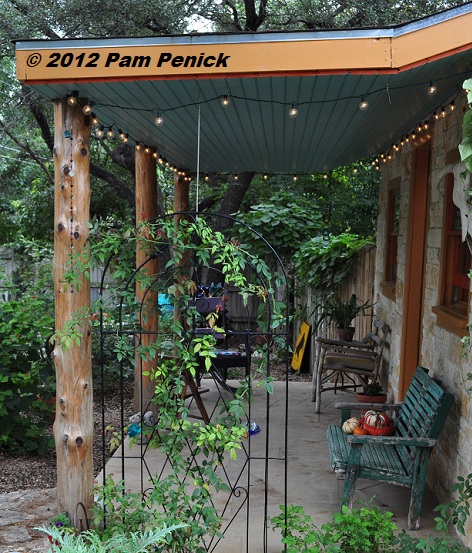 Twinkle lights, natural cedar posts, and a turquoise beaded board ceiling—love it!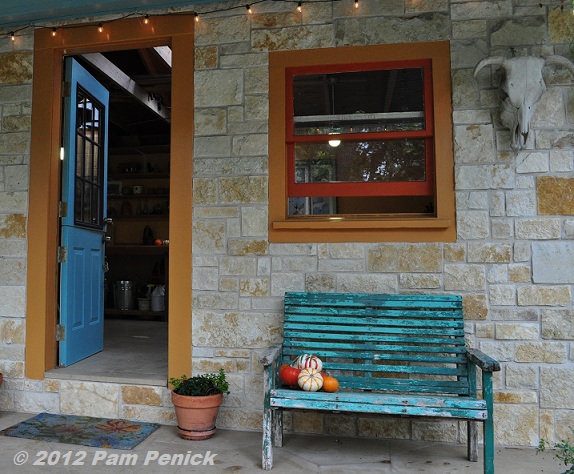 A rustic turquoise bench and cow skull add Southwestern flair.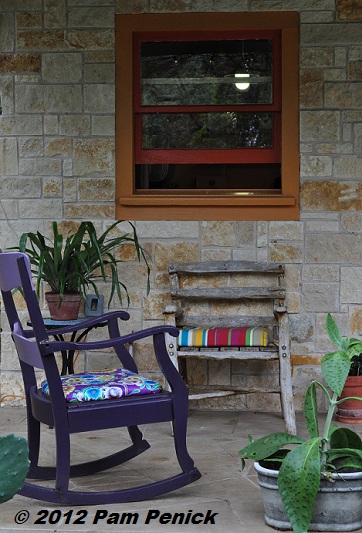 Colorful porch furniture invites you to sit a spell.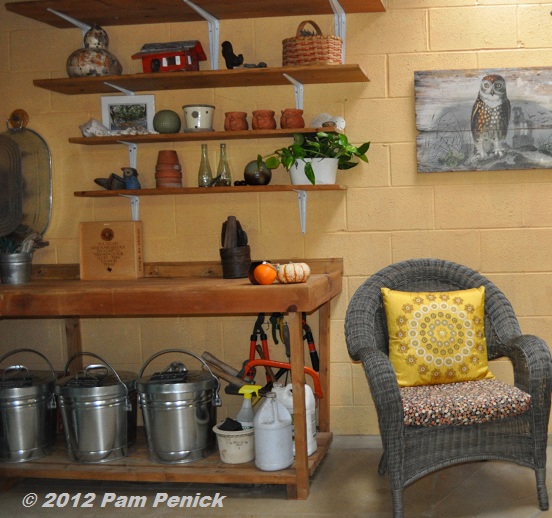 Inside Carolyn has a potting bench and plenty of storage (all neat as a pin), plus chairs for relaxing and enjoying her "getaway."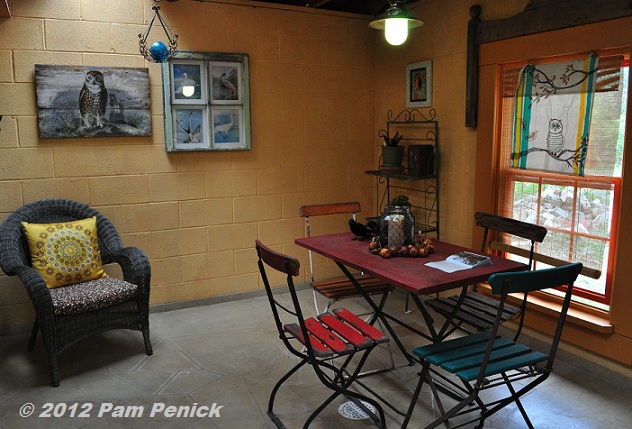 Or maybe a card game with friends? Bird pictures and tea towels decorate the walls and windows. And look—there's even a drain in the flagstone floor in case she needs to hose the place down. Simply perfect.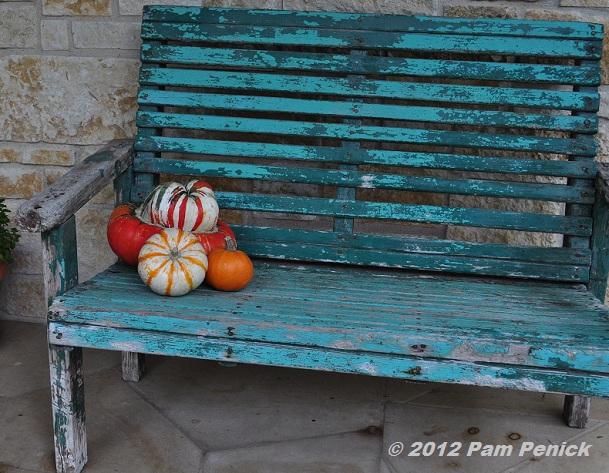 Tour Info
Date: October 20
Time: 9 am to 4 pm
Tickets for the tour (all of the gardens) are $15 in advance, or $20 on the day of the tour ($5 for individual gardens).
Gardening Demonstrations/Education Sessions at the Williams Garden
10 am – Herbs & Herb Vinegar with Vicki Blachman
1 pm – American Indian Medicine Wheel Herbs with Velia Sanchez
For a look back at my post about the Hill Country-style Phillips Garden, click here. I hope you've enjoyed my sneak preview of the Inside Austin Gardens Tour 2012. See the gardens for yourself this Saturday.
All material © 2006-2012 by Pam Penick for Digging. Unauthorized reproduction prohibited.
posted in
Arbors
,
Containers
,
Decor
,
Doors
,
Fall color
,
Garden art
,
Garden structures
,
Garden tours 2012
,
Paths
,
Patios & decks
,
Roses
,
Seating
,
Sheds
,
Windows