October 15th, 2012

Each week in October, which is Support Your Independent Nursery Month, I am featuring one of my favorite Austin-area nurseries here at Digging. To make things even more interesting, I'm also hosting a giveaway every week—one from each nursery! This week I'm shining a spotlight on Hill Country Water Gardens & Nursery.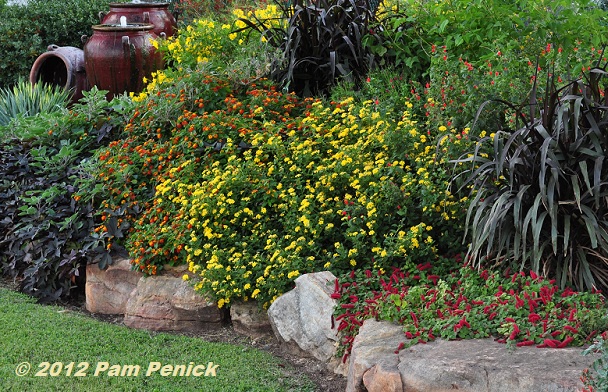 HCWG is in Cedar Park, just a short drive north of Austin, and it's long been my go-to nursery for pond plants, fish, and water features for the garden. But a few years ago it started carrying a good selection of non-water plants, including native perennials and groundcovers, trees and shrubs, and a nice agave selection, and I found more reasons to shop there.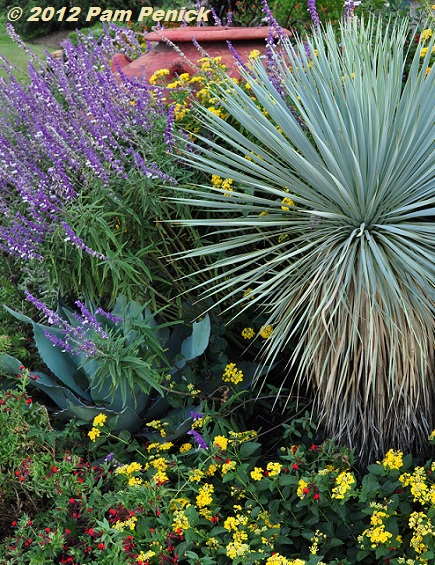 Right along the street it grabs you with a colorful display garden.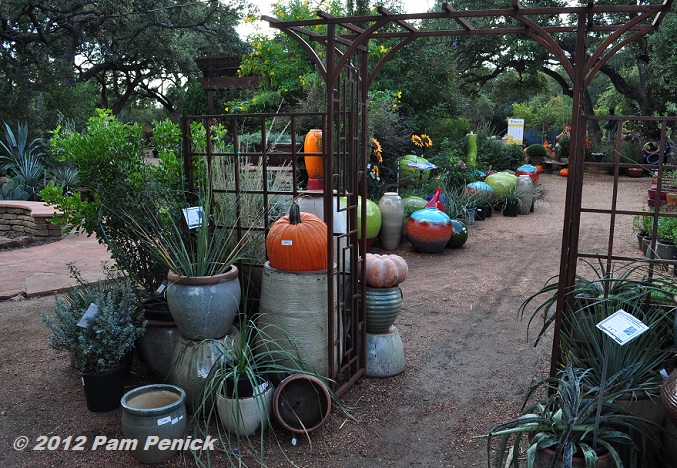 A new, spacious parking lot just south of the original entrance delivers you to this arbor entry. Stroll through and you'll see their extensive grounds, with pocket gardens planted throughout, ponds filled with water lilies, and splashing fountains. It's a relaxing place to explore, especially in summer, when the pond plants are at their peak.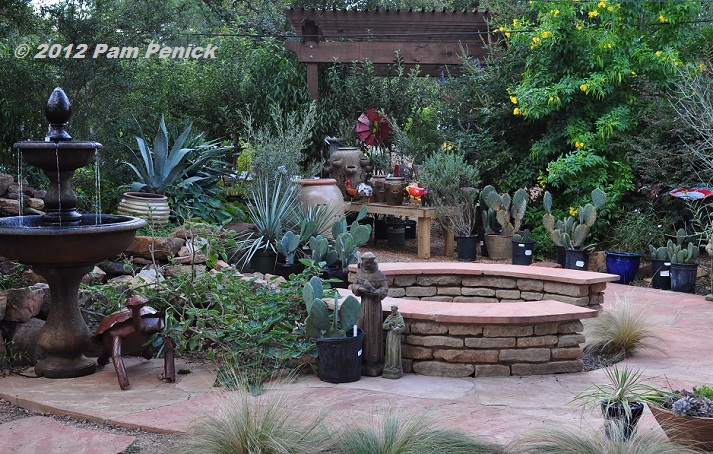 But even in the cooler months, like now, the nursery has lots to offer, from xeric plants to garden decor to water features to design ideas, like this circular, stone firepit.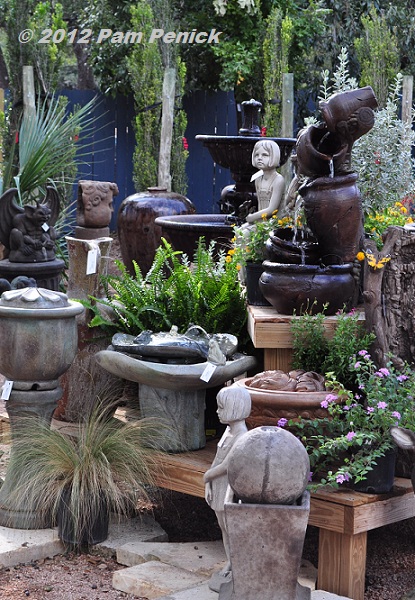 I don't know who arranges their displays, but he or she does a great job. I find their display tables very appealing.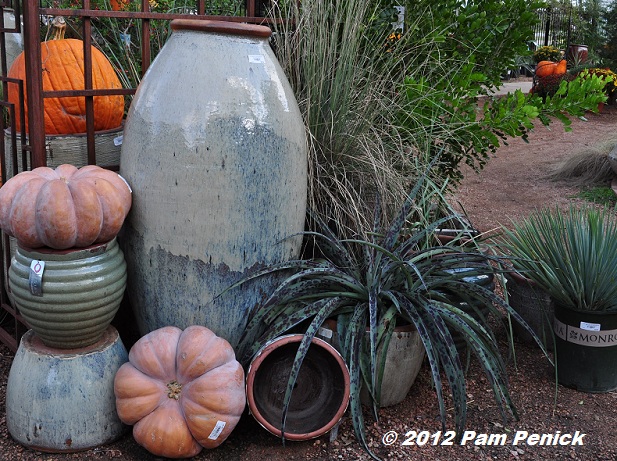 Just look at this pretty vignette. Doesn't it make you want those muted colors for a fall display?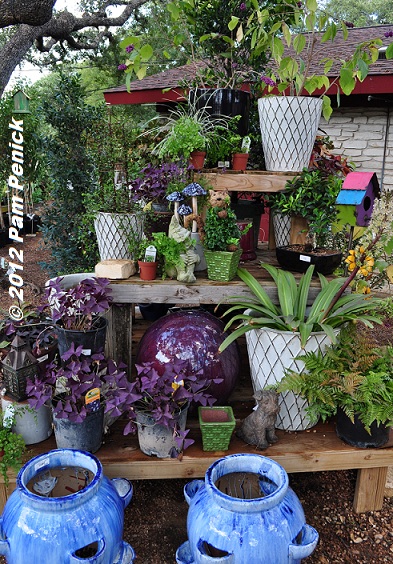 Or perhaps a pop of blue and purple is more your speed, with green and white accents and those cool, patterned pots?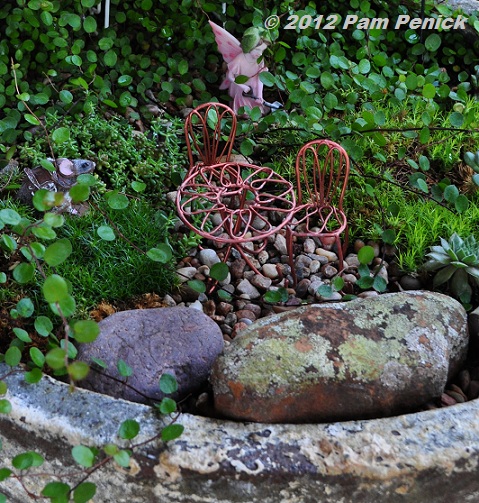 Do you like fairy gardens? HCWG has plants and accessories for them.

We still have a month and a half to grow succulents before we get our first freeze.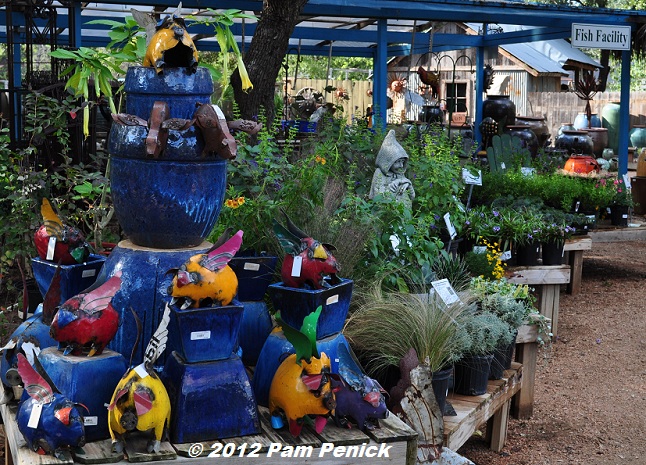 A passel of flying pigs and blue pots…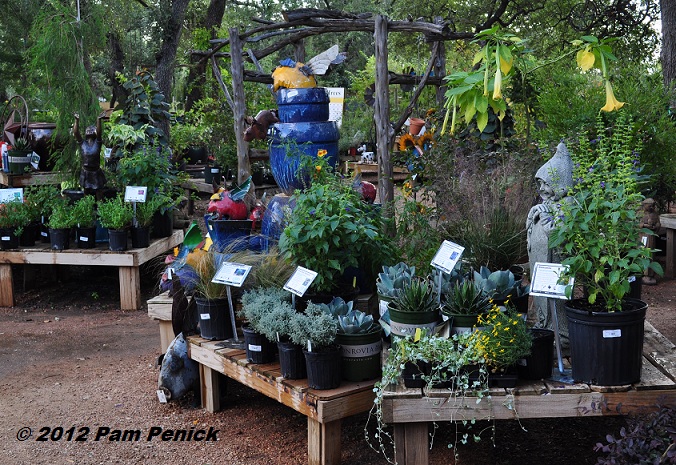 …plus a tempting selection of plants attracts one's attention too.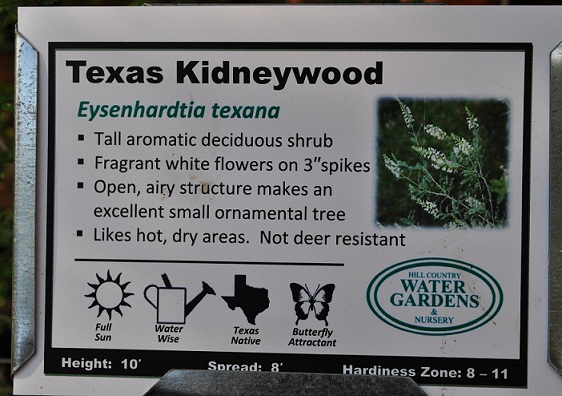 Plant signs are easy to read and contain key information about size and growth habit.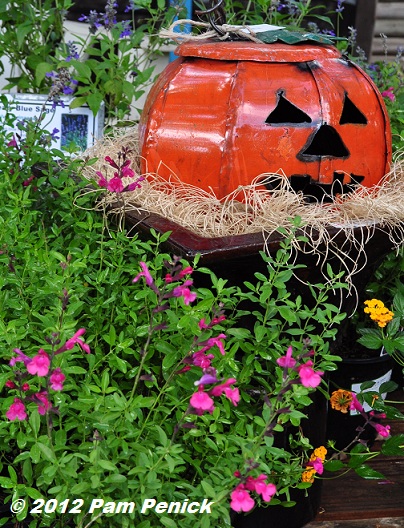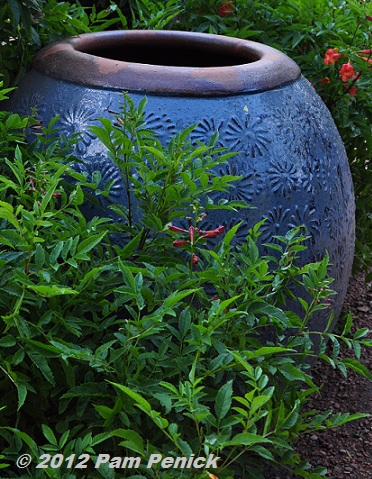 HCWG is the place to come for a wide assortment of pots. Most of them can be turned into disappearing fountains, if you want, or you can plant them or simply place an empty one as a garden accent.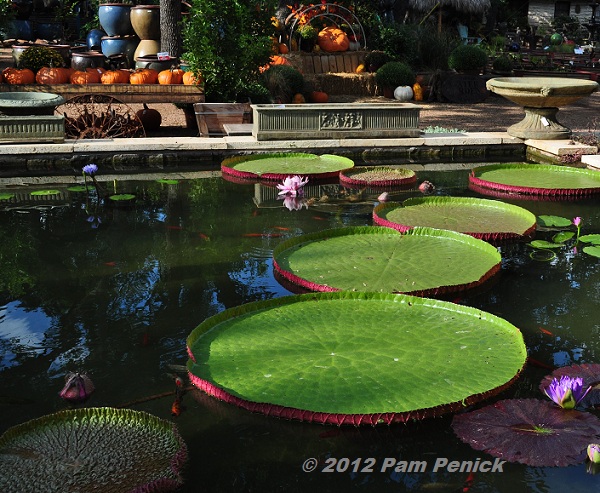 But of course HCWG is largely known for its water gardens and pond plants. The gigantic pads of Victoria amazonica water lily, with an alligator-skin pattern, float serenely in a large, formal pool.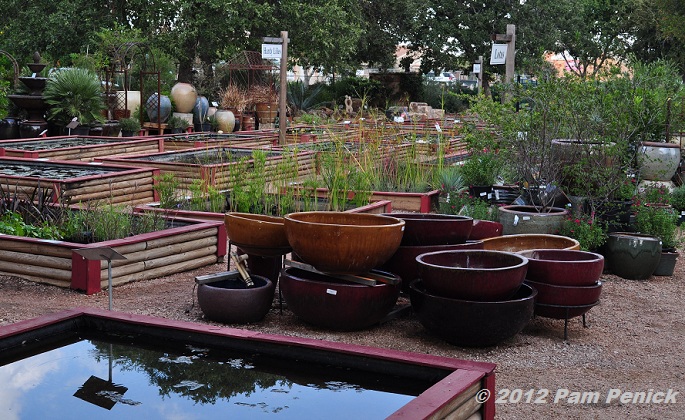 A dozen raised ponds contain all manner of pond plants, from lilies to reeds to iris to underwater plants that help keep your water clean. Come back in late spring and summer for a beautiful display of lily and lotus blossoms.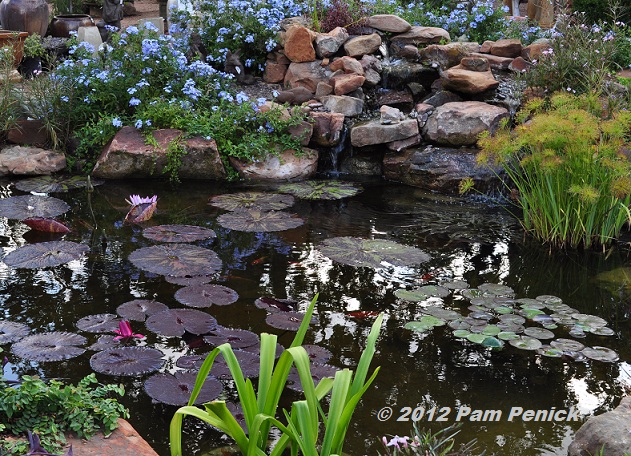 Several display ponds illustrate the installation that HCWG offers, if you desire.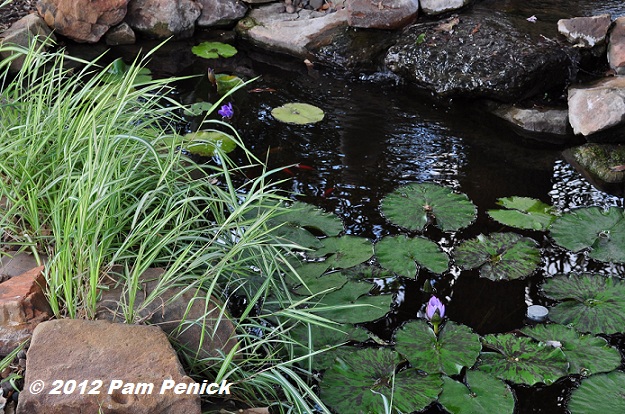 The nursery also offers free classes throughout the year on building ponds and installing fountains yourself.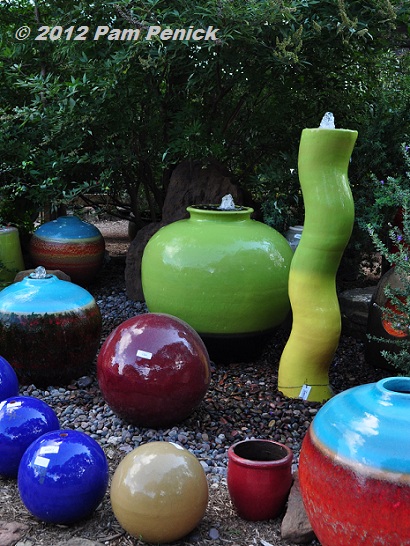 They sell all sorts of vessels for making disappearing fountains, which cycle water up through the top, over the edge, and down into a hidden basin covered with rock. This style of fountain is perfect for a small garden.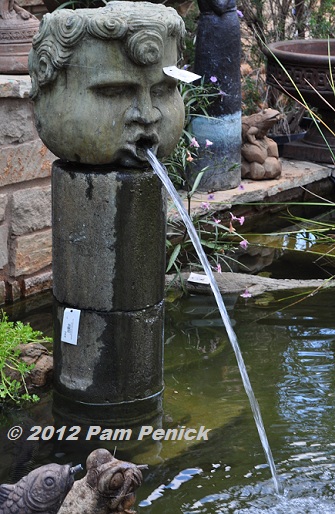 Other sorts are fun too.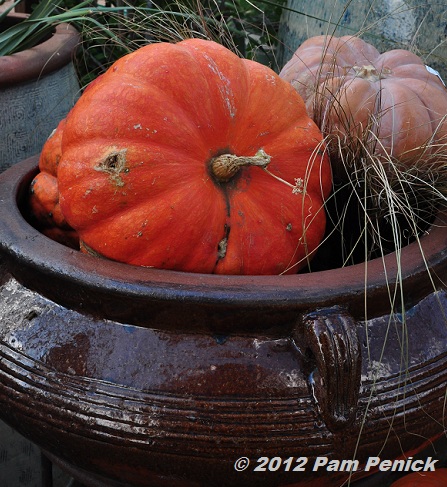 The nursery is dressed for fall right now, with pumpkins, mums, and grasses staged beautifully around the grounds.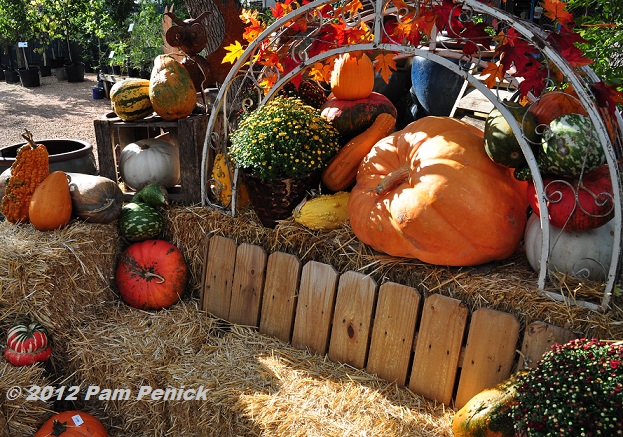 There's even a spot for a pumpkin-patch photo.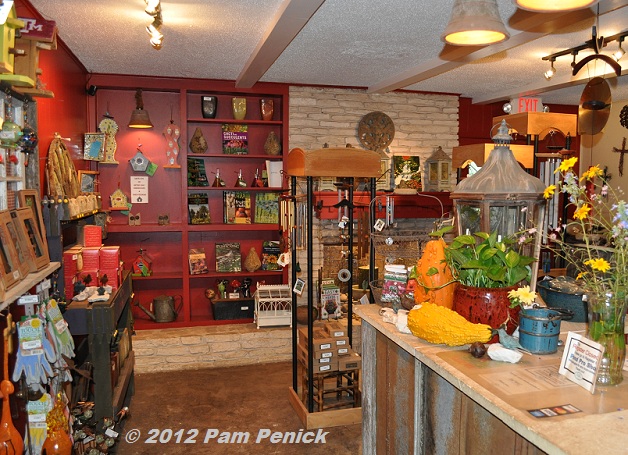 You'll find plenty of good stuff in the gift shop, perfect for holiday shopping for that special gardener on your list.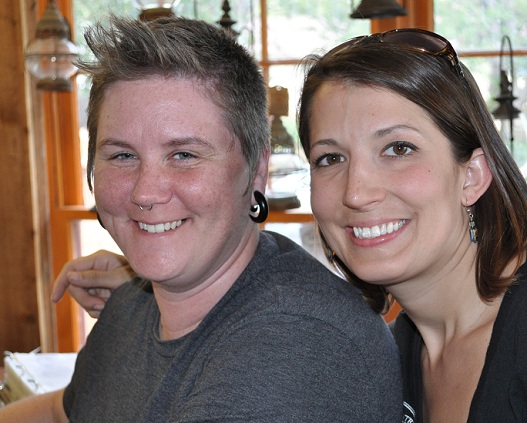 And Theresa and Emily, and the rest of the helpful staff, are always on hand to help you find what you're looking for.
Now for the giveaway! Hill Country Water Gardens & Nursery is giving away a $50 gift certificate to one of my lucky readers! Just leave a comment on this post to enter, and I'll announce the winner at the end of the week. Update 10/21: The winner is announced here.
Giveaway Rules:
1. You must leave a comment on this post to enter.
2. Only one entry per person is allowed.
3. Giveaway ends at 11:59 pm on October 20th.
4. I'll announce the winner on October 21st.
5. The winner must go to the nursery with a photo ID to claim the prize within two weeks of winning. Prizes will not be mailed.
6. The winner is not eligible to win any other giveaways at Digging for 2012's Support Your Independent Nursery Month.
Remember, win or lose, if you live here in Austin you've already hit the jackpot with a great selection of local nurseries at which to shop, learn, and be inspired.
Disclosure: I've posted about this nursery because it's one I shop at regularly and recommend to others. I invited the owner/manager to participate in a giveaway for my readers, but my post was not conditional on any donation. Plain and simple: I like this nursery and think you will too.
All material © 2006-2012 by Pam Penick for Digging. Unauthorized reproduction prohibited.