October 17th, 2012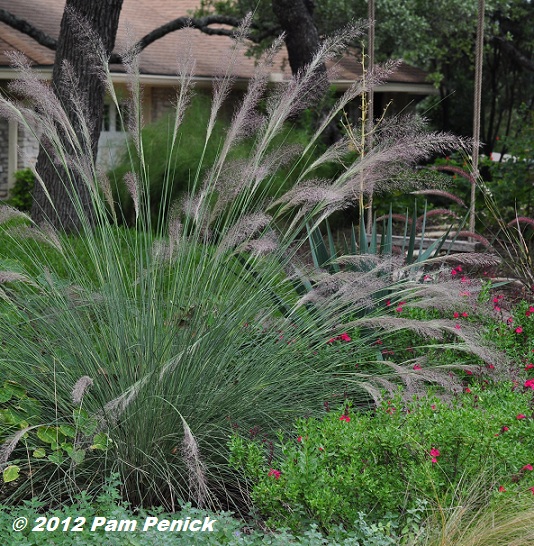 Do you love our native Lindheimer muhly and Gulf muhly grasses? Then you'll adore their love child, 'Pink Flamingos' muhly (Muhlenbergia 'Pink Flamingos'). It has the overall size and the long inflorescence of the Lindheimer muhly, with the pink flower coloring of Gulf muhly. Its blue-green foliage is attractive spring through fall, but it really shines in autumn, when it explodes into dusty pink bloom.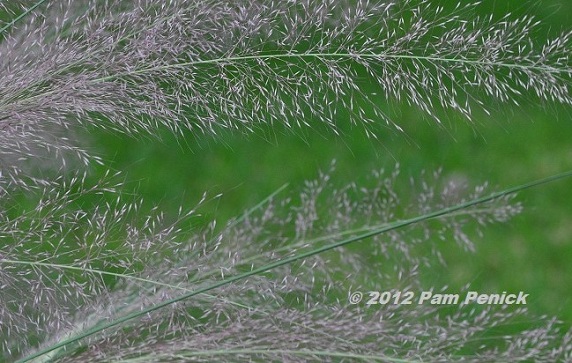 A closeup of the inflorescence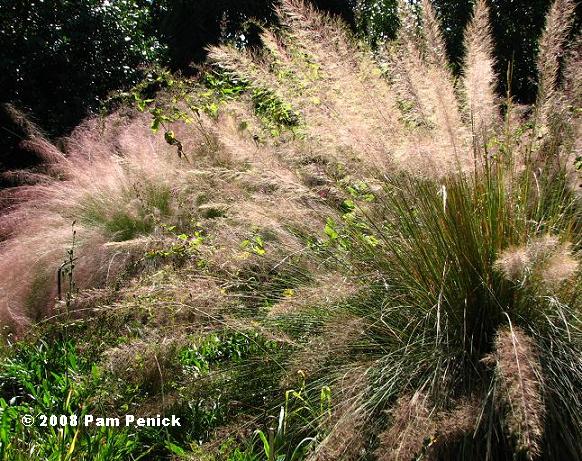 After falling in love with it during an autumn visit to Peckerwood Garden in 2008 (the 'Pink Flamingos' I saw at Peckerwood is on the right; that's a Gulf muhly on the left), I ordered one from Plant Delights, whose catalog describes its genesis with typical humor:
We waited more than a decade since we first saw this amazing hybrid at John Fairey's Peckerwood Garden in Texas to be able to offer this pink muhly grass. Muhlenbergia capillaris and Muhlenbergia lindheimeri had a conjugal encounter on a warm Texas night and the result was Muhlenbergia 'Pink Flamingos'. The spherical 3′ tall x 4′ wide clump of narrow glaucous foliage is topped in September thru November with 4.5′ long arching spikes ending in pink plumes, which are more linear than Muhlenbergia capillaris. This is a stunning deer-resistant, drought-tolerant grass that should be grown throughout its hardiness range.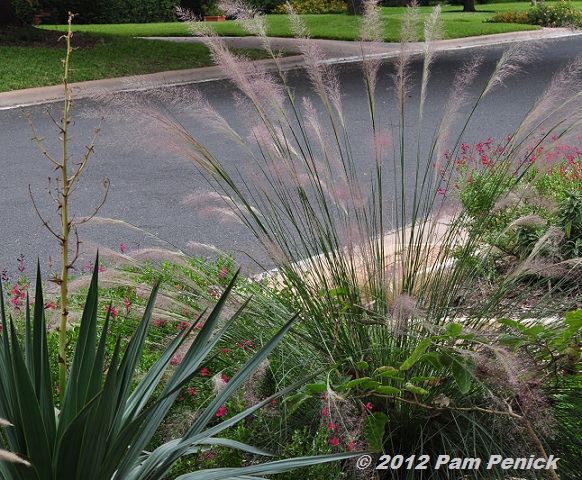 Yes, indeed! Mine is just getting started and isn't at peak bloom quite yet, but already it's a striking focal point in the fall garden. I leave it standing all winter and cut it back hard, to about 6 inches, in mid-February. That's the only maintenance it requires other than, perhaps, dividing it every few years. Give it full sun for best bloom.
Note: My Plant This posts are written primarily for gardeners in central Texas. The plants I recommend are ones I've grown myself and have direct experience with. I wish I could provide more information about how these plants might perform in other parts of the country, but gardening knowledge is local. Consider checking your local online gardening forums to see if a particular plant might work in your region.
All material © 2006-2012 by Pam Penick for Digging. Unauthorized reproduction prohibited.