October 9th, 2012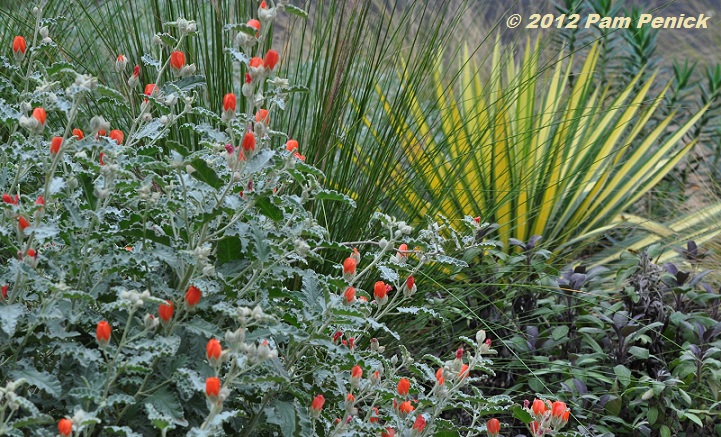 Cool weather might make some people think of brown leaves and shriveling plants, but not me. October is, I think, the best garden season—both for planting and photographing—in central Texas. Certainly my streetside garden is fuller and more flowery than at any other time of year. The color and blissfully cool temperatures drew me outside last weekend, and I took a few more pictures of the gardens along the street.
Pictured above is a narrow garden shared by me and my neighbor Dell. It replaced a boring stretch of lawn that crisped up in the drought. Now we both enjoy orange-flowering globe mallow (Sphaeralcea), purple sage (Salvia officinalis), and 'Color Guard' yucca. Gulf muhly (Muhlenbergia capillaris) is in there too, and about to burst into pinkish purple bloom.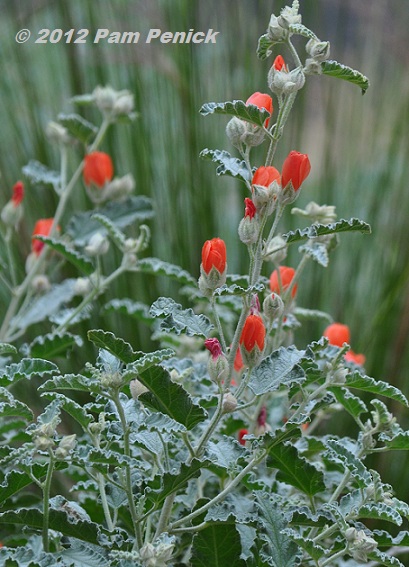 The frosty green leaves and tangerine flowers of globe mallow, a tough, drought-tolerant native of the southwestern U.S. Give it good drainage and full sun for best flowering.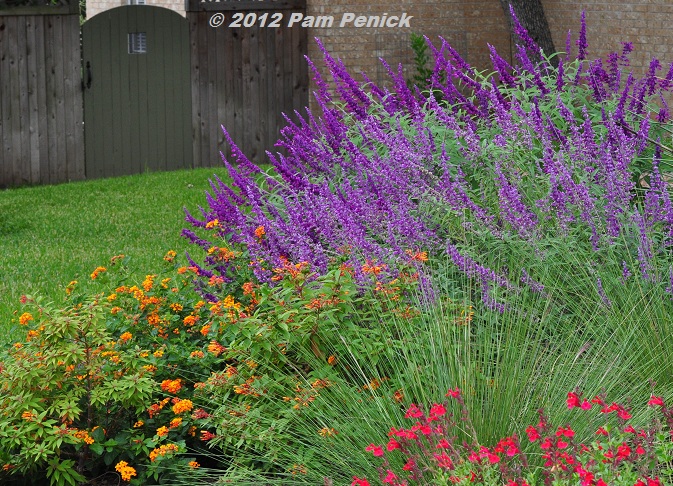 On the other side of my house, I'm sharing gardening space with my neighbor Donna, and this is the view from her driveway, with the garden in full fall bloom.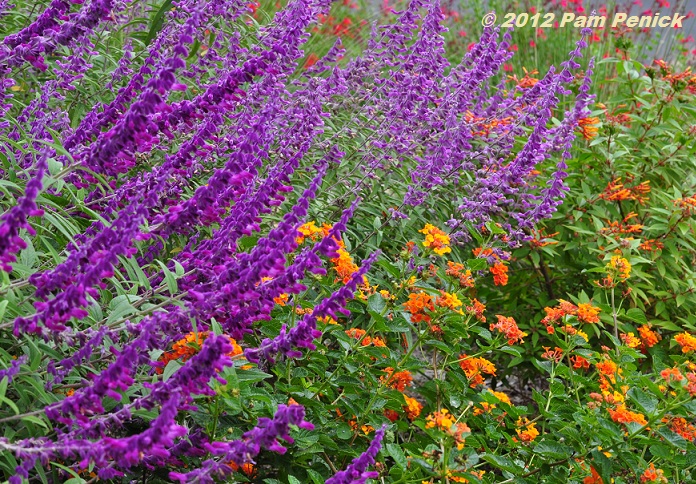 There's Mexican bush sage (Salvia leucantha) and an orange lantana…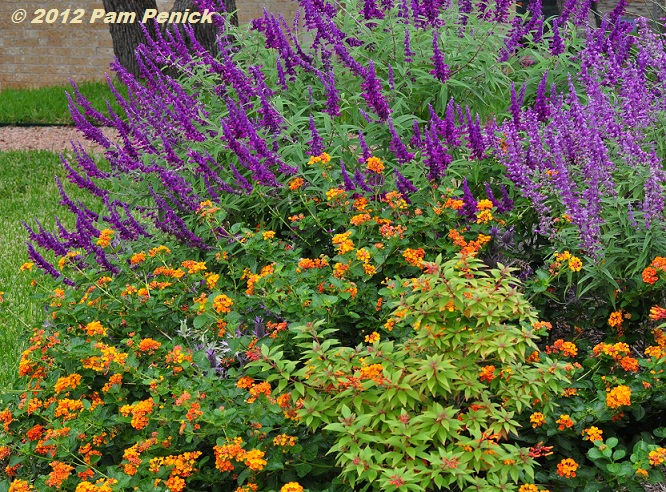 …plus dwarf firebush (Hamelia patens var. glabra) and a few eryngium poking their thistly, purple heads up through the lantana.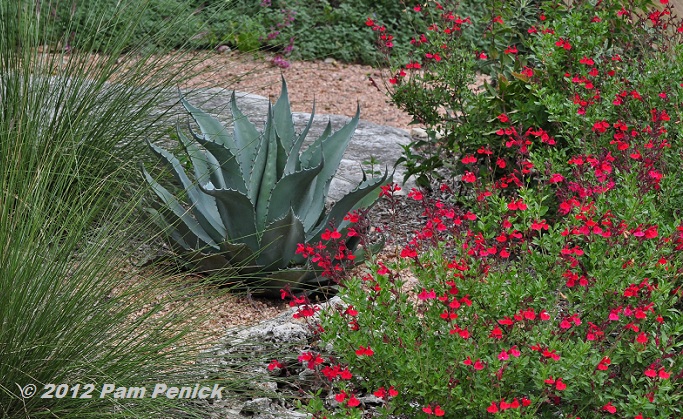 'Whale's Tongue' agave (A. ovatifolia) and Autumn sage (Salvia greggii): cool vs. hot color; bold vs. fine texture.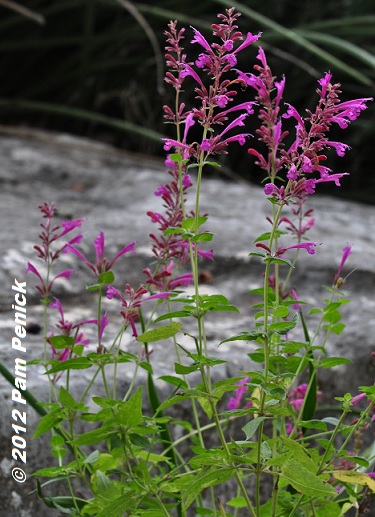 David Salman at High Country Gardens sent me a few plants to trial this spring, including 'Summer Love' agastache. I wrote him over the summer to tell him it wasn't really thriving, but now that fall's cooler temperatures (especially at night) have arrived, 'Summer Love' has perked up quite a bit. It's only about a foot tall, but the rosy pink color is intense and showy, and I'm glad to see it looking so much happier.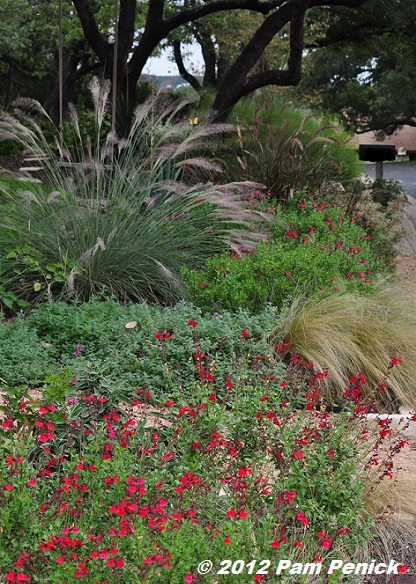 A long view across Donna's garden and my streetside garden reveals the tall, dusty pink, feathery blooms of 'Pink Flamingos' muhly grass.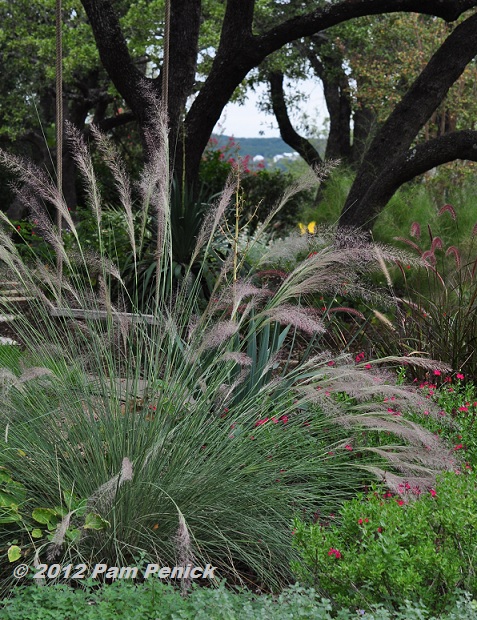 Here's another look, with the blue ridgeline of the surrounding hills visible between the trees. We're surrounded by forested canyons in this neighborhood, which accounts for the heavy deer population. Everything in the front yard must be deer resistant, and of course grasses always fit the bill.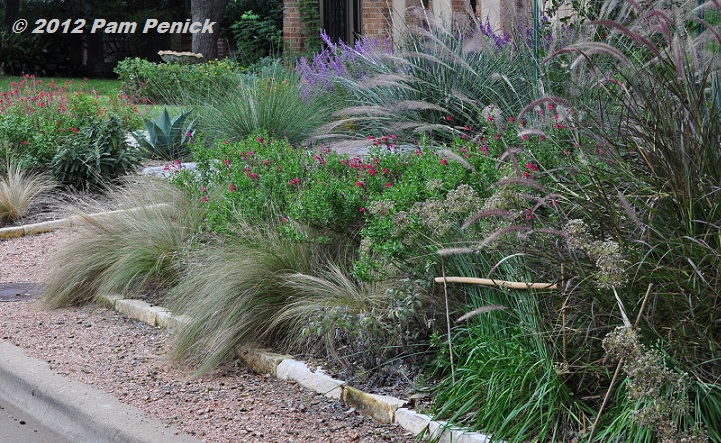 The curb strip in front of our house, with annual purple fountain grass (Pennisetum setaceum 'Rubrum') still showy but fading on the right, garlic chives (Allium tuberosum) gone to seed in front (I'm holding up the floppy heads with a hastily fashioned bamboo "fence"), Mexican feathergrass (Nassella tenuissima), and Autumn sage (Salvia greggii). Easy, readily available, and deer resistant plants.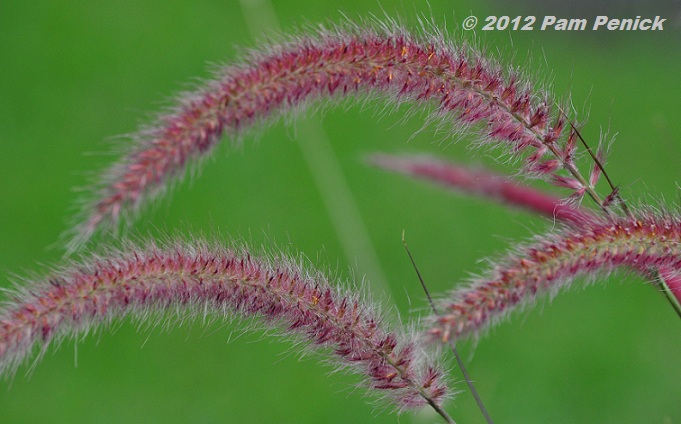 The inflorescence of purple fountain grass is particularly beautiful, dark pink and as fuzzy as a wooly caterpillar.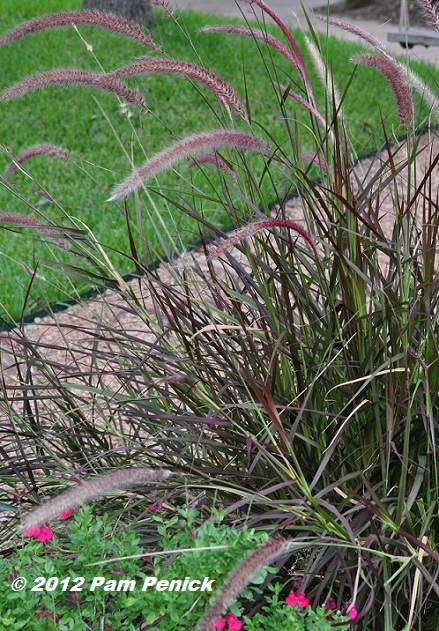 A wider view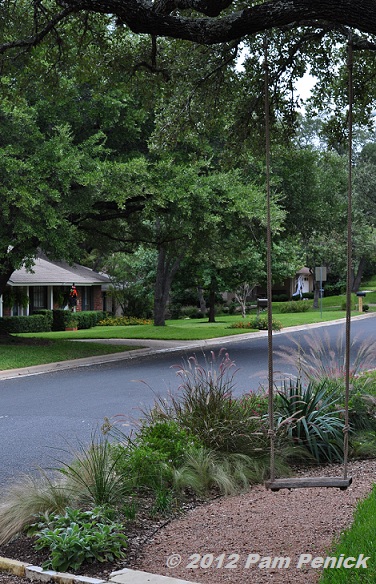 My husband made this swing for my daughter right after we moved into this house four years ago. Now that she's older, she doesn't swing so much, but I made the garden around it, and it's a nice place to sit and rest and just look at the garden on a beautiful fall day.
All material © 2006-2012 by Pam Penick for Digging. Unauthorized reproduction prohibited.