October 2nd, 2012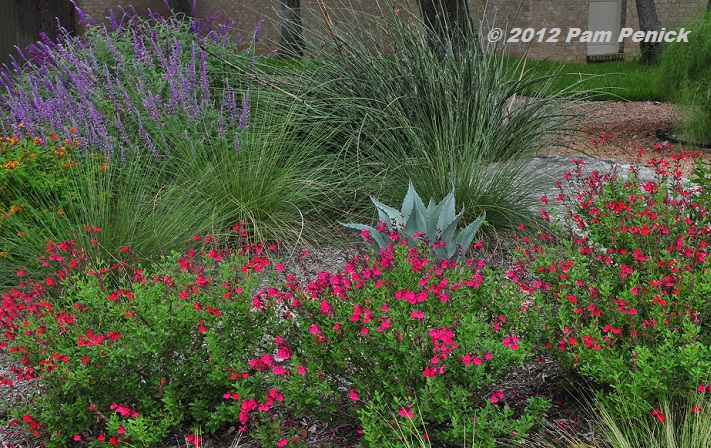 Every time I arrive at home, slowing to pull into my driveway, I get to enjoy this. Yep, this is my neighbor Donna's streetside garden that she let me design for her earlier this year. And now it's all filled in and blooming like crazy.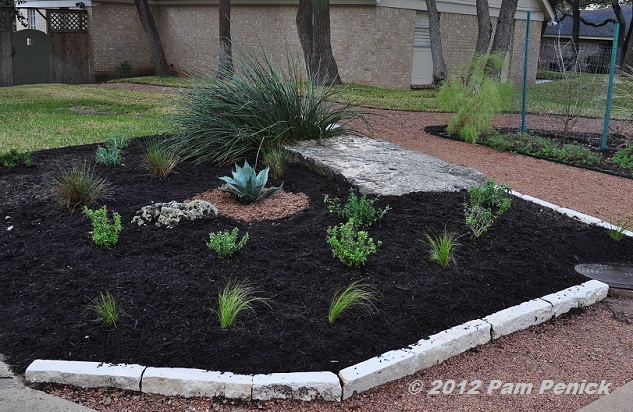 Here's how it looked on February 3rd. What a difference 8 months can make, eh? A big swath of drought-crispy lawn was ripped out to make way for this new bed.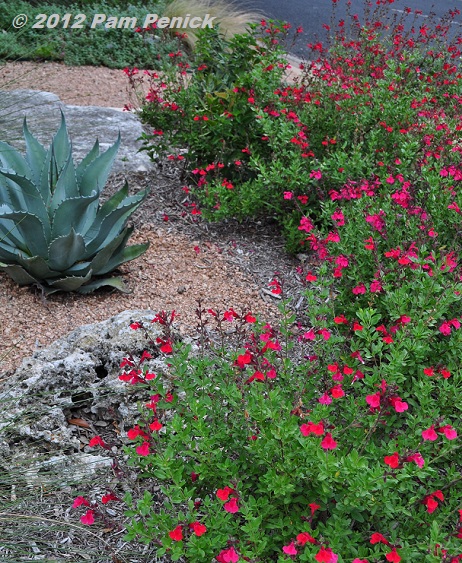 The 'Whale's Tongue' agave (A. ovatifolia) in the center of the bed is slower-growing, but it'll get bigger in a couple of years. I've left room for it to stretch its flukes. The red-flowering plants are Autumn sage (Salvia greggii), one of my favorites for sunny spots. It's a magnet for hummingbirds, and its leaves have a minty fragrance if you brush them with your fingers.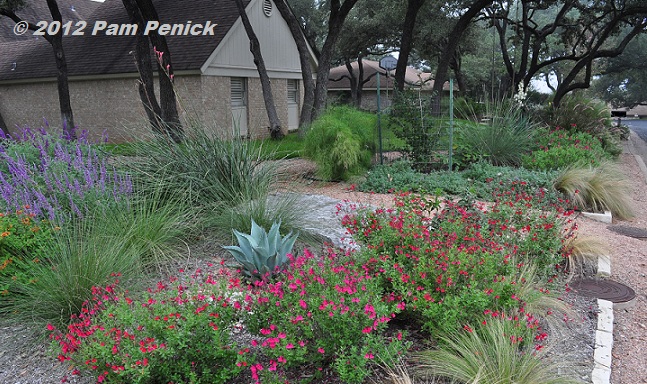 A wider shot shows the view down the street, with Donna's garden in the foreground and my own streetside gardens continuing just past the decomposed-granite path that runs down our shared property line. That's my house with all the live oaks in the front yard. You can see why I squeezed in as many salvias as I could on this end, where it's sunny enough for them.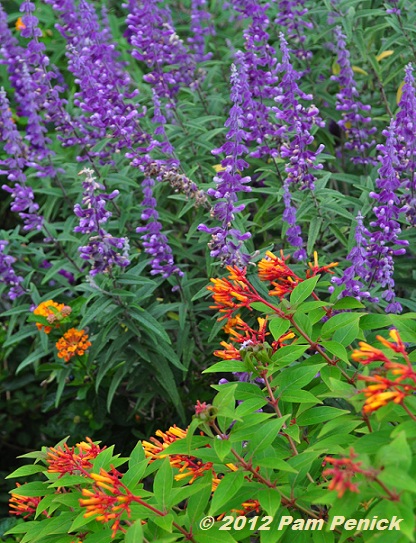 More salvia! The purple spikes belong to Mexican bush sage (Salvia leucantha), a beautiful fall bloomer. Orange-flowering dwarf firebush (Hamelia patens var. glabra) glows in front.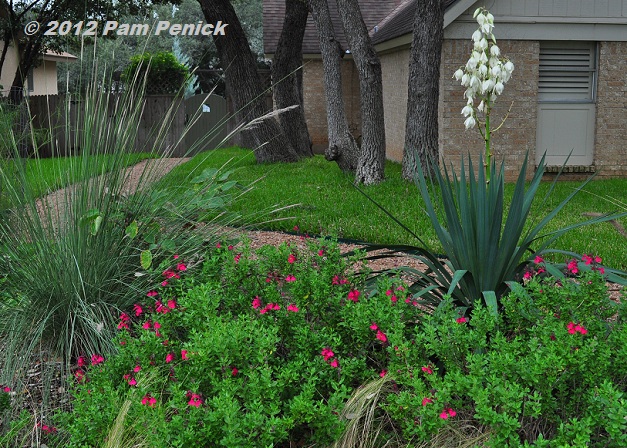 Moving on down to my own garden, I have Salvia greggii here too, but since it's more shaded it blooms less vigorously. The softleaf yucca (Yucca recurvifolia) doesn't mind partial shade though, and like the others in my garden it's sporting a bloom spike of creamy, bell-shaped flowers right now.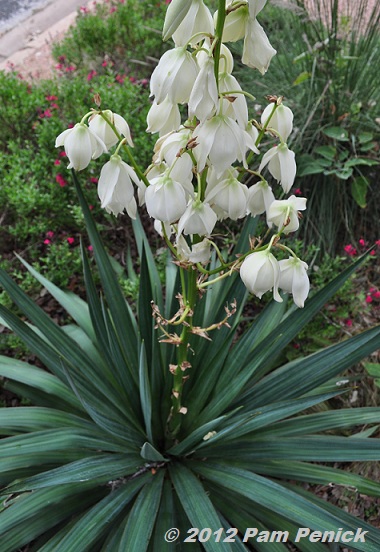 An overhead view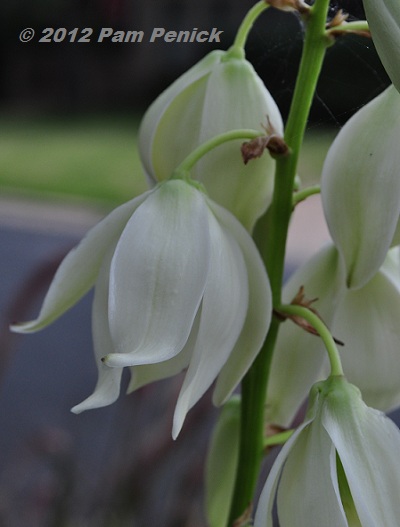 And a closeup look. I've been spraying deer repellent on the yucca blossoms for the past week to try to keep the deer from snacking on them. So far so good.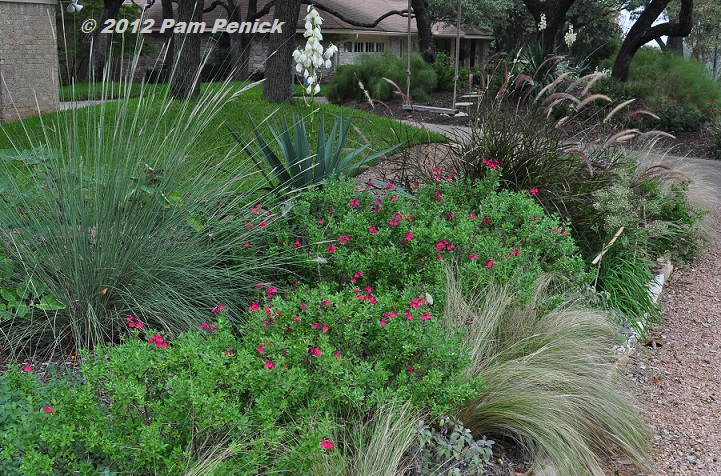 A wider view. That's Muhlenbergia 'Pink Flamingos' on the left, which will be blooming soon. Clusters of Mexican feathergrass (Nassella tenuissima), purple sage (Salvia officinalis), and garlic chives (Allium tuberosum) perform groundcover duty along the front of the bed. Purple fountain grass (Pennisetum setaceum 'Rubrum') adds dark foliage and fuzzy purple-and-dusky-pink blooms on the right.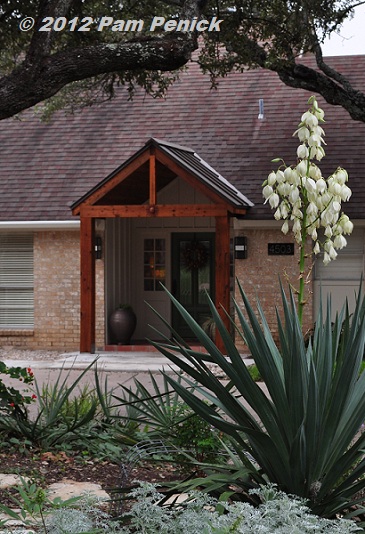 Just in front of my house, another softleaf yucca blooms in the island bed, with the tropicalesque foliage of our native palmetto, Sabal minor, adding its green spikes in the background.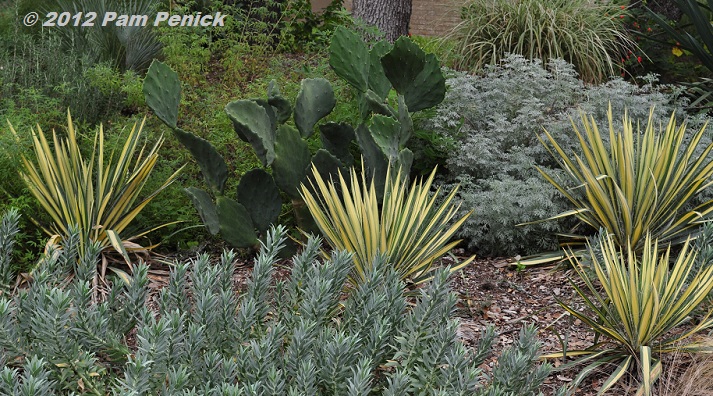 On the sunnier side of the island bed, 'Color Guard' yuccas are the bright-yellow focal point, with gray-green gopher plant (Euphorbia rigida) in front, wavy spineless prickly pear (Opuntia) behind, and lacy, silver 'Powis Castle' artemisia on the right.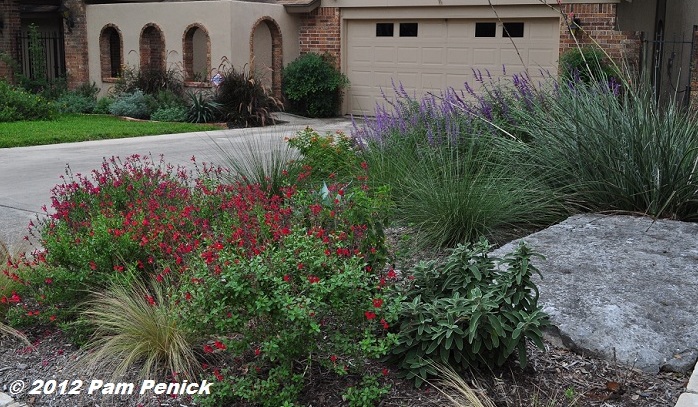 But I'll leave you with a last look at Donna's garden, since this is its prime season (although soon it'll be even better, when the Gulf muhly grasses start blooming). And look—with her daughter's help she was inspired this summer to rip out her tired, overpruned evergreen shrubs along the front of her house, making a lovely new garden there too! The flowering perennials and grasses she chose complement her Spanish-style home much better than that old line of evergreens did.
All material © 2006-2012 by Pam Penick for Digging. Unauthorized reproduction prohibited.