January 27th, 2009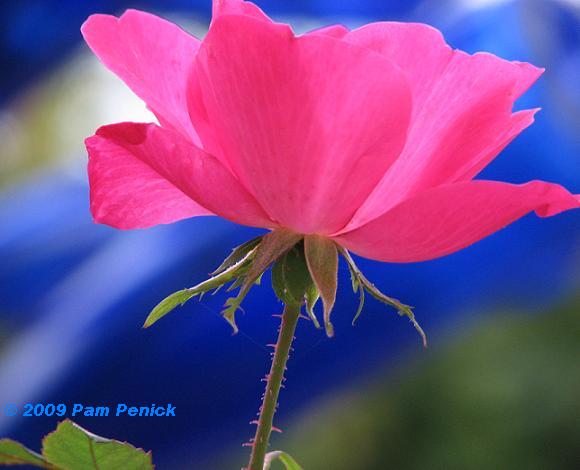 See that hint of blue glass behind the 'Radrazz' rose? Could it be?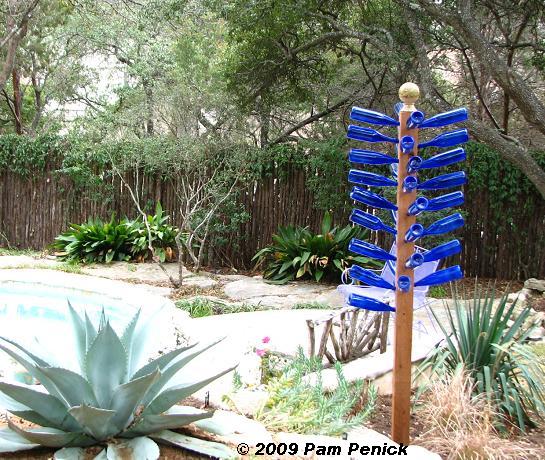 Yes! The bottle tree is back. It's more of a bottlebrush tree than before because I used more bottles and shorter branches. As you can see, I still need a couple more bottles to finish it.
For my old bottle tree, I set a redwood post in concrete and used rebar pieces for the branches. This time I set a cedar post in gravel and used lag screws for the branches. Time will tell whether the gravel-set post will hold up as well as the concreted one. If you're interested in constructing a bottle tree of your own, here's how I did it.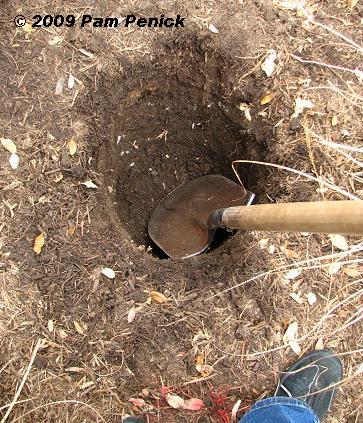 I dug a hole two feet deep and about a foot in diameter.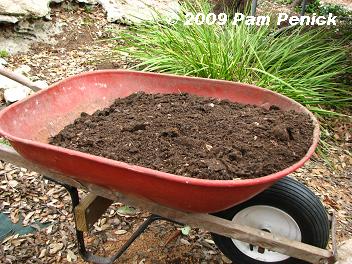 It's amazing how much dirt a hole this size creates. I carted this off to the lower reaches of the garden.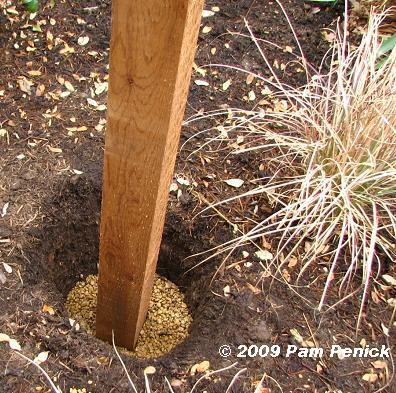 I poured some gravel into the hole for the cedar post (4×4 inch, 8 feet long) to sit on and then added about six inches of gravel around it. Hold off on any more gravel until you use a level on two sides of the post to be sure it's vertical. Continue to add gravel, checking with the level, until the hole is filled and post is surrounded by gravel. I sprayed the gravel with water and stomped on it to compact it around the post.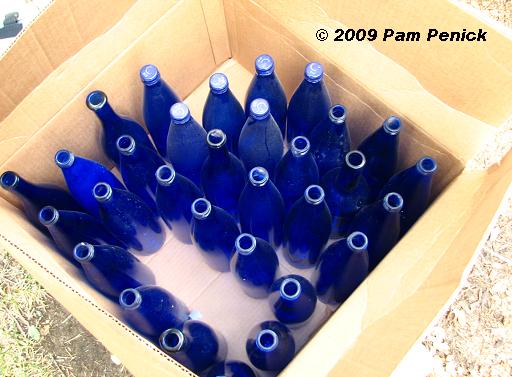 Here's my box of water and sake bottles, passed along to me by MSS several years ago.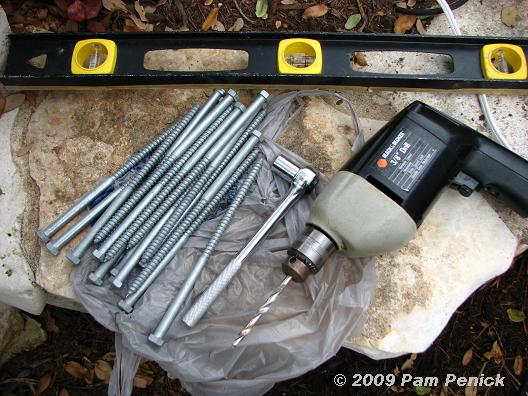 I didn't want to hammer in nails for branches since I wasn't setting this post in concrete. Instead I used an electric drill to pre-drill holes for 8-inch galvanized lag screws, which I inserted with the help of a socket wrench.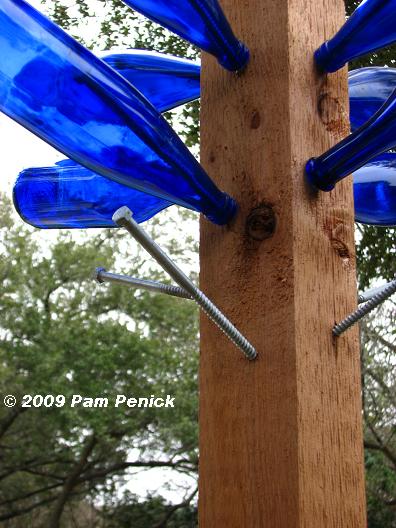 They won't rust, and they only need to be screwed in an inch and a half to hold the bottles.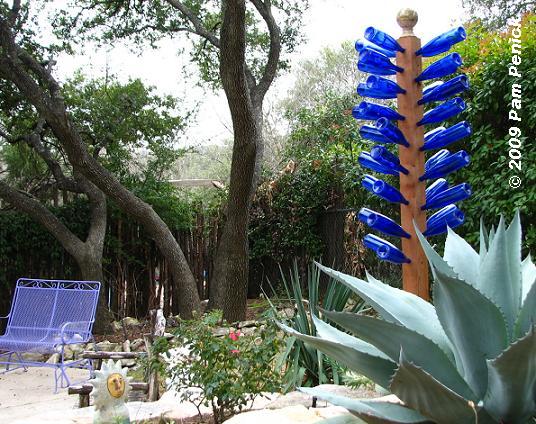 Voila! Bottle trees were originated by African slaves in Southern states and the Caribbean islands. They believed that blue bottles would trap evil spirits and keep them out of the house. To this day the bottle tree has hung on as a symbol of the rural South, and they're often simply constructed on dead trees by sliding bottles of any color over the bare branches. Nowadays it seems every garden or nursery or blog I visit has a bottle tree. (If you have one, why not leave a link to a photo in the comments? Let's show them off!) It's a fun, colorful, and economical piece of yard art.
I planted my old Mexican snapdragon vine next to my new bottle tree. I envision dainty, purple-blue flowers climbing up among the bottles next summer.
All material © 2006-2009 by Pam Penick for Digging. Unauthorized reproduction prohibited.