September 23rd, 2012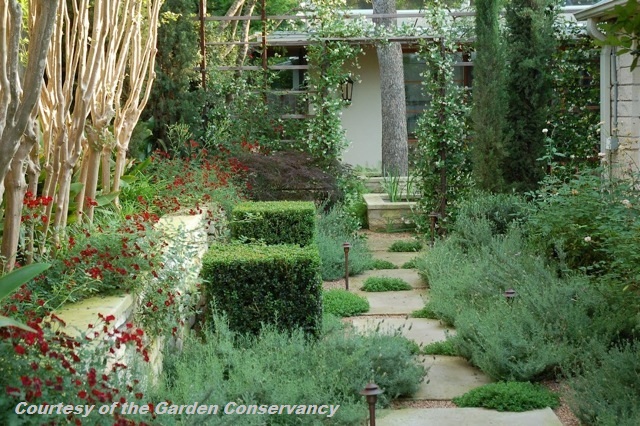 Every other year in autumn, a handful of Austin's most elegant and beautiful gardens open to the public as part of the Garden Conservancy's Open Days Program. Not all states are as fortunate as Texas in having Open Days tours—in 2012, 19 states will host an Open Days tour, and Texas will have THREE: Houston, Dallas, and Austin (click for my links to tours of the Houston and Dallas Open Days this year)—so you should plan to take advantage if you live close enough. Plus it's all for a good cause. A $5 admission fee at each garden supports the Open Days Program around the country and "helps build awareness of the Garden Conservancy's work of preserving exceptional American gardens such as Peckerwood Garden in Hempstead, Texas."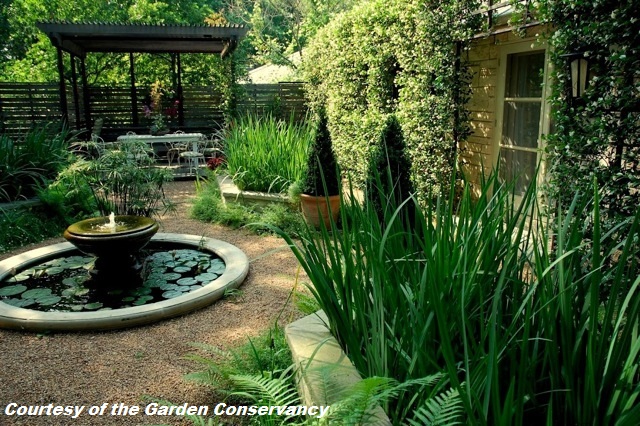 1. This year Open Days Austin has what promises to be a fabulous line-up of 6 gardens, including the Yvonne Tocquigny and Tom Fornoff Garden pictured in both images above. Stephen Orr featured this garden in his book Tomorrow's Garden, and I've been hoping to see it on tour ever since. This is the year!
The official description: "Elements designed to create a sense of serenity and calm are combined to offer outdoor living spaces that integrate with the interiors. Water features are incorporated into both the front and back gardens. Each are designed to create a sense of lushness with low water usage." A few additional observations of my own, which I gleaned from reading Orr's book: Designed by Berthold Haas and Patrick Kirwin, Yvonne's garden forgoes lawn in favor of formal structure, inviting gravel paths, and a central water feature. A restricted palette of evergreen plants in symmetrical raised beds simplifies maintenance.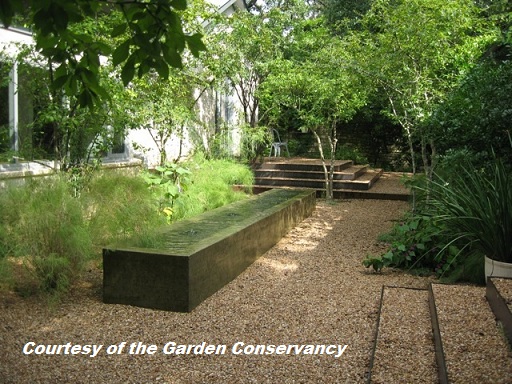 2. I've seen noted landscape architect Christy Ten Eyck's garden twice, both times when it was fairly new, and both times in spring. I look forward to seeing it again in the fullness of fall, after it's had time to fill in.
The official description: "This half-acre site was blessed with gorgeous old oaks but presented several challenges: poor drainage; too much driveway, hardscape, and lawn; and no connection to the street. The large asphalt circle drive was removed, and the front garden was reclaimed for people rather than cars. Native limestone unearthed during the regrading of the back courtyard was used to create a terraced rainwater harvesting garden. The lush front garden now has vegetables, native understory trees, and contrasting textures of native plant masses that attract birds and butterflies. As you walk paths into the deep lot you will see more formal and minimal gardens with brimming fountains. The garden has been featured in recent books Private Paradise and Tomorrow's Garden as well as the New York Times, the Wall Street Journal, and Martha Stewart Living."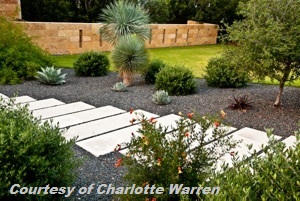 3. The Bonnell Garden is new to me, which is always exciting. A new garden to see!
The official description: "The Bonnell Garden merges contemporary architecture with the scenic beauty of this hilltop site. Groupings of native and adapted plants are designed to complement the architecture and blend with the existing vegetation. Texas mountain laurel, persimmon, Mexican buckeye, evergreen sumac, silktassel, kidneywood, plateau goldeneye, and fragrant mistflower are a few of the many native species preserved on site. The architecture of the house extends into the landscape with cut stone walls, steel plate retainers, and rough limestone block terracing. Lawn areas are limited to usable space for outdoor entertaining and sports activities."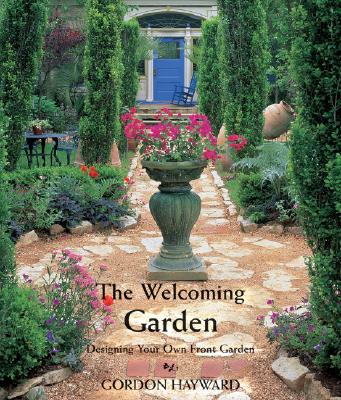 4. The Myers Garden is one I've long wished to see thanks to its appearance on the cover of the book The Welcoming Garden by Gordon Hayward, which sits on my bookshelf. For the longest time I didn't know where in town this garden was located. But one day, while driving my child to a basketball game in central Austin, I spotted that allee of 'Will Fleming' yaupons and cobalt door, slammed the brakes, and startled my husband by pointing past his nose and shouting, "I know that garden!"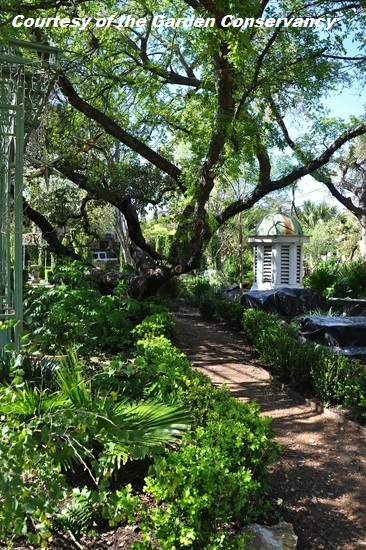 Ahem. I promise to be more discreet while on tour.
The official description: This "historic house (1879) nestles into the bank of Shoal Creek on slightly more than an acre of property. The garden incorporates several outdoor rooms and features for outdoor living. The plant material consists of informal plantings of natives and subtropicals with occasional tropical exotics. The entrance walkway is lined with Will Fleming yaupons, adding formality to an otherwise eclectically informal space. Scattered palms, roses, and agave, and Italian Cypress add color and texture. A natural ravine has been finished off as an amphitheater, which adds a space to enjoy live music."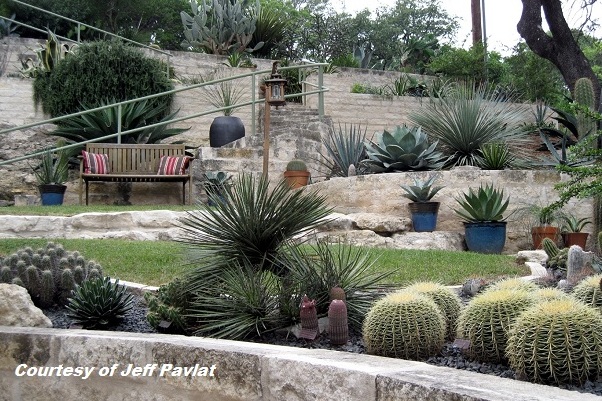 5. Regular readers will recognize this garden from two posts I've written about it. Jeff Pavlat and his partner Ray Clayton created it themselves, from scratch, taming a steep slope with retaining walls they built from limestone blocks and filling the terraces with Jeff's stunning collection of agave, aloe, dyckia, nolina, dasylirion, yucca, and cactus, with a few flowering perennials interspersed for color.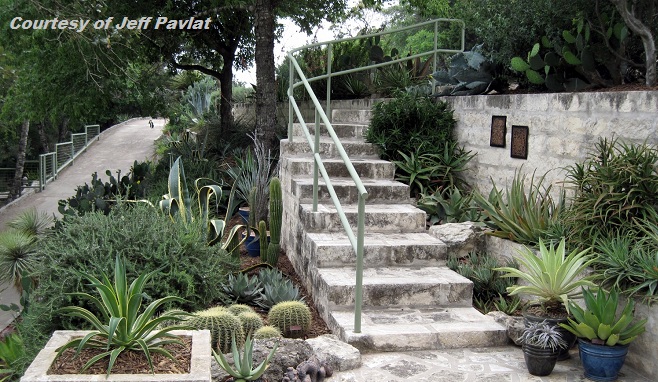 The view from one of the terraces, looking across the slope. Click here for my first post about Jeff's garden, and here for my second Pavlat post.
The official description: "Perched on a rocky hillside, this terraced, deer-resistant, xeric garden features extensive plantings of cacti and succulents. Limestone steps and terraces provide the perfect foundation for the plantings. Agaves, yuccas, prickly pear, golden barrels, and drought-tolerant perennials are just some of the plants that combine to create a symphony of form, texture, and color. A koi pond graces the entrance to the house and a greenhouse is filled with rare succulents from around the world. Owner designed and built, the garden has continued to evolve over the past thirteen years."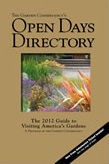 6. One more garden is on the tour, but hush-hush, it's top secret for now at the request of the owner. The official description: "This is a garden by disciplined collectors. The garden showcases an important sculpture collection as well as an interesting collection of plants. The garden has also hosted a collection of designers, the most recent being Julie Blakeslee at Big Red Sun and the most important being the current owners. The Lake Flato house takes advantage of a long flat lot that terminates in Lake Austin. Among other planting schemes, the garden features a collection of mature Japanese maples and a collection of conifers. At the request of the garden owner, directions to this garden are available through the Open Days Directory, and at additional gardens open on this date." I sense a collection theme here, don't you?
So, are you as ready to tour as I am? If so, mark your calendar!
When: Saturday, November 3rd, 9 a.m. to 4 p.m., rain or shine
Where: Visitors may begin at any of the following locations: The Bonnell Garden, 3703 Bonnell Drive; Christine Ten Eyck and Gary Deaver Garden, 2506 Bridle Path; Jennifer and Fred Myers Garden, 1101 West 31st Street; Jeff Pavlat and Ray Clayton Garden, 2403 Deer Pass; or Yvonne Tocquigny and Tom Fornoff Garden, 2601 Bridle Path. Directions to an additional private garden will be available at each location or can be found in this year's Open Days Directory, if you have a copy.
Cost: $5 per garden; children 12 & under free. Discounted tickets ($25 for 6 tickets) will be available at each participating garden, or at the following local retailers prior to the event: Barton Springs Nursery, Big Red Sun, The Natural Gardener, and Shoal Creek Nursery.
All material © 2006-2012 by Pam Penick for Digging. Unauthorized reproduction prohibited.