September 17th, 2012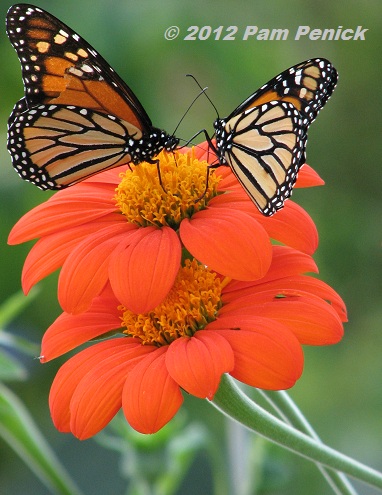 As fall dances toward us, bearing cooler temperatures and gentle rains, we Texas gardeners have before us our easiest gardening season, with almost six months to get plants established (if we plant now) before the heat of summer returns. Still, last year, with its 90 days of plus-100-degree temperatures, extreme drought, and water rationing, scared us pretty badly. We enjoyed a reprieve this summer, and recent rains, but we're still in a drought, and summers like last year's are bound to return with more frequency. In response, lots of us are pulling out water-starved lawn grass and laying carpets of gravel accented with the occasional agave—an extreme reaction (even for agave lovers) considering our wetter-than-desert climate and the occasional flooding rainfall that central Texas is prone to.
Addressing the difficulties and the future of gardening in what's likely to be a warmer, drier Texas, Tom Spencer, best known as the host of KLRU's Central Texas Gardener, gave a free talk last Saturday at the Natural Gardener entitled "The Tao of Texas Gardening: Finding the Right Balance in the Lone Star State." I found it inspiring and useful and want to share Tom's main points with you.
Tom began by reminding us that gardening in central Texas presents many challenges, not least to our will and our energy. While in some blessed parts of the country you can stick a plant in the ground and walk away, you just can't do that here. Even the most well-adapted plant has to be given a good start with regular water and perhaps also the addition of its most basic need—soil—since much of central Texas has only a thin layer of soil over limestone. We're blasted by intense summer heat, but we also have sub-freezing temps in winter. As the saying goes, we're always in drought, with an occasional flood. Despite these difficulties, as Tom pointed out, Austin is known to be a gardening mecca, with a plethora of well-stocked independent nurseries; radio and TV shows about gardening; a popular embrace of native plants, led by the Lady Bird Johnson Wildflower Center; and nationally acclaimed garden designers like Christy Ten Eyck, Mark Word, Lauren Springer Ogden, and James David. He thinks it's partly because Austin attracts creative people and artists in many fields, and the creation of a garden is, of course, an art.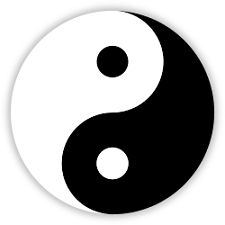 Tom sees a metaphor for central Texas gardening in the Tao's yin-yang symbol—a yield/resist dynamic that is echoed in our desire to create beautiful gardens in this difficult climate while simultaneously trying not to get burned out from the effort. The yin-yang is echoed too in our climatic cycles of drought and flood, oppressive summer heat and fall-through-spring relief.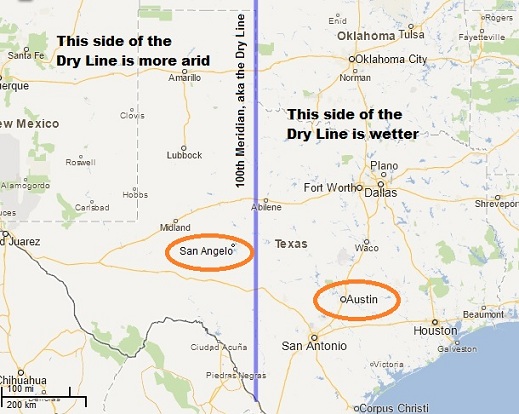 Even the east-west division of Texas along the 100th meridian—also known as the dry line, east of which lies the moist Southeast, west of which lies the arid Southwest—can be imagined as a yin-yang symbol, Tom suggested. And if climate change predictions for the next 50 years are correct, the dry line—which central Texas straddles, its gardens having long included both southeastern and southwestern plants—will shift to the east, and Austin will become increasingly drier and look more like San Angelo.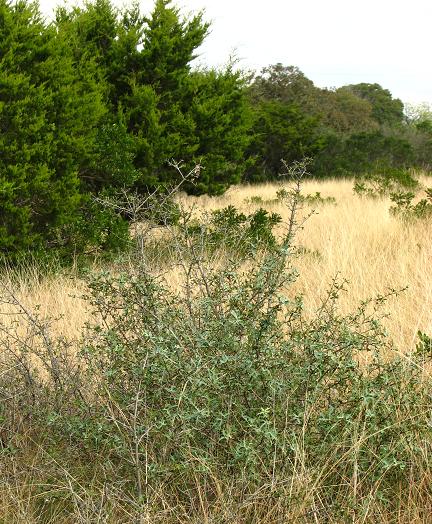 And yet, rather than responding by turning our yards into graveled expanses reminiscent of Arizona, Tom counseled that we should look to the western edges of the Texas Hill Country for plants that will prove suitable to our warmer, drier climate. Take Lost Maples State Natural Area, for example, which lies three hours southwest of Austin. We can look to its hot, dry highlands for plants for our sunnier gardens, or spaces that are farther from the hose.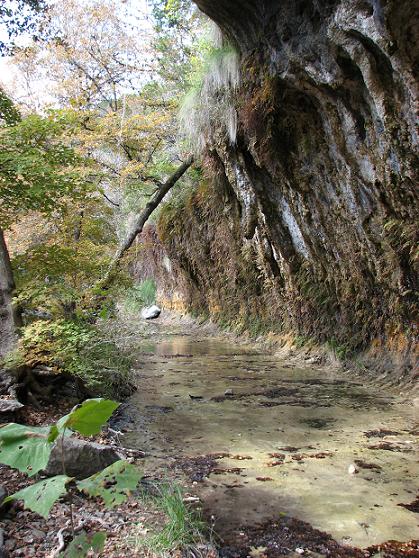 But we can also look to its moist, sheltered canyons for plants for our woodland gardens and shady spaces. It's a yin-yang push and pull, Tom said, between the two types of gardening, both of which are appropriate and sustainable for our gardening future.
In practical terms, how do we prepare for a drier future, while still anticipating the occasional monsoon year that we get thanks to our proximity to the Gulf of Mexico? Tom advised amending garden beds with plenty of granite, which provides essential drainage for those drier-loving plants. For dry, high-country-style beds, he suggested amending with 75% granite sand and 25% compost, and mulching with crushed granite. For shadier, canyon-floor-style beds, he suggested reversing that mixture to 75% compost and 25% granite sand, and mulching with a woody compost blend. For top-dressing and for paths, Tom recommended coarse, crushed granite rather than fine decomposed granite, noting that fine-textured D.G. can quickly become infested with weeds, which love to grow in it. Weeds have a harder time taking hold in a looser medium of coarse granite. Visit the stoneyard to see the difference, he advised, since suppliers may use different names to refer to their various gravels. It's easy to end up with a delivery of 15 yards of fine D.G. in your driveway when you thought you'd ordered coarse granite—in fact, that happened to him once, he said.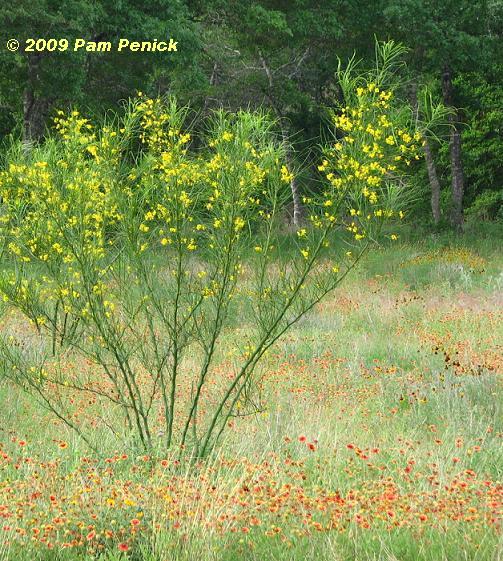 Retama (Parkinsonia aculeata)
For the sunny, dry gardens—the Yin—of our future, Tom recommended the following plants.
Trees: Retama, desert willow, Mexican redbud, and Anacacho orchid tree. These take full sun and provide filtered shade for smaller plants growing beneath them.
Succulents and woody lilies: Paleleaf yucca, twistleaf yucca, Agave parryi, Agave parryi truncata, red yucca (both red- and yellow-flowering kinds), and sotol. These are small enough for the average garden and very drought tolerant.
Perennials, shrubs, and annuals: Cenizo/Texas sage, agarita, Autumn sage, Mexican bush sage, flame acanthus, four-nerve daisy, blackfoot daisy, pink skullcap, rock rose, rain lily, and bluebonnet.
Ornamental and turf grasses: Mexican feathergrass and buffalograss.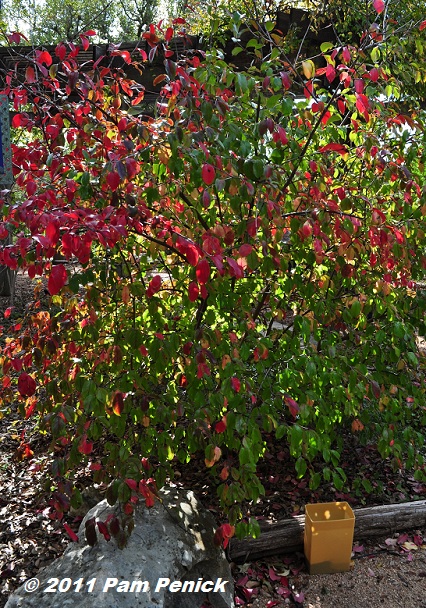 Rusty blackhaw viburnum (Viburnum rufidulum)
And for the shady, canyon-floor gardens—the Yang—of our future, Tom recommended these plants.
Trees and large shrubs: Monterrey oak, chinkapin oak, Lacey oak, Texas mountain laurel, Texas redbud, Texas persimmon, yaupon holly, possumhaw holly, rusty blackhaw viburnum, Mexican plum, Mexican buckeye, flameleaf sumac, and evergreen sumac.
Perennials, small shrubs, ferns, and annuals: Fragrant sumac, Turk's cap, spiderwort, broadleaf salvias like Salvia guaranitica, Big Bend and Hill Country columbines, river fern, oxalis, oxblood lily, spider lily, and larkspur.
Ornamental grasses: Inland sea oats, Lindheimer muhly, and Gulf muhly.
Both styles of garden look to our immediate west, and both are xeric, although the canyon-floor garden is the wetter of the two.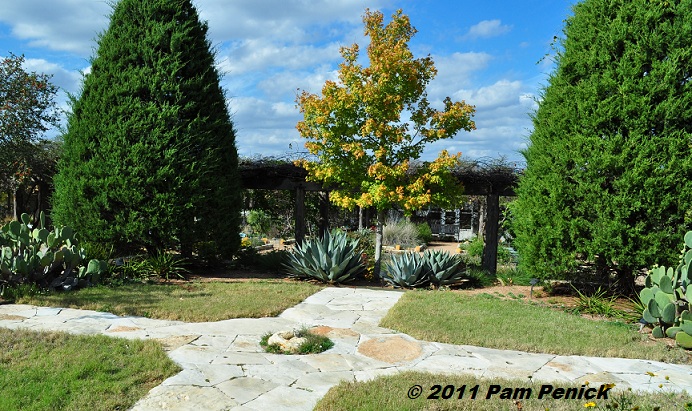 Buffalograss lawn in a demonstration garden at the Wildflower Center
Tom also argued that there's a place for appropriate lawn in the Austin garden. By "appropriate" he did not mean St. Augustine, which he no longer recommends due to its water needs. Rather he meant drought-tolerant grasses like buffalograss or, presumably, Habiturf—turf grasses that subsist on little supplemental water. He pointed out that lawn is often easier to take care of than a garden full of flowering perennials, and you should balance the practicality of what you can manage with your desire to create a dream garden. Tom's own former dream garden, beautifully documented in his blog Soul of the Garden for many years, was big, lushly planted, and the envy of many who saw it on tour. It also required 20 hours of maintenance a week, he confided. That's more than most people can do—more, it turns out, than he could do after a while. "If you can't take care of it," he said, "it's not sustainable."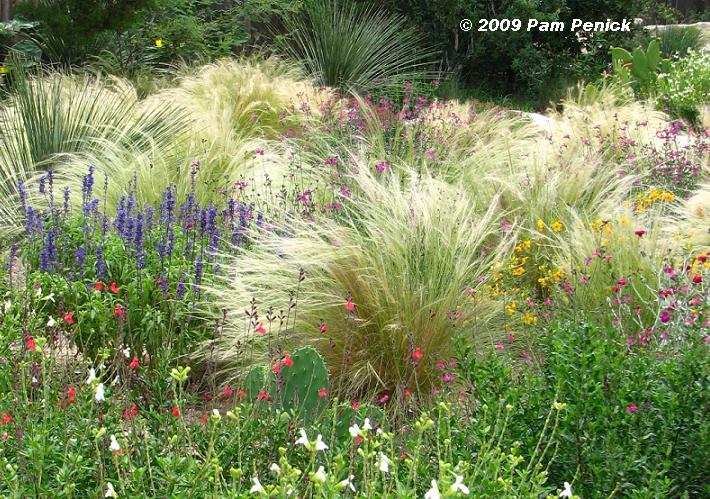 Kempson Drive Garden in Austin
Tom summed up his philosophy for the future of gardening in central Texas with the reminder to look west—the western Hill Country, not so far west as Arizona—for plants for our gardens, and with a plea to continue to "be Austin."
All material © 2006-2012 by Pam Penick for Digging. Unauthorized reproduction prohibited.