September 12th, 2012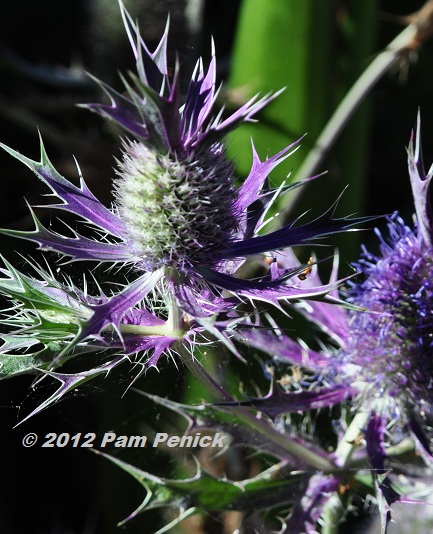 Michael of Plano Prairie Garden, this is for you. Now that purple pineapples in spiky ballerina skirts and crowns are dancing in my garden, I have Michael to thank. During my visit to his garden last October, he gave me some seedheads from Eryngium leavenworthii, the native Texas eryngo he grows in his front-yard prairie each year.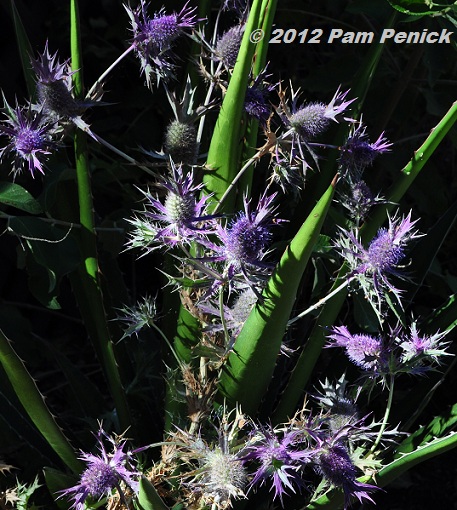 I sowed the seeds this spring in the sunny hillside garden, which gets a lot of reflected heat and not much water. And then I forgot about them, as I do all seeds that I sow. Luckily we had a wet early spring, which helped them get established when I forgot to water. When the first seedlings came up, I pulled a few, mistaking them for weeds before I remembered what they were. (This always happens when I plant seeds.) All summer the rather rank, weedy looking foliage grew, and I dutifully left it alone. Now comes the payoff! I just love those purple, spiky blooms.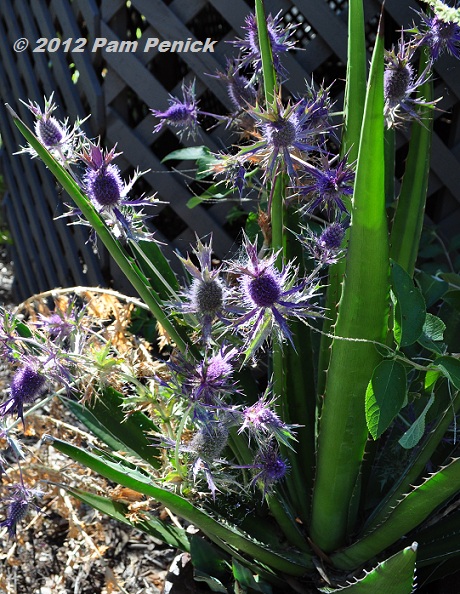 Eryngo flops in my garden, probably due to too much shade. It's handy to grow it near another plant it can lean on for support, like this potted Agave lophantha, whose sword-like leaves prop up the floppy eryngo. You can see, on the left, its brown, weedy looking stems and lower leaves. It would be good to plant eryngo behind a mid-sized perennial that could hide its skinny legs—maybe Salvia greggii or little bluestem.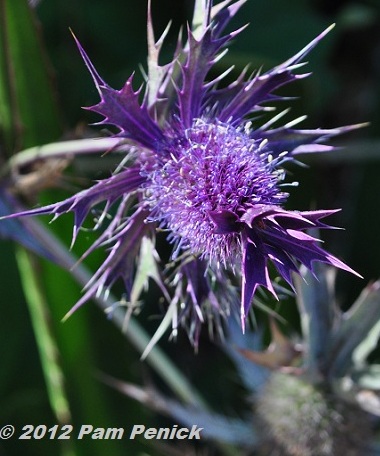 No matter. I'm really enjoying these spiny annuals, whose purple bracts have a royal intensity of color. I tend to mulch too heavily to get returning seedlings, so I'll probably collect the browned seedheads later this fall and sow seeds in bare, gravelly soil again next spring.
All material © 2006-2012 by Pam Penick for Digging. Unauthorized reproduction prohibited.