September 5th, 2012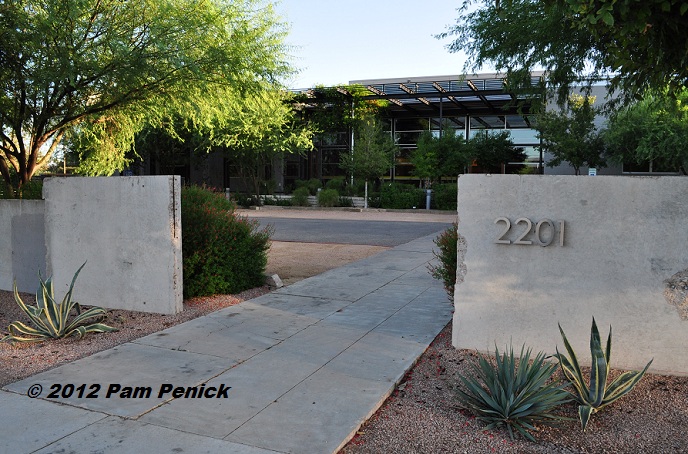 It's not about the bike. It's not about the doping accusations either. What it's about is this—cancer survivor, superstar bicyclist, and Austin resident Lance Armstrong has put his fame and influence to good use in the fight against cancer, founding Livestrong (formerly the Lance Armstrong Foundation) in 1997 to improve the lives of those affected by the disease. After 10 years in leased suburban office space, Livestrong converted a paper warehouse in East Austin into its LEED-certified permanent headquarters, with eco-friendly landscaping designed by acclaimed landscape architect and Austinite Christy Ten Eyck.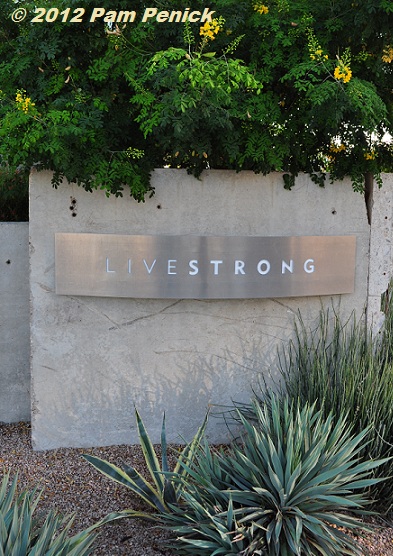 I zipped over there (in my car, not on my bike—sorry, Lance) on Monday, having heard about it from several people, and I was not disappointed. Native trees, shrubs, and perennials are thoughtfully planted to enhance and shelter the remodeled building by Lake|Flato Architects. With pops of yellow, Lance's signature color, and the creative use of recycled concrete and metal industrial-style trellises, the garden is very Austin.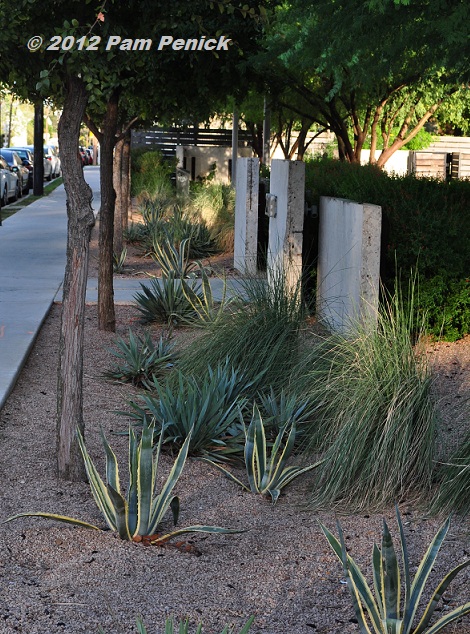 It starts at the street with a double row of native shade trees providing shelter from the brutal Texas sun. A gravelly drainage swale is planted with grasses, yuccas, and yellow-striped agaves—tough survivors all. "Monument walls" of concrete salvaged from the original building have been erected to give some separation from the street, without entirely closing it off.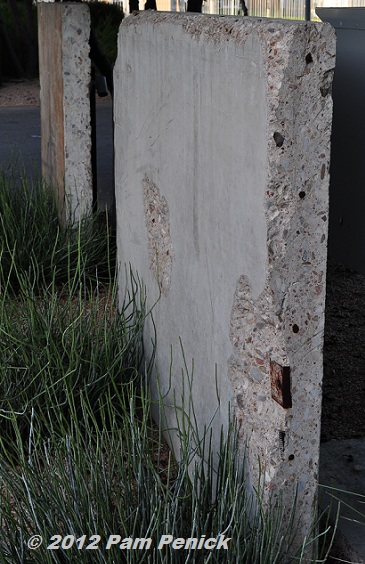 These vertical slabs of urbanite, as recycled concrete is called, still bear the chips and scars of their deconstruction and stand tall nonetheless (a metaphor for cancer survivors?). They are held securely in place with anchored steel posts in back.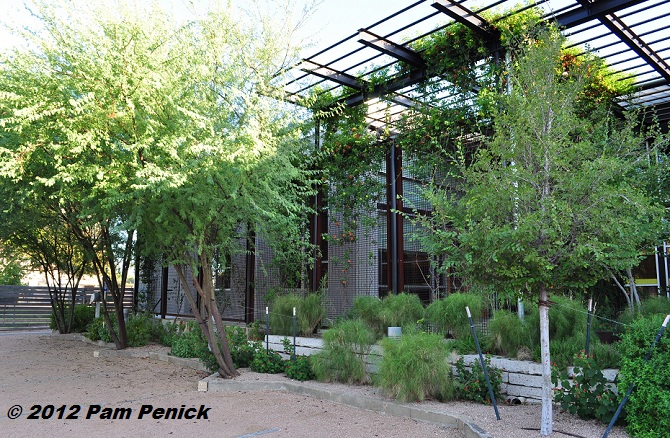 The parking lot is decomposed granite, a pervious surface tnat allows rainwater to percolate through. Strips of urbanite are used to define the parking spaces. A nice selection of native trees shades the lot, but will someone tell the groundskeepers to please remove the tree stakes and wires that are beginning to strangle the trees? Tree stakes and supports shouldn't be left on for longer than a year because they weaken the trunk's own support system, plus constricting wires around the trunk can girdle and kill a young tree as it grows. OK, I'm stepping off the soapbox now.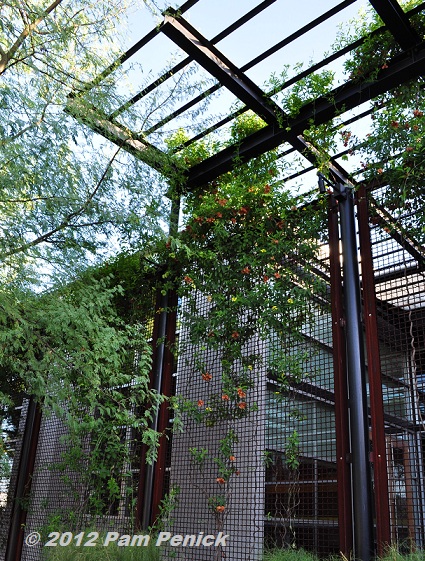 I love this trellis and arbor made of industrial-looking screening and beams. A yellow-flowering butterfly vine (Mascagnia macroptera) has climbed to the top and will eventually shade the entire arbor.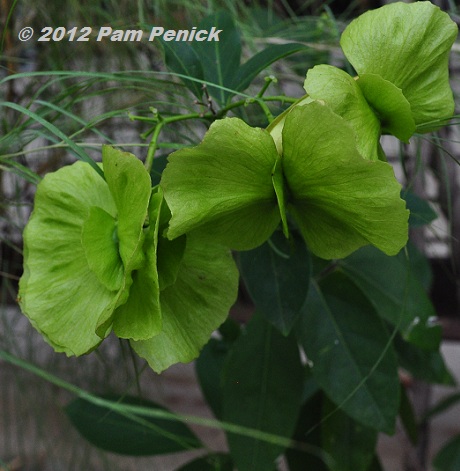 Some of the flowers had already gone to seed, producing the papery "butterflies" that the vine is named for.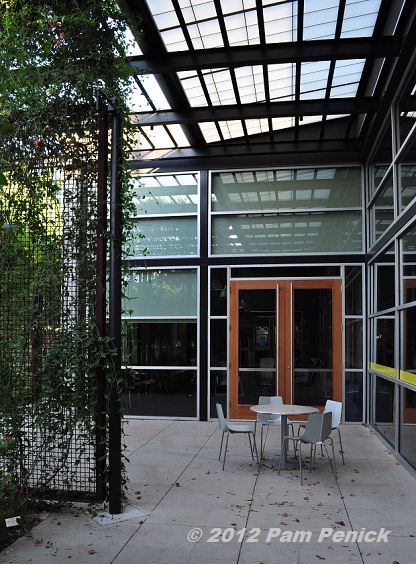 You step up from the parking lot onto a sheltered patio that runs across the front of the building.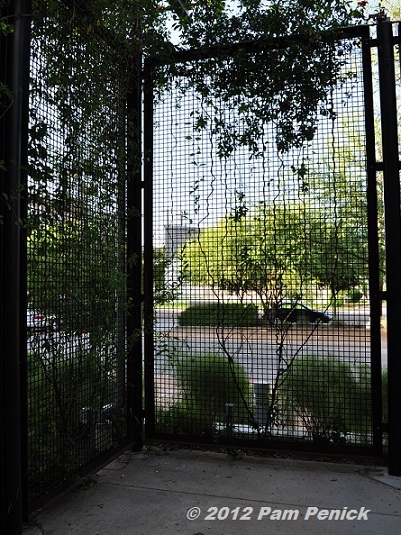 Metal screening offers filtered views of the parking lot and the street.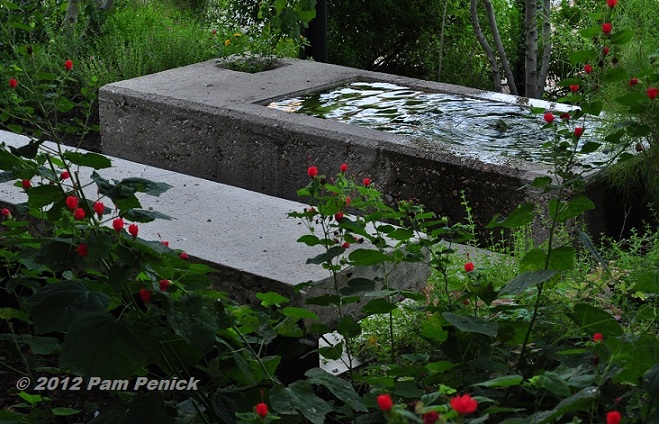 More urbanite was put into service to create a bench and a trough fountain—a contemplative and peaceful spot to enjoy the entry garden.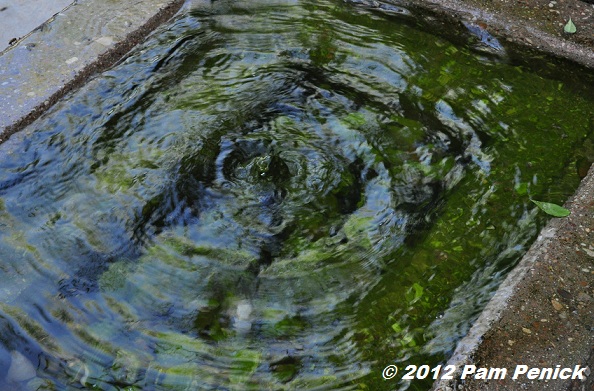 Honeybees (yellow-striped, of course) were coming in for a drink on the day I visited.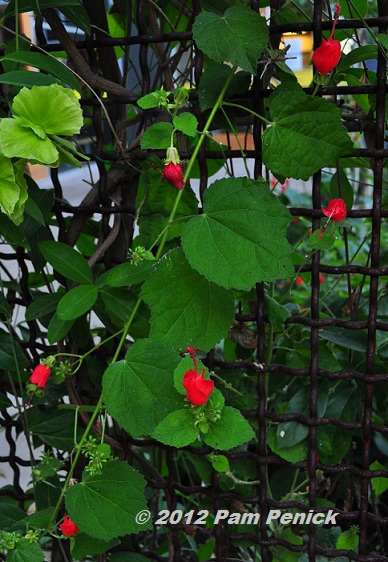 Native Turk's cap (Malvaviscus drummondii), a great hummingbird attractor, adds hot color alongside the fountain and the screens that support the butterfly vine.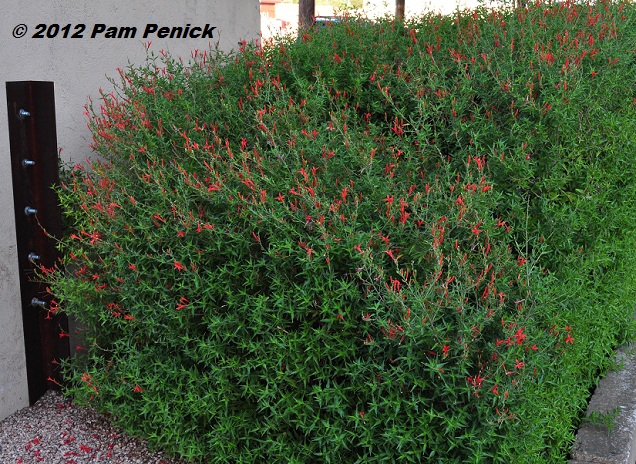 Flame acanthus (Anisacanthus quadrifidus var. wrightii), clipped into a hedge along the parking lot, is another hummingbird magnet.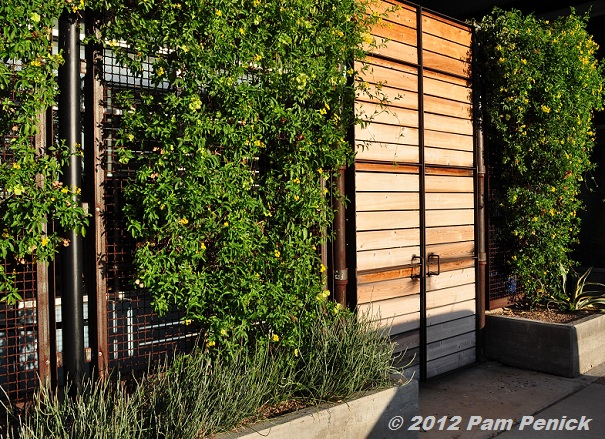 Along the side of the building, metal screens support more butterfly vines, which are planted along with candelilla (Euphorbia antisyphilitica) in simple concrete boxes.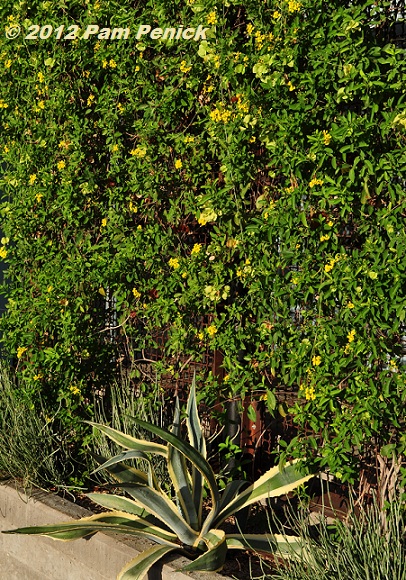 A few variegated agaves add more of that Livestrong yellow.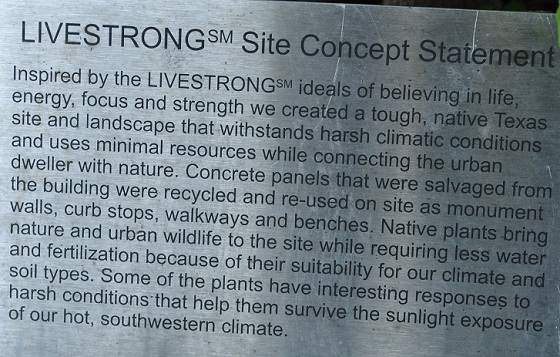 A site concept statement is posted near the entrance, providing a welcome introduction to the garden.
If you'd like to see the Livestrong garden for yourself, it's located two miles from downtown Austin at 2201 E. Sixth Street.
And if you'd like to see more Ten Eyck gardens, I've posted about two: Christy Ten Eyck's personal garden in the Tarrytown neighborhood, and the Capri in Marfa, Texas.
For more garden-worthy uses of recycled concrete, see my post about Wendy Brennan's garden.
All material © 2006-2012 by Pam Penick for Digging. Unauthorized reproduction prohibited.
posted in
Agaves
,
Arbors
,
Design
,
Fountains
,
Garden tours 2012
,
Gates
,
Grasses
,
Patios & decks
,
Seating
,
Sustainable Gardening
,
Texas natives
,
Trees
,
Trellis
,
Vines
,
Water features
,
Xeric plants
,
Yuccas