December 13th, 2006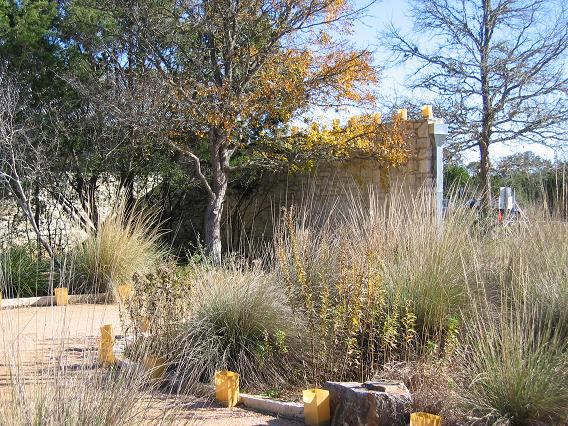 This is what winter looks like in Austin: autumn leaves persistently hanging on, ornamental grasses bending in a north breeze, evergreen live oaks and cedars (junipers, actually), and bright blue skies. It may not be everyone's idea of a winter wonderland, but I love it.
I visited the Wildflower Center yesterday, and when I wasn't looking over my shoulder for marauding cougars (just kidding!), I was gazing in delight at the lingering beauty of fall on display in the gardens. This has to be one of the best leaf-peeping years ever in Austin, and many of the trees were still clad in bright reds and yellows.
On that quiet Tuesday around noon, the center was emptied of visitors—I saw only three others—and I enjoyed not only the garden's beautiful, native plants but its peacefulness.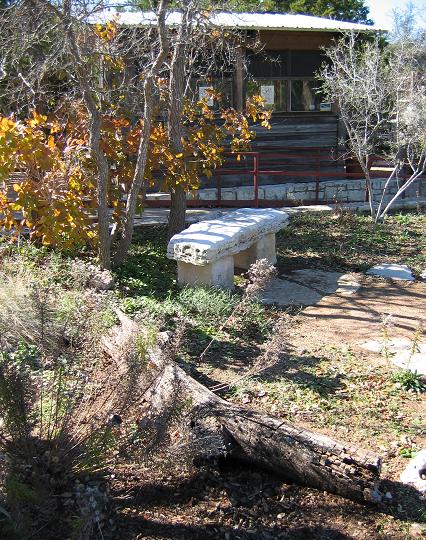 A limestone-slab bench offers a view of the Naturalistic Garden, one of three sample garden designs for suburban Austin yards. A smoke tree's yellowish orange foliage brightens the corner.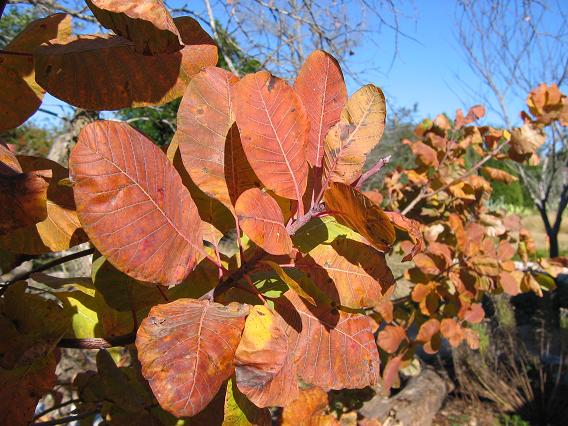 Smoke tree foliage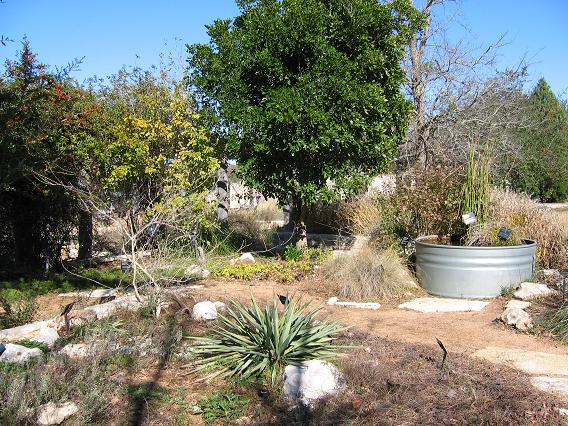 The view from the bench. The biggest Texas mountain laurel I've ever seen anchors the opposite corner of the Naturalistic Garden (it must be 25 feet tall), and a yucca and yellow jasmine vine provide a little more winter greenery. The stock-tank pond, which inspired my own, provides year-round interest.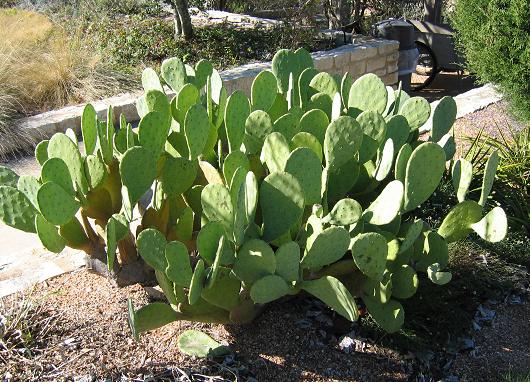 Typical winter greenery in the Hill Country: spineless prickly pear. I love how this cactus looks when it's been artfully pruned and kept in bounds, like this one. However, they can get monstrously out-of-bounds when they grow wild in fields. When I lived in Raleigh, North Carolina, one homeowner in the Oakwood Historic District grew them in a sunny strip along the side of her house, and they were gorgeous when they bloomed. I still remember them all these years later.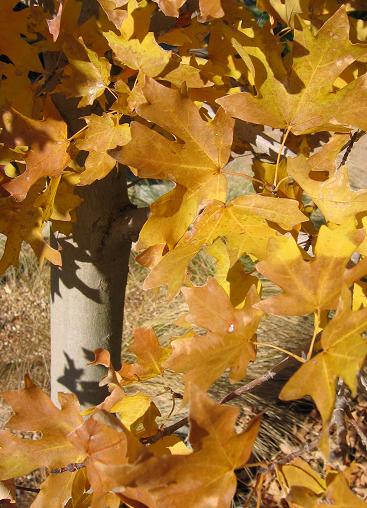 A bigtooth maple's leaves glow yellow. I like this tree's smooth, tan bark too.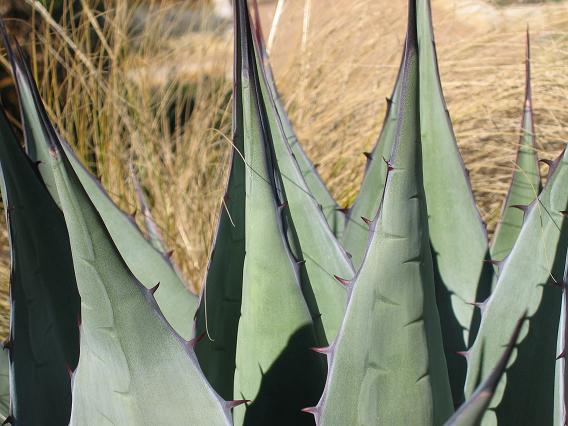 Havard agave backed by Mexican feathergrass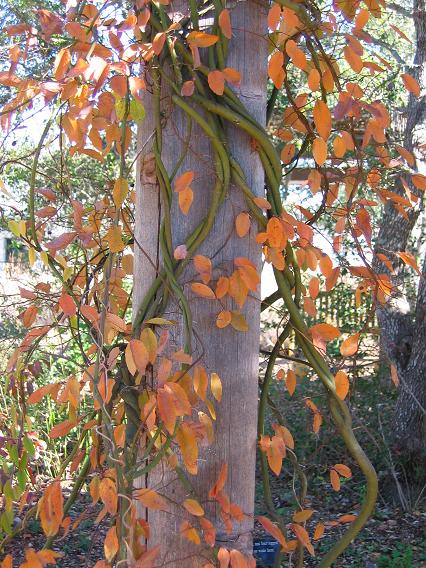 Here's a lovely vine I'd never heard of: rattan vine (Berchemia scandens ). It's a wetland plant, and Austin seems to be its far-west range. This one grows along a stream near the Meditation Garden.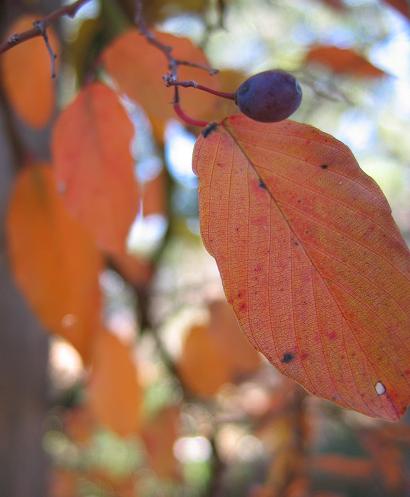 A close-up of rattan vine's blue-black drupe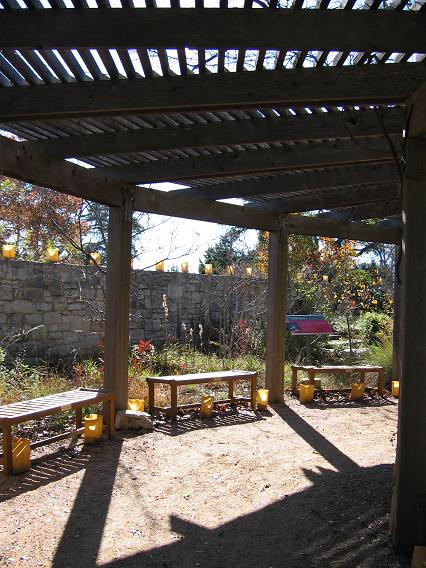 The Meditation Garden. The paper bags (plastic, actually) you see lining the walls and paths are luminarias. The Wildflower Center recently offered a holiday evening tour with lighted luminarias.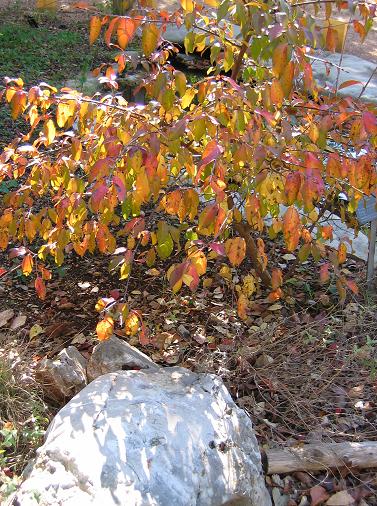 Rusty blackhaw viburnum (Viburnum rufidulum ). Wasowski's Native Texas Plants says this viburnum is "slow-growing and hard to propagate—and always in demand." I can see why. This little one is lovely.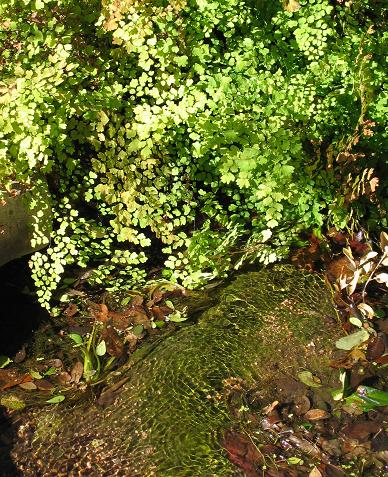 Maidenhair fern grows along the stream.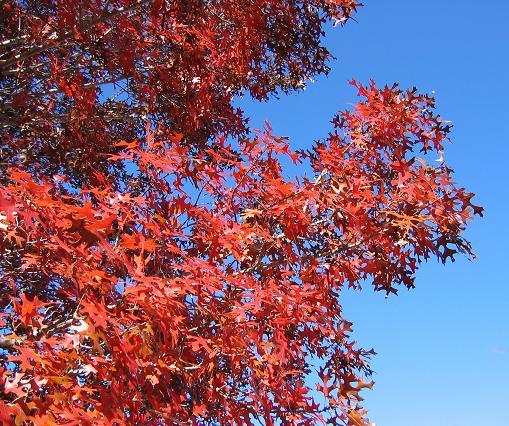 Flaming Texas red oak leaves convinced me that I hadn't missed anything by not making a leaf-peeping trip out to Lost Maples this year.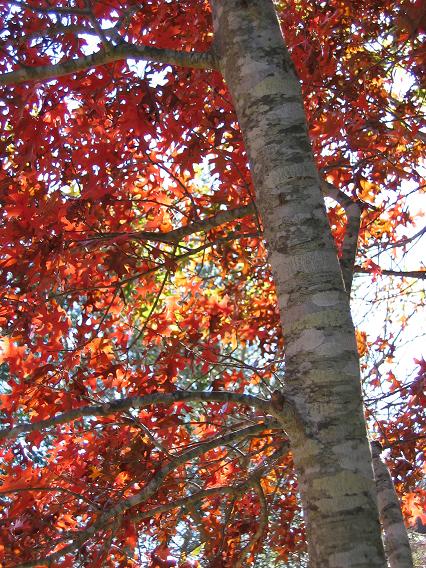 Texas red oak. Look at the beautiful green, gray, and white striations of the bark.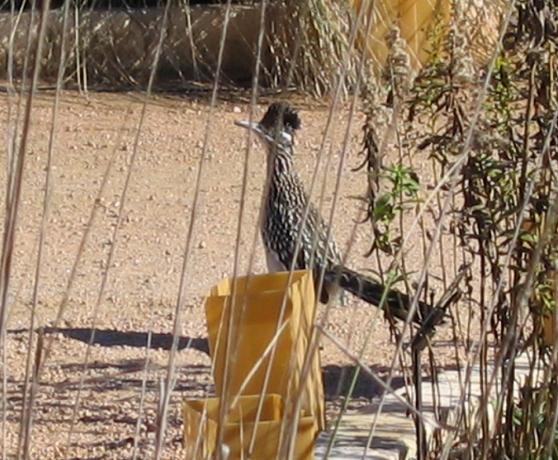 While I was snapping pics of the oak, a roadrunner darted out of the grass at my feet with an insect in its beak. Beep-beep! Grasshoppers were whirring in the grasses, so I'm sure he was feasting.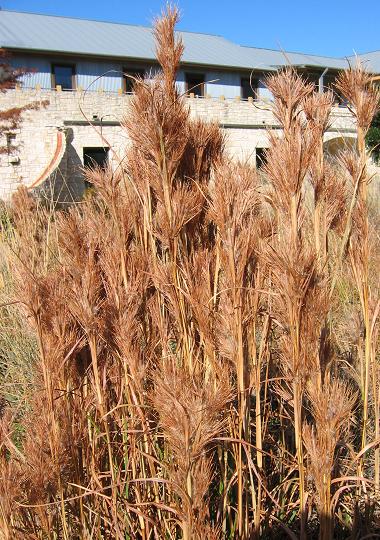 Bushy bluestem, a prairie grass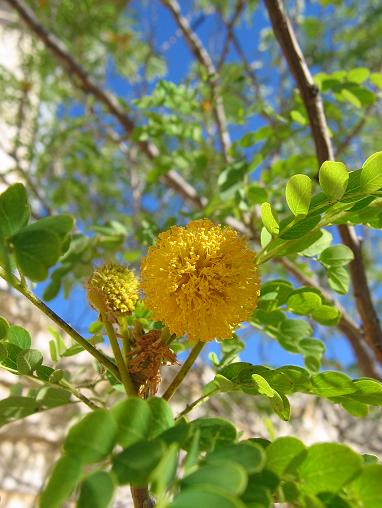 Goldenball leadtree's (Leucaena retusa ) blooms look like yellow pom-poms. According to Native Texas Plants, leadtree is deciduous and flowers from April to October. Clearly this one thinks it's still Indian summer. NTP adds, "This tree has been found to be winter-hardy as far north as McKinney and Midland and could probably go even to the Red River." So all you Dallas gardeners need to find a place for this unusual beauty in your gardens.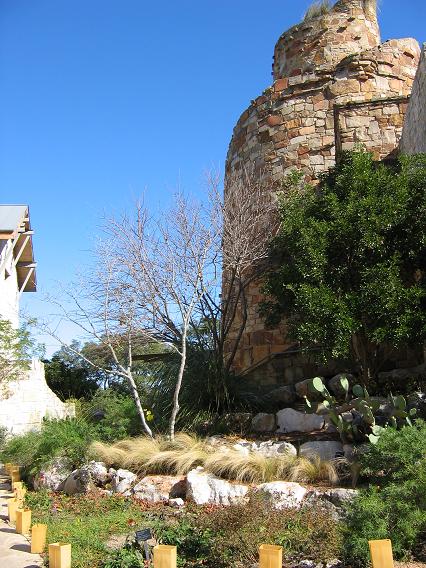 Below the landmark cistern tower grow Texas mountain laurel, Mexican feathergrass, purple coneflower, prickly pear, and other Hill Country and prairie plants.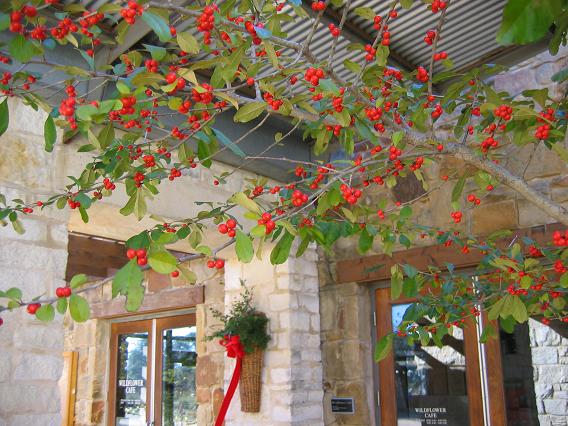 OK, so there was a little bit of Christmas going on in the gardens. A possumhaw holly dazzled my eyes with hundreds of red berries. I can't think why the birds haven't eaten them all yet. Maybe they're dining on grasshoppers while they can.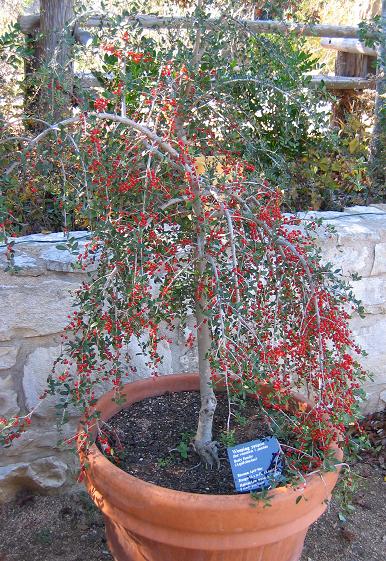 A potted weeping yaupon holly. A tall weeping yaupon grows in my front garden (one of the few plants from the previous owner that I was happy to keep), but I see that it looks great in a pot too.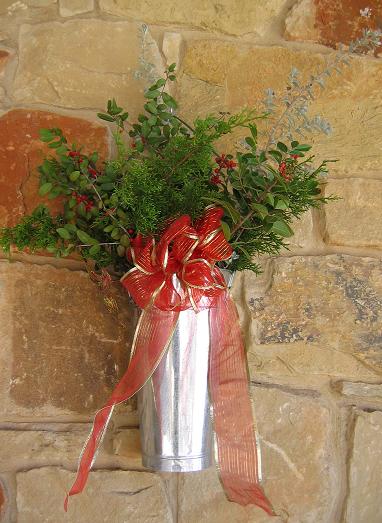 Festive flower buckets hung on the walls of the main building mix branches of yaupon holly, juniper, and silver cenizo.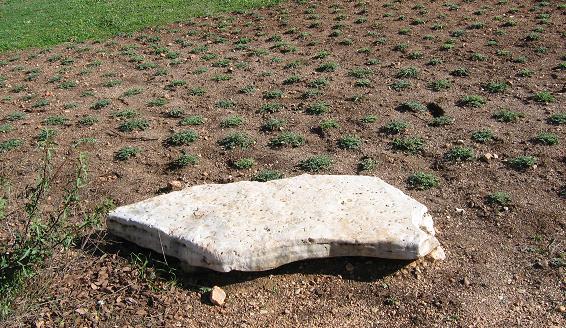 But during Austin's brief winter, spring is never far off. A small bluebonnet field covered in small rosettes of our native lupine—and a rock to sit on—promises great photo ops come April.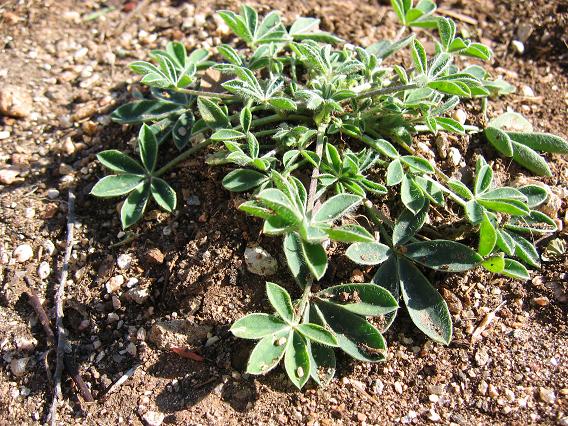 A bluebonnet rosette—waiting for spring.
posted in
1st garden--2006
,
Agaves
,
Arbors
,
Berries
,
Birds
,
Botanic/Public Gardens
,
Cactus
,
Fall color
,
Grasses
,
Texas natives
,
Wildflowers
,
Xeric plants