August 23rd, 2012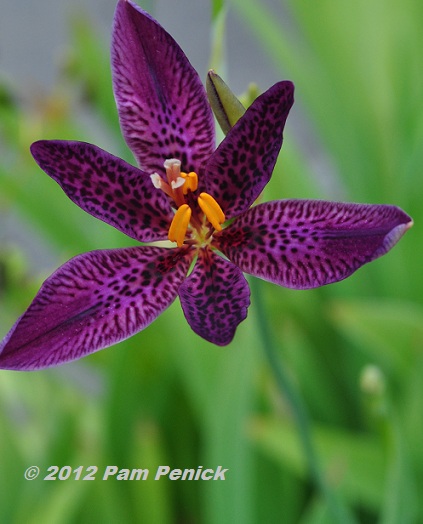 While touring Fearrington Village near Chapel Hill, North Carolina, earlier this month, I was charmed by the lovely landscaping—not just the gardens surrounding Fearrington House Inn but the pocket-sized, colorful gardens found alongside the shops and restaurants in the village center.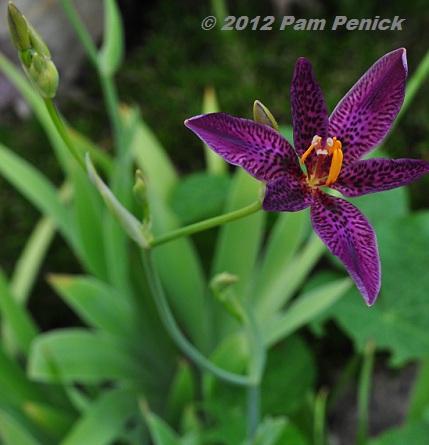 This toad lily blackberry lily Pardancanda norrisii (!) was blooming in a narrow sidewalk garden near Roost, the beer garden.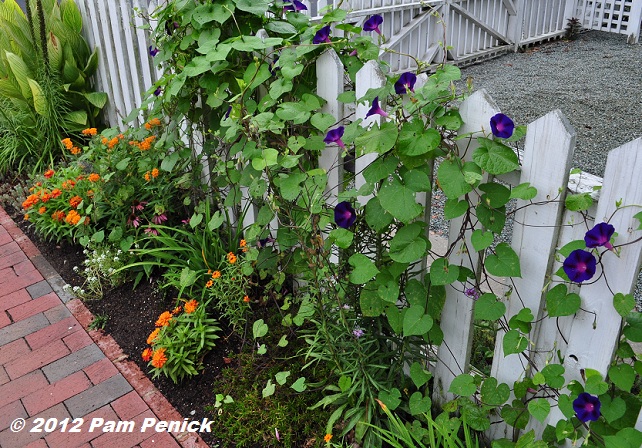 Nearby, a white picket fence supported a rambling morning glory vine.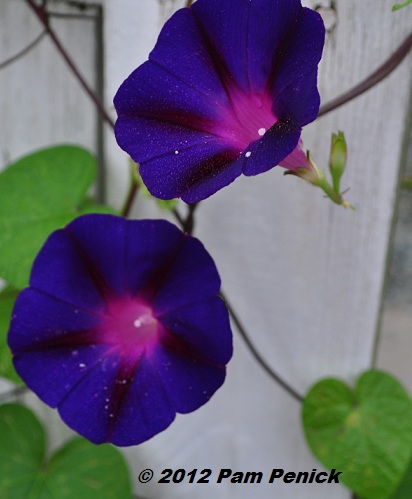 On this early morning, the midnight blue flowers were dusted with pollen—perhaps from a visiting bee?

Sunny flowers in hues of yellow and orange just make you feel happy, don't they?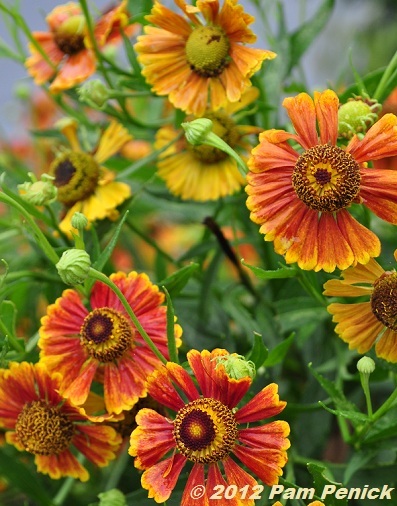 Helenium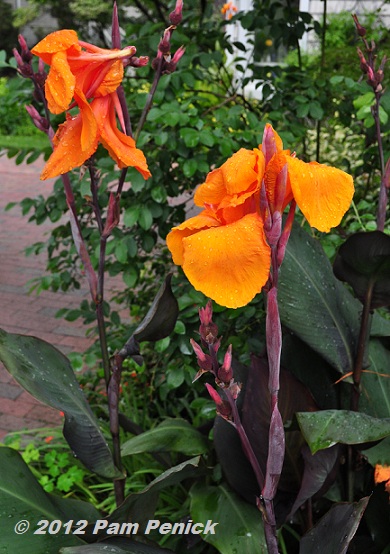 Canna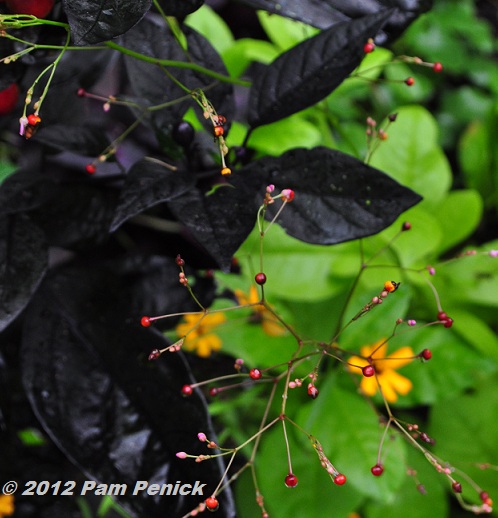 Jewels of Opar, with fruits that resemble tiny, colored beads, stands out against the moody, near-black leaves of 'Black Pearl' ornamental pepper.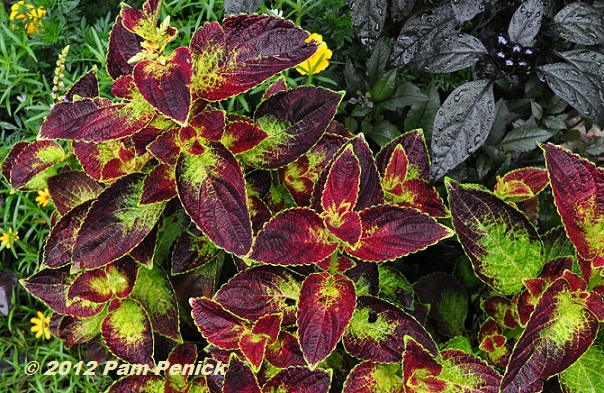 'Black Pearl' looks gorgeous with a chartreuse-and-wine-colored coleus too.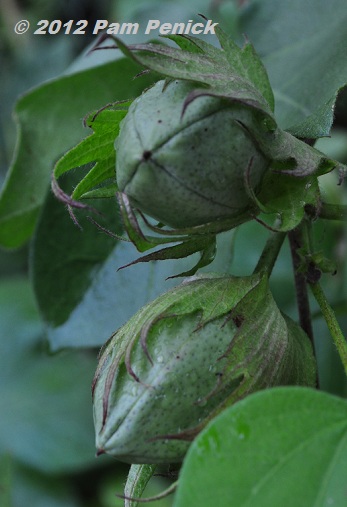 In a corner garden by the bookstore, I spotted these fat, unfurled buds…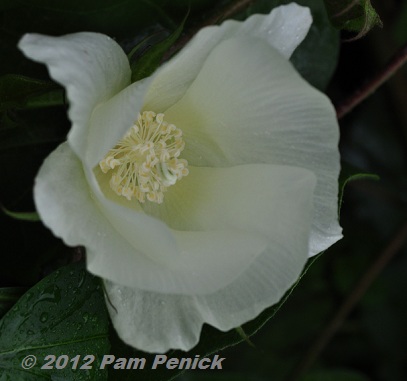 …and a tissuey, linen-colored flower on the same plant. "Hey, that looks like cotton," I exclaimed, remembering when Trisha Shirey introduced me to the hibiscus-like flowers in the gardens at Lake Austin Spa.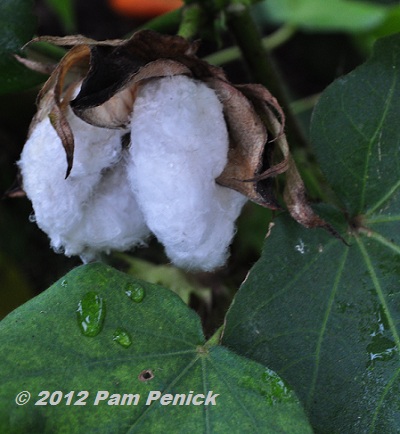 Yep, there's the cotton!

Against a white stuccoed wall, an unusual espalier of trifoliate orange turned my head. At its feet, fragrant prostrate rosemary was blooming.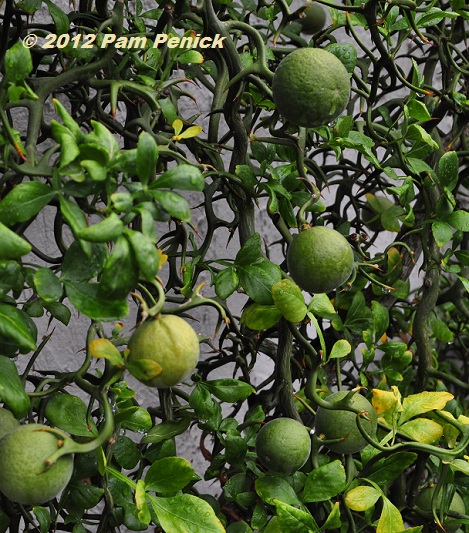 Green fruit and the curved talons—an eye-catching display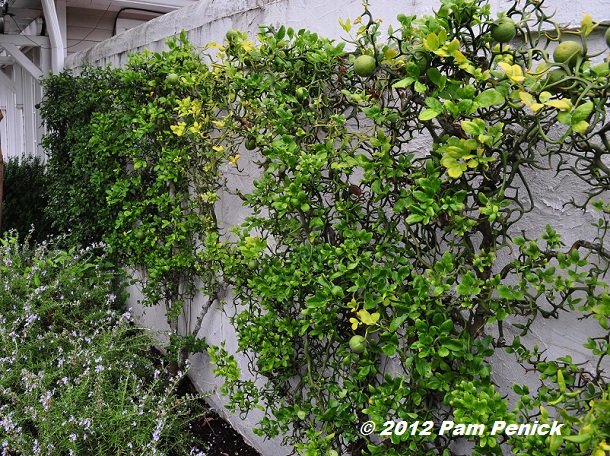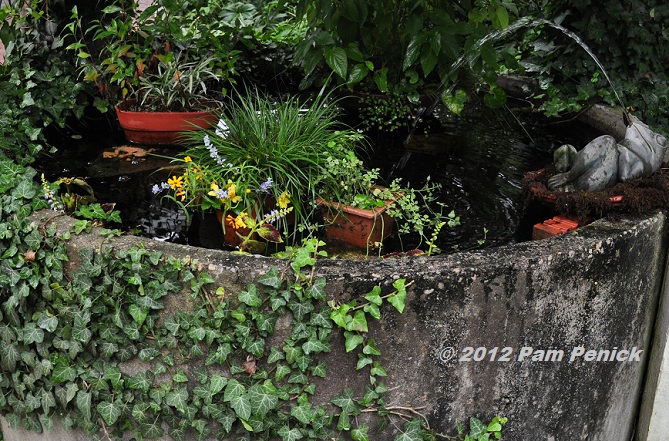 I also admired this large concrete trough that had been turned into a raised pond, with plants that enjoy having wet feet set in the water atop piles of bricks.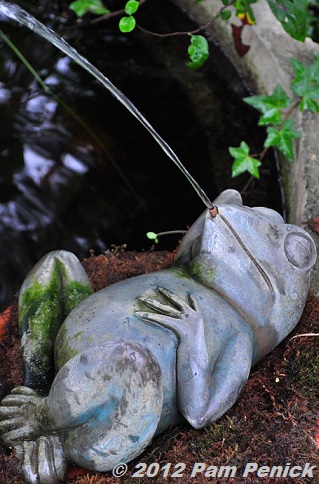 A relaxed frog, spouting an arc of water, enjoyed his own perch along the rim.
I hope you've enjoyed the virtual visit to Fearrington Village! For a look back at the romantic gardens surrounding Fearrington House Inn, click here. To see charming Fearrington Village and its Oreo cows and goats, click here.
All material © 2006-2012 by Pam Penick for Digging. Unauthorized reproduction prohibited.