August 22nd, 2012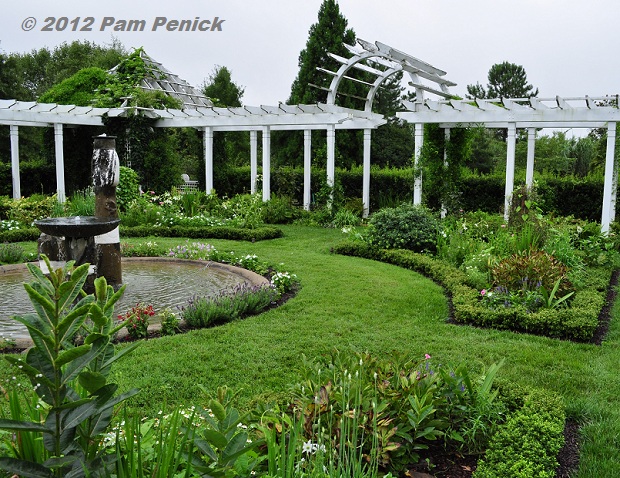 Lovely strolling gardens wrap all sides of the country inn at Fearrington Village, near Chapel Hill, North Carolina, which I visited earlier this month. I spent a happy hour early one morning exploring its grounds, which include an English-style white garden, an herb garden, shrub borders, and Adirondacks set on green lawns with views of the countryside.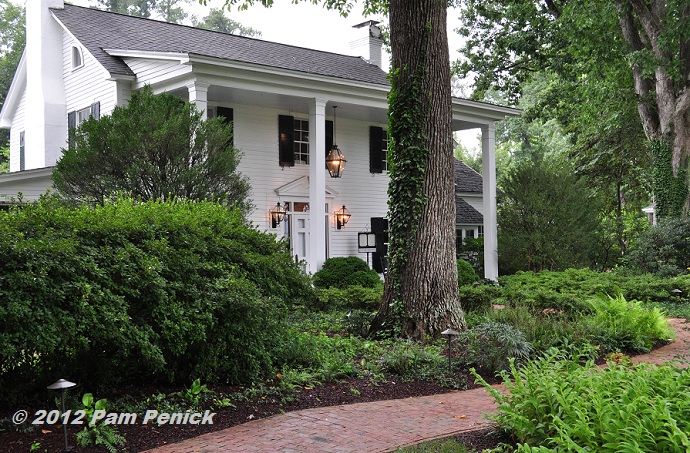 Fearrington House Inn and Restaurant is housed in the old Fearrington family homestead, on a former dairy farm.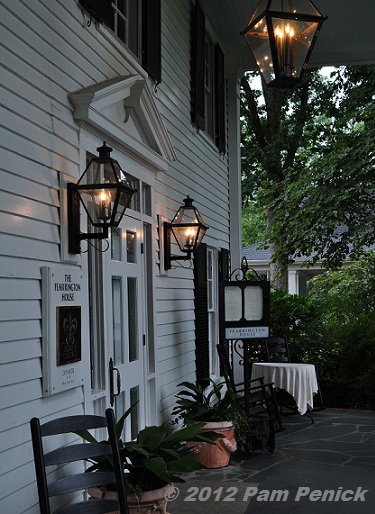 Southern comfort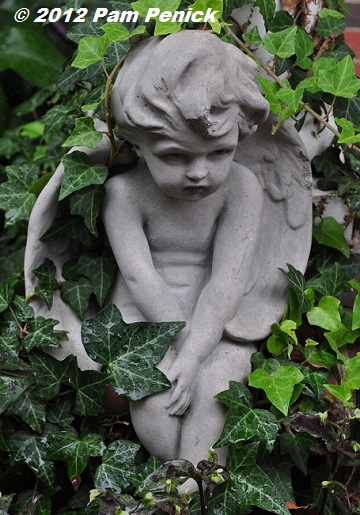 The gardens are charming, with sweet details like this pensive cherub amid the ivy…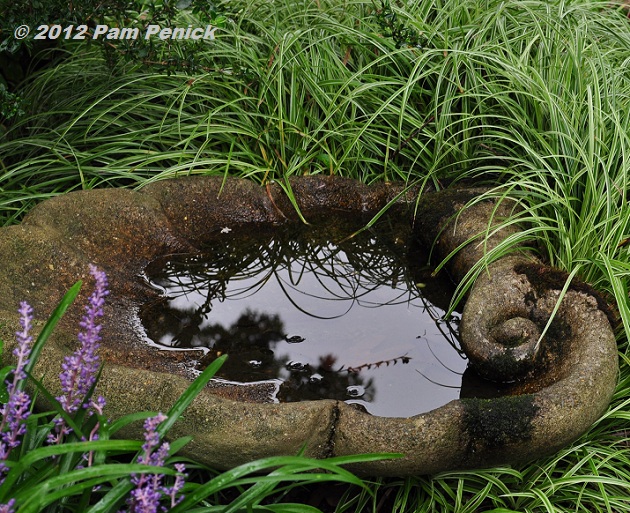 …and a seashell-shaped birdbath set in the liriope.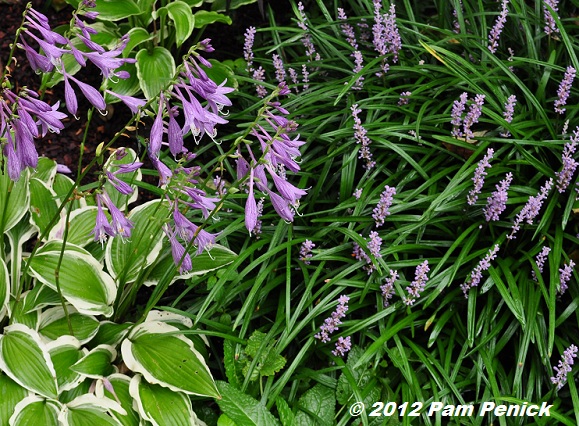 Common garden plants are used to nice effect, like this hosta and liriope.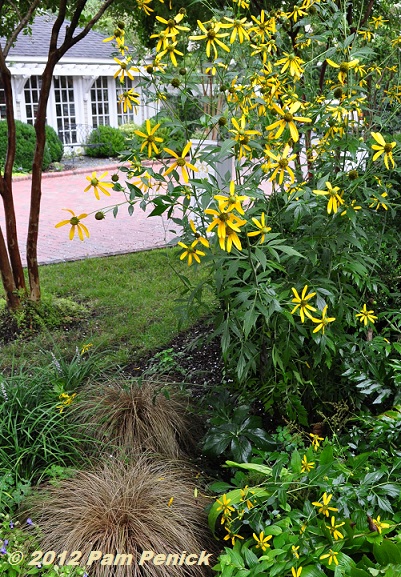 Yellow coneflowers and New Zealand sedge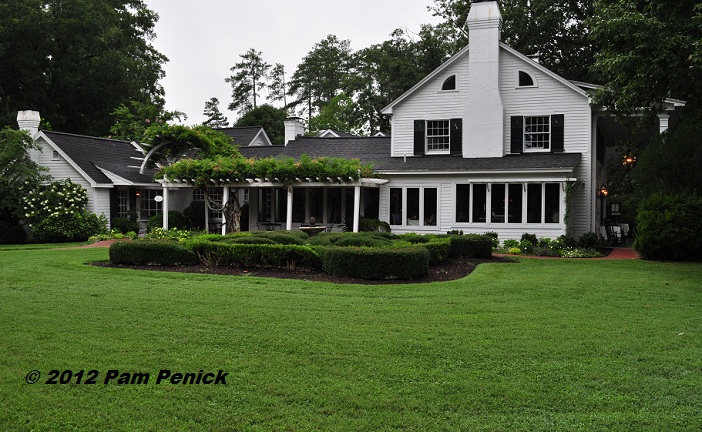 The white inn is a picturesque focal point throughout the gardens.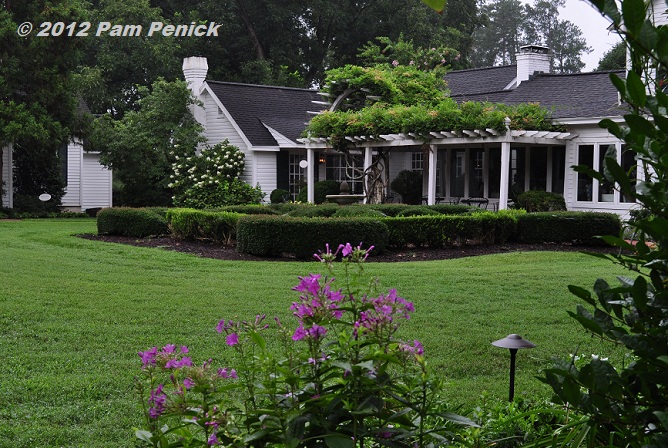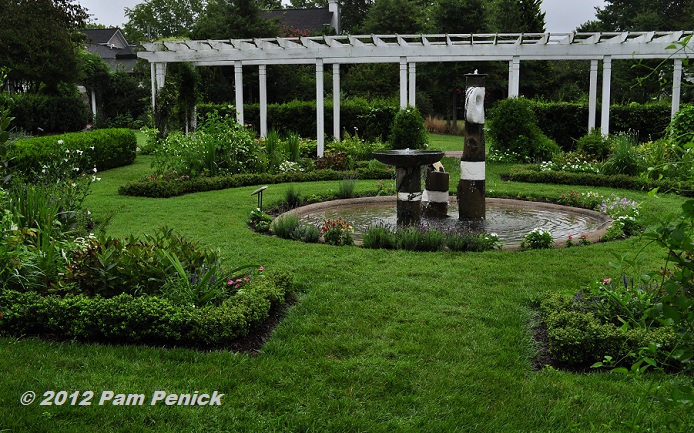 Walk around back and you'll find this white garden—Jenny's Garden, according to a small sign, named for Jenny Fitch, co-founder of Fearrington Village and the creative designer and tender of its gardens until her death at age 57 of breast cancer.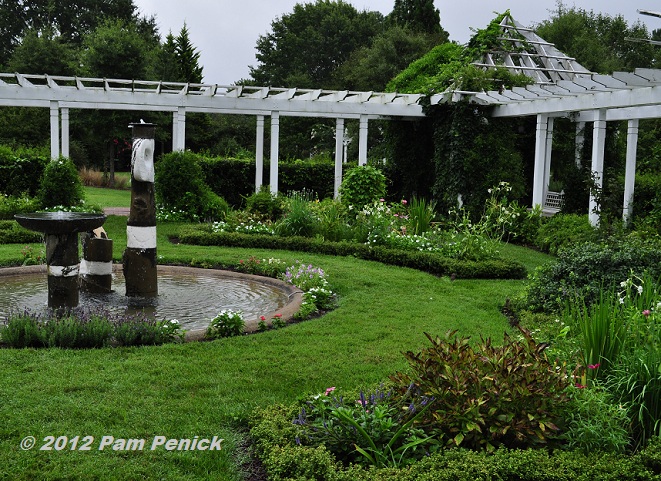 You can see that it's a perfect setting for a wedding, all romance, flowers, and white pergolas.

The pillars in the central fountain, like the cows and goats at Fearrington, are belted!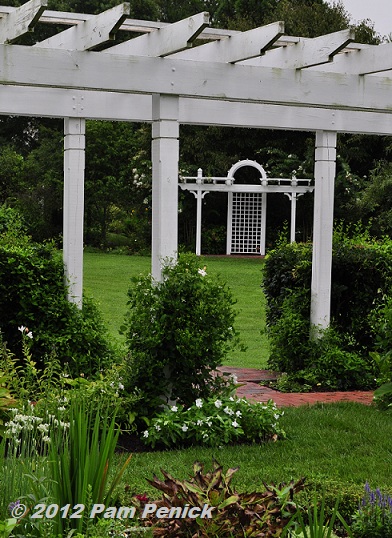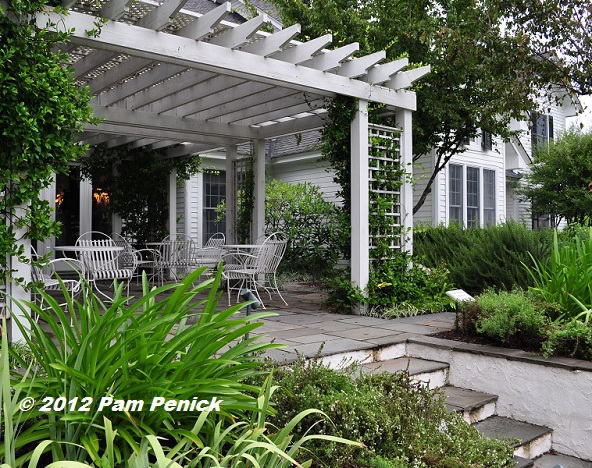 The inn's rear terrace is shaded by a vine-draped pergola—so inviting.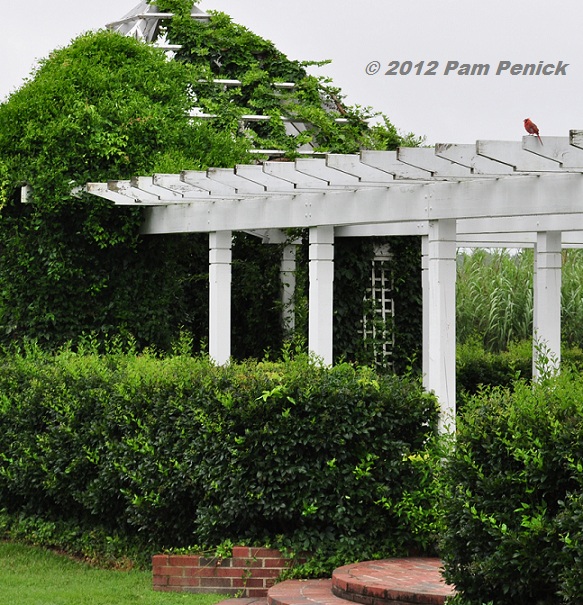 A cardinal was enjoying a morning visit to the garden as well.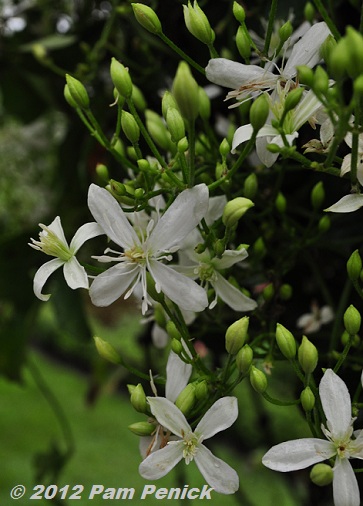 Sweet autumn clematis, already in bloom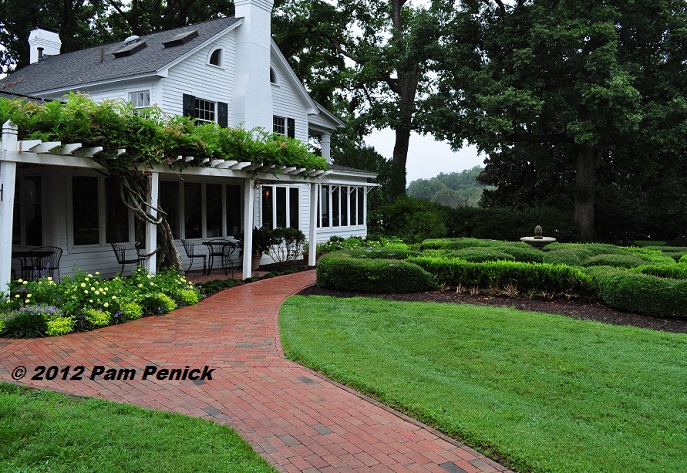 Walking back toward the front entrance, I passed this pretty wisteria arbor and a formal knot garden.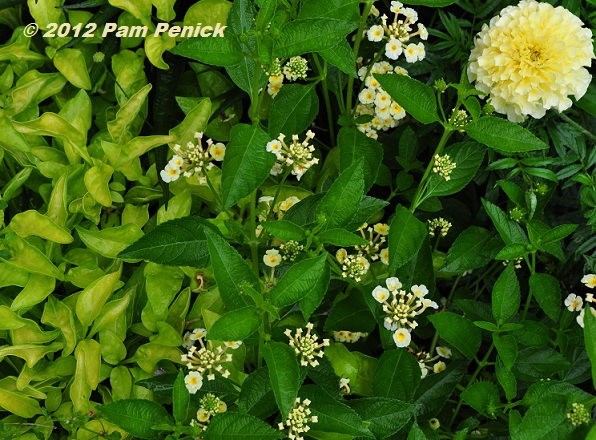 Yellow flowers and chartreuse foliage brightened the border around the patio.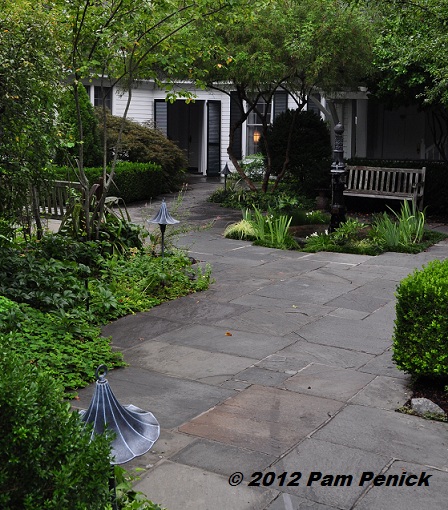 The inn's rooms are accessed through private courtyard gardens. Wouldn't this be a nice spot in which to relax after a busy day in town?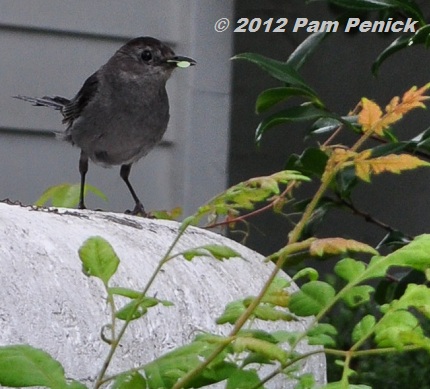 This mockingbird was busy gathering breakfast.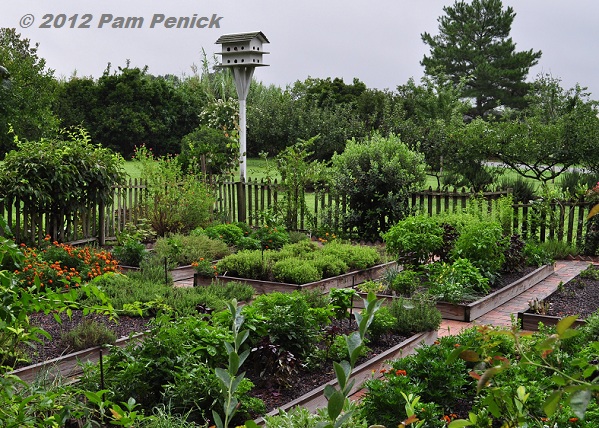 Speaking of breakfast (and other meals), I assume the restaurant grows its own herbs here.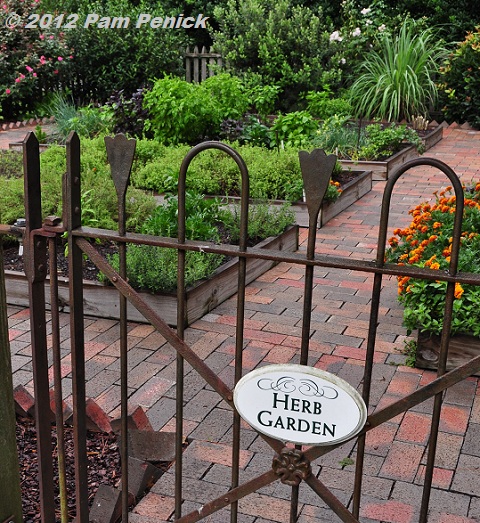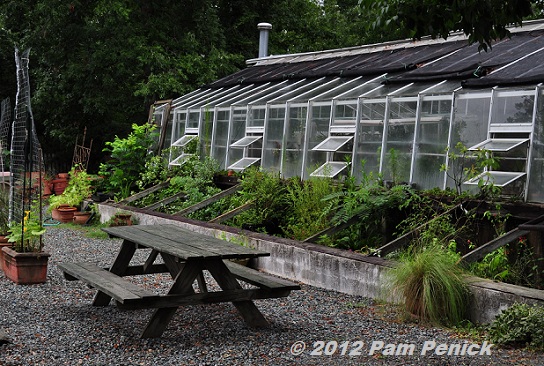 There's a large greenhouse and cold frames too.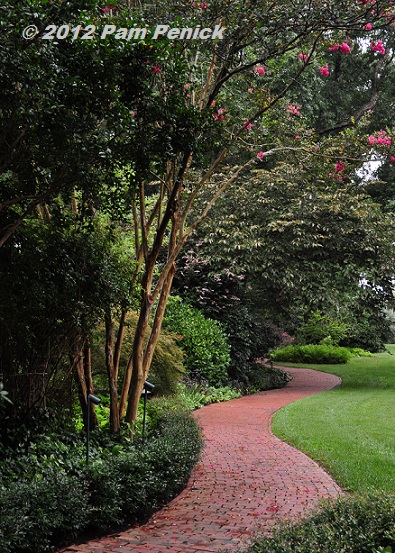 Follow the red brick path…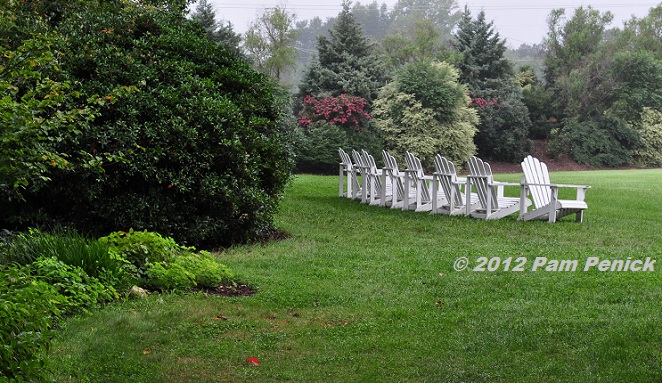 …to a lawn bordered with gorgeous shrubs and trees, with plenty of room to spread out and reach their full size.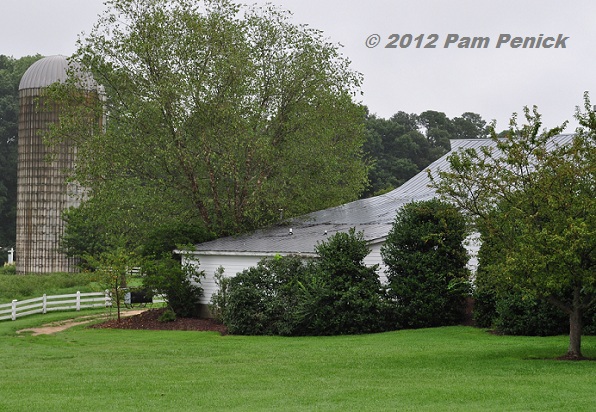 Pick an Adirondack and enjoy the bucolic vista.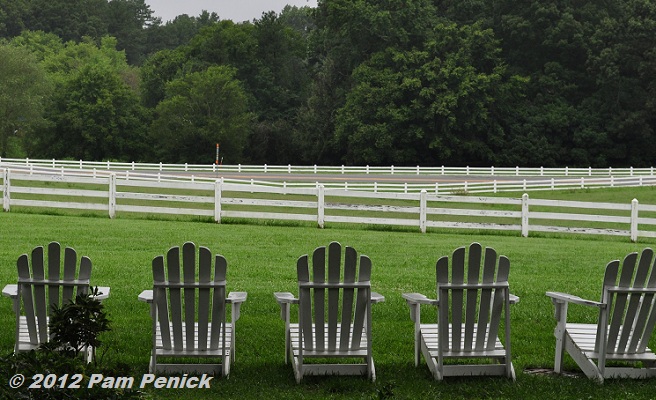 Or just close your eyes and enjoy the bliss of the garden, secure in the knowledge that you're not responsible for maintaining any of it.
For a look back at Fearrington's village center and farm animals, click here. Next up: the colorful gardens adorning Fearrington's village shops.
All material © 2006-2012 by Pam Penick for Digging. Unauthorized reproduction prohibited.