August 20th, 2012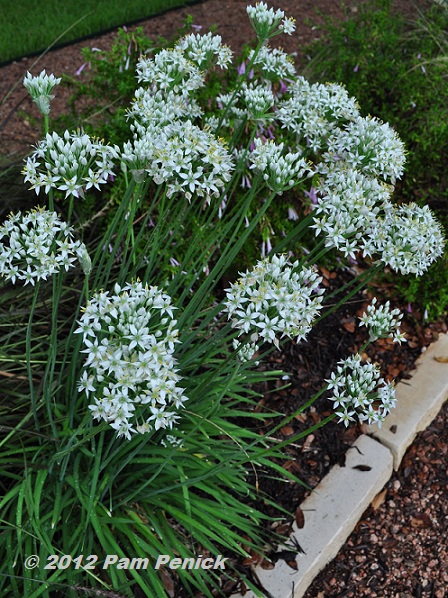 As the days grow shorter in late August and early September, garlic chives (Allium tuberosum) burst into bloom, with clusters of starry, white flowers held aloft on long stems, like 4th of July sparklers. They'll bloom for weeks, giving you at least a month of beauty—more if you enjoy the tawny seedheads. Do watch out for those, however, as garlic chives are known to spread vigorously by seed.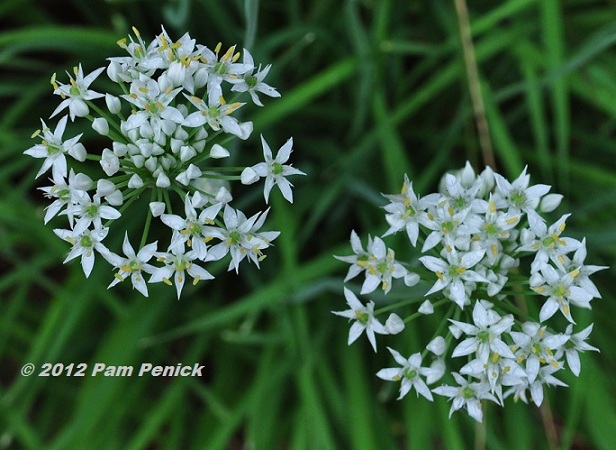 That has not been a problem in my garden in the two years that I've been growing them. In fact, I find this grassy, clumping plant to be trouble-free and a great asset to my partly shady, deer-visited front garden. The grassy leaves, reminiscent of liriope, are quietly handsome year-round in mild winters, though they may die back in cold winters.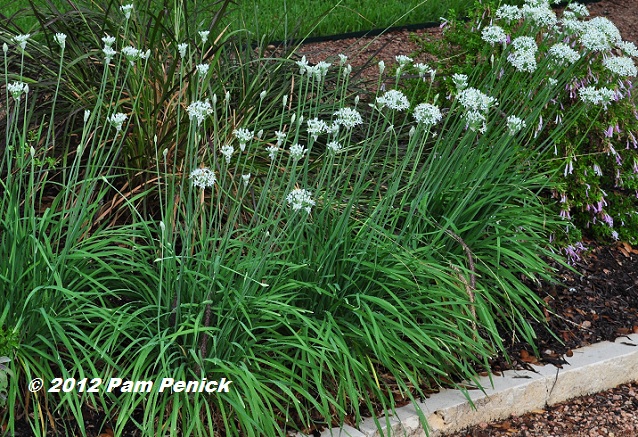 Deer leave garlic chives alone, not fond, apparently, of the garlicky taste. But you can eat them if you like, seasoning soups, salads, and egg and vegetable dishes.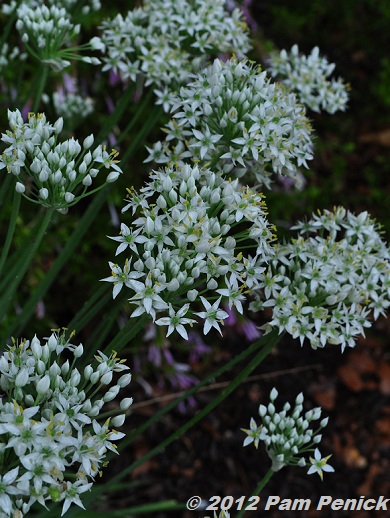 I grow them for ornamental purposes, in semicircles around darker leaved plants like purple fountain grass. Their white flowers show up beautifully against dark foliage.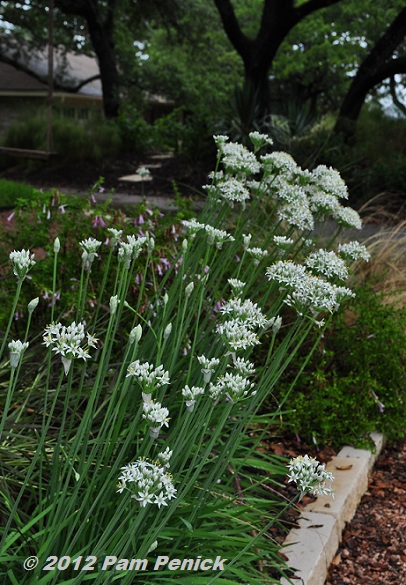 Divide garlic chives every 3 or 4 years to renew their vigor, and then you can share your bounty with other deer-challenged gardeners.
Note: My Plant This posts are written primarily for gardeners in central Texas. The plants I recommend are ones I've grown myself and have direct experience with. I wish I could provide more information about how these plants might perform in other parts of the country, but gardening knowledge is local. Consider checking your local online gardening forums to see if a particular plant might work in your region.
All material © 2006-2012 by Pam Penick for Digging. Unauthorized reproduction prohibited.